7 of The Best Apps For Writing a Book in 2023
This post may contains affiliate links. If you click and buy we may make a commission, at no additional charge to you. Please see our disclosure policy for more details.
Have you been sitting on a great idea for a novel, but haven't quite got around to putting pen to paper yet? Writing a book can be incredibly challenging. Getting started , then staying motivated isn't always easy. Writer's block sets in, procrastination takes over, and we let our fear of failure stop us from pushing ahead.
Luckily, there are some amazing tools out there to overcome these roadblocks, including a new generation of book writing apps.
Table of Contents
How Can an App Help Me Write a Book?
There are a seemingly endless array of apps for writing a book, and they each help you solve a different writing-related problem.
Many book writing apps are designed with the physical writing process in mind. While many writers are perfectly happy sticking with Microsoft Word, Google Docs, or other standard word processors, these apps offer a more substantial alternative.
They provide tools specifically geared towards writing a book. For example, drag and drop chapter and scene options and character profile tabs.
Some even offer features that allow you to compare your current manuscript sections to previous versions of your work.
Then there's a whole host of editing apps that go much further than your standard spell checker.
They help you with every aspect of the editing process, from checking sentence structure and grammar to improving your writing tone and flow and checking for plagiarism.
Goal Setting and Focus
Some apps which are geared towards writers also focus on time management and goal setting. When you're in the process of writing a book, it's so easy to get derailed and let your writing practice slip.
These apps are designed specifically to help you stay on track and keep you focused, so you can reach your goals of writing a book.
In this blog post, we'll be reviewing the best apps for writing a book in 2023. So if you're a writer who needs a little extra help (who doesn't?), then read on; these apps can help take your writing to the next level.
Best Apps for Writing a Book
#1. scrivener.
Scrivener is one of the biggest writing apps out there right now. It works for all kinds of writing, from something as small as an email, to a full on screenplay or novel. But it's these long form types of writing where this app really excels.
When you log into Scrivener, you'll first choose a template that suits your project (for example, a fiction or non-fiction book). You can either begin writing directly into the interface or import your text from elsewhere.
The sidebar on the left of the screen has tabs for a variety of elements that help you organize your writing. The best part is, you can personalize these tabs to show exactly what you need, and omit everything that you don't.
There's an endless array of helpful tools to choose from. There're tabs for individual scenes within chapters of your book, as well as character tabs to help with individual character building throughout the story. There's also a handy research tracking tool to keep your research focused and applicable.
If you struggle with organization and you value attention to detail, then Scrivener could be a massive help to you when you're writing a book.
Work on: Mac, iOS, and Windows.
Cost: Free for the first 30 days, after which there's a one time license fee of $40.84
Perfect for long-form book writing
Personalize the interface for your specific needs
One-time fee rather than a monthly subscription
Takes a while to learn how to use
If you work between 2 different operating systems, (eg. Work laptop and home laptops), it can be hard to transfer work between them.
#2. yWriter
For writers who use a Windows operating system, yWriter is a fantastic app that works in many of the same ways as Scrivener.
When you're writing a book, the sheer amount of words to write ahead of you can feel pretty overwhelming. yWriter helps you to break down your writing into scenes or sections, making the whole process feel more manageable.
You can set targets and goals for yourself, such as a daily word count, and also track your character development and narrative arc using the storyboard tool.
yWriter has a huge selection of useful features and it's reassuringly easy to use, even for new writers and people who aren't particularly tech savvy.
Unlike Scrivener, there's no option for story templates, but aside from that, this free app really holds it's own, and is a great way to stay on track with your writing.
Works on : Windows
Cost: Free
Beaks down writing into manageable sections
Great for goal setting
Free of charge
No story template options
Currently only available on Windows operating systems.
#3. iA Writer
iA Writer is another app geared explicitly towards book and other long form writers. It's great for people who hate clutter and don't want to spend a long time learning how a new app works before they get started using it.
The user interface is refreshingly sleek and simple, but it still offers plenty of tools to help you organize your writing.
There's a syntax highlighting system that can pick out various parts of speech such as adjectives or nouns, etc. This is great for the editing process.
You can also break down your book into manageable chapters and separate them into smaller sections, which helps to keep the writing process from feeling overwhelming.
There's also a handy dark mode to preserve your battery life and give your eyes a break after a long day staring at a screen.
Works on: Mac, iOS, and Windows
Cost: Free for Android users. $8.99 for iPad and iPhone, $19.99 for Windows and $29.99 for Mac
Simple and easy to use
Sleek, clutter-free design
Dark mode for tired eyes and battery preservation
No automatic storage
More expensive for Mac users
#4. Ulysses
Ulysses is another top dog in the writing app world. It's comparable to Scrivener, but with some important key differences.
While Scrivener requires a little extra time to learn how the interface works, Ulysses is much simpler to use. Many features offer short tutorials so it's easy to get to grips with the various writing tools.
Another key difference in Ulysess is the use of "Markdown" formatting. For those uninitiated, this is a simple plain text language that makes writing and editing online much easier. It's quick to pick up, and once you're familiar with it, it will save you time in the long run.
This app also has all the standard writing app features you'd expect, including organization tools like keyword labels, daily and weekly progress trackers and daily word counters and stats.
Works on : iOS and Mac
Cost: Free trial, followed by either $5.99 per month or $49.99 per year
Quick and straightforward to get started
Markdown formatting simplifies the user experience
Currently not available on Windows or Android operating systems.
#5. Reedsy Book Editor
Reedsy Book Editor is one of the easiest to use writing apps available right now. The interface is incredibly sleek, and there's no messy clutter to contend with; just a super simple, minimalist design that lets you focus on one thing; writing.
This book editor has great potential, especially when it comes to formatting your work. You can insert images within the body of text, drag and drop chapters and scenes, and create a professional and polished front and back matter.
It's also particularly useful if you're writing an ebook . You can format and export your work into an instantly uploadable file that is ready to submit to a publisher or print on-demand service. In fact, this is the perfect tool for anyone planning to self-publish their work.
Another stand out feature is the ability to compare your current draft to previous versions, so you can examine the contrasting versions in real time.
Works on: Web-only
Sleek, clutter-free interface
Great for formatting to publisher ready levels
Web-only program means you'll need an active internet connection to use Reedsy.
#6. Grammarly
Even if you're new to the world of writing apps, you've probably heard of Grammarly. This supremely popular grammar tool is used by writers everywhere. From something as short and simple as an email, to full-length novels and screenplays, Grammarly is a powerful editing tool.
Grammarly has a surprising amount of features for a free app, but it's the spell checker and grammar editor that writers tend to use the most.
Spelling errors, incorrect grammar and sentence structure are highlighted on the screen, with helpful suggestions for replacing words and phrases. The corrector also explains exactly why the highlighted text is incorrect, so you can pick up some extra grammar knowledge along the way.
Grammarly Premium lets you set specific goals for your writing when using the paid version of the app. Tell Grammarly your audience, desired tone and level of formality and it will analyze your text based on these markers. It also assesses how clear and easy to understand your text is, and scores your delivery and reader engagement levels.
While Grammarly doesn't provide all of the additional book writing features found in some of the other apps on our list, it's a great additional tool for editing your work. It's also super handy to keep installed on your device for writing emails and other short-form documents.
Works on: Web and most major browser extensions
Cost: Basic Grammarly is Free. Grammarly Premium costs $29.95 per month, $59.95 per quarter, or $139.95 per year. Watch out for regular subscription discount offers.
Simple to use
Improves spelling and grammar
Scores your text on various markers
Web-only program means you'll need a solid internet connection to use Grammarly
No additional book writing tools
#7. NaturalReader
Before you send your book to an editor, you're going to want to do some thorough editing yourself.
One great way to approach the final editing process is to read the text out loud. While this is a great way to check your text's sentence structure, flow, and readability, you can often miss key issues.
That's where NaturalReader comes in. This editing app acts as a text-to-speech reader that reads your book right back to you.
You can choose from a variety of voices and adjust the reading speed as you wish. As the human-like voice reads your work back to you, the text is highlighted along the bottom of the screen so you can follow along and pinpoint any mistakes.
While running a whole full-length novel through NaturalReader might be too long a task, it can be a great way of checking shorter sections or running your daily writing through to check for issues with sentence structure and flow.
Works on : Mac, Windows and Web
Cost: Basic version is free. One time payment premium packages vary from $99.50 to $199.50
Reads your own text back to you
Gives your eyes a break from looking at the screen
Free package available
Premium version is more expensive than many other apps on our list
While the authors of yesteryear had to go it alone, in 2023, there's a whole new world of apps that can help you when you're writing a book. 
From basic spelling and grammar checkers to intricate book writing assistants that keep you focused, organized and motivated; there's a book writing app to help make the process much easier.
Don't let writer's block and procrastination stand in your way. Try out these apps for writing a book today and see how your writing and focus improves.
Leave a Comment Cancel reply
The 13 Best Writing Apps for Android
What are the best writing apps for Android ? Let's find out!
Numerous types of writers exist for bloggers, tech writers, screenwriters , magazine writers, authors, novelists and even researchers.
That's why apps are designed to help writers of all backgrounds.
At A Glance: Our Top 2 Picks For Writing Apps For Android
Best Grammar Checker: Grammarly
Best For Outlining Stories: LivingWriter
Remember, Google Docs is a great choice as it's free, syncs across all devices and is built for Android. But this guide examines some of the other best Android writing apps so that you can find one for your writing projects! Don't expect any Apple products or iOS apps to appear here.
1. LivingWriter
2. grammarly keyboard, 3. google docs, 4. character story planner 2, 5. jotterpad, 7. microsoft word, onedrive or onenote, 8. novelist, 9. pure writer, 10. writer plus, 11. ia writer, 12. evernote, 13. google keep, best writing apps for android: the final word.
Pricing: From free to $9.99 per month
LivingWriter is a newer writing app for writing stories or a book via your Android device and also online. Rather than using a word processor, It helps writers arrange plots and stories using boards and templates. Living Writer also contains a series of outline templates for popular story structures like the Hero's Journey.
It's a good choice for short stories and novels. You can take out a 14-day free trial without using a credit card.
Check out my interview with LivingWriter's founders .
Living Writer contains time-saving templates for authors and novelists. iOS and Android apps available
Pricing: Free with in app purchases
No matter what kind of writer you are, Grammarly can help you. It includes a keyboard for Android. A virtual keyboard might not be the best way to write, but with Grammarly , it can be incredibly helpful. The biggest strength of Grammarly is that it can catch typos and grammatical errors. It even works on a smartphone.
As you write, your eyes sometimes see what you wanted to write instead of what is actually there. Grammarly solves this problem by identifying your mistakes and correcting them. While you might not need the virtual keyboard, Grammarly is still an important app for fixing errors on the go.
Check out my Grammarly review .
We tested dozens of grammar checkers, and Grammarly is the best tool on the market today. It'll help you write and edit your work much faster. Grammarly provides a powerful AI writing assistant and plagiarism checker tool. Anyone who works with the written word should use it.
Pricing: Free
Google Drive has historically been one of the most powerful online office suites, and it remains so to this day. It provides a relatively clean and portable writing experience, particularly on Android smartphones and tablets.
It provides you with access to a word processor in Google Docs, cloud storage in the form of Google Drive, and the ability to take notes using Google Keep. As a result, this is an excellent suite of apps for writers .
It can even be used to write scripts for your YouTube videos.
All of these apps are free, and they provide you with up to 15 GB of free space on your Google Drive as well.
If you're a professional writer, check out my Google Workspace review .
Character Story Planner 2 is one of the best book writing apps for Android on the Play Store.
While this app was actually designed to be an app for tabletop gaming (such as "Dungeons and Dragons"), this is also a great resource for those looking to write novels and short stories.
This app is great at creating stories for your characters, coming up with locations, and even creating magical spells. If you are writing something that requires you to create an entire world, then this is the app for you.
You can write an entire book in this app and transpose it into a word processing app later! You might also be interested in our list of the best grammar checkers for android .
JotterPad provides a free version, and it's geared specifically for writers.
It can help you write novels, screenplays, and other forms of writing as well. There is a no-distraction mode that helps you get into the zone and tune out distractions.
It even has a word counter, a dark mode, and support for cloud storage. You can even access split-screen mode, where you can work on two documents at once.
Markor is a free writing app for Android. It is about as simple and straightforward as it gets. It supports Markdown, meaning you can write HTML relatively quickly (an ideal use case for bloggers).
The app is a basic writing app that helps you write notes, to-do lists, and simple documents. It also provides you with the ability to convert your documents to PDFs.
Finally, it allows you to change the color and size of your font when necessary. With offline support, this is a straightforward app that gets the job done.
This suite of apps is a lot like Google Drive. It provides you with a full range of apps that you can sync across all devices.
While Microsoft Word is pretty self-explanatory, OneNote provides the ability to take notes easily.
If you are looking for desktop versions of these apps, then you will need an Office 365 subscription; however, a free version also is available that lets you use Microsoft Word and all that comes with it.
As the name suggests, this is one of the best novel writing apps for Android.
Its numerous features help you plot, prepare, and export your novels and short stories. A timeline feature also helps you track your story as it unfolds.
This app also comes with formatting options, Google Drive support, and a strong text editor. Best of all, this app is free.
If you are a minimalist, then this is the app for you. The features are easy to use, making the learning curve short.
There is little to get in the way of your focus. You'll find paragraph and line spacing options, a dark mode, and the ability to save your documents as you write.
It also reminds you to save your document before you lock your phone to make sure your work is saved. There is even a history feature that lets you restore your work if it gets deleted accidentally.
Writer Plus is one of the best writing apps for Android on the Google Play store.
It is popular because of its massive array of features, including headers, text formatting, an undo macro, a night mode and even word counters. It includes a dark theme or night mode.
The user interface is straightforward, and you can navigate through your documents easily. While it doesn't include everything that's featured on desktop apps, it's easy, quick, and intuitive.
Finally, a free version of this app is available as well.
Pricing: From free to $29.99
iA Writer is an intuitive, straightforward writing app that Android users will find easy to use learn.
It's a clean app that removes all distractions, allowing you to focus on your creative work. With Focus Mode, you can dim everything on the screen except for the line on which you are working.
It also supports Markdown so you can write HTML quickly. iA writer features a light and dark theme, and it also syncs to Dropbox.
The app will also help you highlight weak verbs, repetitive words, grammatical errors, and more.
Finally, the desktop version of iA Writer also links to WordPress, allowing you to write blog posts and publish them to your site quickly and easily. I use this app a lot.
Pricing: From free to $14.99 per month
Evernote isn't a dedicated writing app per se. However, if you're out and about and think of an idea for your article or story, you can save it to Evernote. It's also a good tool for managing supplementary research for writing projects, such as interviews, PDFs, documents and more.
If you'd like to learn more about how to use Evernote for creative projects, check out this interview .
Google Keep , a type of dedicated notepad, included with Android devices makes for a good writing app in a pinch. It's kind of like Evernote-lite.
You can use it for note-taking, to capture ideas, and flesh out outlines while on the go. At the end of the day, the best writing app is the one with you when you need it.
I probably wouldn't write anything long with it, but I'd use it for research.
These are just a few of the top apps available on Android right now for writers of all types.
Any of these writing tools can help you with blogging, writing a book, creating an article, or editing while using a tablet or Android mobile device.
Take a look at these Android writing apps and find the one that best meets your writing needs.
Best writing apps for all platforms
Best book writing software
Best story writing apps
Best note-taking apps
Best writing tools
Best writing apps for iPad
Join over 15,000 writers today
Get a FREE book of writing prompts and learn how to make more money from your writing.
Success! Now check your email to claim your prompts.
There was an error submitting your subscription. Please try again.
Bryan Collins is the owner of Become a Writer Today. He's an author from Ireland who helps writers build authority and earn a living from their creative work. He's also a former Forbes columnist and his work has appeared in publications like Lifehacker and Fast Company.
View all posts
Best Writing Apps for Android in 2022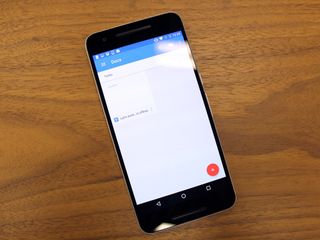 Whether you're writing essays for school, drafting updates for your blog, or just jotting notes, everybody needs a writing app. There's no shortage of them on the Play Store, and in theory it shouldn't be hard to find a good one — it's just a place to type, right?
Turns out there are quite a few useful features that you might want to look for when settling on a writing app. You probably want an app that syncs with other devices — Android or otherwise — so that you can pick up where you last left off. Diverse file support is good, too, for those times you need to export .doc files or PDFs.
Google Docs
Why you can trust Android Central Our expert reviewers spend hours testing and comparing products and services so you can choose the best for you. Find out more about how we test .
It's hard to argue with an app that comes pre-installed on most Android phones. Google Docs is an entirely cloud-based app that can be accessed from any machine that's signed into your Google account, and has full support for images, text formatting, and a wide array of file formats.
One of the best parts of Google Docs is its collaborative nature, with the ability to share your documents with others and even write simultaneously within the same file. You can even notate certain sections of a document with editor's comments for the other writers' reference. Best of all, it's completely free, without any in-app purchases or tiers to worry about.
Download: Google Docs (free)
Microsoft Word
Microsoft Word is another classic writing app, and it's one that you probably grew up using on your computer before smartphones were even around. Word works a lot like Google Docs, though it syncs to OneDrive rather than Google Drive (you can also set it to sync with Dropbox). The interface is familiar if you've used recent versions of Word on the desktop, and the app also serves as a PDF reader.
Some of the features, including custom headers/footers and file history, require an Office 365 subscription , so power users that need to meet specific formatting standards for, say, college essays, may not be able to get away with using Word for free. But for the majority of users, the free version should offer plenty of functionality and hold up to alternatives like Google Docs.
Download: Microsoft Word (free)
iA Writer is a fantastic writing app that focuses more on simplicity than formatting — though it does allow for the latter, as well. It features its own file browser for your documents, as well as the ability to sync your work to Google Drive or Dropbox, and best of all, it's cross-platform with support for iOS, Windows, and MacOS.
One of iA Writer's most unique features is its focus mode, which obscures the sentences you're not currently working on, but there's plenty of other great features like Markdown support, night mode, and the ability to publish directly to Medium. iA Writer is free on Android, but keep in mind that you'll need to shell out some cash to use it on your computer.
Download: iA Writer (free)
The go-to for nearly every college student, Evernote is an immensely popular writing app that's also equal parts organizer, planner, document scanner, to-do list, and much, much more. The interface can be a bit overwhelming at times, but in return, you get a wealth of features unmatched by the competition.
Evernote syncs your notes and files within its own cloud service, and offers apps for almost every device you can think of, as well as a web interface. Like the other note-taking apps in this list, you can export your writings as PDFs or other file formats, and Evernote can import from PDFs as well. If you shell out for Evernote Premium, you'll benefit from things like unlimited device access, offline notes, PDF annotation, and much larger storage.
Download: Evernote (free)
Which is your favorite?
Do you swear by one of the writers listed above? Or have you been using something else throughout the years? Let us know in the comments!
The best journaling apps for Android
Get the Android Central Newsletter
Instant access to breaking news, the hottest reviews, great deals and helpful tips.
Hayato was a product reviewer and video editor for Android Central.
Google Bard receives precise location support to showcase insightful results
How to use Google Maps Immersive View
Gmail on mobile is using AI to save you time when searching your inbox
Most Popular
By Namerah Saud Fatmi May 25, 2023
By Patrick Farmer May 24, 2023
By Christine Persaud May 24, 2023
By Andrew Myrick May 23, 2023
By Patrick Farmer May 22, 2023
By Christine Persaud May 22, 2023
By Namerah Saud Fatmi May 22, 2023
By Christine Persaud May 20, 2023
By Patrick Farmer May 19, 2023
By Namerah Saud Fatmi May 19, 2023
2 Google Pixel Watch's back is falling off and causing major frustrations
3 Google Bard receives precise location support to showcase insightful results
4 Best Bluetooth keyboards for Amazon Fire Max 11 in 2023
5 Qualcomm to launch the Snapdragon 8 Gen 3 early this year
Best free writing app (2023)
Bring your words to life with the best free writing app for Windows, Mac, iPhone, and Android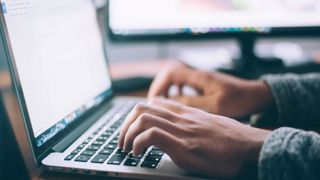 The best free writing app helps you focus on your writing - wherever you are, and wherever inspiration strikes.
Whether it's essays, work documents, or your latest novel, free writing apps - like the best free word processors - let you organize your thoughts on the page without breaking the bank. But the best free writing software and apps make it even easier to save, share, and sync documents online.
Some of the best choices offer distraction-free interfaces and gamification-style challenges to keep you in the zone. Others focus on professional document creation for work. You'll even find advanced features like the best speech-to-text transcription and best online collaboration tools .
Our picks cover the best free writing apps and software on the web and across Windows, Mac, Linux, Android, and iOS free of charge. Optional subscription upgrades are also available for some tools, unlocking extra features, but they're not essential.
To help you find the right tool, we've tested the best free writing app for all types of writers, whether you're at a desk or writing on the go. Tools that let you just focus on the art of writing, without worrying about costs or distracting features you're never going to use. Just you, your keyboard, and your creativity.
We've also rounded up the best note-taking apps to make sure you can keep on writing wherever you are.
Best laptops for writers : Stay creative on the go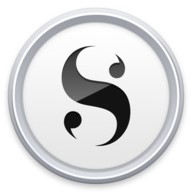 Scrivener: best writing software for authors Scrivener is packed with all the features a novelist needs, helping you track plot threads, store notes on characters and locations, structure your work and (most importantly) get some serious work done. It's not a free writing app like the tools below, but it's well worth the investment if your budget will allow it.
The best free writing app 2023
1. google docs.
Our expert review:
Specifications
Reasons to buy, reasons to avoid.
Google Docs is the perfect companion for any writer. It's an extremely clean, quick word processor available in the browser, on desktop, and phone and tablet apps. So, you can take notes wherever inspiration strikes.
Docs is more or less Google's spin on Microsoft Word. The interface is a bit more consumer-friendly than the professional office software - although it's no less powerful.
You'll find heaps of writing tools, including a pretty accurate speech-to-text transcription tool (just enunciate and don't talk too fast). Keyboard shortcuts are very well-supported.
For best results, you'll need an internet connection, though documents can be used offline. They'll be synced, and in our experience, that happens swiftly behind the scenes.
To take advantage of the free writing app, you'll need a Google account, which may be a deal-breaker for some - but that also opens up the rest of the Google-stuff in the Google-sphere, such as Sheets, Slides, and . With a free account, you get 15GB of storage, which should be more than enough for word documents. A Google One subscription upgrades your storage space, amongst other things.
Read our full Google Docs review
2. FocusWriter
FocusWriter helps writers combat one of their biggest challenges: distractions. One of the best free writing software tools out there, it's specifically designed to let you just concentrate on your writing.
The stripped-back interface is deliciously sparse - ideal for when you just need to get your head down and write - and not dissimilar to a moderately powerful version of Notepad, featuring support for TXT, basic, RTF, and ODT files.
Even the toolbar is hidden until you actually need it. Just swoop your cursor to the top on the screen to reveal a barren menu, from basic formatting to themes and timers.
Features are light within the software, but FocusWriter isn't made for heavy editing sessions. It's designed to make the act of writing flow seamlessly onto the page.
Elsewhere, the writing app boasts the ability to add themes and your own background images, which can help you stay motivated.
The Daily Progress tool is a sweet extra, adding Duolingo-style gamification that lets you track your daily writing streak. For when it's oh-so-easy to slip onto social media when you can't find the perfect word, it's a nice way to keep you within the app.
Available for Windows, Linux, and macOS, the writing software also comes as a portable download, no installation required. So, you can pop it on a USB stick and plug it into any computer you're working on.
Read our full FocusWriter review .
3. WriteMonkey
WriteMonkey is another piece of free writing software that cuts down on the clutter to deliver uninterrupted writing sessions.
The free word processor, cleverly described as zenware, is unbelievably pared back compared to more traditional writing apps.
There's very little in the way of distracting 'screen furniture', which means you're better positioned to concentrate on the writing process. And absolutely nothing else.
But don't let that stripped-back approach fool you. As one of the best free writing apps, WriteMonkey is still rich with the sort of core features that matter to writers.
However, most options are hidden in a context menu (so you'll need to right-click to view it). It also only supports TXT files, which may limit those looking to read, write, or edit across multiple formats. It is, at least, a portable download, letting you take it wherever you need.
If you've enjoyed Markdown, the simplified text-editing language that lets you format, annotate, classify, and link as you type, then great. WriteMonkey's inner workings will instantly chime.
First-timers should spend a little time with this free writing software, to uncover that intuitive simplicity.
Read our full WriteMonkey review .
4. LibreOffice Writer
Writer, the open-source, free writing software, serves almost all general writing needs.
LibreOffice is a near-perfect example of free office software - a familiar, feature-rich take on the office suite. What the veteran software package lacks in Microsoft polish (its interface is undeniably old-fashioned, for starters), it makes up for in its price-point: free. For that, you get access to six tools: Calc, Impress, Draw, Base, Math, and Writer.
Earning it a slot on our list of best free writing apps is the fact that LibreOffice Writer packs the full editing toolbox.
This isn't just a note-taking app for staving off distractions when you're deep in the zone; it's for when you're in pure writer-mode.
If you're at all proficient with Microsoft Word, you won't have any problems using the Writer software. Layouts and functions are almost identical, and there's support for DOC and DOCX file types, making it efficient to switch out of the Microsoft garden.
This free writing app is ideal if you're hunting for a tool that almost perfectly replicates the Word experience without the cost.
Read our full LibreOffice review .
5. Microsoft Word
When it comes to word processors, Microsoft Word is probably the baseline against which all others are compared. It's the one most of us use at school, home, and work. It's familiar, comfortable - and it's available free on the web and mobile devices.
That may not be the best way to write your masterpiece (unless you've hooked up a Bluetooth keyboard). But it's a great way to jot down ideas on-the-go. When we tested the browser-based version we found it could be a bit slow at first, and we were typing faster than the words appeared on screen. This settles down (mostly) after a minute or so.
Microsoft's free writing apps on Android and iPhone had no such issues. Using these was velvety smooth. We especially appreciated the option to switch between mobile view and desktop view, so we could gauge how the document would appear in full-screen.
As with Google Docs, you'll need to sign up with a Microsoft account. And, like Google, that also lets you use free versions of PowerPoint, Excel, and the like. While Word offers one of the best free writing app experiences, there's no denying that the paid-for upgrade is superior, offering more tools, and a true desktop app.
Read our full Microsoft Word review
Author promises to make it easier to 'think, write, and cite'. It's a promise capably delivered, with a clean interface and bags of writing features designed to make it easy to go from first draft to final copy.
If you're an Apple user in search of the best free writing apps on macOS, this one demands your attention.
Concept Maps is one of the best features. It's a great mind-mapping tool to visualize and lay down all your thoughts while they're fresh in your head without constraint. You can worry about whipping them into shape later.
Students and report writers will appreciate Author's 'fast citing' tools - speeding up assignment-writing by correctly adding and formatting citations, references, and contents.
A paid-for upgrade of the writing software that offers exporting options is available for $28.99. Unless you need automatic formatting on export, you can stick with the free version.
Best free writing app: FAQs
How to choose the best free writing app for you.
Why you can trust TechRadar We spend hours testing every product or service we review, so you can be sure you're buying the best. Find out more about how we test.
When deciding which free writing app is best, start by figuring out what sort of writing you want to do.
Do you need a handy tool for quick scribbles and jotting down ideas here and there, or are you using the writing software to write and edit an epic novel? Tools like FocusWriter and Write Monkey are great for getting thoughts on the page without friction.
It's also worth considering if you need a writing app with a distraction-free design, so you can concentrate on what really matters to you. Again, FocusWriter performs admirably here, but as a result, you lose core typography and editing functions. Unlike LibreOffice, this isn't the best Microsoft Office alternative if you need those tools. In that scenario, it may be worth considering looking at some of the best free office software , which includes MS Word-style apps, alongside other tools similar to Excel, PowerPoint, and so on.
Access is an important factor when using your writing software. A tool like Scribus needs to be downloaded to your machine. Lightweight apps like FocusWriter, however, offer a portable download that can be downloaded to a USB and carried with you.
Check what file formats your chosen writing app supports, too. While some let you create and edit the common DOC and DOCX files, others only allow TXT or RTF documents.
But most of all, it's important to choose the best free writing app for your unique creative flow.
What's the difference between a writing app and an AI writer?
AI writers vs writing apps - what's the real difference?
Artificial intelligence is growing in a big way - and when it comes to writing, it's ChatGPT that's been snatching all the headlines of late, with its ability to generate short- and long-form content based on user prompts.
Generally, an AI writer will write your content for you, based on its current learning (although often without 'understanding' the context). A writing app simply lets you write your way, in your own voice.
Some platforms, such as Canva , have even integrated AI into its Canva Docs and Canva PDF Editor services. However. its Magic Write tool acts as a writing assistant, serving up suggestions and ideas, leaving real writers to work their magic on the content. Though usually hiding in the back-end, you can also find AI integrated in other ways across other the best PDF editor apps (and even the best free PDF editor apps, too).
As always with AI-generated content, whether it's the written word or an artwork masterpiece, human involvement is usually necessary and always desirable. Even if you're using the best AI writers out there, editing and proofreading is essential to give the content accuracy and emotional resonance.
How we test the best free writing apps
Testing the best free writing apps and software, we assess how easy it is to get your words down on the page with the least amount of friction. Portable writing apps rank high, because they let you use the program on whatever computer or laptop you're using.
We also look at performance for its intended audience. For distraction-free writing apps, do they really foster focus? For word processor-style software, does it offer good formatting and editing options?
Most importantly, we expect to see free writing apps that are genuinely cost-free - no-one wants to stumble across hidden fees and charges in the contracts.
Best free text to speech software : Speak your mind
Are you a pro? Subscribe to our newsletter
Sign up to the TechRadar Pro newsletter to get all the top news, opinion, features and guidance your business needs to succeed!
Steve is Techradar Pro's B2B Editor for Creative. He explores the creative apps space where individuals and organizations thrive on design and innovation. A former journalist at Web User magazine, he's covered software and hardware news, reviews, features, and guides. He's previously worked on content for Microsoft, Sony, and countless SaaS & product design firms. Once upon a time, he wrote commercials and movie trailers. Relentless champion of the Oxford comma.
Kingston DC600M SATA SSD review
A host of malicious Google Chrome extensions with 75 million installs have been removed
The best PS5 deals for M06 2023
Most Popular
By Aleksha McLoughlin May 29, 2023
By Barclay Ballard May 26, 2023
By Mirza Bahic May 25, 2023
By Bryan M Wolfe May 23, 2023
By Aleksha McLoughlin May 23, 2023
By Barclay Ballard May 23, 2023
By Rhys Wood May 23, 2023
What Is the Best Software for Writing a Book?
Looking for a tool to help put together your book? These are the top choices for authors.
There are plenty of apps that can make writing a book easier, but the best ones are tailored to writers. Get to know the most efficient book writing software around today. You're bound to find a great fit for your literary needs.
1. Scrivener
This is a desktop and mobile app for writers that mean business. You get a 30-day free trial, after which you pay a fee to keep using its very handy tools.
Scrivener really is one of the best writing software at your disposal. When you start a new project, there are three fiction templates: Novel , Novel (with parts) , and Short Story . But there are also scriptwriting, non-fiction, and useful miscellaneous options.
The project editor lets you break down your manuscript into as many sections as you need. You can write every scene right there on Scrivener, plan your characters and fictional world, prepare your front matter for different versions of your book, and more.
And all this is in addition to a huge range of word processing tools, from tables and bibliographies to word count targets and statistics reports.
Download: Scrivener for Windows | macOS | iOS (Free, premium version available)
There are many Scrivener alternatives for writers , but if you prefer professional online apps, Atticus is the way to go.
It's a great software for writing a book, also available on desktop but only through the web app. Keep in mind that there's a 30-day money-back guarantee instead of a free trial.
As for how it works, your first step is uploading or starting a new book. Once in the editor, you get lots of user-friendly tools for writing and formatting your manuscript. For example, Atticus automatically creates your front and back matter, while you add chapters, details, images, and the text itself.
As you write your story, you can see a print or digital preview based on different devices. Other features include a timer, goals, default and custom layouts, publisher info, and the ability to export the file as an EPUB, PDF, or DOCX.
So, what's the industry standard software for writing a book? Sophisticated apps like Scrivener and Atticus are the first to come to mind, but simpler services are just as capable of producing quality books.
Dabble is a good example. It's a browser-based service with a free trial that lasts 14 days before the subscription kicks in. But there are discount opportunities like $20 off if you write 1000 words.
In terms of functionality, your dashboard is simple and free of distractions. It offers similar tools to the previous apps, such as formatting themes, a breakdown of your manuscript and story notes, and settings for goals, stats, and images.
You also get spell, style, and grammar checkers, a thesaurus, and a read-aloud tool with multiple voice options. Exporting is limited to a Word and text file format, but you can create a shareable link, too.
4. Reedsy Book Editor
All kinds of apps can support writers, and some don't cost a thing. If free project management tools for Windows exist, so do great software for writing a book.
One such great option is Reedsy's Book Editor, designed by experts in the publishing industry. You get an online workspace to plan, structure, and write your book. You can also set goals, check your spelling and grammar, see a report of your progress, pin notes, and more for free.
Export options include EPUB, MOBI, and PDF files. The formatting templates are only three, and you can't create a custom layout. Besides minor flaws like that, this app is worth your time.
Another fantastic free option to consider is Novlr. It's designed to make reaching your writing goals easier, whether it's to boost your productivity or publish a novel.
The app asks you about this from the get-go. When starting a new project, you're also offered templates for different types of prose and poetry.
The interface is quite simple but useful. It offers just enough tools to write each part of your book, plan its contents and layout, track your progress, export the document in Word, PDF, or ODT form, and even create an ebook with custom cover art.
One downside is that, even with the Pro package, Novlr is missing perks that other book writing software have. However, it remains among the best free services you'll come across today.
6. Microsoft Word
As far as word processors go, Microsoft Word is the most popular, and for good reason. It's especially valuable to creative writers, available online and as a desktop app. There's also a one-month free trial to test its offerings.
It may not be the cheapest package or one dedicated to book writing like most options on this list, but there are templates for writing a novel and plenty of tools to develop your manuscript.
You can write, edit, and get your book ready for publication, all in one place. Other features are perfect for writers like dictation, endnote and bibliography tools, an array of formatting options, and the ability to use add-ons.
If you like the app but can't afford the subscription, try ways to get Microsoft Word for free . Some methods won't provide the same range of tools useful to writers, but you'll still have a reliable space to jot down ideas when inspiration strikes.
Download: Microsoft Word (Free, subscription available)
7. Google Docs
The best free alternative to Word for creative writing is Google Docs. It's not quite as powerful, but it's more than capable of helping you produce a book.
When using Google Docs as a book writing software , you can look forward to a clean and user-friendly space to write and edit, handy tools for designing your manuscript, and several options for sharing and downloading.
It's a good idea to use specialized tools when setting up the book for print or digital publication, but Docs can handle the writing process up to that point.
8. Squibler
If you want another platform like Dabble that's complex but affordable, try Squibler. On the one hand, its functions are a bit slow and glitchy. On the other, you get good writing and planning tools.
Squibler works best with projects you start on the app—uploads tend to need editing. Available templates range from short stories to novels and screenplays of different genres.
In addition to standard word processing features, you can choose between DOCX, PDF, MOBI, and TXT formats when downloading your work.
Squibler isn't perfect, but it's got plenty to offer your writing projects, once you learn the app's ins and outs.
What makes the best software to use for writing a book boils down to being able to put a story and manuscript together as easily as possible. And yWriter is another reason why you shouldn't go straight to the flashy and expensive services for that.
This free app looks old-school and has a small learning curve because of its multiple features. But, like Squibler, you just need to get to know how it works to fully benefit from it.
With yWriter, you can plan every single part of your book, including chapters, scenes, characters, locations, and items. You can customize and connect different elements in great detail.
There are even tools for creating a storyboard, writing your synopsis, and finding predefined or custom problem words authors should avoid. Ultimately, yWriter is more powerful than it seems.
Download: yWriter for Windows | macOS | Android (Free)
10. Bibisco
If you like the sound of yWriter, give Bibisco a go, too. The purpose is the same: construct a narrative in loads of detail straight from your computer.
But Bibisco's interface is simpler to use as you gradually build your book with a premise, chapters, characters, and more. The software tracks your project's progress based on set goals and even offers tips on how to write different parts of the story.
Unfortunately, not everything is free. A 30-day trial lets you use notes, character relations, objects, and a timeline, for example. These premium features are then hidden behind a fee.
Download: Bibisco for Windows | macOS | Linux (Free, premium version available)
Find the Best Book Writing Software for All Occasions
The web and desktop apps above are the writing community's top choices, thanks to each platform's excellent tools for authors. But one software may not suit all writers, so look for the option that fits your needs most.
Are you a professional writer with money to spare looking to publish a quality book? Scrivener or Atticus is best. Are you new to the craft and just want to practice? Novlr or yWriter are great choices.
Clearly, software for writing books come in many forms. Just filter through them with your specific requirements in mind.
The Best Writing App for Authors and Screenwriters
Start your book, plot your screenplay, write your papers, organize your manuscripts, and export it for publishing - all in one place.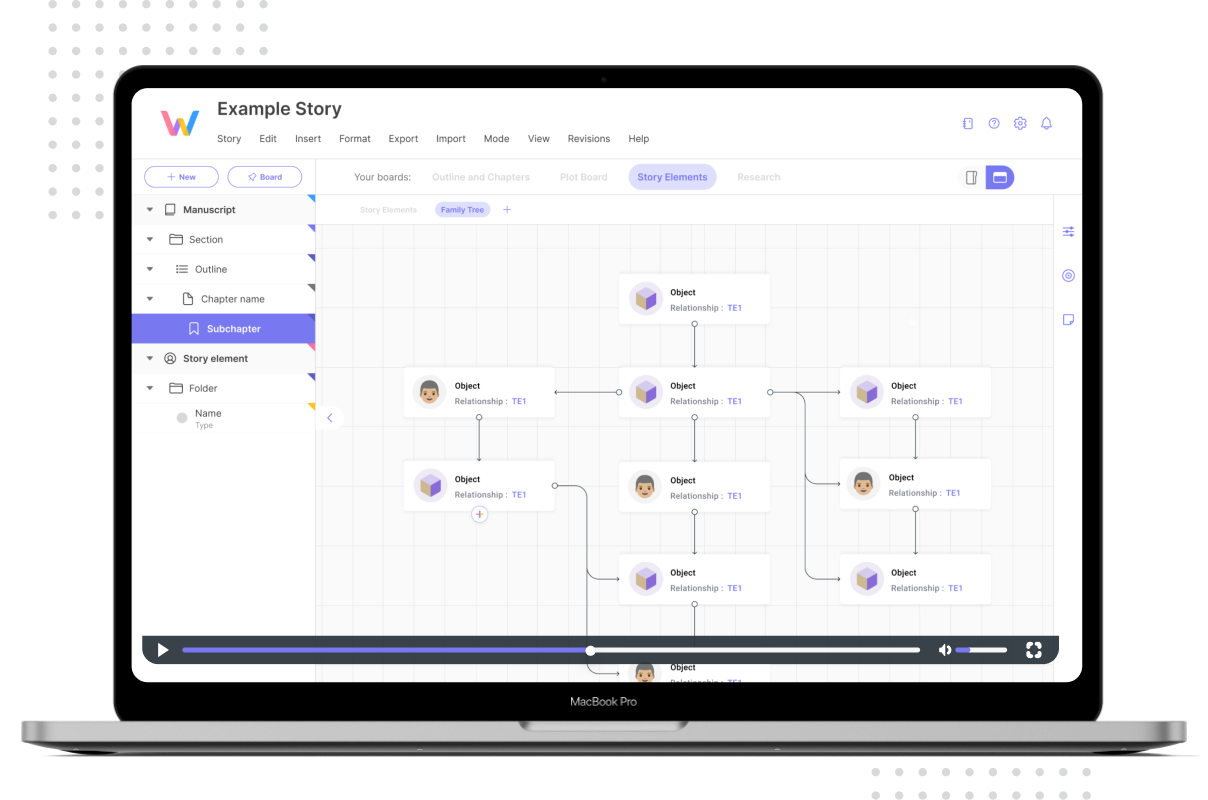 No Credit Card Required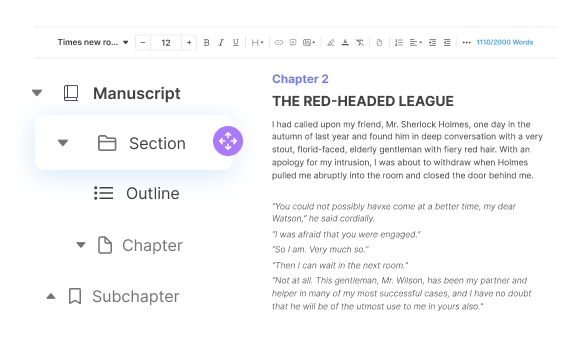 LivingWriter provided just the right amount of guidance to keep me focused and in the zone when crafting the manuscript for my book. The tracking and stats were helpful and encouraging. I'm looking forward to finishing my series...
Eric Jason Martin - Author of the New Arcadia Series
Leaving your word processor in the dust
Organizing made simple.
Simple drag and drop organization for all your chapters, subchapters and elements.
Smart Text / Elements
LivingWriter stores your elements and suggests them as you type.
Plot Easier With Outlines
Organize your manuscript with time-tested outlines used by best-selling authors.
Organize and Plot Your Manuscripts Easily
Spend less time organizing and planning. Spend more time growing your ideas into books.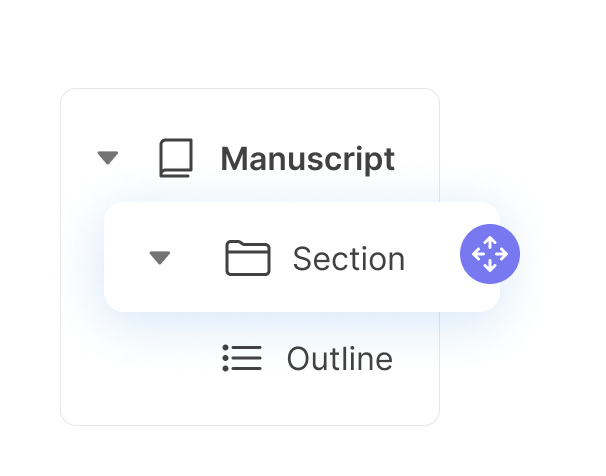 Drag and Drop
Order and reorder your chapters and elements without the hassle of copying and pasting.
On Screen Sidebar
Jot down your chapter notes quickly on the sidebar. Everything on one screen means never leaving your manuscript.
Get a god's-eye view of your writing. Intuitively drag and drop to plot and rearrange your manuscript.
Plot Quickly with Time-Tested Manuscript Outlines
We don't believe in reinventing the wheel, but we're fans of greasing it a bit. You can now use the same outlines used in world famous stories and movies right in LivingWriter. We'll lead you through each step with detailed.
No other writing app out there will do that for you.
The outlines include, the Three Act Structure, 27 Beat Chapter Plotting, The Hero's Journey, Dan Harmon's Story Circle, and many more!
No more moving files and text around to organize your manuscripts.
With the board feature, you get an intuitive, modern way to view your manuscript. Simply drag and drop anything inside the board to rearrange your book, change up your plot or just marvel at how much you've written so far.
Embracing the Dark Side
LivingWriter comes in both light and dark modes. You can easily switch between them with one click. This will come in handy when you're on a writing binge at night and your eyes start to hurt. You can keep using the best writing app in the world straight through to sunrise.
Smart Text and Auto-suggest
Store all your elements and LivingWriter will make them work for you. As you type a character name, location, etc. our editor will auto-suggest your elements. Clicking on your elements will allow you to quickly access notes and other info for each element.
You won't find this in any other fiction writing app!
Intuitive Writing Goals
Writing goals helps you create a vision for your manuscripts.
Visually seeing your goals will make a difference in your writing pace. There's no novel writing software that shows you your goals as beautifully as we do. Goals and deadlines can be motivating!
Chapter Goals
Manuscript goals, cloud based so your creativity doesn't have to stop.
Many writing apps out there don't link to the cloud, so you're stuck working on just one device.
But we know that writing novels online, and on any device is the future.
LivingWriter doesn't lock your imagination to one place. With completely iOS/Android apps completely synced, write wherever and whenever.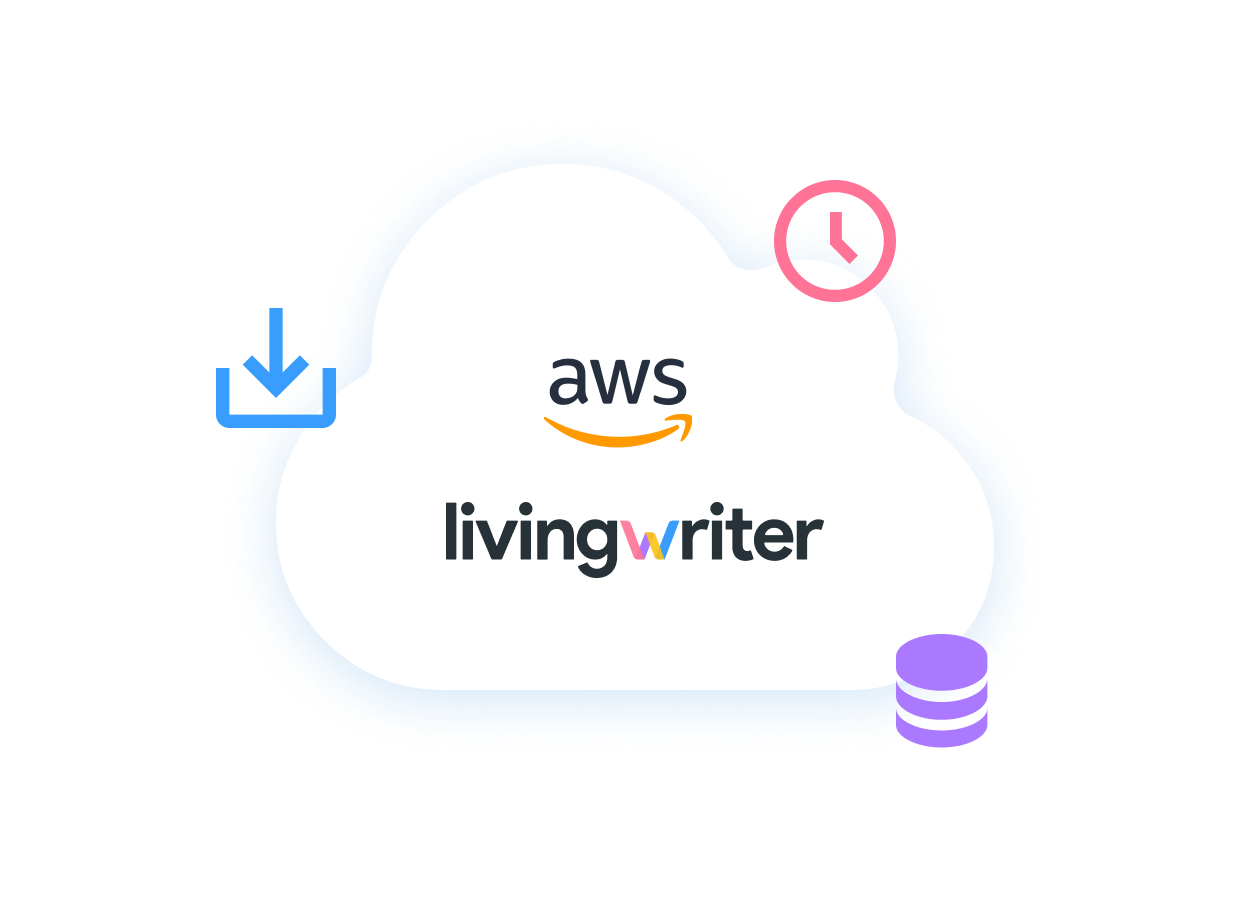 No need to hit " Save "
Even if your laptop decides to have a meltdown, rest assured that your work is safe
LivingWriter automatically saves every letter you type. Writing software that's cloud-based is the future!
Your work gets saved constantly, safely, into our Amazon Cloud Infrastructure and then we back it up for you every 10 minutes.
Get it all out there or Share it in pieces
You're midway through your thrilling murder mystery, but you get the feeling it's not suspenseful enough. Don't worry. LivingWriter is the only novel writing software with easy sharing and co-authoring features.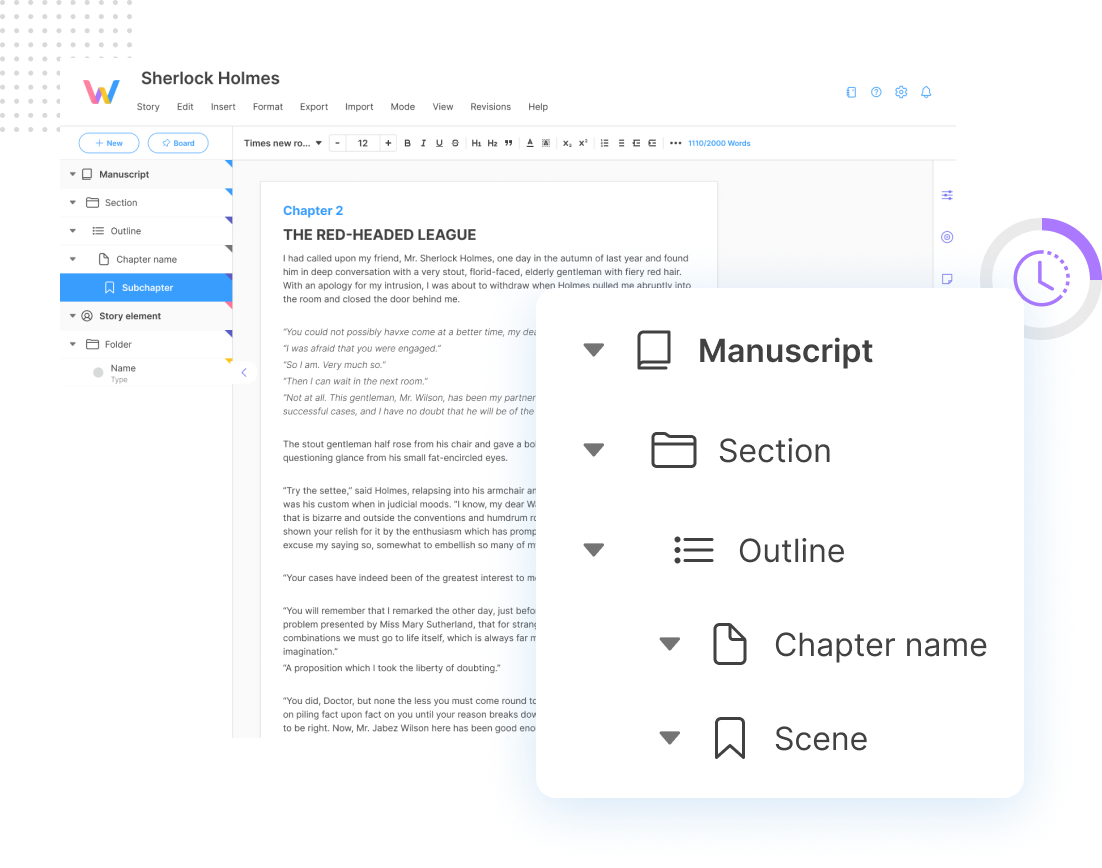 No Lagging , No Matter The Length
Other writing programs weren't meant to hold your 100,000 word masterpiece. You'd have to split your book up into separate docs to keep it from loading forever. With LivingWriter, each chapter and subchapter is self-contained, meaning a speedy load of your whole manuscript every time.
Seamless Imports Of Your Existing Work
Wrote half of your book already?
All good. Import your existing manuscripts from other programs with a couple of clicks, and see how much easier it is to finish your second half on LivingWriter.
If you're coming from other writing apps like Scrivener, don't worry. You'll be able to pick up on LivingWriter right where you left off.
You've Found The Best Writing App !
Your work is safe.
LivingWriter works on an infinitely scalable Amazon AWS structure. No downtime or data loss ever. We're constantly backing up your data and holding to the industry standards of data security. This is online writing software done right.
Amazing Customer Service
Our staff are dedicated to improving your writing experience. Get in touch with us 24-7 to let us know how we can make your life easier. There is no online writing platform that caters to you like we do.
Constantly Evolving
We've got a roadmap, but we're also always implementing new features suggested directly by our loyal writers. We're dedicated to your success. Our goal is to be the best writing app for you.
Our Writers Love

LivingWriter feels like the iPhone of writing tools.
Casey Kerbs , Author of How To Lose Weight Without Losing Your Mind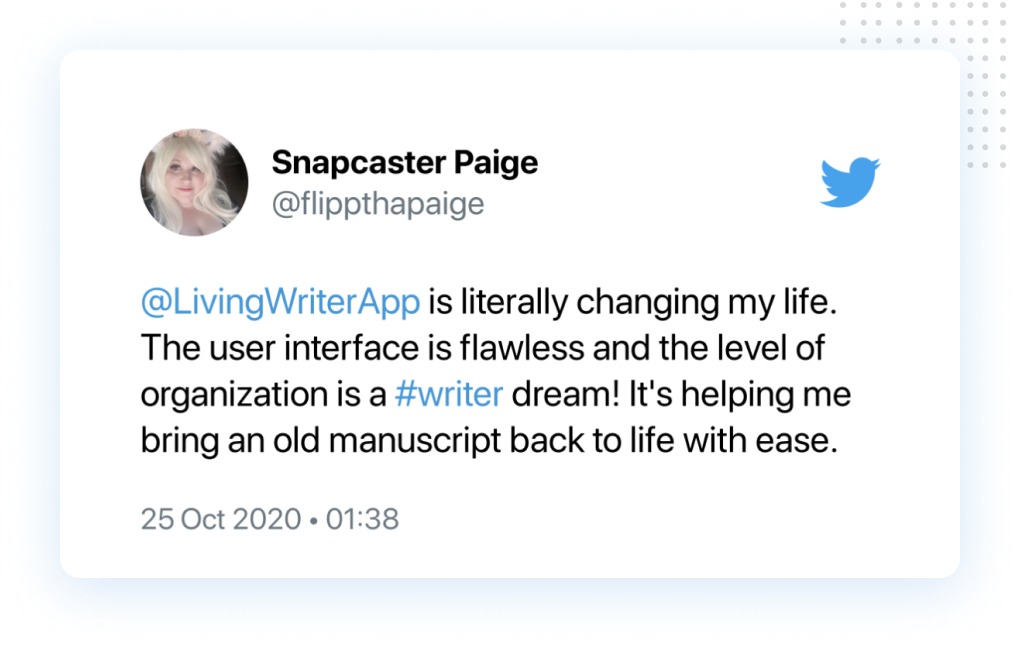 Writing software for fiction, non-fiction and beyond!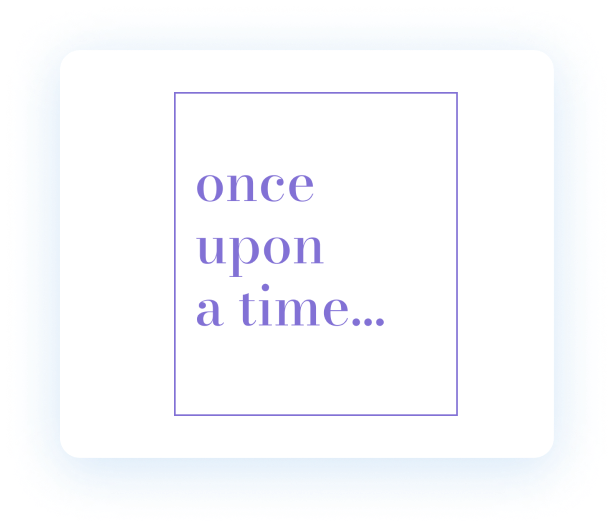 The best writing app for fiction
Most of our writers are spinning up fantasy, romance and science fiction stories. We've made it easy to get all your creativity and fictional elements into LivingWriter. No writing app does this better than we do.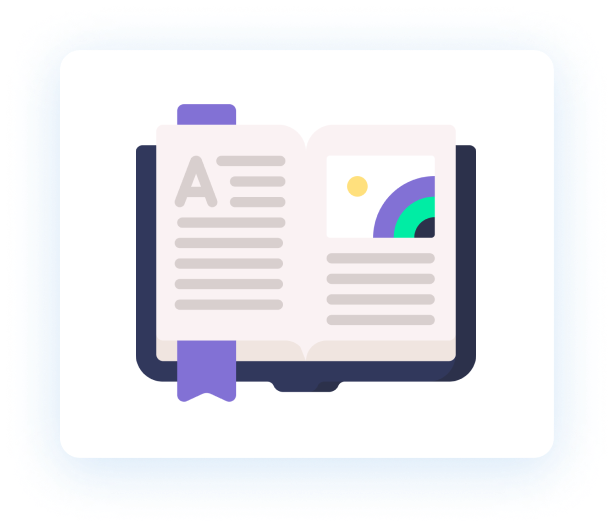 The best writing app for non-fiction
When it comes to non-fiction we have templates for memoirs, biographies, self-help books and more. We've already had six (that we know about) self-help books published after being written on our platform!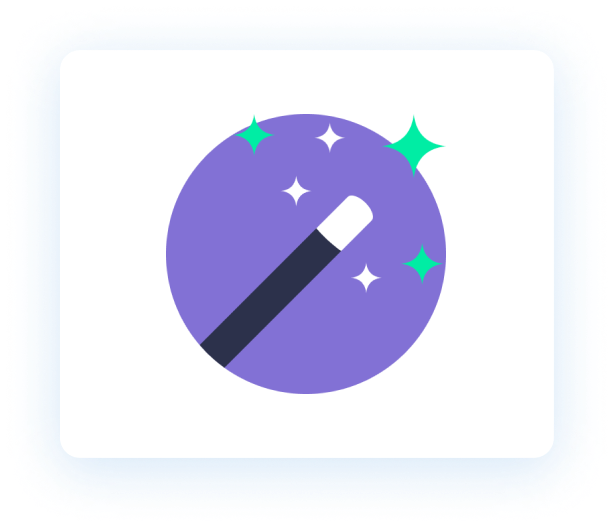 Best writing app for world-builders
No other writing app or novel plotting software gives you the freedom that LivingWriter does. With our smart elements, beautiful board and intuitive organization, you can have your entire world built before putting down your first word.
Try Free For 14 Days
LivingWriter is free to start, so you've got nothing to lose.

5 Best Book Writing Apps in 2023
By Tani Adams 8 days ago, Apps and Software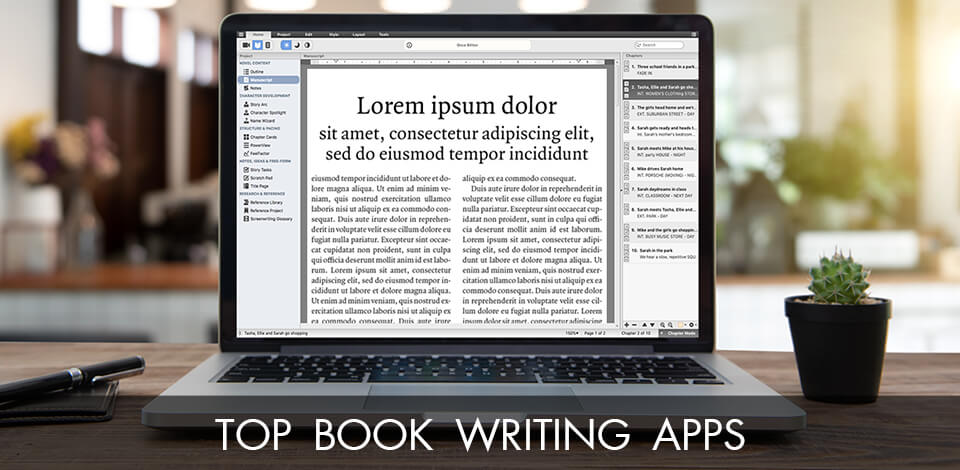 If you've decided to write a book and want to make this process as smooth and efficient as possible, you definitely need to use the best book writing app. With such a tool at your disposal, you can organize your working process, set daily and monthly goals, define priorities, etc.
Top 5 Book Writing Apps
Scrivener - Made by writers for writers
Final Draft - Over 100 professional templates
Ulysses - With distraction-free interface
Script Studio - For taking notes and ideas
iA Writer - With markdown support
Though there are many applications that have an attribute "best" in their description, not all of them can really provide you with handy features required by every author. That's why, we have studied the apps closer, and sifted those that are of minor help.
1. Scrivener - Our Choice
Keeps everything in one place
Two documents side-by-side in one app
Saves in multiple formats
Easy-to-use templates
Manual spelling and grammar checks
Verdict : If you're a native or new writer, trying out an English writing software application like the Scrivener could help you with your writing skills. Many people who write do so because they are self-publishers and often feel that only an English writing software could help them create a better product for their customers.
However, most software programs don't come cheap so it would be best to explore different ways of increasing your writing prowess, such as, by learning more about your chosen subject through research. You can learn lots from books about topics that are similar to the subject you'll be writing about using Scrivener's extensive vocabulary database. When you have more words in your vocabulary, you'll have better chances of making it to the finish of your manuscript and use book design software for perfect result.
2. Final Draft
Collaboration supported
Plenty of view options
Board to plan your content
Costly compared to other software
Verdict : If you're a newbie and want to learn the ropes from the Final Draft book writing software, here's what to expect. This program is ideal for someone who knows a lot about writing, but has never had the opportunity to practice his or her writing skills.
Final Draft provides tutorials on how to use the software and its features. It helps you with everything from setting up your workspace to learning how to create the most effective chapters. You'll also learn about the in-depth testing capabilities and get tips for improving your book writing skills.
Beautiful and tidy interface
Array of exporting options
Stores writing in one place
Only available on Apple devices
Verdict : Ulysses book writing app has been designed for people who love books, but hate the process of actually writing a book. This software allows you to quickly create a book using pre-written chapters and it can even help inspire you to write your first book.
The best part is that the obtained book can be read on any Kindle, smart phone or tablet with the help of ebook software and you can even export your work to PDF if you wish to share it with friends.
4. Script Studio
Helpful sample scripts included
Attractive and organized interface
Analyze the pace of your story
No mobile apps
Verdict : Script Studio has been one of the leading writers' apps. They have been helping aspiring screenwriters develop their scripts and even offer screenplay consulting services to seasoned screenwriters and movie producers.
Script Studio book writing app is one of the more advanced programs on the market for aspiring writers. It offers users a way to learn how to write a full screenplay script by following a simple system of steps and it does all of the work for you. Also it can work as desktop publishing software for ideal final result.
5. iA Writer
Distraction-free style
Export directly to Medium and WordPress
Syncs using iCloud and Dropbox
No Linux support
No included template
Verdict : The new iA Writer book writing app is different from the other software programs out there. While there are many handy writing apps that will help you optimize your workflow, iA Writer stands out among them for its simplicity and creative approach. It does not play by the same rules as the software writers out there. iA Writer uses a unique system of providing topics and characters for your book based on what you type.
iA Writer is going to revolutionize the way people write books because it is a whole new way to write!
Top Book Writing App
Final Draft
Script Studio
Video Editing Services
Virtual Staging Services
Outsource Photo Editing
Retouching Tips
Photo Editing Freebies
Free Raw Images for Retouching
Free Photoshop Actions
Free Lightroom Presets
Affiliate Program
Privacy Policy
Cookie Policy
Kindlepreneur
Book Marketing for Self-Publishing Authors
Home / Book Writing / The Best Writing Apps (for Mobile) Every Writer Needs to Use in 2023
The Best Writing Apps (for Mobile) Every Writer Needs to Use in 2023
In general, I recommend Atticus as the number one writing tool for authors. But this article is about the best writing apps for mobile devices , and Atticus is still working on its mobile capability (stay tuned). So while I would normally recommend Atticus, today I will be talking about Scrivener's mobile app, along with a few other writing apps that I categorized by their primary purpose.
Today's world is on the move. From fast food to fast cars, we're always on the go, making mobile technologies all that much more critical. You need the best writing apps at your fingertips.
When you imagine a writer's life , you might imagine the stereotype: a pair of glasses hunched over a typewriter furiously punching keys and drowning in endless pots of coffee.
Yes, writers tend to drink a lot of coffee, but the world of writing is changing.
Many writers manage their writing projects with mobile devices.
So let's talk about the best writing apps for those mobile devices.
What do professional writers use to write? Professional writers use a variety of apps to write their novels . Scrivener, MS Word, Final Draft, Google Docs, Plottr — there are so many great apps that bestselling writers use for their writing process.
Here are my recommendations for the best writing apps for Android and iOS. (Nearly all of them work on desktop as well, but I weeded out the apps that only work on desktop.)
Best Writing App for Novelists
Best Writing App for General Writing
Best Free Writing App
Best Writing App for Emails & Short-Form
Best Writing App for Screenwriters
Best Writing App for Productivity
Best Writing App for Outlining
Best Writing App for Notes
Best App for Text To Speech
Table of contents
Which platforms does Scrivener work on?
Best used for:
Other Good Apps for Novelists
Which platforms does Word work on?
Other Good Apps for General Writing
Google Docs Pros:
Google Docs Cons:
Which platforms does Google Docs work on?
Other Free Writing Apps:
Which platforms does Grammarly work on?
Other Good Apps for Emails & Short-Form
Which platforms does Final Draft work on?
Other Good Apps for Screenwriters
Which platforms does Novlr work on?
Other Good Apps for Productivity
Which platforms does Plottr work on?
Other Good Apps for Outlining
Which platforms does Evernote work on?
Other Good Apps for Notes
Which platforms does FromTextToSpeech.com work on?
Other Good Apps for Text to Speech
When you use a link in this article, I may receive a small commission at no extra cost to you. It just helps with my coffee fund (AKA writer fuel), so I can keep bringing you the content you deserve. Plus, it means I can get you exclusive discount codes!
Best Writing App for Novelists: Scrivener
Scrivener is the best mobile writing app for novelists, for now (again, see Atticus ). It's more organized than any other app. It's got awesome, ready-made templates for all sorts of genres and layouts. And it works great on iPad and iPhone. (Sorry, Android users.)
What is the best mobile app for writers? Scrivener on iOS is the best app for book writers. If you've read a few of my other articles, you may already know of my absolute love of Scrivener. If I had to recommend a single piece of writing software , Scrivener would be it — including for mobile devices.
Scrivener comes with a steep learning curve because it offers so much customizability and handy features. But there are plenty of free tutorials if you ever need help.
Scrivener for iOS is great for planning, drag-and-drop organizing, and even highlighting types of words. This means you can look for adverb overuse. From corkboard arrangement to keyboard shortcuts to word count goals , this app has almost as much power as its desktop app.
(For a complete review on the desktop software, check out my Scrivener review article, complete with coupon code .)
Once you're done, you can always transfer your work over to your devices with Scrivener via Dropbox . Or you can export to DOCX, EPUB, MOBI, PDF, HTML, or even Multi-Markdown.
The only downside: The one-time price is a little steep for a mobile app ($19.99), and you have to buy a separate license for iOS if you already have a license for macOS or Windows.
If you're an Android user, I'd try Novlr, which is browser-based, so you can use it on any mobile device with an Internet connection.
Mac (most updated version)
(Sorry again, Android tablet/phone users.)
$19.99 for iOS
$49 for Mac or Windows
$80 for both Mac and Windows licenses
$41.65 for students & academics
Download Scrivener with this link and get an exclusive coupon code, KINDLEPRENEUR20 , for a 20% discount on your Scrivener purchase.
Follow these steps to use the discount coupon.
Scrivener is great for authors who love organization, distraction-free writing, and ready-made templates. Authors can place audio files, research files, images, and more into Scrivener's sidebar. This means all your documents and research are in one window — it's so convenient!
Ulysses (Mac and iOS only)
Best Writing App for General Writing: Microsoft Word
There's a reason Microsoft Word is the industry standard text editor: it is versatile and easy to use.
Microsoft Office's Word works well on mobile devices, running smoothly on iOS and Android. It creates beautiful, professional documents that you can export to multiple file formats.
MS Word is suitable for general writing, but I would not recommend it for novel writing. Although it is perfect for memos, email drafts, and print-ready documents, its organization capabilities are not as robust as Scrivener, Ulysses, or other excellent writing software.
Also, its spelling and grammar checker is not as powerful as ProWritingAid or Grammarly.
MS Word is expensive, but many people can use the app without an extra cost because of work or school giving them access.
Though Microsoft Word comes with some computers, it actually costs a pretty penny:
$139.99 for Microsoft Word by itself
$6.99 a month for Microsoft 365, which includes Microsoft Word
Microsoft Word is best used for general writing, business-related documents, and print-ready formatting options. It's great for corporate America, journalism, students, and the like.
Formatting Has Never Been Easier
Write and format professional books with ease. Never before has creating formatted books been easier.
Best Free Writing App: Google Docs
What is the best free writing app? Google Docs is the best free writing app on Android and iOS. If you're on a budget, Google Docs is the perfect app for everything except proofreading, novel writing, or writing without the Internet.
It lets you customize headers, spacing, fonts — all the things you expect from a professional word processor. Google Docs autosaves every change you make and saves your version history. It exceeds at real-time collaboration, making it ideal for co-authors, bloggers, and ghostwriters .
Conveniently browser-based
Real-time collaboration
Trackable changes
Autosave functionality
Export to multiple file types
Laggy and buggy once you get over 15,000-20,000 word count
Google Docs proofreader is weaker than Grammarly or ProWritingAid
You need the Internet and a Google account to access
Google Docs works on all major platforms and on most mobile devices — both Android and iOS.
FocusWriter
Reedsy Book Editor
Apple Pages
Best Writing App for Emails & Short-Form: Grammarly
Grammarly's browser app is free to use and great for making sure your emails, memos, and other short-form projects look professional and error-free.
Check out my full review on Grammarly .
Grammarly offers a keyboard that checks your spelling and grammar on mobile devices, offering helpful suggestions on how to improve whatever you're typing.
Not many people realize that Grammarly's browser app can download your text as a DOCX file. This is great if you need to attach a DOCX file to your email instead of putting the text in the body.
You can also download Grammarly's browser extension. This editing tool automatically checks your grammar and spelling when on Gmail, LinkedIn, Instagram, and other social media sites and email sites.
Read this article on the Best Email Services For Authors , like GetResponse or MailerLite .
Grammarly's free version offers robust proofreading features that are way better than Microsoft Word or MacOS's built-in grammar and spelling checker.
The premium version of Grammarly is fantastic, too. It offers many more suggestions to improve your writing style, readability, passive voice, and dialogue formatting .
However, if you are paying for a premium proofreader, I'd recommend ProWritingAid's premium version . Its web version can also export to DOCX. Check out this video where I explain how ProWritingAid's premium version is superior to Grammarly's.
Grammarly's browser application and browser extension make your emails, posts, and memos more professional and error-free. It gives you confidence and lets everyone know that you are not a joke.
Grammarly is a browser-based app and extension that runs on:
Grammarly's free version is a powerful proofreading tool that ensures your emails, memos, or Facebook ads and posts are professional and error-free.
Grammarly's premium version offers a lot more suggestions about word choice and writing style. It has multiple pricing options:
$29.95 per month
$59.94 per 3 months ($19.98/month value)
$139.95 per year ($11.66/month value)
Grammarly Business is $12.50/month per member (minimum 3 members)
Blog posts (WordPress, etc.)
Social media posts
ProWritingAid
Text Expander
Readable (Android only)
Best Writing App for Screenwriters: Final Draft
Screenwriting is a type of writing apart from a novel or article that is growing in popularity. Final Draft is an iOS-exclusive paid app dedicated strictly to screenwriting.
According to Final Draft's own research, fewer than 5% of their users use Android mobile devices, so they won't develop the Android app anytime soon.
Final Draft has a lot of great features, such as:
Professionally formatted templates for TV, Film, and Stage Plays
SmartType, which remembers your character's names, scenes, etc.
The ability to export PDFs to iCloud, Dropbox , or email
Element-based script searching
Color-coded ScriptNotes
David Seidler, the Academy Award-winning author of The King's Speech , loves the ability to change his drafts quickly and on the go.
What app do screenwriters use to write? Screenwriters use the Final Draft app on iOS to write their screenplays.
If you're a serious screenwriter or looking to break into the biz, you should definitely consider getting this app. It's expensive, but it is the industry standard. According to their website, Final Draft is "used by 95% of film and television productions."
However, if you don't own an Apple device, Celtx Script is probably your best bet.
Final Draft does not intend on developing or maintaining an Android version of their app.
The full license for Final Draft 11 costs a one-time fee of $249.99, but there are usually deals you can snag to earn 20% off.
Final Draft is best used for writing screenplays, even on mobile devices. There's a good reason it's the industry standard for screenwriting.
Celtx Script (for Android or iOS )
Storyist (iOS only)
Best Writing App for Productivity: Novlr
Novlr is an aesthetically-pleasing, browser-based creative writing tool that automatically saves to the cloud. Its distraction-free Focus Mode is customizable and perfectly sets the mood for writing productively.
How do I start just writing? If you have trouble just getting started writing, consider using a productivity app like Novlr , Daily Prompt , or FocusWriter.
Features of Novlr:
Minimalist aesthetic
Track writing stats
Motivational goals and positive feedback
Organization and outlining functionality
Writing style suggestions
Collaboration
Day-night color options
Easy exporting to multiple file formats
Read my full review of Novlr here.
Novlr is a browser-based app that works on all major browsers:
You can save app.novlr.org to your phone/tablet's home screen , and it works much like an application.
After a 2-week free trial, Novlr costs:
$100/year ($8.33/month value)
Novlr is best used for distraction-free writing that encourages productivity in a plethora of ways. It is sleek, chic, organized, and syncs across all your devices.
Daily Prompt
Write or Die (This is a funny site.)
Best Writing App for Outlining: Plottr
With its innovative dashboard functionality, Plottr is a fantastic outlining tool for mobile and desktop. It is a browser-based app, so you can access it from anywhere you have Internet, including from a phone or tablet.
Check out my full review on Plottr .
Read my comprehensive article on The Best Software to Outline Your Book .
You can organize plot points, create colorful characters, and build your world with ease on Plottr. It even comes with ready-made templates.
Plottr offers these intuitive outline templates:
The Snowflake Method
The Three Story Method
The Story Circle
The Seven Point Plot Structure
The Hero's Journey
Although you can use Plottr on your Mac or Windows computer, its app is very mobile-friendly. Download Plottr today!
Plottr is an app available on all major platforms:
There are 3 tiers for Plottr:
1 Device — $25/year or $99/lifetime
3 Devices — $45/year or $149/lifetime
5 Devices — $65/year or $199/lifetime
Plottr is best used for outlining novels, but it is an organizational tool at its heart. You can use it to organize nonfiction or even screenplays.
The Novel Factory
Plot Factory
Microsoft Word
Best Writing App for Notes: Evernote
When it comes to note-taking, look no further than Evernote . This award-winning app automatically syncs your notes to every device you have it installed on (only 2 devices with the free version).
Honestly, I am so thankful for my Evernote app. I'm a big fan of jotting down fresh new ideas on my phone. But notes aren't the only thing you can save. You can actually save web clippings, video, PDF, images, GIFs, and more (with a paid upgrade, of course).
On top of that, you're able to share your notes with other people. All you need is to grant the proper permissions to a co-author, friend, or ghostwriter , and voila!
Evernote is always improving. Though I think their table function could use an upgrade, Evernote releases free updates all the time.
The free version of Evernote is robust and useful. Having the "freemium" version of Evernote is still worth getting, even if you don't plan on spending any money on the premium version.
The premium version of Evernote is separated into 2 versions:
Premium — $69.99/year
Business — $14.99/user/month
Evernote's award-winning app is best used for taking notes in many different ways on many different devices. It is intuitive, versatile, and beyond helpful.
Simplenote ( iOS or Android )
Apple Notes
Google Keep
Microsoft OneNote ( iOS or Android )
Plain text editors
Best App for Text To Speech: FromTextToSpeech.com
FromTextToSpeech.com is a browser-based app that turns up to 50,000 characters at a time into MP3 files that you can listen to or download. It is simple. Although it looks kind of sketchy, it is entirely safe and legit. It is the best free text to speech service available.
The most natural-sounding voice option is British English Harry. In fact, you will hear British English Harry all across the Internet — on YouTube, Twitch, etc. Many web users utilize British English Harry's voice because it almost passes for a British human male.
Other text-to-speech apps either cost a lot of money or only allow a few hundred characters.
Read my article on Best Book Transcription Services for Authors .
I know authors who copy and paste in a chapter to FromTextToSpeech.com and listen to it while editing that same chapter. It really helps to be able to hear your words read back to you.
Unfortunately, FromTextToSpeech.com is sometimes down with no warning for upkeep and maintenance.
This is a browser-based application that works on all browsers and operating systems:
FromTextToSpeech.com is free-to-use. There is no premium version.
FromTextToSpeech.com is best used for converting your written word to spoken word. This may help you with editing, experimenting, or simply your own enjoyment.
Natural Reader
Amazon Polly
Google Text-to-Speech
ReadSpeaker
Which app is the best fit for you?
You use the best tools when you write at home. You should use the best mobile writing apps to take your frantic phone scribbles to the next level.
Gone are the days of jotting down in your notepad, only to have a hard time deciphering it later.
Save time and effort by investing in your craft and selecting the "write" tools for the job. Even if you aren't at your primary workstation.
There may have been a few I missed out on. After all, the world of writing is ever-expanding.
And I know I've said it before: Sorry, Android users. While I understand the pros of being on the Android system, there are just so many more quality writing applications for Apple users.
Dave Chesson
When I'm not sipping tea with princesses or lightsaber dueling with little Jedi, I'm a book marketing nut. Having consulted multiple publishing companies and NYT best-selling authors, I created Kindlepreneur to help authors sell more books. I've even been called "The Kindlepreneur" by Amazon publicly, and I'm here to help you with your author journey.
Other Good Apps for Emails & Short-Form
Related Reviews
4thewords review: pros, cons, pricing and more, fictionary review 2023: pricing, pros, cons and my experience, sudowrite review: does it write as good as a human, sell more books on amazon, how to title a book checklist.
Titling your book can be hard…really hard. As you go through choosing your book title, use this checklist as your guide and make sure you have a title that will sell!
4 thoughts on " The Best Writing Apps (for Mobile) Every Writer Needs to Use in 2023 "
What is the best writing app for non-fiction other than Scrivener? I want the same options, to see my chapters on a side bar and be able to put notes with each chapter. That is the basic requirement but other tools are nice, like word count, grammar, etc. Most of the writing apps I am finding are either simple writing, like Word or Goggle Docs, or for novels with characters, plots, etc. Scrivener is too time consuming to learn. Writing and editing takes long enough. (Novlr looks like the closest to what I want even though the app is based on novel writing). Hoping there might be another that I am unaware of. Anyone can answer!! I am using Word currently but really want to get moving on the writing with more organization.
I'm actually building one – Atticus.io. It's actually combining scrivener and Vellum together – but we're making the writing area much easier and intuitive. It's in final beta now and should be releasing publicly mid July.
How about a review of dictation apps? You've got text to speech, but I want that turned around. Dragon, of course, but on a phone?
Good overview, Dave!
Two quick things about Google Docs (which I use): 1. It certainly can be used for full-length novels. I write all mine with it (one is 160,000 words). 1b. And it exports well to .docx and works fine with editors using Word's track changes and commenting. 2. You can use the Grammarly extension with it.
Comments are closed.
Join the community
Join 111,585 other authors who receive weekly emails from us to help them make more money selling books.
Google Docs
About this app
Data safety.
Ratings and reviews
What's new
Developer contact, more by google llc.
Similar apps
Looking to publish? Meet your dream editor on Reedsy.
Find the perfect editor for your next book
1 million authors trust the professionals on Reedsy, come meet them.
Last updated on Feb 07, 2023
The 17 Best Writing Apps to Boost Your Writing in 2023
Whether you're writing an email, a blog post, or a full-on novel , you'll likely find the task impossible without the right tools. Which raises the question: what are the best writing apps to help you with everything from basic composition to firing-on-all-cylinders productivity?
This blog post sets out to answer that question. Here we've divided our favorite writing apps of 2023 into three categories (writing apps, editing apps, and focus apps) and provided brief reviews of each, so you can decide which ones you can't live without!
If you want to cut straight to the chase and find out which is the right writing app for you, we recommend taking this quick 30-second quiz.
Which writing app is right for you?
Find out here! Takes 30 seconds
Otherwise, let's dive in! Let's start with apps that fulfill the most essential need every writer has: getting words down on the page.
While Google Docs and Microsoft Word are more-or-less fine, a dedicated writer like yourself deserves something more substantial. Here are seven writing apps designed specifically for creative writing, with various organizational tools to take your work to the next level. 
1. Reedsy Book Editor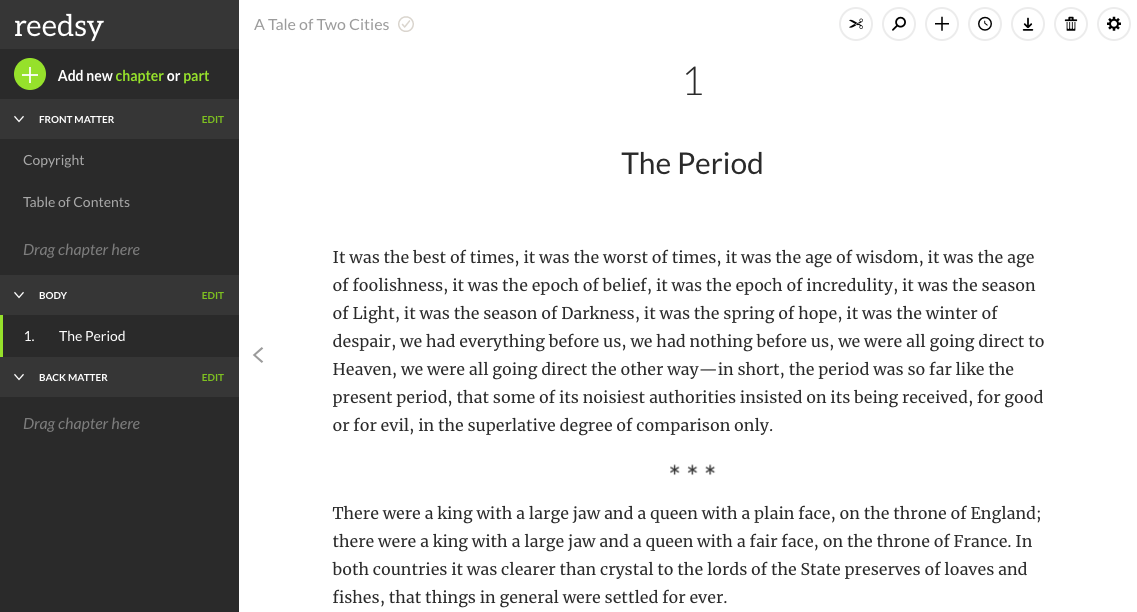 Price: Free Runs on: Web Best for: Authors seeking an elegant, distraction-free writing interface that typesets your work into a professional-grade book
With its sleek interface and easily navigable formatting options, the Reedsy Book Editor is a first-rate choice for modern authors. You can drag and drop chapters, insert images, and even track changes to look at past versions of your work — a function that most paid creative writing apps don't offer. And if you find that you're falling behind on your writing schedule, you can just enable its built-in goal reminder system, which will encourage you to get back on track. 
The Reedsy Book Editor's advanced typesetting features will also save you hours of work when you get to formatting your book for publication. You can create intricate front and back matter and export it as a clean, professional file that can be instantly uploaded to any ebook retailer or print-on-demand supplier. If you're looking for an all-in-one writing, formatting, and typesetting tool, look no further than the Reedsy Book Editor. Start using it for free right now.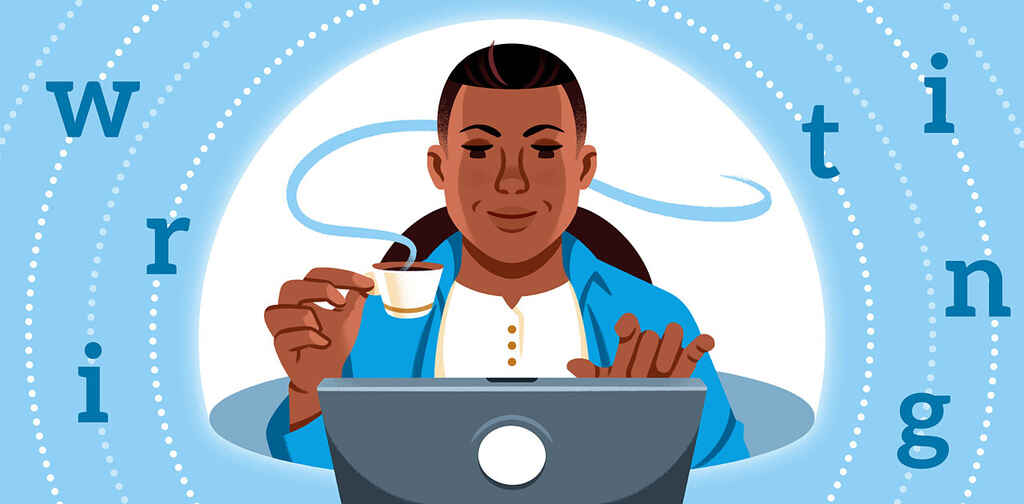 FREE WRITING APP
The Reedsy Book Editor
Set goals, track progress, and establish your writing routine in our free app.
2. Scrivener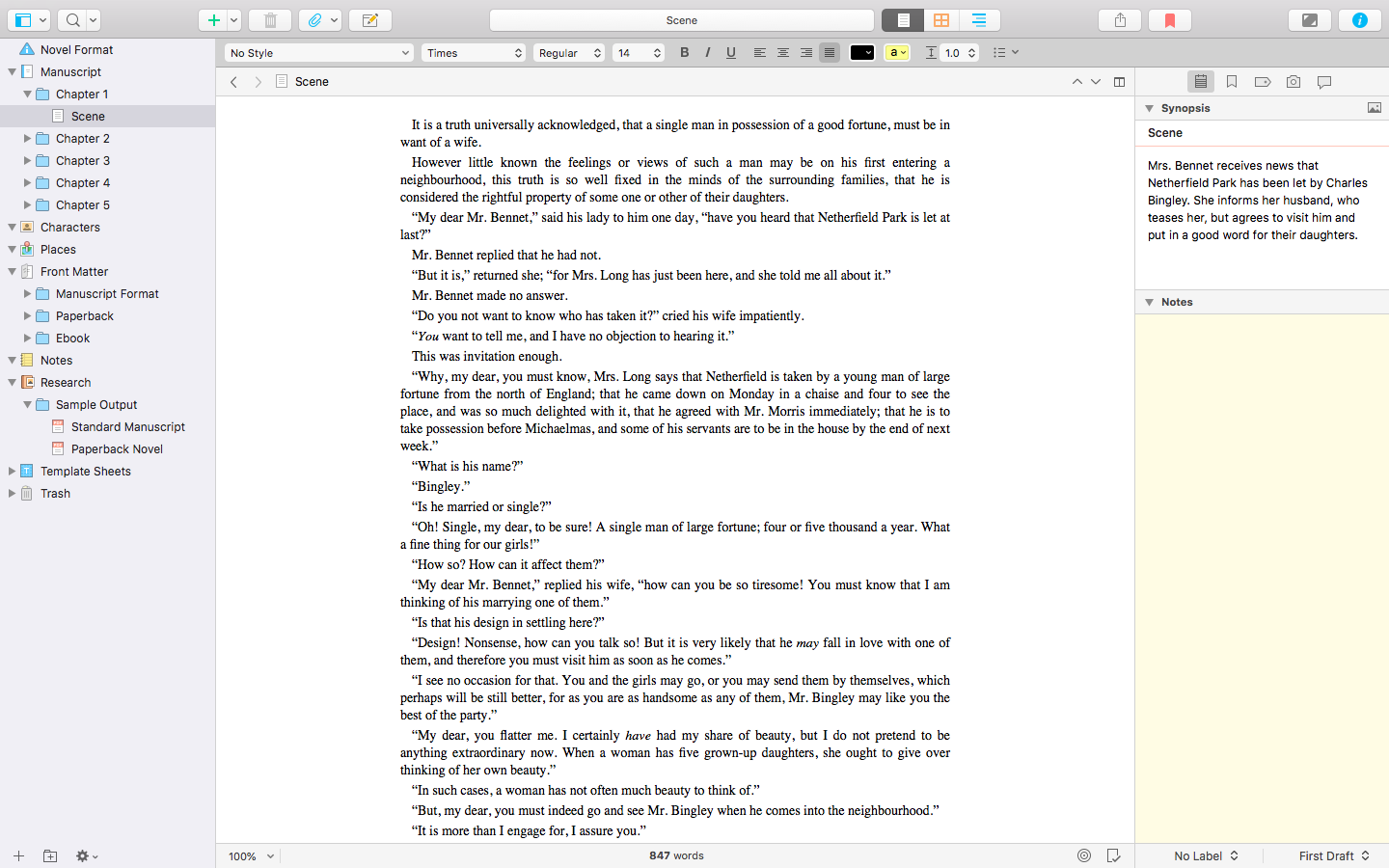 Price: Free trial for 30 days, $45 license fee Runs on: Mac, iOS, and Window Best for: Novelists and other long-form writers who want an elaborate, organized interface
You'd be hard-pressed to find a list of book writing software that omits Scrivener, and for good reason: it manages to be both streamlined and incredibly sophisticated at the same time. With Scrivener, you can choose a template for your project (novel, essay, screenplay, etc.) and get organizing right away. The left-hand sidebar includes sections and virtual notecards for every element you could think of, and you're able to arrange these elements however you like.
More advanced features allow you to track your research, create specialized materials like front/back matter, and even analyze the content of the text itself. Needless to say, Scrivener is an excellent book writing app for authors, and indeed ideal for  any  writer who values attention to detail. You can read our full review of Scrivener 3 right here.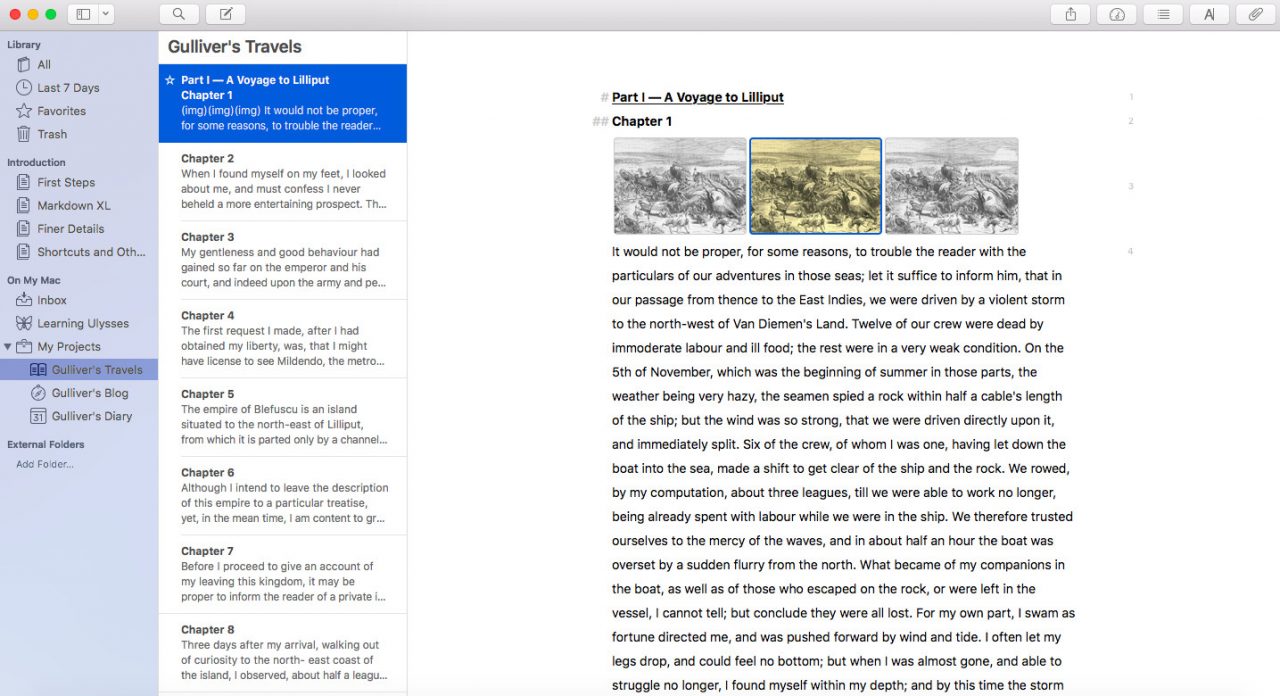 Price: $4.99/month or $39.99/year subscription Runs on: Mac and iOS devices Best for: Writers who want to productivity-hack their formatting
At first glance, Ulysses looks a lot like Scrivener, but closer inspection reveals that they cater to different experience levels and interests. While Scrivener is known for its steep learning curve, Ulysses offers several tutorials alongside its features. This is especially useful because Ulysses uses "Markdown" rather than manual formatting — for instance, in Ulysses, you'd type # to create a header, or > to create a blockquote.
While it may seem inconsequential now, writers who familiarize themselves with Markdown will likely find that it helps them keep their "flow" during a writing session, and it also makes editing much easier. Other than this, Ulysses is a fairly standard writing app; it's not as outline-friendly as Scrivener, but you'll have no trouble staying organized with keyword labels, split view capability, progress tracking, and all your projects lined up neatly in the sidebar.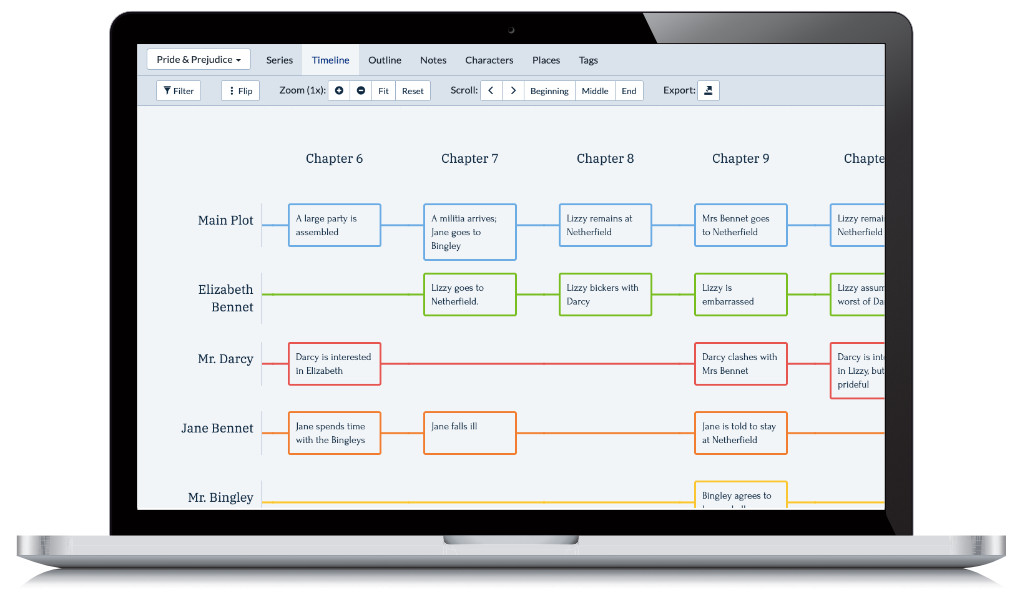 Price: Flat fee of $25 Runs on: PC and Mac Best for: Authors looking for a software that will help them smartly and fluidly outline their books
Plottr may be the one plotting software to rule them all. While Scrivener and Ulysses are built to be all-purpose writing platforms, Plottr was created with one main objective in mind: to help you outline and plan your story.
To that end, it shines. Plottr lets you easily build the scenes, plots, and arcs of your story, which its intuitive interface then allows you to visually organize, re-arrange, color-coordinate, and filter until your plot begins to flow and make sense to you.
Additional features like timelines, plot cards, and starter plotting templates (including the Hero's Journey and Dan Harmon's Story Circle ) are built into the program to help you plot smarter. The sum of its parts is a software that achieves the impossible: making this plotting process, dare we say it, fun.
Looking for some more guidance on your fiction-writing journey? Check out this post on how to write a story in 6 steps.
5. iA Writer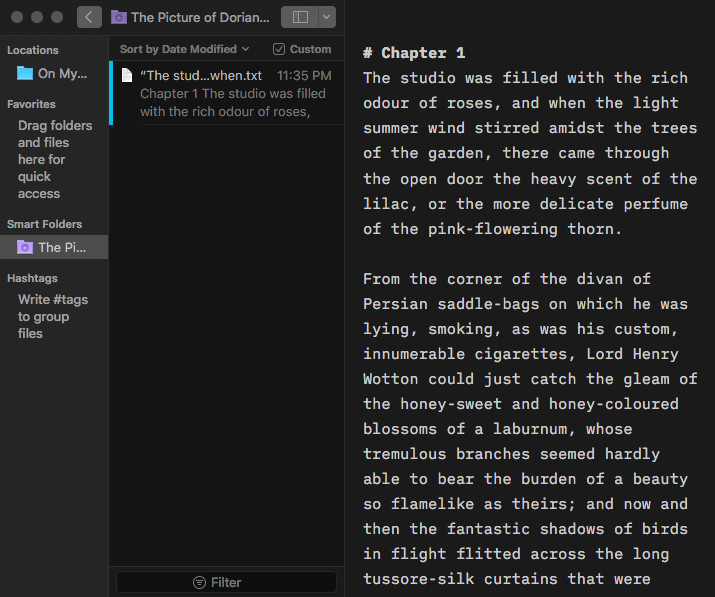 Price: Free trial for 14 days, $29.99 for Mac, $19.99 for Windows Runs on: Mac, iOS, and Windows (free trial available for Android) Best for: Writers who prefer simplicity over style
Reviews often compare iA Writer to Ulysses because it, too, employs Markdown for formatting. However, the interface is much simpler and more naturally integrated into your screen. This minimalist design fits perfectly with the mission of iA writer, which is "to keep you focused on just writing."
In the upper-hand toolbar, you can still access features like dark mode (shown above) and syntax highlighting for different parts of speech (nouns, verbs, adjectives, and so on). But the purpose of iA Writer is to facilitate writing, and its setup clearly reflects that — a definite boon for distraction-prone and clutter-averse writers.
Which famous author do you write like?
Find out which literary luminary is your stylistic soulmate. Takes one minute!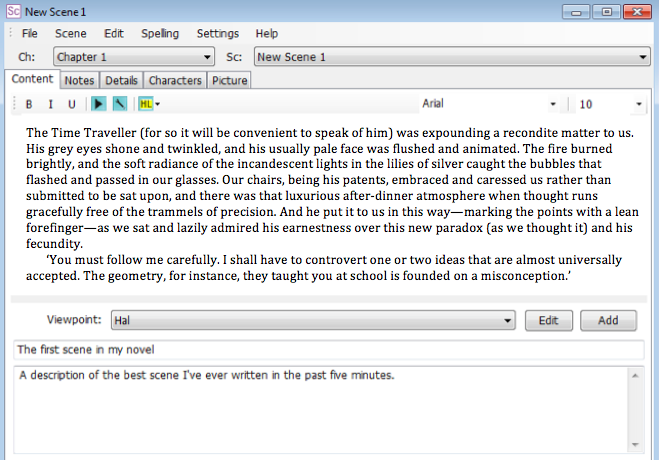 Price: Free Runs on: Windows Best for: Authors who like to break their stories into bite-sized pieces
Pivoting to the non-Apple side of things, we have yWriter, a book writing app designed for Windows in a similar vein to Scrivener. yWriter boasts a well-organized interface that divides your story into scenes rather than chapters, which is less stressful for easily intimidated writers. This app is also great for tracking your progress, with features like a storyboard to review your narrative arc, and reports you can generate about your daily word count, the state of your draft, etc.
But perhaps the best thing about yWriter is that it's a free writing app — astounding in light of all it provides. The only "missing" feature is story templates, which experienced writers can disregard anyway. However, we'd caution users not to disregard yWriter's intended platform, as the Mac trial is pretty glitchy and unreliable.
7. Storyist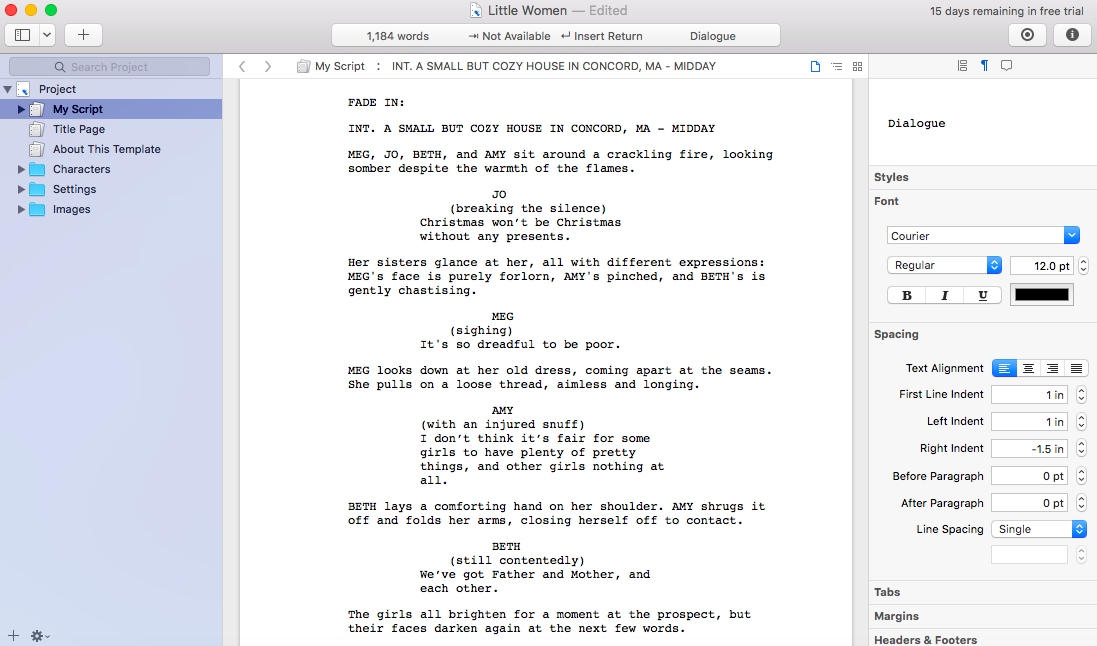 Price: Free trial for 15 days, $59.99 license fee Runs on: Mac and iOS devices Best for: Screenwriters who are just getting started
Now let's talk about screenplay writing apps. Though Storyist provides a solid foundation for novel writing, screenplay and stage play projects are where the app really shines. Upon creating a new project, you'll work from a highly intuitive script template where each new line prompts you to choose action, character, dialogue, etc. This ensures proper formatting and keeps you conscious of which elements you're using, so you don't overdo it on dialogue or forget to transition between scenes.
You can also organize your characters, settings, and images via the sidebar tabs, which may be useful for screenwriters who like strong visuals to supplement their work. But Storyist is feature-minimal for a reason: it's supposed to be basic and affordable for beginners, with just enough formatting flair to make you feel like an up-and-coming Hollywood darling.
8. Final Draft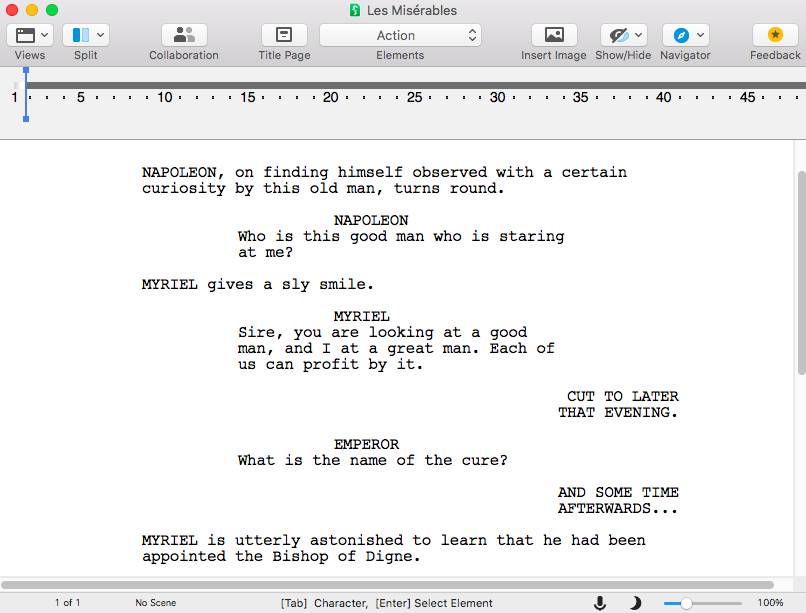 Price: Free trial for 30 days, $249.99 license fee Runs on: Mac, iOS, and Windows Best for: Professional screenwriters who are ready to level up
Speaking of Hollywood, if you're already such an advanced screenwriter that you're frustrated by the limitations of "beginner" apps, Final Draft is the program for you. In addition to line-by-line formatting and other standard scriptwriting features, Final Draft offers countless options for comments, collaborations, content analysis, and more!
You can track story elements and measure your character's traits using the inclusivity analysis feature. You can tweak your "beat board" until you find the arrangement that works perfectly for you. When you're ready to bring in editors, you can all work simultaneously in real time. And if you want to shop your script around, Final Draft will export the file flawlessly.
The only drawback of Final Draft is the price tag — a struggling screenwriter may not have $250 to spare, no matter how stellar the software. If this sounds like you, stick to Storyist or a similar app for the time being, but keep Final Draft in mind for when you're able to upgrade.
And what about when you're ready to upgrade not just your tools, but your entire text? Well, that's what this next section on editing apps is for.
But remember, no app can replace a human edit.
Luckily, all the best editors are right here on Reedsy! Sign up to meet them today.
Learn how Reedsy can help you craft a beautiful book.
All writing is rewriting, as they say. If you're ready to take on the "rewriting" stage of your project — or if you prefer to edit as you write, either because you're a perfectionist or you just want to save yourself the work later — these five apps will let you revise to your heart's content .
9. Grammarly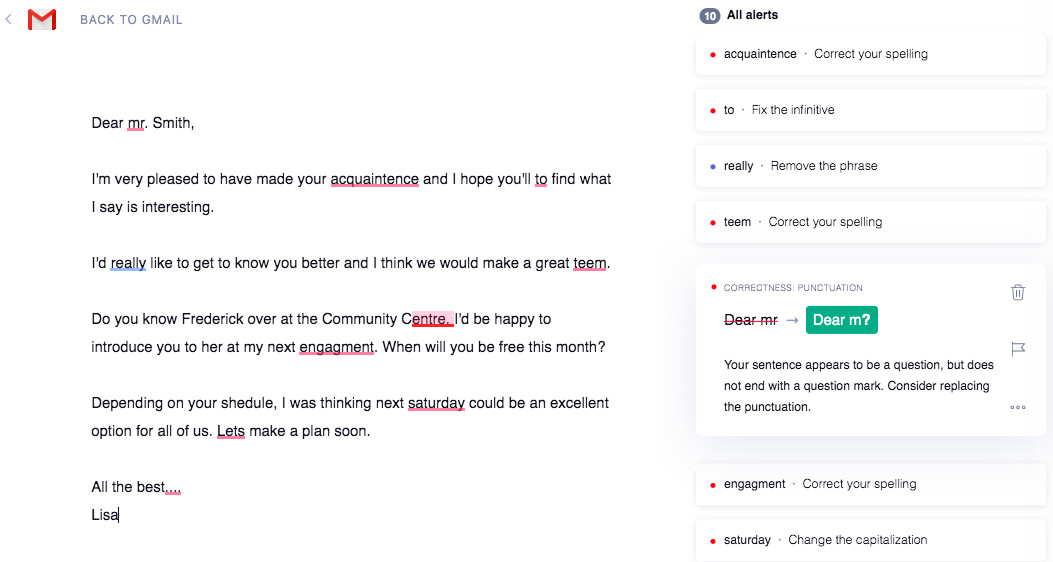 Price: Free Runs on: Web, including browser extension Best for: Writers who want to carefully check short pieces, such as articles and emails
Grammarly is the writing world's go-to spelling and grammar checker outside of standard word processors. Like any good editor, it underlines the errors and weak phrases in your writing — but Grammarly also goes above and beyond by providing a label and detailed reason for each correction, so you'll actually learn from your mistakes
On top of these notes, Grammarly has a number of nuanced features to ensure your writing accomplishes exactly what you want it to do. You can "set goals" in terms of your audience, formality level, and tone (happy, confident, urgent, etc.) and analyze your text for factors like clarity, engagement, and delivery.
All this makes for a very well-rounded writing experience. However, we will say that Grammarly, with its goal-oriented interface and meticulous suggestions, is better for short-form copywriting than long-form storytelling.
So if you write a ton of emails, Grammarly could be perfect for you! But if you write books, you might benefit more from the tools to follow.
10. ProWritingAid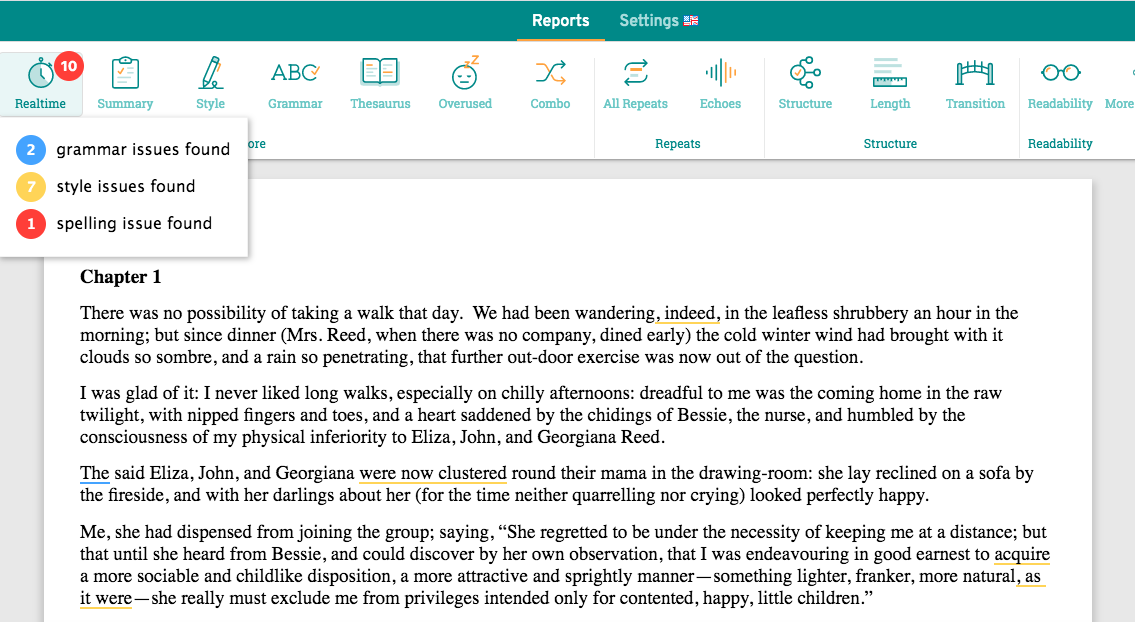 Price: Free trial with limited features, $70/year subscription Runs on: Web, Mac, and Windows Best for: Long-form writers hoping to hone their personal style
ProWritingAid often draws comparisons to Grammarly, but this app's approach to editing is a bit more holistic. Though it still points out significant errors, ProWritingAid's suggestions tend more toward enhancing the flow of your prose — for example, reducing passive voice and filler words — than nitpicking for grammatical technicalities.
You'll also find more methods of analysis with ProWritingAid, including auto-generated stats regarding your vocabulary, sentence structure, and more. ProWritingAid will let you know which words you're overusing, which areas are inconsistent, and how you might connect your ideas more smoothly. Overall, it's a great tool that will undoubtedly help you polish your writing (though keep in mind that you'll have to pay to access the full range of features).
11. Hemingway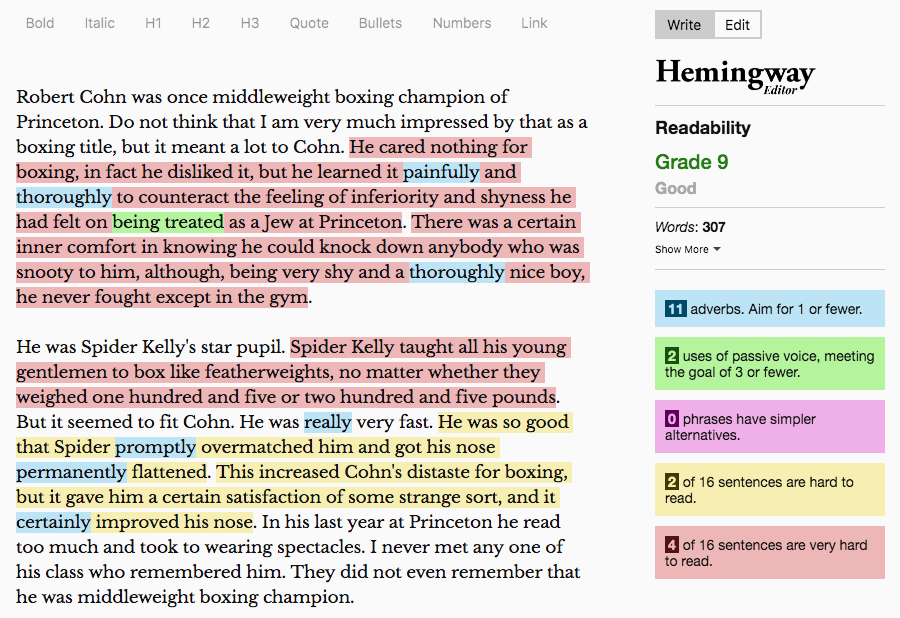 Price: Free online, $19.99 license fee Runs on: Web, Mac, and Windows Best for: Authors who value crisp, clean prose above all
Both a useful tool and clever homage to one of the twentieth century's greatest authors, Hemingway is a must-have app for writers who like to keep things short and sweet. The purely prose-based editor gives feedback on sentence length, word usage, passive voice, and adverbs — simple elements that can nonetheless make or break a piece.
The app employs different-colored highlights to help you trim the fat in each area, and also identifies the text's reading level to ensure you're targeting the right audience. But that's pretty much it! Just as simplicity was a trademark of Hemingway's prose, so it is of this app's design.
12. Readable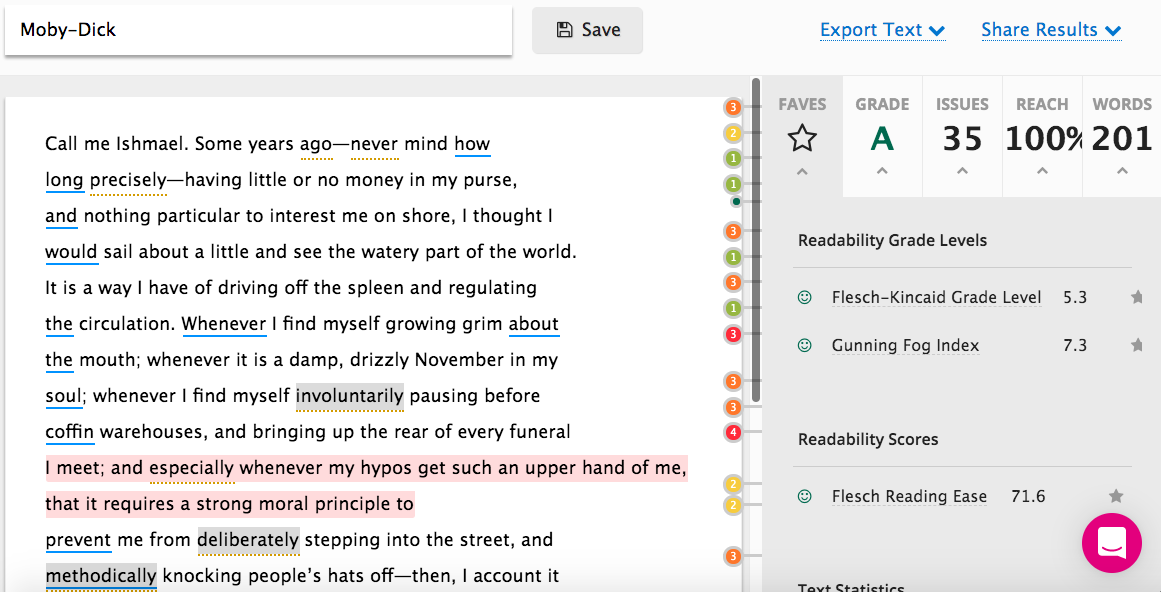 Price: Free online, $4/month for Readable Pro account Runs on: Web (no browser extension yet) Best for: Short-form writers who need their work to be easily digestible
Readable 's core mission is similar to Hemingway's: to make your prose more, well, readable. But Readable has a few more bells and whistles to it, which may be helpful for writers who want really thorough textual analysis. Besides pointing out run-on sentences and other indicators of purple prose, this app collects tons of relevant statistics, from text composition to reading time. You'll also receive scores on multiple readability scales — Flesch-Kincaid, Gunning Fog, etc.
As with ProWritingAid , you'll have to upgrade for full access to features like keyword density and quality control. This may be worth looking into if you create content for a living, but for writers whose work doesn't depend on SEO, the free version of Readable should serve you well.
13. NaturalReader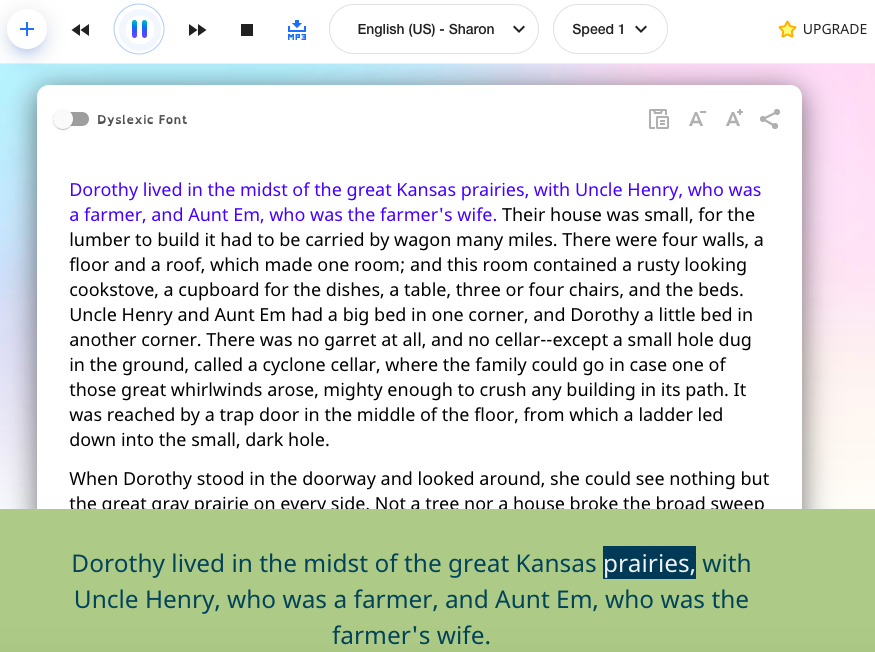 Price: Free Runs on: Web, Mac, and Windows Best for: Writers who need fresh eyes — or rather, ears — for editing
Reading one's work aloud is a great way to catch awkward phrasing and typos. But what if you're already so accustomed to your own prose that, when reading to yourself, you skim right over these issues?
That's when you can turn to NaturalReader, the best text-to-speech reader we've found this side of an actual person. To use it, simply copy/paste your writing into the text box, choose a voice and reading speed, and follow along with the magnified text at the bottom. You can pause, rewind, fast-forward, and change the other settings at any time; it's all incredibly easy and conducive to comprehension. (Just make sure you're actually listening, not zoning out.)
We'd recommend NaturalReader for anyone with a short piece to proofread, as it may not be practical to feed your entire book through the app. Then again, if you've got the time, have at it!
Now let's talk writing apps for focus and organization. Buckling down and getting started is often the hardest part of the writing process. Fortunately, these apps will help you cut out distractions, organize your thoughts, and regain inspiration when writer's block rears its ugly head!
14. FocusWriter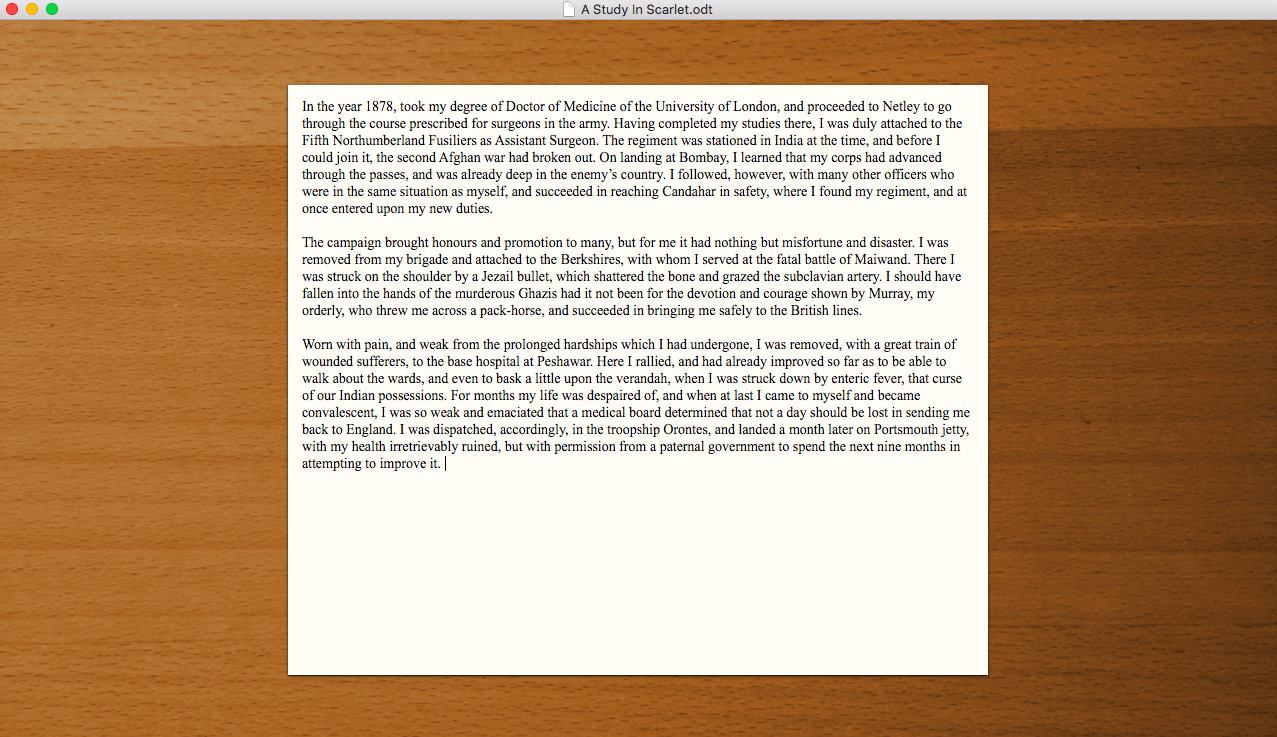 Price: Free Runs on: Mac and Windows Best for: Overstimulated writers who want to get back to basics
Thought Ulysses and Hemingway were minimalist? You ain't seen nothing yet. FocusWriter is exactly what it says on the tin: it compels you to focus on writing and nothing else. The interface takes on the appearance of a sheet of paper, and lacking any elaborate formatting options or research notes to mess around with, you have no choice but to write.
You can still adjust the font, track your progress, and even set a timer for writing sprints using the toolbar at the top — but it safely tucks these features away from view. If in-app distractions are your kryptonite, FocusWriter might be the solution you need.
15. Freedom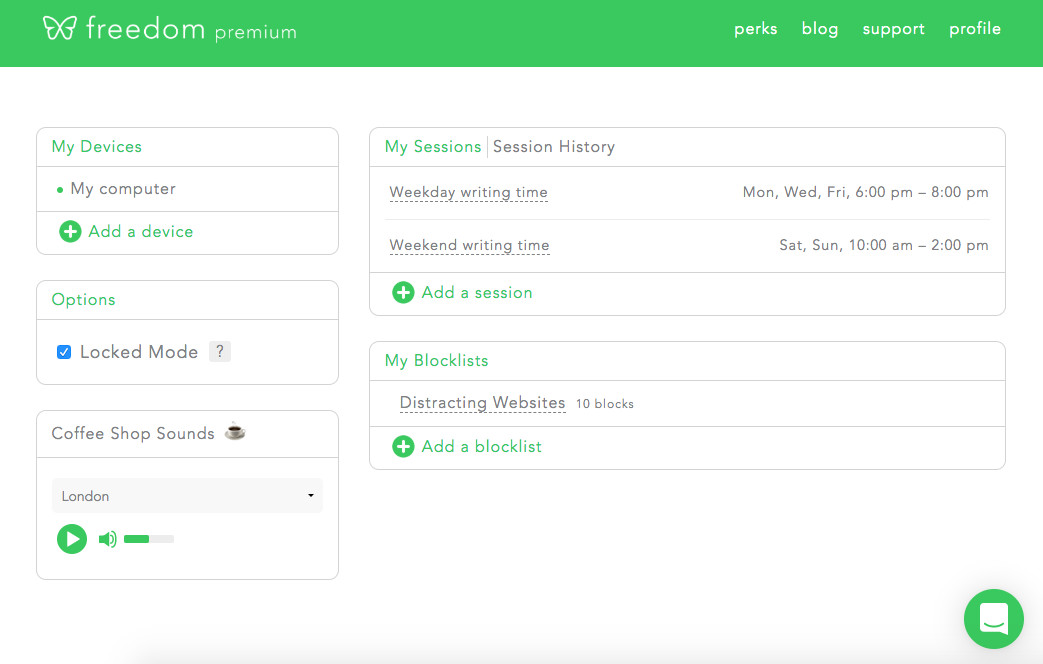 Price: Free trial for 7 sessions, $6.99/month or $30/year Runs on: Mac, iOS, Windows, and Android Best for: Internet-addicted writers who can admit they have a problem
Of course, even a super-basic interface can't protect you from distractions that lurk outside that interface. That's why you need Freedom: app- and website-blocking software to curb your Internet and social media procrastination (which, let's be honest, is an issue for all of us).
Freedom allows you to set timed blocks, schedule blocks in advance, and even "pause" before visiting distracting sites. It certainly covers all the bases in terms of potential diversions; users can customize a list of distracting websites and desktop apps, plus connect Freedom to their phones to block distractions on there as well.
But perhaps the nicest thing about Freedom is that it feels truly freeing — between the gentle branding and the ultimately self-imposed limits, you'll come away feeling not restricted, but relieved that you can get some writing done at last.
16. Evernote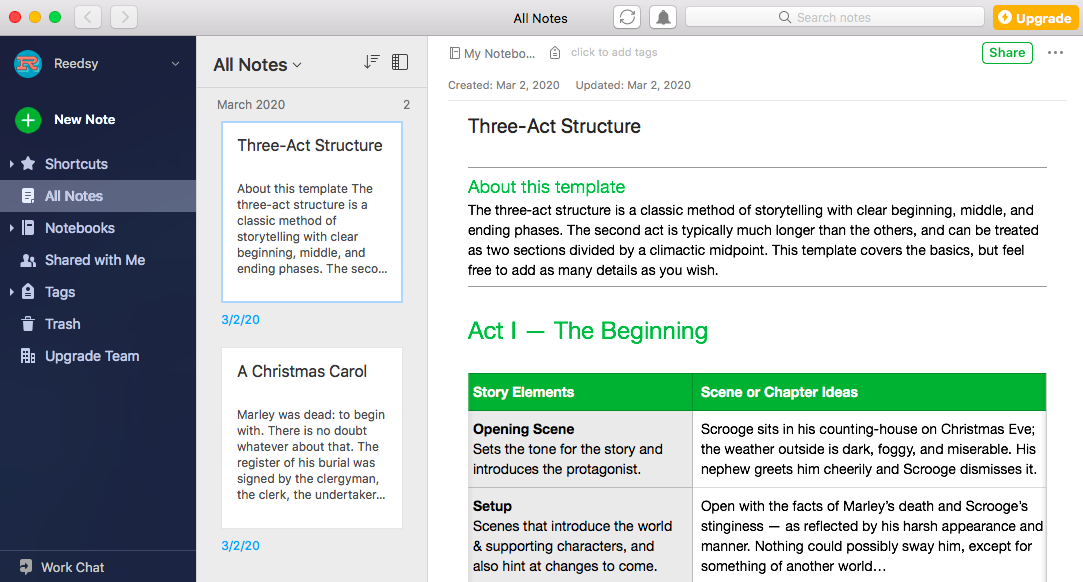 Price: Free basic plan, $4.99/month for premium Runs on: Mac, iOS, Windows, and Android Best for: Multitalented writers who want a single space to collect all their thoughts
Another one of the best free writing apps out there, Evernote takes written organization to a whole new level. With dozens of templates for everything from classroom note-taking to personal planning to structuring a novel, Evernote makes admin not only easy, but fun!
Besides abundant organizational templates — again, all for free with the basic plan — Evernote also lets you tag everything in specific categories, share your notes with collaborators, and even chat with them in-app. One of its coolest features is the Web Clipper, which you can use to save any excerpt of web content that appeals to you. More than anything, Evernote is a work-saving app designed to be adaptable and accessible for all kinds of writers and their projects.
17. Reedsy Prompts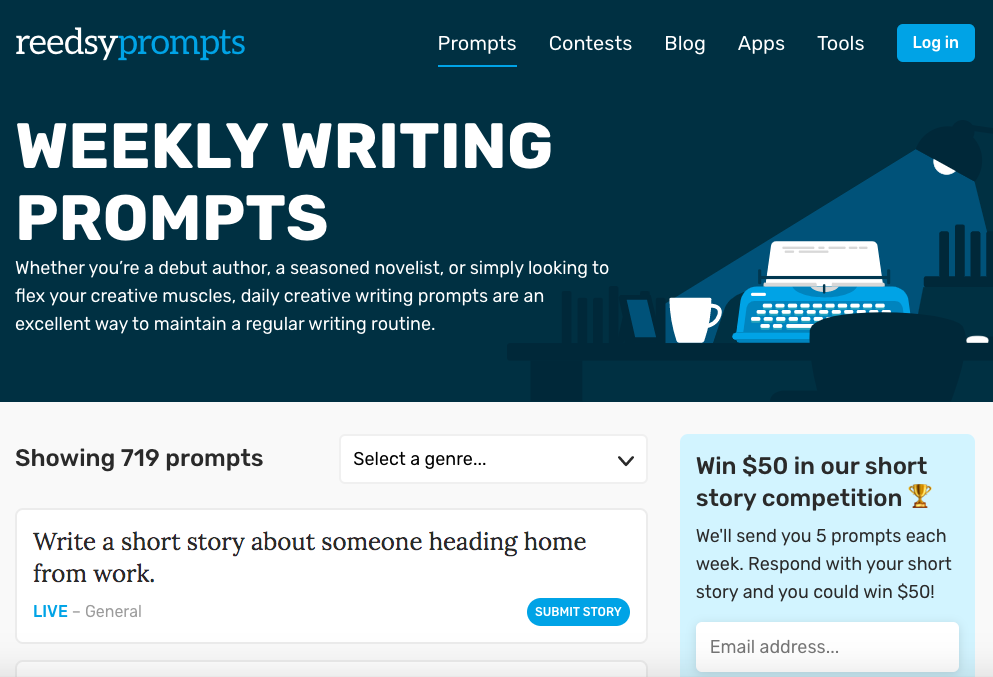 Price: Free Runs on: Web Best for: Writers who just need a spark of an idea to get started
Okay, this one's not exactly an app, at least not yet. But after comparing Reedsy Prompts to similar writing inspiration apps like Writing Challenge and The Brainstormer, we can honestly say it has much more to offer. For one thing, you'll get five new prompts every single week — and not just on the Reedsy Prompts page, but sent straight to your email inbox. And if you write a short story based on one of those prompts, you could win $50 in our weekly contest!
That said, if you're not inspired by the prompts of a particular week, you can explore the infinite possibilities of the 700+ prompts that already live on the Reedsy Prompts page. Though you'll only be able to enter the competition with one of the five featured prompts for that week, we're always excited to see what our users create… so if you write a story based on any of the available prompts, make sure to let us know.
At the end of the day, that's what writing is all about: creating something wonderful and unique to share with others, whether it's an informative article, a personal essay, or a 300-page book. Whatever your writing project, we hope these apps can be of use to you — and indeed, of service to everyone who gets to enjoy your work.
Compare the best writing apps of 2023
Didn't find what you were looking for here? Check out our list of novel writing software for some more intensive writing programs, or this list of writing tools to help hone your creative process.
Continue reading
Recommended posts from the Reedsy Blog
When to Use Semicolons: 4 Rules and Examples
Confused about when to use a semicolon and how it's different from other punctuations? Here's a breakdown, with plenty of examples.
Alright vs All Right: What is the Difference? [+ Examples]
Wondering what the difference is between alright and all right? Or which spelling is correct? This posts breaks it down using plenty of examples.
How to Set Effective Writing Goals (That Will Help You Grow)
How can you set writing goals that are realistic, useful, and lead you "confidently in the direction of your dreams"? This post can help you set writing resolutions tailored to your individual needs.
Ensure vs Insure: How to Make Sure You Get It Right
Explaining the difference between ensure, insure, and assure with sample sentences and a memory trick to keep them apart.
What is an Oxford Comma and When Should You Use it? [+Examples]
Everything you need to know about the Oxford comma, from the grammar, to the controversy, to the consequences of mistaken punctuation. With examples.
Title Capitalization Rules: Learn Which Words To Capitalize
Whether you're using a style guide like AP, APA, MLA, or Chicago, or just want to make sure you're capitalizing your titles properly, this post explains all the rules so you know which words to capitalize or not.
Join a community of over 1 million authors
Reedsy is more than just a blog. Become a member today to discover how we can help you publish a beautiful book.
1 million authors trust the professionals on Reedsy, come meet them.
Enter your email or get started with a social account:
We made a writing app for you
Yes, you! Write. Format. Export for ebook and print. 100% free, always.

Most Popular Resources
Free copy of Published.
The proven path from blank page to 10,000 copies sold.
Publishing Path Assessment
Discover which path will be the best for you to succeed in your author goals.
Nonfiction Outline Template
25 pages of pre-formatted material structured to industry standards.
Write & Publish Your Book in 90 Days [Free Training]
Fiction Outline Template
Author DNA Assessment
Find out Which Famous Author You Are!
Companies Assessment
Discover which type of company can help you publish!
Character Worksheet
Make your characters feel REAL!

Free Resources
Success Stories
6 of the Best Android Apps For Writers (2023 Guide)
BY Jackie Pearce | Jun 28, 2022 | Business , Marketing
If you're looking for the best Android apps for writers, we've hunted far and wide to find the best ones so you can capture your ideas on the go.
As most writers know, you never know when inspiration is going to strike and you need to have something by your side to capture those ideas before they leave your mind.
That's where writing apps can come in handy. With apps, you're able to open up your device and get to writing immediately.
With Android apps in particular, you're able to use them on either a tablet or a phone, depending on what kind of device you choose to carry with you. This article outlined apps that should work on both Android tablets and phones so you have plenty of writing options on the go.
We'll go through some of the best options we have found out there so you can pick the one (or multiple ones) that are right for you.
Note: If you're looking for book formatting software in particular, we have a guide for you .
This rundown of the best Android apps for writers covers:
Google docs, livingwriter.
Best Android apps for writers – the choices
Keep in mind, as we go through these different apps, you'll need to think about where you are in your writing career.
Some questions you should take the time to answer:
Do you need collaborators?
Is there an editor who needs to look at your work next?
Do you need professional writing software?
Do you mainly just need to write ideas and have simple tools on the go?
Do you need something that can handle bookmarks and images?
Do you need it to be accessible offline?
Answering these questions can save you a lot of time ahead by picking the better fit for you right off the bat.
The last thing you want is to download a writing app, start writing in it all the time, and then realize you need to move all of your work to another app because it doesn't have what you need.
Let's go through each of the available options and the best Android apps for writers.
We couldn't start any writing app article without first mentioning Google Docs. As one of the most popular tools of all time for writers, Google Docs offers a ton of features.
As a product from Google, it is stable and has an offline mode if needed. That way, you can write on the go without losing your hard work.
If you haven't used Google Docs before, you can know it's similar to Microsoft Word except with the power and speed of Google and behind it.
One of the top reasons to use this app is it's ability to collaborate. If you're a solo writer, this might not matter. However, if you work with an editor or team, it's the easiest way to give people access.
Another great feature of Google Docs is its ability to auto save (if you're connected to the internet). Most of us know the feeling of accidentally closing something and losing all of our work. With Google Docs, you don't need to worry about that.
Free to use
Compatible on almost any device
Different ways to format your writing
Export in a wide variety of formats
Templates to use
Easy to use for collaborating
While Grammarly won't help you write, it will help keep your writing sharp and error-free.
Grammarly helps spot errors in your writing from typos to word suggestions to make your writing stronger. It might be a good idea to have it check your work for any obvious errors, especially if you're nearing the time of a final draft or sending a pitch to a publisher.
This app is a keyboard that you install into your device that allows you to write anywhere but still get writing tips.
Grammar checking
Word suggestions
Free option but paid plans for more extensive features
Evernote is a well-known app that is great for writing and offers a wide variety of writing and embedding options. The folder system inside Evernote can help you keep similar notes together. You can also use their tags for a similar reason.
Evernote is an app that has been around for quite some time, so you don't need to worry about the app crashing or glitching.
Evernote gives you the ability to create multiple notes, do simple formatting tweaks, and write quickly on the go. You can also embed and insert various forms of media into notes so you can pull in all of the research, pictures, videos, and so on that you could possibly need.
Writing on the go
The ability to capture not just notes but videos, pictures, web clippings, etc
Easy organization for all of your ideas
The ability to tag notes
Livingwriter is an app that lets you write and organize your book all within one easy-to-use application. It's a visually-pleasing app that doesn't offer an overwhelming amount of features. Instead, it just gives you exactly what you need to get down to writing.
This app helps you quickly and easily organize your book. You can simply drag and drop different chapters and elements around to format your writing just the way you want. With other writing tools you need to manually move it around or copy and paste it where you want it to be.
Livingwriter also stores your story elements and lets you bring them up as you type, that way you never forget a character or a name.
On top of those features, it also can import famous story outlines, such as the Hero's Journey, for you to use as a guide to your book's outline. You can also set your own writing goals so you can stay on track with your deadlines.
Visually-pleasing app
Lets you drag and drop chapters around for easy editing
The ability to store characters so you don't forget names
See your book in different formats
Dark mode available
Cloud-based so you don't lose your work if you lose your device
JotterPad is another excellent writing app for Android. It lets you open up the app and immediately start writing without needing to format each individual part.
Recently, they have been working hard on speed performance as well. It used to take a bit to open large files, but now in the v14 release, it just takes a few seconds.
JotterPad is also partnered with Unsplash so you can search through thousands of images to pair with your writing.
Once you have your writing done, JotterPad has the export options of word, Markdown, PDF, and HTML. That way, you can easily export, print, and edit your work or send it to someone.
Supports Markdown and Fountain syntax
Plain text and rich text options
Character and word counter
Upload images quickly from Unsplash
If you want a writing app that truly brings it down to the basics, Markor is exactly what you need. It's a simple editor without any editing UI.
By using simple markup formats, all you need to do is open up Markor, create a note, and get to writing. It also supports offline mode mode so you can write wherever you need to, even without any internet connection.
With a common filesystem folder organization, you can quickly find the drafts you want without having to hunt them down.
Along with easy writing abilities, there is also the option of putting in to-do's and bookmarks so you can keep all of your references files, notes, and more in one place.
Simple, easy-to-use writing app
Works offline
Compatible with other plaintext software
Share your writing as HTML or PDF
Auto-save so you don't lose your writing
Jackie Pearce
Related posts
Scribe Media Shuts Down in Controversial Circumstances
In a surprising development, Scribe Media, a company known for its book writing and publishing services, has ceased operations. This abrupt shutdown has left both clients and employees in a state of shock, raising numerous questions about the unexpected circumstances...
Book ARC Teams: Building One, Benefits, & Need to Knows
There's nothing worse than spending hours upon hours and even years writing a book only for it to be lost in the online void that is the internet. With thousands of new books being published every year, it can be easy for your book to go unnoticed. We hope that it...
Booktube: An Author's Guide to Building a Booktube Channel
Remember the days when people would become worldwide internet sensations just through posting up some videos on YouTube? (We're looking at you, Bieber.) YouTube is most definitely the place to find anything and it continues to rule the social scene – and the book...
Custom Software Development
Android App Development
Iphone App Development
Web Development
Game Development
Wearable App Development
Mobile App Support
Startup Prototype
Support Maintenance
Ip Protection
Startup App Development
Cross Platform App Development
React Native App Development
Flutter App Development
Automotive App Development
Healthcare App Development
On-Demand App Development
Ecommerce App Development
Real Estate App Development
Music App Development
IT Staff Augmentation
San Francisco
Washington DC
Los Angeles
Referral Program
10 Best Book Writing Apps for People Who Love to Write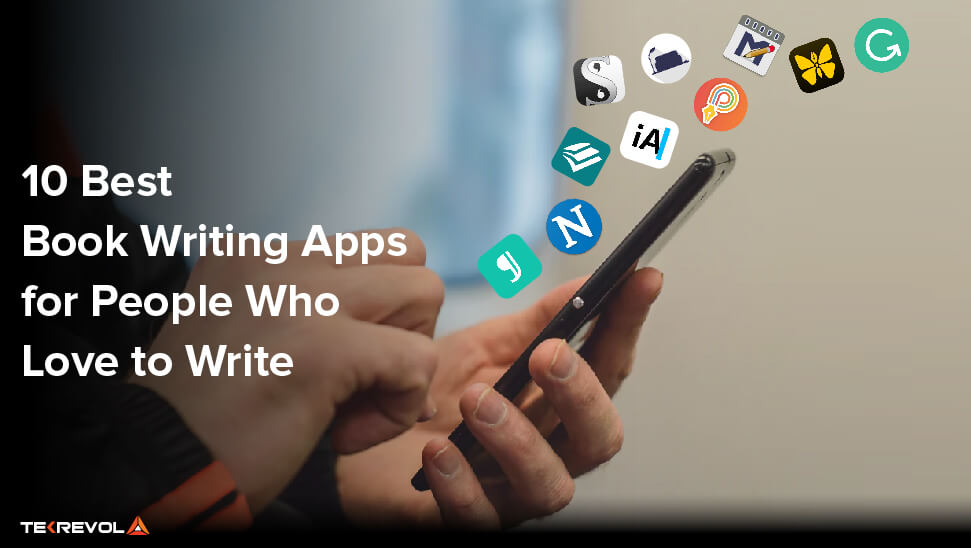 On this page:
What is the best app for writing a book?
What apps do writers use to write books?
What do professional writers use to write?
What apps do writers use?
Are you looking for the best book writing apps to put your imagination into words or create professional content that is rightly toned and hits the target audience, right?
If you an avid writer like me, you would agree writing comes more like therapy than a hobby. Having the power to give meaning to your words while curating stories and communicating with others is simply a superpower not everyone has.
So, how does a writing app fit in here?
A writing app, in literal terms, is a helpful tool for writers that enables them to articulate write-ups that are concrete and error-free in an uninterrupted environment. The software includes advanced features that transform writing into a creative process.
In this article, I will walk you through some apps for writers that I believe are the best. The writing apps in this list does not follow any order and are added as most recommended apps.
So, if you are a writer who is looking for a creative writing app to create quality content and stories, here's the answer for you.
ProWritingAid
Pure Writer
Are you inspired by the idea of developing a book writing app for android and iOS users? Tekrevol would be more than excited to help you with that.
Book a Free Consultation
1.     Grammarly

Saying this from my personal experience, Grammarly is hands-down one of the must-haves and the best app for writing content, blog posts, articles, and even emails. This writing app employs artificial intelligence in combination with machine learning and NLP to help writers optimize their content.
As a content editing app, it helps writers to highlight grammatical and sentencing errors as well as improve and re-optimize the weak phrases.
Also, Grammarly enables writers to adjust the tonality (formal, engaging, happy, etc.) and optimize clarity and delivery of the content by modifying sentence structures and words.
The writing app is available in both web and desktop app for free initially. However, the premium version includes monthly or annual subscription charges.
Rating: 4.2
Price: $25/member/month (monthly subscription charges) – $12.5/member/month (annual subscription charges)
Download: iOS – Android
2.     ProWritingAid
Functionally similar to Grammarly, Pro Writing Aid is another online editing tool that lets users rule out the weak points in the content and make it robust, interactive, and highly readable.
To list down some of the best features of the writing app, self-editing features and content optimization are few primary features of the app.
Also, with proofreading, grammar checking, and content rephrasing, Pro Writing Aid is a budget-friendly book writing software than Grammarly, making it highly productive and responsive.
With that being said, the app might not be suitable for creative writing. But it can definitely be an optimal option for professionals who communicate vigorously with others over emails, develop blog posts and reports, and focus on technical documentation.
Rating: 4.7
Pricing: $50/annual subscription
Download: Windows
3.     JotterPad
This app here is specifically for people who are curating stories and narratives out of thoughtfully imaginative and intuitive ideas. What makes JotterPad a must-have writing app for storytellers and novel writers includes the number of features it offers.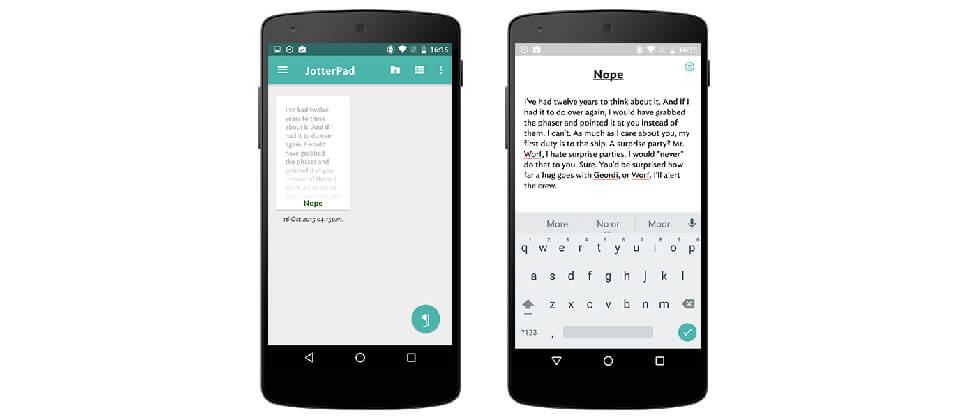 Among all of its features, what compelled me to include it in this writing app list is the dark mode feature . As one of the trendiest app features that come along with several benefits, dark mode in JotterPad makes writing very convenient.
Another one of the noteworthy features of JotterPad that I find best is that it offers a distraction mode. Being a writer myself, I always prefer working in an environment that is comfortable and quiet to stimulate my creative side out.
In this regard, with all these amazing features, JotterPad does the job for me as a distraction-free writing app.
Moving on, as they say, no good things are free. JotterPad also includes subscription charges to make the best of all its features. Available as a writing app for both Android and iOS users, it is initially free. However, it includes $5.9 – $14.9 charges as a premium plan.
The app also includes monthly subscription charges of $0.99 if users wish to deploy cloud storage functionalities as well.
Sensor Score/ Rating: 5
Price: Subjective to features used (pricing mentioned above)
Download: iOS – Android
Markor is another app on the list that for android app that employs a simple editor and has a very minimalistic interface. What makes this app a noteworthy and must-have is the reason that it uses Markdown to format write-ups.
Along with storytelling and writing blog posts, the app also lets users make individual notes, create to-do lists, and jot down everything that's important to them.
Apart from this, the app also lets writers enjoy the offline version to help them put their thoughts into words at any point in time. Markor also provides the convert-to-PDF reader feature making it a highly productive and serviceable writing app.
The best part of this writing app – it doesn't cost you a penny.
Price: Free
Download: Android
5.     Scrivener
Next in the line is another one of the widely used mobile writing apps, Scrivener. A streamlined, hassle-free, and immensely sophisticated interface is what brings Scrivener to our list of story writing book apps.
Unlike other popular apps for writing , this writing app enables users to choose a template of their choice for the type of content they are producing, including blog posts, stories, screenplay, etc.
Among some of the salient features of this book-writing app, the personalized setting and arrangement of different book elements via the sidebars sections and virtual notecards are noteworthy.
Moreover, it also enables writers to keep track of their research, create customized font styles and back matters, and run analyses on the quality of their content.
With all these advanced and result-oriented features, Scrivener is much more than your normal word processor. So, if you are wondering " W hat is the good app for writing stories " Scrivener is the right answer.
Rating: 4.4
Price: $19.9
Download: iOS
6.     Plottr
Dear storytellers and non-fiction writers, this writing app is definitely the ONE for you. Plottr, as a well-known book writing app providing extensive fluidity and flexibility to smartly manage and articulate their write-ups.
Unlike Scrivener and other similar writing apps that are considered to be all-purpose, Plottr specifically aims to assist writers inadequately planning their story plot.
Plottr acknowledges that creating interesting and captivating plots requires imagination and ideas to be lived and observed visually. Therefore, this app for book writers enables scene and concept building using the intuitive interface by modifying and re-arranging it until everything falls into place.
Plottr ultimately turns story writing to be more fun and engaging, which lets your creative side out with the innumerable features it provides.
Rating: 3.3
Price: $25 flat
7.     Ulysses
Appearing similar to Scrivener at first glance, the app has wide application and functionality differences than the latter. It is developed for users to have more precise and advanced content curating functionalities, and it provides users with an entirely different experience.

One of the peculiar features that sets the app apart from Scrivener and other book or creative writing apps is that it employs Markdown instead of the Manual Formatting method. As a result, the writer may use a </> to create a blockquote or a # to define a header.
This enables writers to maintain the sequential flow of data with maximum organization and optimization. Also, it makes the entire writing process relatively easier than any other writing app.
Apart from what makes Ulysses a helpful writing tool, there are factors that make it a difficult and not-so-friendly app to opt for. This majorly includes the lack of an outline-friendly interface of the app that might initially get up on the nerves of the users.
Rating: 4.5
Price: $4.99/ month or $39.9/year subscription model
8. iA Writer
For those who have used the app before, this might seem similar to Ulysses because of the Markdown functionality, but the app has some key features that help it stand out.
Firstly, a writer has a very simple and minimalistic user interface compared to the majority of creative writing apps. This enables the app to integrate into the screen space naturally and keeps the user stay entirely focused on its core purpose – writing.
Secondly, the app also includes the dark mode feature – apparently is my favorite one. It helps in keeping the lightning and visual effects minimal and avoids extra strain on the eyes.
Third, since the entire idea is to have a de-cluttered design to keep the writer focused, the app includes a toolbar on the upper-hand side that gives access to all the essential features of the app.
Rating: 4.0
Price: $29.9 for Mac – $19.9 for Windows
9. Novelist
Next in the line is Novelist. A free app for creative book and story writers that comes along with all the powerful features. From story plotting, writing, and optimization to finalizing and exporting the stories, Novelist handles everything.
Well, there is more. The writing app comes along with multiple features such as formatting options, a book preview option, and a smart text editor. It also provides access to Google Drive for extended memory support.
Being one of the feature-packed, highly productive apps for android users, Novelist is the answer to your which app is the best free app for writing a book , query.
10. Pure Writer
A minimalistic app with simple interface, Pure Writer is one of the best writing app that lets you curate stories while invoking your imaginative side.
The app lets writers optimize their documents with the help of paragraphing and in-line tools to keep them organized. But one feature that I love the most about it is the auto-saving option. Pure writer saves your work side-by-side so you don't have to worry about losing the content.
Pure writer, just like few other writing apps, has the dark theme feature and also allows a writer to review their write-ups with editing functionalities.
Although the app is available free on Google Play Store, it earns quite a significant sum of Revenue via in-app purchases – a widely used method for free apps to make money .
Rating: 4.6
Price: Free – $3.9
Do you wish to make money with a writing app too? Tekrevol has some great ideas you would love to hear
Frequently Asked Questions
The powerful and preferred writing apps for writing any writing project include a list of some widely used apps.
A few of the best book writing apps and software for writers include apps that allow an easy organization, editing, and content optimization.
Here are a few of the best writing apps and software that professional writers use for creative writing.
Microsoft Word
Google Docs'
The best writing apps for writers are the following
Wrapping Up,
Writing content and curating stories is a creative task that requires a lot of factors to be in place to create concrete and qualitative content. Among several essential features, having a feature-packed, highly usable, and productive app at hand is highly essential. As a writer, having one of the best writing apps to work on can make the entire writing process far more easy, interesting, and quality-oriented.
This article brings you some of the result-oriented and functionally optimized writing apps that can help you improve your writing experience multifold.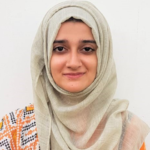 Author : Mehreen Saleem
Mehreen is an avid tech-researcher and thrives on accelerating business value by sharing her research that spans the intersection of technology to business resilience and sustainability-related topics. She's also an advocate for ensuring that every content created at TekRevol is epic.
Business Analyst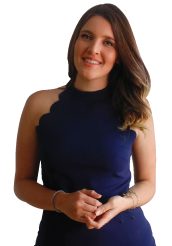 Come meet us at a location near you!
New York City
San-Francisco
39899 Balentine Drive, Newark, CA 94560
1301 Fannin St #2440, Houston, TX 77002
501 E Las Olas Blvd Suite 230, Fort Lauderdale, FL
44 Tehama St, CA 94105, San Francisco
400 NW 26th St, FL 33127, Miami
740 15th St NW 8th Floor, DC 20005, Washington
4915 54 St 3rd Floor Red Deer, ABT T4N 2G7
Level 5, One JLT Tower 1 - Jumeirah Lakes Towers - Dubai, United Arab Emirates
Level 17, World Trade Center, Khalifa Bin Zayed the First Street, Abu Dhabi
Level 22 , West Tower, Bahrain Financial Harbour, Manama, Bahrain
Level 22, Tornado Tower, West Bay, Doha, Qatar
3/25, Block 5, Gulshan-e-Iqbal, Karachi, Sindh 75650
Let's discuss your project and find out what we can do to provide value.
Ready To Become The Digital Titan In Your Niche?
With modern technology, unparalleled experience & a desire for innovation, our team is ready to bring your digital business idea to life.
Fill in this form to start the process
LET'S GET IN TOUCH
COPYRIGHT 2023 TEKREVOL ALL RIGHTS RESERVED.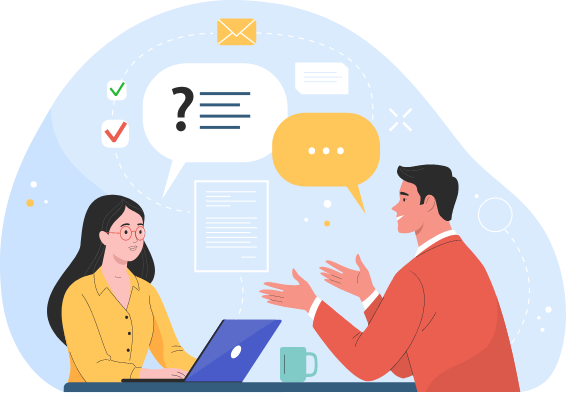 Looking to get your app built?
Get a free consultation call with our app development experts and start today.
Get a free consultation & app estimate
Quick! Book Your Spot
Use growth hacking to build a million dollar business, just like i did.
Wed, 25 March, 2020
11 AM to 12 PM, PST
Let's Get In Touch
Be The First To Get The Latest Updates And Tutorials.
Do you like what you read?
Get the latest updates, share your feedback.
Affiliate links on Android Authority may earn us a commission. Learn more.
10 best note taking apps for Android
One of the many great things about having a smartphone is the ability to take notes. You have your smartphone on you at practically all times. That makes it a prime spot to put your moments of inspiration. Or a good place to put that you need to get milk at the store. Either way, it's a great place for taking notes is what we're saying. Of course, you'll want the right app for that job so let's take a look at the best note taking apps for Android!
The best note taking apps for Android
Google keep, lecturenotes, microsoft onenote, simple notes pro.
Price: Free / $2.99
BlackNote is a simple, minimal note taking app. It works like most note apps with a host of standard features like organization, the ability to take list notes, widget options, and stuff like that. However, this one packages all of it up in a sleek, easy-to-read UI. You can also search notes, favorite notes for easier recall later, and lock the app to keep prying eyes away. The free version contains ads and the $2.99 in-app purchase removes them. This is a solid overall note taker.
Price: Free
ColorNote is one of the most popular note taking apps. It allows you to create text notes, lists, and more. Its namesake feature is the ability to change the background color of notes to help you stay organized. That's a feature many other note taking apps borrowed from this one. Some other features include calendar support, backup support to both internal storage and cloud storage, and more. ColorNote also has to-do list features as well. Best of all, it's completely free.
Price: Free / $7.99-$14.99 per month
Evernote is one of the most powerful note taking apps there is. It comes jam-packed with features. That includes the ability to take a variety of notes. Additionally, you can sync between all of your devices, Evernote is one of the cleanest, most polished note-taking apps. It's also a huge name in this space. The free version used to be a lot better, but it's still fairly functional. The subscription versions add some more powerful stuff like AI suggestions, presentation features, more cloud features, and more collaboration features. It's definitely among the best if you don't mind the prices.
Price: Free / $0.99
FairNote is one of the newer note taking apps. It features a simple interface, Material Design, and a tag system for easier organization. The app tries to focus a bit more on security. Note encryption is optional and it uses AES-256 encryption. Additionally, pro users can set up their fingerprints to encrypt and decrypt notes as needed. Other than that, it has most of the features you'll need. The free version comes with most of the features. You can unlock everything with the premium version. Thankfully, it's reasonably priced.
FiiNote (and FiiWrite) are from developers that have had success in the note taking apps genre before. FiiNote is a fun little note taking application that provides a more authentic experience. It comes with a grid background along with stylus/drawing support. That means you can type notes, write them, or draw them if you want. You can also add images, videos, and voice messages to your notes. That makes it perfect for keeping all kinds of notes, doodles, sketches, and other types of notes. It's also totally free.
15 best Android apps available right now
10 best cloud storage services for Android
Google Keep is arguably the most popular note taking app right now. It uses a very colorful, Material Design-inspired interface that both looks great and is highly functional. Notes show up as cards that you can quickly scroll through and select. The app has Google Drive integration so you can access them online if you need to. Additionally, it has voice notes, to-do notes, and you can set reminders and share notes with people. There is just enough to be super useful without being bloated. It also has Android Wear support if you need that. We have a pretty good tutorial for Google Keep here here if you need it. Microsoft OneNote has a lot of the same features for the same price tag. You can go with Microsoft if you don't want Google Keep Notes.
Price: Free trial / $3.89
LectureNotes was one of the first really good note taking apps for students and academics. It was one of the earliest apps to include stylus support and continues to be one of the best with that feature now. There is support for OneNote and Evernote along with PDF support, audio and video recording capabilities (for recording lectures or meetings), and a lot more. It employs an open layout that's great for writing notes or typing them if needed. There are enough tools there for almost any college student or anyone else who needs to take detailed notes. We recommend checking out the free trial before buying it. It's not great for general use, but it's definitely great for academia.
Price: Free / $6.99-$9.99
Microsoft's OneNote is Microsoft's foray into the note taking apps genre. It's integrated into OneDrive similar to how Google Keep is integrated into Google Drive. The app has a bunch of features including organization features, cross-platform support, widgets, Android Wear support, collaboration features, and support for voice, text, and photo additions to notes. It's fairly powerful and a must-have application if you use other Microsoft apps already. It's also compatible with Microsoft Office products and Office 365. We highly recommend using it if you use those other services.
Omni Notes is another very simple note taking app with a Material Design interface. This one uses a vertical card layout that is both easy to scroll through and easy to keep track of. It also has the ability to merge, sort, and search through your notes for better organization and discovery. On top of that, the app has DashClock support, widgets, and a sketch-note mode where you can draw and doodle if you want to. It has enough features to be competitive without bogging itself down. It's one of the great note taking apps for those on a budget as well.
Price: Free / $3.99 per month / $39.99 per year
SomNote is a bit of a wildcard in the note taking apps space. It caters more to the long-form note taking style. That makes it great for things like journals, diaries, research notes, story writing, and others. It has a folder system for easy organization, a locking mechanism to keep things secure, and theme options. There is also a syncing feature so you can go back and forth between devices. The free version has ads and limited cloud support. The premium subscription gives you 30GB of cloud storage, no ads, and more. You do have to subscribe to get rid of the ads, but that's about the only downside. There is no single payment option.
Price: $1.19
Simple Notes Pro is, well, a simple note taking app. It features a no-frills, minimal layout and feature set. The app includes basic text notes, lists, light theming, and a customizable and re-sizable widget. That's basically it. It doesn't connect to the Internet and it has no unnecessary permissions. It's even open source. This is the one we recommend for people who just want something easy and simple to take notes. The app costs $1.19 with no further in-app purchases. There is a free variant but it's not really supported all that much anymore with updates.
If we missed any of the best note taking apps for Android, tell us about them in the comments. Check out all of our app lists by clicking here . Thank you for reading. Try these out too:
10 best productivity apps for Android
The 10 best to do list apps for Android
10 best grocery list apps for Android
Best Writing Apps For Android in 2022
| Candace Osmond
| Writing Tools
Candace Osmond
Candace Osmond studied Advanced Writing & Editing Essentials at MHC. She's been an International and USA TODAY Bestselling Author for over a decade. And she's worked as an Editor for several mid-sized publications. Candace has a keen eye for content editing and a high degree of expertise in Fiction.
Notes, novels, and letter writing are more difficult on a smartphone than on a computer because your mobile device is too small for long documents and advanced formatting. But a few apps on the Play Store can help you.
I've compiled a list of the best writing for Android in 2022 that will enhance your writing experience. This list contains free and paid options for you to choose from.
The 9 Best Writing Apps for Android (2022)
Livingwriter.
LivingWriter is one of the most widely used apps for writers who aspire to finish novels, specifically fiction works. Developers designed the app with a smooth writing experience in mind. One killer feature is the organized menu.
The menu is where you will find many in-built writing templates and outlines. You can move from one chapter to another in your book and create a glossary of characters, concepts, and locations.
LivingWriter also sets high formatting standards. It's similar to Google Docs' font styles, colors, headings, and more options. The app has a familiar yet amazingly well-built interface ideal for both beginners and experts.
Aside from the formatting, inserting, and exporting features, you can also access the Story and Outline menus. This facet lets you evaluate your template for suggestions and decide what to do next in your writing.
The professional writing app wouldn't be complete without cloud integration. LivingWriter keeps all your files on Amazon Cloud Services, where you can see a version history feature.
Grammarly Keyboard
Grammarly is the most popular writing app, but its version of the Android app remains underrated. The virtual keyboard will correct spelling errors on whatever you type on different smartphones.
While correcting grammatical errors on documents, Grammarly's clean and well-designed interface also caters to chats, emails, and social media posts. Different types of writers can still use it because of its array of features, including clarity-focused rewrites and tone detection.
This keyboard application helps you improve your inclusiveness and confidence in your writing. It also spots capitalization and punctuation errors.
Some advanced features include vocabulary enhancements, reducing wordiness, and avoiding the passive voice.
It works by giving you real-time suggestions as you type on whatever app. Whether you're emailing, texting a friend, or tweeting, it will underline any grammar issue and recommend alternatives.
Grammarly Keyboard is hands down one of the most efficient writing apps for different mobile devices. It works on various Android devices, including your tablet or notepad. Download it for free on Google Play Store now.
Google Docs
Google Docs is another popular writing app with a minimal interface on its Android device or desktop version. All kinds of writers can use it to produce written documents for essays, project proposals, and other types of writing. You can also access several templates.
It's one of the few smartphone apps that lets you enjoy the same features of a word processor without all the complexities. It also features Google Drive, which is Google Docs and Sheets; cloud storage. That means you can access your files on any device with your login details.
This fantastic writing app has a spell and grammar checker, which is an integral feature of most word processing programs. It spots some typos and grammatical errors at no subscription cost. You can also include file attachments like images on your document.
Any professional writer will enjoy Google Docs' free 15GB cloud storage. You can also use this application to write YouTube scripts.
Character Story Planner 2
Character Story Planner 2 is the second version of the book writing app available on the Play Store. Use this application on your writing projects, specifically novels and short stories.
The developers initially designed Character Story Planner 2 for tabletop gaming. But creative writers now enjoy planning their characters, settings, and magical spells on this book writing software.
Thanks to its clean user interface, you can write an entire book and transfer your work into a word processing app. The application has a long list of other additional features. You can access a template system, describe characters, create worlds, and more.
Character Story Planner 2 has no subscription fee. Anyone can download the free application in an instant.
JotterPad has every feature you need for mobile writing, whether you produce letter writing, script writing, stories, or essays. It's one of the best Android writing apps for every budding writer. All files include word counts, options for changing the appearance, and draft-saving.
The Android app is marketed explicitly for screenplay writers and story writers, but you can also use it for other forms of writing. Other applications do not let you sync your files with third-party apps. But JotterPad enables you to sync documents with Dropbox.
You can also download the premium version to save your file in different formats. Jotterpad lets you share your work as a text, doc, HTML, and RTF file. There's also an option to share your work on LinkedIn, Gmail, Messages, and Messenger.
Markor is one of the many markdown apps with a bunch of features for your writing. This versatile application lets you make simple documents, including a to-do list, simple text file, and other types of documents.
It's available on Android mobile devices to give you a pleasurable writing experience online and offline. The beneficial writing app allows you to change the font colors and sizes when needed.
Markor is one of the few basic writing apps that performs syntax highlighting. Insert pictures, copy your text to the clipboard, add a calendar, and more.
Aside from the basic formatting options, Markor also lets you work with plaintext software. You can edit with notepad or vim, convert your document to PDF, and produce a zip archive.
Markor is a free subscription service. You can download the application at no cost.
Microsoft Word, OneDrive, or OneNote
Word, OneDrive, and OneNote are three Android writing apps that resemble Google Workspace. Millions of writers have used these three desktop applications for years to type, save, and print written documents. Now, they are available on mobile.
Microsoft Word is a classic writing app where you can craft powerful letters, stories, reports, and proposals. You can also collaborate on projects with your mobile device to edit and share each other's works.
Using Word on your Android smartphone is similar to using it on the desktop. You can access advanced features for formatting, editing, and inserting different elements. It also has a simple grammar checker you can use before submitting your work.
Microsoft OneNote is a good writing app for quick notes and organizing ideas. The clean typing interface looks like a digital notepad with different features for writers.
You can make a shopping list, sketch, add images, videos, and more. There's also an option to create different notebooks and pages for each category.
Automatically save your work on OneDrive, Microsoft's cloud storage service. Like Google Drive, it protects and syncs all your files on any device. It features 5GB of free storage, which you can upgrade through different subscription plans.
Novelist is one of the most popular writing platforms you should try if you're planning to write a novel. This decent writing app offers elaborate features that let you add chapters, characters, events, and categories.
Out of several creative writing apps, only Novelist can give you an authentic writing experience because of the structured procedure. Begin by adding a book, describing it, and choosing a template. Each scene also allows you to create a title and synopsis.
Other features for writing include goal-setting, dark mode, and EPUB and HTML formats. Some downsides to Novelist are the lack of cloud syncing and the inability to write an entire manuscript.
Pure Writer
Pure Writer is a minimal writing app for Android that features a fast plain text and markdown editor for a distraction-free writing experience. Its user-friendly interface lets you quickly navigate the spacing, line, and paragraph features.
For Pure Writer, simplicity is hidden complexity. It involves encrypting your work through fingerprints, a swipe-to-collapse keyboard, and other numerous features. Most importantly, it's one of the few word processing apps with a cloud storage platform.
Which Android Writing App Do You Like Most?
Whether it's for letter writing, script writing, or offline notes, mobile apps for Android can help you write more efficiently. Some applications are developed to proofread your text, while others allow you to format your content.
Our top choices are Living Writer and Grammarly Keyboard because they're perfect for professional writers and casual texters alike. Let us know which Android writing app you like best!
Subscribe to our newsletter
Get grammar tips straight to your inbox
Grammarist is a participant in the Amazon Services LLC Associates Program, an affiliate advertising program designed to provide a means for sites to earn advertising fees by advertising and linking to Amazon.com. When you buy via the links on our site, we may earn an affiliate commission at no cost to you.
2023 © Grammarist, a Found First Marketing company. All rights reserved.