Virtual Classes
Self-Paced Classes
----------------------------
Guaranteed-To-Go
Course Catalogs
Certificate Programs
GSUSA Centers
On-Site Training
Have any questions? Chat , call 888-744-GRAD or email us
Acquisition & Contracting
Business Analysis
Communication & Professional Skills
Financial Management
Grants Management
Human Resources
Leadership & Management
Personal Property Management
Management & Program Analysis
Project Management
Apply for Enrollment
Apply for Graduation
Request Progress Report
Request Waiver
Government Audit Training Institute
Contract for Training at your Location
Customized Course Design and Development
GSA Contract Holder Information
Virtual Instructor-Led & On Demand Courses
GSUSA Coronavirus Update
Student Forms
Course Search
Registrar's Office
Holiday Inn Hotel Discount
Center for Leadership & Management
Our History
Mission and Core Values
Accreditation and Approvals
W. Edwards Deming Outstanding Training Award
A Career with GSUSA
OIG Radio Show
GSUSA News and Events
Reaching GSUSA
Login or Register
On Demand Courses
Clear Writing through Critical Thinking (WRIT7100)
Clear writing through critical thinking, description:.
Think more clearly by improving your writing. Write more clearly by improving your thinking. Understand critical thinking and learn strategies for deeper and deeper levels of thinking. Improve your thought process at each stage of the writing process. Create logical and persuasive arguments, and recognize and remove faulty logic. Sharpen your problem-solving skills and enhance group success. Write plainly as mandated by the Federal Plain Writing Act of 2011 and empower your career with critical thinking and clear writing.
Who Should Attend?
Individuals who want to improve their critical thinking and writing skills. 
Class Type:
This course is currently being offered in the following training modalities:
Class Length:  This class is listed as a 3 day course.
For in-person training sessions, participants are required to download the course materials to a personal device (e.g., laptop or tablet) and bring their device to class for use during classroom instruction.
Contact our Business Development department for more information.
Learning Outcomes:
Understand and apply critical thinking in writing
Use the seven traits to evaluate and improve writing
Apply, analyze, evaluate, and create information
Think critically through each stage of the writing process
Build logical and persuasive arguments
Reason deductively and inductively
Create arguments that are consistent, complete, sound, and valid
Avoid faulty logic in your writing and evaluate documents you read for faulty logic
Devise, evaluate, and implement solutions to problems
Think critically to analyze problems
Get in Touch!
Have a Question?
We're here to help. Send us an email or call us at 1 (888) 744-4723
Communication
Graduate Level Writing Tips
Graduate-Level Writing Tips: Definitions, Do's and Don'ts
Debra Davenport, PhD
In your communication master's program, you will be expected to demonstrate well-honed writing skills in your essays. Your courses will require proficiency in real-world business communications, as well as scholarly writing and the use of APA formatting.
Real-world written business communications may include:
Executive summaries
News releases
Media advisories
Company fact sheets
Business reports
Academic papers are those you will write in your courses that:
Review and discuss the scholarly literature
Synthesize theories, models and course readings
Present critical analysis, research and scholarly insight in an objective manner
Are formatted according to APA standards
Are written in the scholarly voice
What Is the Scholarly Voice?
Essentially, the scholarly voice is unbiased, high-level and evidence-based writing that reflects the epitome of good grammar, syntax and tone. Follow the do's and don'ts below to excel at this format in your graduate school essays.
Scholarly Resources:
https://owl.english.purdue.edu/owl/resource/683/1/
http://blog.apastyle.org/
http://academicguides.waldenu.edu/writingcenter/scholarlyvoice
http://academicguides.waldenu.edu/writingcenter/scholarlyvoice/tone
The "Do's" of Scholarly Writing
1. Use proper syntax. Syntax is defined by the Oxford Dictionary as "the arrangement of words and phrases to create well-formed sentences in a language." Syntax is an important aspect of writing that helps to ensure clarity. Incorrect syntax often results in sentences and paragraphs that do not make sense, and this can pose serious perceptual issues for professional communicators. See this article for a number of examples.
2. Follow the rules of punctuation. Common errors include incorrect placement of quotation marks and erroneous use of the semicolon. As an example, note that quotation marks follow periods and commas, ("The sky is blue.")
3. Include references, citations and /or footnotes, no matter what kind of document you're writing. Taking the time to locate sources that substantiate your statements demonstrate your proficiency as a scholar-practitioner and your commitment to excellence. Citations are required in your academic papers, but clients also appreciate this attention to detail. When pitching a project or campaign, the inclusion of reputable sources will support your recommendations and boost your own credibility.
4. Proofread and edit your work. Many errors are missed during the first proofread; be prepared to review your work multiple times.
The "Don'ts" in Scholarly Writing
1. Don't write in the second person narrative. The second person voice is typically used in articles like this one, where the writer is intending to inform and instruct. According to WritingCommons.org , "writing from the second person point of view can weaken the effectiveness of the writing in research and argument papers. Using second person can make the work sound as if the writer is giving directions or offering advice to his or her readers, rather than informing [them]."
Here is a comparison of second and third person perspectives from WritingCommons.org:
Weak: You should read the statistics about the number of suicides that happen to your average victim of bullying! (2nd person)
Stronger: The statistics from a variety of research reports indicate that the suicide rate is high among victims of bullying; they are under so much psychological pressure that they may resort to taking their own lives. (3rd person)
2. Don't rely on software to correct your writing. Certainly, tools such as spell check, grammar check and grammarly have some benefit, but they cannot replace firsthand knowledge and mastery of proper writing. I recall one particular paper I received several years ago that was, quite literally, gibberish. When I inquired about the content of the student's paper, she replied, "Well, I used grammar check!"
Don't hesitate to seek writing coaching if you have questions or concerns about any aspect of good writing. As graduate students in a masters-level communication program, writing excellence should be a top priority.
By taking an informed and proactive approach to your writing, you will strengthen your academic performance, hone your professional and communication skills and enhance your career.
Dr. Debra Davenport is an online faculty member for Purdue's online Master of Science in Communication degree program. The program can be completed in just 20 months and covers numerous topics critical for advancement in the communication industry, including crisis communication, social media engagement, focus group planning and implementation, survey design and survey analysis, public relations theory, professional writing, and communication ethics.
Find out more about what you can do with a MS in Communication from Purdue University. Call us today at 877-497-5851 to speak to an admissions advisor, or request more information .
*The views and opinions expressed are of the author and do not represent the Brian Lamb School of Communication.
About the Author
Health Sciences
Student Advice
Most Popular Posts
The 3 Most Effective Crisis Communication Strategies
What is Integrated Marketing Communication (IMC)?
Have a language expert improve your writing
Run a free plagiarism check in 10 minutes, generate accurate citations for free.
Knowledge Base
Dissertation
How to Write a Results Section | Tips & Examples
How to Write a Results Section | Tips & Examples
Published on August 30, 2022 by Tegan George . Revised on November 11, 2022.
A results section is where you report the main findings of the data collection and analysis you conducted for your thesis or dissertation . You should report all relevant results concisely and objectively, in a logical order. Don't include subjective interpretations of why you found these results or what they mean—any evaluation should be saved for the discussion section .
Table of contents
How to write a results section, reporting quantitative research results, reporting qualitative research results, results vs. discussion vs. conclusion, checklist: research results, frequently asked questions about results sections.
When conducting research, it's important to report the results of your study prior to discussing your interpretations of it. This gives your reader a clear idea of exactly what you found and keeps the data itself separate from your subjective analysis.
Here are a few best practices:
Your results should always be written in the past tense.
While the length of this section depends on how much data you collected and analyzed, it should be written as concisely as possible.
Only include results that are directly relevant to answering your research questions . Avoid speculative or interpretative words like "appears" or "implies."
If you have other results you'd like to include, consider adding them to an appendix or footnotes.
Always start out with your broadest results first, and then flow into your more granular (but still relevant) ones. Think of it like a shoe store: first discuss the shoes as a whole, then the sneakers, boots, sandals, etc.
If you conducted quantitative research , you'll likely be working with the results of some sort of statistical analysis .
Your results section should report the results of any statistical tests you used to compare groups or assess relationships between variables . It should also state whether or not each hypothesis was supported.
The most logical way to structure quantitative results is to frame them around your research questions or hypotheses. For each question or hypothesis, share:
A reminder of the type of analysis you used (e.g., a two-sample t test or simple linear regression ). A more detailed description of your analysis should go in your methodology section.
A concise summary of each relevant result, both positive and negative. This can include any relevant descriptive statistics (e.g., means and standard deviations ) as well as inferential statistics (e.g., t scores, degrees of freedom , and p values ). Remember, these numbers are often placed in parentheses.
A brief statement of how each result relates to the question, or whether the hypothesis was supported. You can briefly mention any results that didn't fit with your expectations and assumptions, but save any speculation on their meaning or consequences for your discussion  and conclusion.
A note on tables and figures
In quantitative research, it's often helpful to include visual elements such as graphs, charts, and tables , but only if they are directly relevant to your results. Give these elements clear, descriptive titles and labels so that your reader can easily understand what is being shown. If you want to include any other visual elements that are more tangential in nature, consider adding a figure and table list .
As a rule of thumb:
Tables are used to communicate exact values, giving a concise overview of various results
Graphs and charts are used to visualize trends and relationships, giving an at-a-glance illustration of key findings
Don't forget to also mention any tables and figures you used within the text of your results section. Summarize or elaborate on specific aspects you think your reader should know about rather than merely restating the same numbers already shown.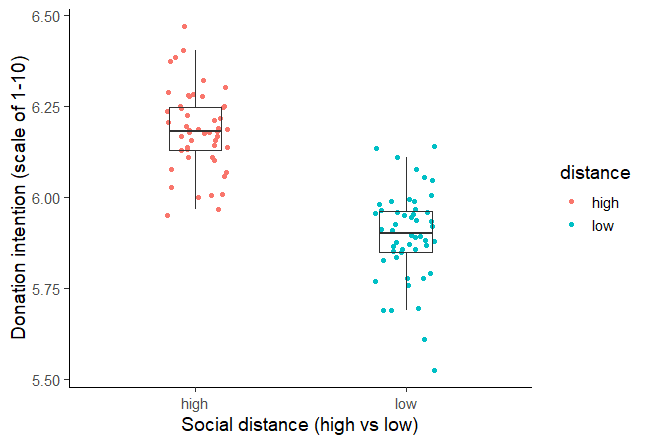 Figure 1: Intention to donate to environmental organizations based on social distance from impact of environmental damage.
Prevent plagiarism. Run a free check.
In qualitative research , your results might not all be directly related to specific hypotheses. In this case, you can structure your results section around key themes or topics that emerged from your analysis of the data.
For each theme, start with general observations about what the data showed. You can mention:
Recurring points of agreement or disagreement
Patterns and trends
Particularly significant snippets from individual responses
Next, clarify and support these points with direct quotations. Be sure to report any relevant demographic information about participants. Further information (such as full transcripts , if appropriate) can be included in an appendix .
"I think that in role-playing games, there's more attention to character design, to world design, because the whole story is important and more attention is paid to certain game elements […] so that perhaps you do need bigger teams of creative experts than in an average shooter or something."
Responses suggest that video game consumers consider some types of games to have more artistic potential than others.
Your results section should objectively report your findings, presenting only brief observations in relation to each question, hypothesis, or theme.
It should not  speculate about the meaning of the results or attempt to answer your main research question . Detailed interpretation of your results is more suitable for your discussion section , while synthesis of your results into an overall answer to your main research question is best left for your conclusion .
I have completed my data collection and analyzed the results.
I have included all results that are relevant to my research questions.
I have concisely and objectively reported each result, including relevant descriptive statistics and inferential statistics .
I have stated whether each hypothesis was supported or refuted.
I have used tables and figures to illustrate my results where appropriate.
All tables and figures are correctly labelled and referred to in the text.
There is no subjective interpretation or speculation on the meaning of the results.
You've finished writing up your results! Use the other checklists to further improve your thesis.
The results chapter of a thesis or dissertation presents your research results concisely and objectively.
In quantitative research , for each question or hypothesis , state:
The type of analysis used
Relevant results in the form of descriptive and inferential statistics
Whether or not the alternative hypothesis was supported
In qualitative research , for each question or theme, describe:
Recurring patterns
Significant or representative individual responses
Relevant quotations from the data
Don't interpret or speculate in the results chapter.
Results are usually written in the past tense , because they are describing the outcome of completed actions.
The results chapter or section simply and objectively reports what you found, without speculating on why you found these results. The discussion interprets the meaning of the results, puts them in context, and explains why they matter.
In qualitative research , results and discussion are sometimes combined. But in quantitative research , it's considered important to separate the objective results from your interpretation of them.
Cite this Scribbr article
If you want to cite this source, you can copy and paste the citation or click the "Cite this Scribbr article" button to automatically add the citation to our free Citation Generator.
George, T. (2022, November 11). How to Write a Results Section | Tips & Examples. Scribbr. Retrieved June 9, 2023, from https://www.scribbr.com/dissertation/results/
Is this article helpful?
Tegan George
Other students also liked, what is a research methodology | steps & tips, how to write a discussion section | tips & examples, how to write a thesis or dissertation conclusion, what is your plagiarism score.
Writing Support
The Graduate School offers writing support for students in partnership with the Thompson Writing Program and English for International Students. Resources include academic courses, a dedicated writing space, individual writing consultations, and additional support for international students. Students can also take advantage of online resources to support their development as writers.
Through The Graduate School's partnership with the Thompson Writing Program , graduate students can enroll in classes that support them in developing as writers. Below you'll find the current list of course offerings.
GS 805 Writing in the Natural Sciences (1 credit)
The Graduate School, in collaboration with the Thompson Writing Program, offers a 1-credit course in academic writing support for Ph.D. students engaged in research projects. The seminar course addresses genres of scientific research writing, structure and function of research reports, grant proposals, introductions and literature reviews, and presenting results, among other topics. The course earns 2 RCR credits. Priority is for advanced PhD students in the natural sciences with specific research writing projects/needs. For a permission number, Ph.D. students should contact the instructor, Dr Cary Moskovitz ( [email protected] ), with a brief description of their research writing project.
Instructor: Dr. Cary Moskovitz , Associate Professor of the Practice, Thompson Writing Program Offered beginning Fall 2016 Next offered Spring 2019 (tentative)
Questions? Contact Dr. Hugh Crumley, Assistant Dean for Academic Affairs, at [email protected] . Note: this writing class is not part of the Certificate in College Teaching and does not fulfill English for International Students (EIS) requirements.
GS 810 Grant and Fellowship Writing in the Humanities and Social Sciences (1 credit)
The Graduate School, in collaboration with the Thompson Writing Program, offers a 1-credit course in grant and fellowship writing for PhD students in the humanities and social sciences. The course addresses funding opportunities, the structure of grant proposals and fellowship applications, effective writing for an interdisciplinary audience, writing methods, and editing and revision strategies. This writing-intensive course requires all students to prepare a fellowship or grant application over the course of the semester, with regular deadlines for written work, and requires multiple revision stages to incorporate feedback from peers and instructor. This class is best suited for PhD students in their third and fourth years. For a permission number, PhD students should contact the instructor, Dr. Eliana Schonberg ( [email protected] ), Director of the TWP Writing Studio and Assistant Professor of the Practice in the Thompson Writing Program.
Instructor: Dr. Eliana Schonberg , Director of the Thompson Writing Studio and Associate Professor of the Practice, Thompson Writing Program Offered beginning Spring 2017; currently on hold Beginning Spring 2020, this content is offered as a workshop series instead of a course. See the complete workshop series lineup .
Questions? Contact Dr. Melissa Bostrom, Assistant Dean for Graduate Student Professional Development, at melissa.bo[email protected] .  Note: this writing class is not part of the Certificate in College Teaching and does not fulfill English for International Students (EIS) requirements.
Students in past GS810 courses discuss their experience and takeaways:
Other Duke Courses and Resources
MGM 702: Papers and Grant-Writing Workshop introduces students to grant and fellowship writing in the biomedical sciences. Offered in fall. See the full description on the Molecular Genetics and Microbiology course listing site.
BIO 706 : Grant Writing provides hands-on instruction for preparing grant proposals; preparation and revision of an NSF-format proposal; evaluation and critique of proposals prepared by fellow class members.
The Pratt School of Engineering offers scientific and technical writing courses for doctoral students each semester. Learn more on the Pratt Science Writing Workshops website .
School of Medicine doctoral students can participate in the annual Gopen Writing Seminar "Writing from the Reader's Perspective" sponsored by the SOM Office for Faculty Development. The three-part seminar series is generally held in October/November, with registration announced 6-8 weeks before the event. Learn more from the OFD website .
If your department or program offers a course or regular workshop series on writing, please contact [email protected] to request that it be listed here.
Graduate Student Writing Lab and Consultant
The Graduate School partners with the TWP Writing Studio to provide the Graduate Writing Lab, a dedicated writing space for graduate students that offers offers regular accountability and catered feedback. Students can work alone or as part of small writing groups on their dissertations and other writings. Visit the Graduate Writing Lab website for current hours and location.
The Graduate School supports a graduate student Writing Studio consultant on hand during lab hours. The consultant can provide brief, issue-based consultations; serve as an active listener or reader; and collect ideas about future workshops or programs that the lab might provide. The consultant also can support writing groups outside lab hours, if needed.
Writing and Research Space in Perkins Library
The Duke University Libraries recognize how important it is for doctoral students to have a quiet, dedicated space that they can leave and return to as they work on their doctoral research. To help meet that need, the Libraries staff have made available the Doctoral Research Space (DRS) in the Perkins Library. The room is open and accessible to registered students anytime Perkins Library is open. It is a large, shared office space for writing and research, intended to be a quiet, controlled-access scholarly workspace for Duke doctoral students.
Upon entering the room, students who have registered may choose any unoccupied desk and work as long as they wish in relative quiet. Registered students will have exclusive access to the space and an adjacent support room with equipment such as an e-print terminal, scanner and desktop computer with Adobe suite. Registered students will also have access to an individual mobile locker (mobile storage unit) or static locker, offering a secure place to leave their materials when they are not working in the room.
Learn more and sign up for DRS access
Dissertation, Article, and Thesis Assistance (DATA) Pilot Program, Spring 2023
Working on a thesis, an article for publication, or a dissertation? In the Dissertation, Article, and Thesis Assistance Program, graduate writers will pair with a TWP Writing Studio consultant for regular meetings over the course of the spring semester. Writers will collaborate with their consultant to set goals, establish accountability, and receive individualized feedback on their large writing projects.  Note: This program is now at capacity for spring 2023 and is not accepting more participants.
Through a partnership with the Thompson Writing Studio , all students in The Graduate School can work with highly educated writing consultants through individual writing consultations. Consultants help at any stage of the writing process – from brainstorming and researching to drafting, revising, and fine-tuning a final draft. The Thompson Writing Studio asks that graduate students limit themselves to scheduling one appointment per week and come for any additional appointments on a walk-in basis. Graduate School students can schedule an appointment online and learn what to expect from a writing consultation .
In addition to the resources listed above, students whose first language is not English may take advantage of classes and services available through the English for International Students (EIS) program. For more information, visit the EIS website .
Questions? Contact Dr. Brad Teague, Assistant Dean and Director, English for International Students, at [email protected] .
Duke's institutional membership in the National Center for Faculty Development & Diversity (NCFDD) provides access to a Dissertation Success Curriculum , complemented by an accountability forum . The 14-Day Writing Challenge is another structured accountability program for any kind of writing. The NCFDD Library provides archived versions of many past webinars on writing as well.
Find information about how to claim your Duke membership to NCFDD here , and read a post by recent alumna Christina Davidson on the value she found in NCFDD as a graduate student on the Professional Development Blog.
Graduate students seeking ways to stay focused and organized in major writing projects can find tips from UNC's Writing Center on ADHD and Graduate Writing
Cornell University Graduate School's Productive Writer monthly newsletter is free and open to all graduate students, whether they're writing writing papers, proposals, theses, or dissertations.
Writing in the Sciences , a Coursera course offered through Stanford University, taught by Dr. Kristin Sainani, Associate Professor of Health Research and Policy
The ETS Writing Mentor, available at mentormywriting.org , is a free Google Docs add-on that uses natural language processing (NLP) to provide feedback on your writing. Graduate students may find its functionality particularly useful for identifying claims in your writing and showing whether they are supported by evidence
Visit the University of Nebraska–Lincoln
Apply to the University of Nebraska–Lincoln
Give to the University of Nebraska–Lincoln
Search Form
Writing about your research: verb tense.
Consistency of verb tense helps ensure smooth expression in your writing. The practice of the discipline for which you write typically determines which verb tenses to use in various parts of a scientific document. In general, however, the following guidelines may help you know when to use past and present tense. If you have questions about tense or other writing concerns specific to your discipline, check with your adviser.
Use Past Tense…
To describe your methodology and report your results. At the time you are writing your report, thesis, dissertation or article, you have already completed your study, so you should use past tense in your methodology section to record what you did, and in your results section to report what you found.
We hypothesized that adults would remember more items than children.
We extracted tannins from the leaves by bringing them to a boil in 50% methanol.
In experiment 2, response varied .
When referring to the work of previous researchers . When citing previous research in your article, use past tense. Whatever a previous researcher said, did or wrote happened at some specific, definite time in the past and is not still being done. Results that were relevant only in the past or to a particular study and have not yet been generally accepted as fact also should be expressed in past tense:
To describe a fact, law or finding that is no longer considered valid and relevant.
Use Present Tense. . .
To express findings that continue to be true . Use present tense to express general truths or facts or conclusions supported by research results that are unlikely to change—in other words, something that is believed to be always true.
To refer to the article, thesis or dissertation itself.
To discuss your findings and present your conclusions .
Publication Manual of the American Psychological Association, 5th Ed. The Comprehensive Guide to Writing in the Health Sciences , University of Toronto.
Subscribe to Connections