Chicago/Turabian Citation Guide (17th Edition): Annotated Bibliography
Author-Date
Bibliography & Sample Papers
Annotated Bibliography
On This Page
Annotations.
Video: What is an Annotated Bibliography?
Writing an Evaluative Annotation
Basic tips on writing and formatting, sample evaluative annotation, useful links for annotated bibliographies.
An annotated bibliography is a list of citations for various books, articles, and other sources on a topic. The annotated bibliography looks like a Works Cited page but includes an annotation after each source cited. An annotation is a short summary and/or critical evaluation of a source. Annotated bibliographies can be part of a larger research project, or can be a stand-alone report in itself.
Types of Annotations
A summary annotation describes the source by answering the following questions: who wrote the document, what the document discusses, when and where was the document written, why was the document produced, and how was it provided to the public. The focus is on description.
An evaluative annotation includes a summary as listed above but also critically assesses the work for accuracy, relevance, and quality. Evaluative annotations can help you learn about your topic, develop a thesis statement, decide if a specific source will be useful for your assignment, and determine if there is enough valid information available to complete your project. The focus is on description and evaluation.
What is an Annotated Bibliography?
Cite the source using Chicago style.
Describe the main ideas, arguments, themes, theses, or methodology, and identify the intended audience.
Explain the author's expertise, point of view, and any bias he/she may have.
Compare to other sources on the same topic that you have also cited to show similarities and differences.
Explain why each source is useful for your research topic and how it relates to your topic.
Evaluate the strengths and weaknesses of each source.
Identify the observations or conclusions of the author.
Each annotation should be one paragraph, between three to six sentences long (about 150- 200 words).
Start with the same format as a regular Works Cited list.
All lines should be double-spaced. Do not add an extra line between the citations.
If your list of citations is especially long, you can organize it by topic.
Try to be objective, and give explanations if you state any opinions.
Use the third person (e.g., he, she, the author) instead of the first person (e.g., I, my, me)
London, Herbert. "Five Myths of the Television Age." Television Quarterly , 10, no. 1 (March 1982): 69-81. Herbert London, the Dean of Journalism at New York University and author of several books and articles, explains how television contradicts five commonly believed ideas. He uses specific examples of events seen on television, such as the assassination of John Kennedy, to illustrate his points. His examples have been selected to contradict such truisms as: "seeing is believing"; "a picture is worth a thousand words"; and "satisfaction is its own reward." London uses logical arguments to support his ideas which are his personal opinion. He does not refer to any previous works on the topic. London's style and vocabulary would make the article of interest to any reader. The article clearly illustrates London's points, but does not explore their implications leaving the reader with many unanswered questions.
Adapted from:
"How to Write Annotated Bibliographies." Memorial University Libraries , www.library.mun.ca/researchtools/guides/writing/annotated_bibl/. Accessed 29 June 2016.
Annotated Bibliographies Overview of purpose and form of annotated bibliographies from the Purdue OWL.
Sample Annotated Bibliographies Sample annotated bibliographies from the OWL (Online Writing Lab) at Purdue University.
Style Guides
The Chicago Manual of Style
A Manual for Writers of Research Papers, Theses, and Dissertations
<< Previous: Bibliography & Sample Papers
Next: More Help? >>
Last Updated: Dec 14, 2021 4:11 PM
URL: https://lcc-ca.libguides.com/chicago-turabian-citation-guide-17th
Using the Library
Subject Guides
Project guides, digital resources, reading lists, quick access.
Junior School Catalog
Senior School Catalog
Sora Tutorials
Sora Web Application
Citation Guides
Lower Canada College Libraries
514-482-9916 ext. 473
LCC is an English coeducational K-11 school leading to the MEES Secondary Leaving Diploma / LCC est une école anglophone mixte de la maternelle à la 5e secondaire menant au DES du MEES.
Articles on a Topic
Articles from a Journal
Journals, Magazines, Newspapers
Videos & DVDs
Music & Audiobooks
Theses, Dissertations and Honors Papers
UNCW Library Catalog
Library Site Search
Government Resources
Center for Southeast North Carolina Archives & History
Digital Collections
Get Started Researching
Subject and Course Guides
Course Reserves
Get Help by Email, Phone, or Chat
One-on-One Help
Information Literacy Instruction
Find Your Librarian
Online Tutorials
Citation or Bibliography Help
Frequently Asked Questions
My Research Strategy
Computers and Technology
Digital Makerspace
Print, Copy, Scan
Reserve Group Study Room
Learning Commons
Library Spaces
Interlibrary Loan
Scholarly Research Services
My Library Account
Borrowing, Renewing & Fines
Library Instruction
Information Literacy
Directions & Parking
Staff Directory
Teaching, Learning & Library Services
Fellowships & Scholarships
Diversity, Equity, & Inclusion
RL Advisory Board
Library Expansion
Library Facts & Planning
Giving to the Library
LIB Courses
Events & Exhibits
Today's Classes & Events
Videos & DVDs
Music & Audiobooks
Theses, Dissertations, and Honors Papers
Government Documents
Center for Southeast NC Archives & History
Get Help by Phone, Email, or Chat
Getting Started Researching
Citatioins or Bibliography Help
Off-campus Access
Reserve Group Study Rooms
Floor Maps & Virtual Tour
Borrowing, Renewing, & Fines
Directions & Parking
Diversity, Equity & Inclusion
Events & Exhibits
Annotated Bibliography
Descriptive or Informative Annotated Bibliographies
Analytical or Critical Annotated Bibliographies
Step 1- Selecting A Topic
Finding Reference Sources for Background Information
Reference Databases
Step 3 - Develop a Search Strategy
Step 4 - Find Books and Articles
Step 5 - Finding Additional Materials
APA Citation Format
MLA CItation Format
Chicago Style Citation Format
Turabian Citation Format
American Medical Association Style Manual
American Sociological Association
Avoiding Plagiarism
Writing the Annotations
Step 8 - Reviewing and Revising
Where to Start
Turabian Style Guide (.pdf) - from the UNCW Learning Center
Other Resources
Turabian Tutorial - from the publishers of the manual
Chicago/Turabian Guide from the University of Wisconsin - Madison
A Manual for Writers of Research Papers, Theses, and Dissertations, 8th edition - print book at Randall Library
<< Previous: Chicago Style Citation Format
Next: American Medical Association Style Manual >>
Home / Guides / Citation Guides / Chicago Style
Chicago/Turabian Style Guide
Need Chicago or Turabian style for a paper you are writing? This guide has everything you need to know about Chicago style according to the latest standards.
This page follows the 17th edition of The Chicago Manual of Style (CMOS) and the 9th edition of the Turabian guide ( A Manual for Writers of Research Papers, Theses, and Dissertations ), though this guide is not officially connected with either.
Here's a run-through of everything this page includes:
Here's what you'll find on this page:
What is chicago style what is turabian, paper formatting guidelines, citing your sources, notes and bibliography style, author-date style, formatting your bibliography or reference list, other chicago guides.
Introduction to the Chicago and Turabian styles
Paper formatting guidelines
When and what you need to cite when writing a paper
Notes and bibliography style
Author-date style
Bibliography and reference list formatting tips
You may have heard the terms "Chicago" and "Turabian" used interchangeably and wondered what the difference is. Simply put, they are just about the same.
Turabian is a simpler version of Chicago style meant for students who are writing materials that will not be published. Since the CMOS is meant for material that is intended for publication, it's often used by scholars, publishers, and other professional academics. The Turabian guide is shorter and includes information on formatting rules, the basics of researching and writing academic papers, and citation style. Despite these differences, these two books work in tandem; both are considered to be official Chicago style.
Since Chicago style is typically used for manuscripts that will be published, The Chicago Manual of Style does not offer many guidelines for paper formatting. This is because publishers each have their own house styles and authors must follow these exactly. There are a few areas where guidance is offered.
Manuscripts : Generally, manuscripts should be double-spaced (CMOS 2.8). Exceptions are block quotations, table titles, and lists in appendixes, which should be single-spaced, and certain front matter (e.g., table of contents), footnotes or endnotes, and bibliographies and reference lists, which should be single-spaced internally but have a blank line between each separate item (Turabian A.1.3).
Spaces at the end of sentences and after colons : Chicago recommends one space (CMOS 2.9; Turabian A.1.3).
Margins : Margins should be at least one inch on all four sides (CMOS 2.10). Certain forms of writing like dissertations or theses may require a larger margin on the left side to allow room for binding, but each institution will have different requirements (Turabian A.1.1).
Justification : Text should be justified to the left (CMOS 2.10).
Font : Turabian recommends using a font that is both readable and readily available to most people such as Times New Roman or Arial. Times New Roman font size should be no smaller than 12-point and Arial no smaller than 10-point. Footnotes and endnotes may require different sizing and you should refer to your instructor's guidelines (Turabian A.1.2).
Pagination : Pagination of the body of the paper and back matter should use arabic numerals (1, 2, 3, etc.). Front matter like the title page and table of contents should use lowercase roman numerals (i, ii, iii, etc.). For the placement of page numbers, the general rule is to adhere to local guidelines and be consistent. (Turabian A.1.4)
For more specific formatting guidelines, you can take a look at the appendix "Paper Format and Submission" in the Turabian manual.
Chicago style has two citation styles to let readers know that you used information from somewhere else and to show them where to find it.
notes and bibliography style
author-date style.
Though different, each style allows you to tell your readers how you found your information. If you're wondering how these two styles differ from parenthetical citations, this guide on footnotes, end notes, and parentheticals contains more details on each method.
The 2 styles
The first style is the notes and bibliography style . This style uses footnotes or endnotes to point readers to the original source of the information. This style also often provides a bibliography at the end that readers consult, but this is not always necessary if sources are cited in full in your text.
The second style is called author-date style . This style uses parenthetical in-text citation to let readers know to look at the reference list at the end to find the full citation for the information you have used.
Here's a chart to compare these two citation styles: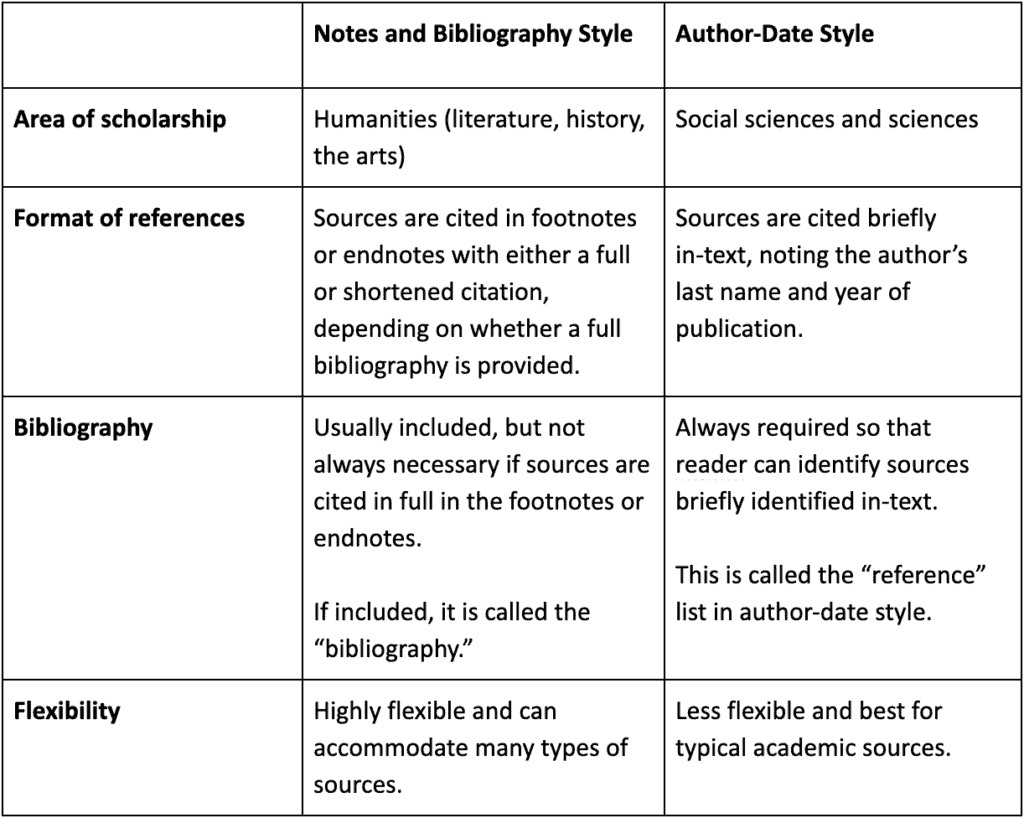 You must cite your source in any of the following situations:
If you quote a source exactly
If you reword ideas from a source
If you use any material (e.g., statistics, data, methodology) from a source you read while writing
When citing your sources, you usually need a few key pieces of information:
Who created the source? This might be an author, editor, translator, or corporate body.
How can you identify the source? This information will likely include a title, page numbers, volume or issue numbers, and edition.
What is the publication information? This might include the name of the publishing company, the year of publication, and the name of the journal or book the information is in.
Where can others find the source? This is important for online sources and singular material like that found in rare book collections or archives. For online material, you'll want to record a URL or database name if possible. For rare book or archival material, you'll need the name of the place you found it and the collection name.
Why citing your sources is important Telling your readers where you found your information is a very important part of the writing process. It gives credit to the hard work others have done . It also lets readers know that your information is reliable—they don't just have to take it from you; they can go see what other researchers have written about the topic.
Citing your sources also helps readers to understand the context of your project . You can show that you understand the work that has already been done and where your own research fits in.
Finally, your readers might want to build on your research. Citing helps them to know where you found your information when readers do their own research. They might even cite you if you formally published your work. You can read more about how to integrate the research of others into your paper in Chapter 7 of the Turabian manual or Chapter 13 in the CMOS.
This style uses superscript numbers at the ends of sentences. These numbers alert readers that the sentence contains information from another source. Each superscript number refers to a note.
The notes are located at the bottom of the page (footnotes) or at the end of the paper, chapter, or book (endnotes).
Footnotes make it very easy for readers to find your source, but they can interrupt the document flow.
Endnotes tend to reduce distraction on the page, but then the reader must flip pages to find the source you cite.
Unless your instructor has told you otherwise, the choice between footnotes and endnotes is up to you. You just need to be consistent and stick to one style or the other.

Updates to "Ibid" It's important to note that previous editions of the CMOS encouraged the use of "ibid" when the same source was cited multiple times in a row. "Ibid" is a Latin word meaning "in the same place."
The 17th edition of the CMOS, however, overturns this recommendation because the use of "ibid" can be confusing for readers and authors can easily cite to the wrong source if they are not careful.
The current recommendation of the CMOS is to always use the shortened form of the citation. If you refer to the same work multiple times in a row, you may leave out the shortened title and just list the author's last name and the page number to which you are citing (See CMOS 14.34 for more information.).
Full Bibliography If you are including a full bibliography, you might choose only to use shortened citation forms in your footnotes or endnotes. You may also use the shortened structure that omits the title for sources that you cite several times in a row.
Keep in mind that if you cite a different source, you need to use the full shortened structure the next time you cite from a source you have used before. Here's an example:
Robisheaux, Langenburg , 58
Robisheaux, 59.
Robisheaux, 70.
Cyrus, Scribes , 80.
Robisheaux, Langenburg , 95.
Citation Examples Here are a few examples of citation structures in the notes and bibliography style. For more examples and information on this style, check out the EasyBib Chicago footnotes guide.
Journal article:

Newspaper or magazine article: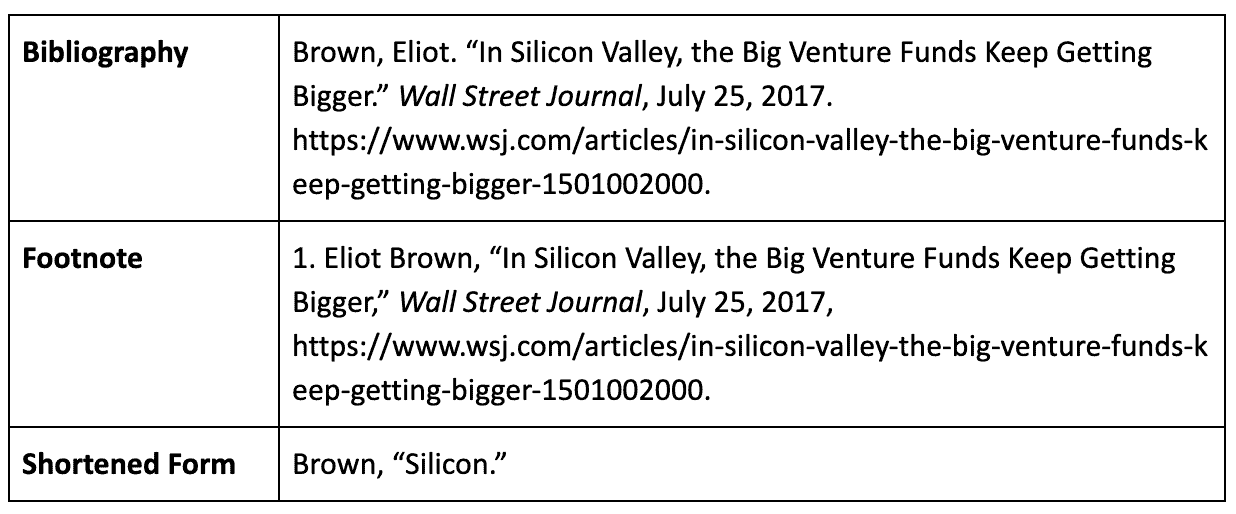 This style uses parenthetical in-text citations and a reference list to guide readers to the sources you cite. The in-text citation generally includes the:
Author's last name
Year of publication
Page numbers referenced
Using the parenthetical citation, the reader can then look at the reference list and find full information for the source.The reference list for this style is usually titled "References" or "Works Cited" and is organized in alphabetical order by the author's last name. The parenthetical in-text citation always comes at the end of a sentence, and is placed before the final punctuation.
In-text citation example Nicholson's study reveals a great deal about the general practices of ARL institutions in regard to the technical processing of these personal libraries. About half of the institutions kept the personal libraries shelved together and half used a Library of Congress classification scheme (Nicholson 2010, 114-115).
In the reference list, the citation would appear as follows:
Nicholson, Joseph R. 2010. "Making Personal Libraries More Public: A Study of the Technical Processing of Personal Libraries in ARL Institutions." RBM: A Journal of Rare Books, Manuscripts, and Cultural Heritage 11, no. 2 (Fall): 106-133.
Additional Examples Here are more examples of parenthetical in-text citations and their full citations as they would appear in the reference list. There are even more guides linked at the bottom of this page.

Social media:

In-text citation examples
When building in-text citations, you might come across more complicated citations. This chart shows some of the most common citation types you will come across and how to build in-text citations for them.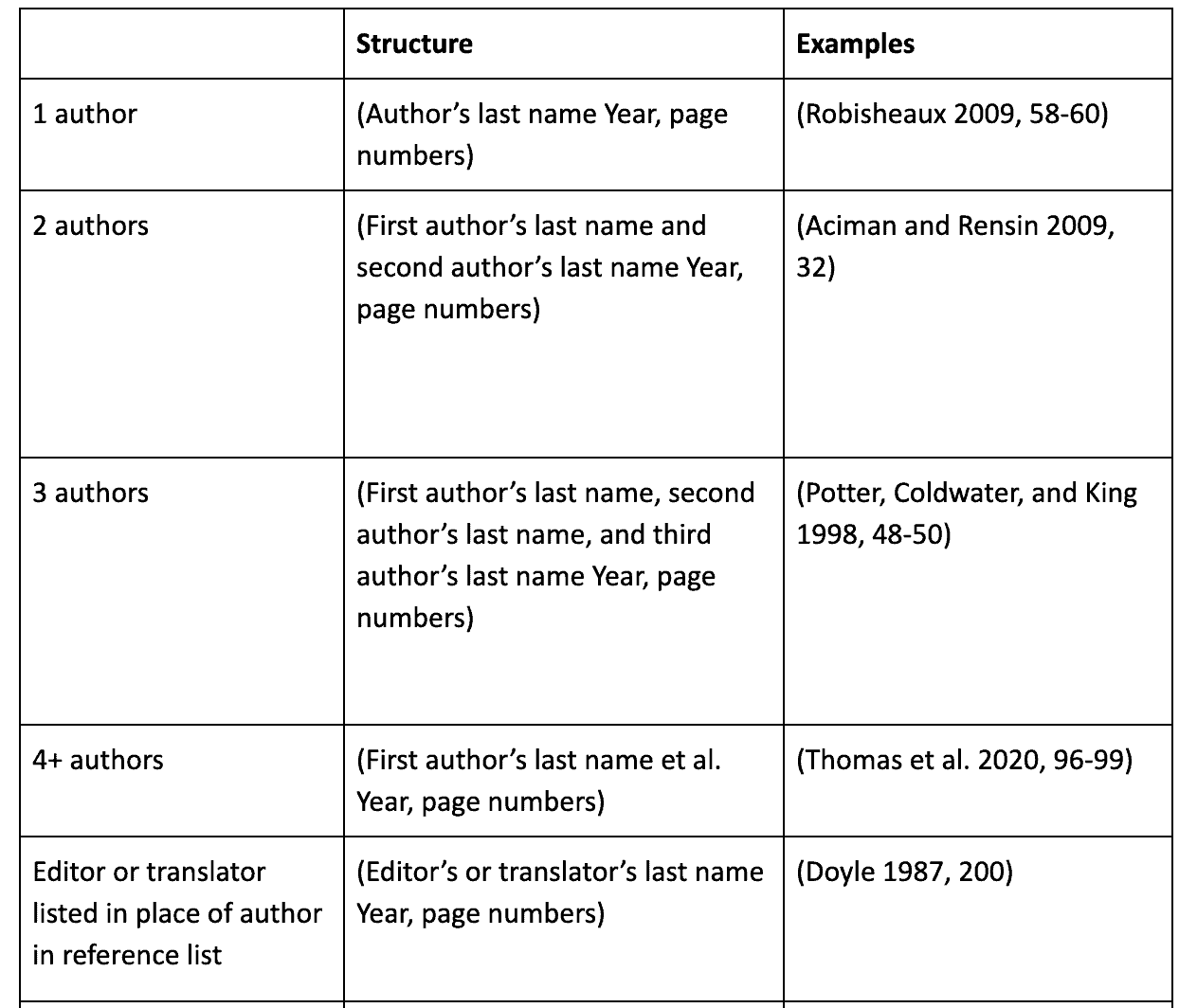 Bibliographies and reference lists are located at the end of your paper. You should include every source you cite in your bibliography or reference list.
Here are a few guidelines to follow:
Center your title (either "Bibliography" or "Reference List") at the top of the page.
Organize entries alphabetically by the last name of the author (or title if no author is known).
Each entry should be single-spaced with a blank line between entries.
Each entry should also have a half-inch hanging indent.
3-em dashes
While sometimes 3-em dashes are used in bibliographies and reference lists in repeated list entries under the same author, the 17th edition of CMOS actually recommends that authors not do this in citation lists (CMOS 14.67 and 15.17).
Using 3-em dashes can cause a number of problems and it is best to just use the author's name each time, especially if submitting your work for formal publication.
If your editor or publisher wants to use the 3-em dash, they will insert them where necessary. You can also check with your teacher and see what they want you to do.
For more guidelines for formatting bibliographies and reference lists, see CMOS 14 and 15 and Chapters 16 and 18 in the Turabian guide.
Citation Basics
Fundamentals of Chicago Citation
How to Cite a Book
How to Cite a Chapter
How to Cite an E-book
How to Cite the Bible
Periodicals
How to Cite a Journal
How to Cite a Newspaper
How to Cite a Magazine
Online Content
How to Cite a Blog
How to Cite a Website
How to Cite a Tweet
How to Cite a Video on YouTube
Audio / Video / Photo / Art
How to Cite a Film
How to Cite a Musical Recording
How to Cite a Painting
How to Cite a Podcast
How to Cite a Photo
How to Cite Sheet Music
How to Cite a TV/Radio Broadcast
Academic Sources
How to Cite a Thesis or Dissertation
How to Cite a Conference Paper
How to Cite a Lecture
Other Source Types
How to Cite a Report
How to Cite Interview
How to Cite a Mobile App
Reference Materials
How to Cite an Encyclopedia
How to Cite a Dictionary
Bibliography:
The Chicago Manual of Style , 17th ed. Chicago: University of Chicago Press, 2017. https://doi.org/10.7208/cmos17.
Turabian, Kate L. A Manual for Writers of Research Papers, Theses, and Dissertations , 9th ed. Chicago: University of Chicago Press, 2018.
Published October 31, 2011. Updated April 9, 2020.
Written by Janice Hansen . Janice has a doctorate in literature and a master's degree in library science. She spends a lot of time with rare books and citations.
How useful was this post?
Click on a star to rate it!
We are sorry that this post was not useful for you!
Let us improve this post!
Tell us how we can improve this post?
Chicago Citation Examples
Chicago Formatting
Writing Tools
Citation Generators
Other Citation Styles
Plagiarism Checker
Upload a paper to check for plagiarism against billions of sources and get advanced writing suggestions for clarity and style.
Get Started
Annotated Bibliography
Sample Chicago Annotation
URL: https://libguides.enc.edu/writing_basics/annotatedbib
Definition and Descriptions
Evaluation Tools
Parts of an Annotation
Sample APA Annotation
Sample ASA Annotation
Sample MLA Annotation
Research Tools
Chicago Style Annotations
Creating an annotated bibliography in Chicago style
Kate Turabian's A Manual for Writers of Term Papers, Theses, and Dissertations is very similar, and is on reserve behind the IRC Desk on the Ground Floor.
General guidelines
Anno tatio ns can be merely descriptive , summarizing the authors' qualifications, research methods, and arguments.
Annotations can evaluate the quality of scholarship in a book or article. You might want to consider the logic of authors' arguments, and the quality of their evidence. Your findings can be positive, negative, or mixed.
Your professor might also want you to explain why the source is relevant to your assignment.
Sample Page: Chicago-formatted annotated bibliography
Rules! rules! rules!
The Chicago Manual of Style states the following formatting rules. Check your assignment description in case your instructor has other instructions.
The text should be double-spaced.
Numbering starts on the first page of writing ( not the title page), at the top right of the page.
Reference list entries must have a hanging indent (to do this in Microsoft Word 2003, click Format, then Paragraph, then Special, and choose Hanging).
There should be 1 inch (2.54 cm) margins all around (top, bottom, left, and right) on each page.
Use Times Roman font, or a similar serif font.
Each paragraph should be indented using the tab key.
More Sample Annotations
Cornell University Library offers these examples of both APA and MLA format descriptive bibliographies.
<< Previous: Sample ASA Annotation
Next: Sample MLA Annotation >>
Last Updated: Nov 7, 2023 8:23 AM
Turabian Style
Cite: Why? When?
Books or Ebooks
Theses and Manuscripts
Reference and Sacred Works
Audio/Visual
Government Documents
Music Resources
Artificial Intelligence (AI) Tools
Format Your Paper
Shortened Notes
Turabian Style (9th Ed.)
Turabian Style is a notation style (footnotes) most commonly used by writers in humanities (literature, history and the arts). The 9th edition of Turabian outlined in this guide is based on 17th edition of The Chicago Manual of Style and is adopted for student research papers. This format is primarily used by the History Department at UW-Whitewater and the one highlighted in this guide. Check with your professor about which version of Turabian to use for your paper.
Another format of Turabian is the author-date system used in social sciences.
Turabian Format Template Document
Example Paper & Annotated Bibliography
Turabian Student Paper Tip Sheets
How to Write an Annotated Bibliography
Printable Help Sheets & Tutorial
Citing References: Turabian Style [PDF]
Turabian Style Quick Guide
Get the Book
Many thanks to PSCC Libraries' excellent APA guide for sharing much of the content and organization.
<< Previous: Cite: Why? When?
Next: Books or Ebooks >>
Last Updated: Oct 25, 2023 12:48 PM
URL: https://libguides.uww.edu/turabian
Books, Articles, & More
Curriculum Library
Archives & Special Collections
Scholars Crossing
Research Guides
Student Support
Faculty Support
Interlibrary Loan
Turabian Writing Guide: Bibliography
Bibliography
Citing the Bible
Writing Center
The Liberty University Writing Center is available to provide writing coaching to students. Residential students should contact the On-Campus Writing Center for assistance. Online students should contact the Online Writing Center for assistance.
Bibliography (Notes-Biblography Style)
All bibliographic entries should be single-spaced, indenting subsequent lines. Like the rest of the paper, the bibliography should be in Times New Roman. The following are examples and due to the nature of formatting in web pages may not reflect the exact style as would be seen in a Word document.
Book with a Single Author
Kitamura, Katie. A Separation . New York: Riverhead Books, 2017.
Book with Two or More Authors
Sassler, Sharon, and Amanda Jayne Miller. Cohabitation Nation: Gender, Class, and the Remaking of Relationships . Oakland: University of California Press, 2017.
Books with Four or More Authors
For books with up to ten authors, list each author in the order in which they appear. For books with more then ten, list only the first seven authors followed by "et al."
Eichengreen, Barry, Lim, Wonhyuk, Park, Yung C., and Dwight H. Perkins. The Korean Economy: From a Miraculous Past to a Sustainable Future . Cambridge: Harvard University Asia Center, 2015.
Books with an Editor
John D'Agata, ed. The Making of the American Essay . Minneapolis: Graywolf Press, 2016.
Chapter or Other Part of a Book
Rowlandson, Mary. "The Narrative of My Captivity." In The Making of the American Essay , edited by John D'Agata, 19–56. Minneapolis: Graywolf Press, 2016.
Translation of a Book
Lahiri, Jhumpa. In Other Words . Translated by Ann Goldstein. New York: Alfred A. Knopf, 2016.
For online ebooks, include a URL or the name of the database. For other types of ebooks (such as e-reader files), name the format at the end of the citation.
Austen, Jane. Pride and Prejudice . New York: Penguin Classics, 2007. Kindle.
Dostoevsky, Fyodor. Crime and Punishment . Translated by Constance Garnett, edited by William Allan Neilson. New York: P. F. Collier Son, 1917. https://archive.org/details/crimepunishment00dostuoft.
Schlosser, Eric. Fast Food Nation: The Dark Side of the American Meal . Boston: Houghton Mifflin, 2001. ProQuest Ebrary.
Journal Article
For online articles, include the doi address (the address begins with https://doi.org/). If the article doesn't have doi information, list the article's permalink or database instead. If an article has more than ten authors, list the first seven authors followed by an "et al."
Keng, Shao-Hsun, Chun-Hung Lin, and Peter F. Orazem. "Expanding College Access in Taiwan, 1978–2014: Effects on Graduate Quality and Income Inequality." Journal of Human Capital 11, no. 1 (Spring 2017): 1–34. https://doi.org/10.1086/690235.
LaSalle, Peter. "Conundrum: A Story about Reading." New England Review 38, no. 1 (2017): 95–109. Project MUSE.
Pérez, Ashley Hope. "Material Morality and the Logic of Degrees in Diderot's Le neveu de Rameau ." Modern Philology 114, no. 4 (May 2017): 872–98. https://doi.org/10.1086/689836.
Weber, Jesse N., Martin Kalbe, Kum Chuan Shim, Noémie I. Erin, Natalie C. Steinel, Lei Ma, and Daniel I. Bolnick. "Resist Globally,Infect Locally: A Transcontinental Test of Adaptation by Stickleback and Their Tapeworm Parasite." American Naturalist 189, no.1 (January 2017): 43–57. https://doi.org/10.1086/689597.
Magazine Article
Lind, Dara. "Moving to Canada, Explained." Vox , September 15, 2016. http://www.vox.com/2016/5/9/11608830/move-to-canada-how.
Newspaper Article
Manjoo, Farhad. "Snap Makes a Bet on the Cultural Supremacy of the Camera." New York Times , March 8, 2017. https://www.nytimes.com/2017/03/08/technology/snap-makes-a-bet-on-the-cultural-supremacy-of-the-camera.html.
Book Review
Eberstadt, Fernanda. "Gone Guy: A Writer Leaves His Wife, Then Disappears in Greece." Review of A Separation , by Katie Kitamura. New York Times , February 15, 2017. https://www.nytimes.com/2017/02/15/books/review/separation-katie-kitamura.html.
Thesis or Dissertation
Navarro-Garcia, Guadalupe. "Integrating Social Justice Values in Educational Leadership: A Study of African American and Black University Presidents." PhD diss., University of California, Los Angeles, 2016. ProQuest Dissertations & Theses Global.
Website Content
If a website doesn't list a date of publication, posting, or revision, include an access date.
Columbia University. "History." Accessed May 15, 2017. http://www.columbia.edu/content/history.html.Google. "Privacy Policy." Privacy & Terms. Last modified April 17, 2017. https://www.google.com/policies/privacy/.
Audiovisual Content
Beyoncé. "Sorry." Directed by Kahlil Joseph and Beyoncé Knowles. June 22, 2016. Music video, 4:25. https://youtu.be/QxsmWxxouIM.
Stamper, Kory. "From 'F-Bomb' to 'Photobomb,' How the Dictionary Keeps Up with English." Interview by Terry Gross. Fresh Air , NPR,April 19, 2017. Audio, 35:25. http://www.npr.org/2017/04/19/524618639/from-f-bomb-to-photobomb-how-the-dictionary-keeps-up-with-english.
Examples are adapted from Kate Turabian's A Manual for Writers and the Turabian 9th Edition Quick Guide .
<< Previous: Footnotes
Next: Citing the Bible >>
Last Updated: Aug 28, 2023 2:25 PM
URL: https://libguides.liberty.edu/Turabian
Citation Style Guide: Turabian (& Chicago)
Turabian (& Chicago)
Annotated Bibliographies
Citation Generators
Writing Center @ UW-Madison This link opens in a new window
Frazar Library's Citation Style Guide This link opens in a new window
Citation Styles: a Brief Guide to APA, MLA, & Turabian (UNF, Carpenter Library) This link opens in a new window
Chicago Manual of Style
Chicago Manual of Style official website for Chicago Manual of Style
Chicago Manual of Style Guide (Purdue OWL) From the Purdue OWL: Chicago Manual of Style
Chicago Citation Style (from LIU Post) LIU Post
Turabian Style Guide Online Assistance
Turabian Citation Style Guide (MSU-Billings) MSU Billings - Turabian Citation Style Guide
Turabian Quick Guide (Official)
Turabian (& Chicago) - Story Library Guide Citation guide from Story Library
Who was Kate Turabian? biography of Kate Turabian, Turabian 8th Edition website
Who uses Turabian Style?
" students & researchers"
University of Chicago Press, "Home," Kate L. Turabian, A Manual for Writers of Research Papers, Theses, and Dissertations,http://www.press.uchicago.edu/books/turabian/manual/index.html, (accessed 29 August 2016).
What is Turabian Style?
a modified version of The Chicago Manual of Style that offers writers two documentation systems:
notes-bibliography style -- mainly used in literature, history, and the arts; footnotes/endnotes and bibliography.
parenthetical citations–reference list style -- mainly used with the physical, natural, and social sciences; parenthetical citations in text and reference list.
University of Chicago Press, "Turabian Quick Guide," Kate L. Turabian, A Manual for Writers of Research Papers, Theses, and Dissertations, http://www.press.uchicago.edu/books/turabian/turabian_citationguide.html, (accessed 29 August 2016).
<< Previous: MLA
Next: Annotated Bibliographies >>
Last Updated: Mar 6, 2023 10:29 AM
URL: https://library.cbc.edu/citationstyles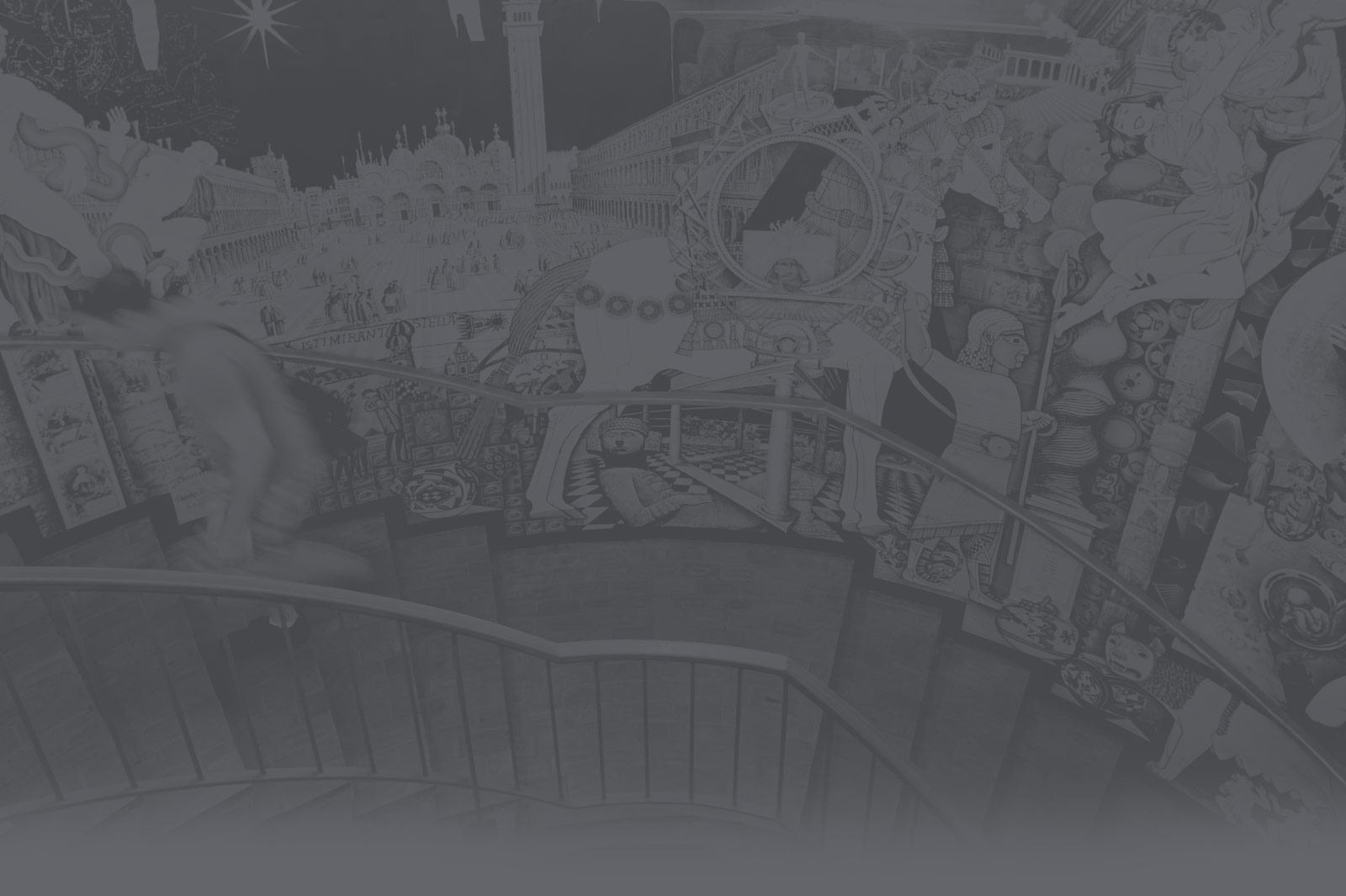 Turabian (Notes-Bibliography Style)
Citing Sources
Citation Sources
MLA Style, 9th ed.
APA Style, 7th ed.
Chicago (Notes-Bibliography Style), 17th ed.
Chicago (Author-Date Style), 17th ed.
     See also the online version of the  Chicago Manual of Style
Turabian (Notes-Bibliography Style), 9th ed.
Turabian (Author-Date Style), 9th ed.
ASA Style, 6th ed.
Citing Sources in the Text of a Paper
Including a list of Works Cited at the end of an essay is not enough. Learn how to cite the use of a source in the text of your paper.
Using Information from Sources in the Text of a Paper
Review five different methods for including the words of another writer or information from a research resource into the text of your paper.
Citing Creative Commons Materials
Find models and suggestions for citing Creative Commons images, video clips, music, or other materials.
Suggested Readings on Academic Integrity
Find books, articles and websites which deal with academic integrity issues.
Creating an Annotated Bibliography
Learn how to create an annotated bibliography for a class assignment or for your own use as a researcher and writer.
Learn more about Zotero – a citation management tool to help you keep track of and organize various references for papers and projects.
Avoiding Plagiarism
See Trinity University's definitions of plagiarism and consider how to avoid these situations.
Detecting Plagiarized Material
Information and links for faculty members and others to use in detecting plagiarized materials.
Citation & Style Guide
Chicago/Turabian
Other Styles
Zotero / Citation Tools
Writing & Plagiarism
Other Resources
What is an annotated bibliography?
Annotated bibliography: mla, annotated bibliography: apa, annotated bibliography: chicago/turabian, for zotero users, research librarians.
Extra resources
How to Prepare an Annotated Bibliography (from Olin Library Reference, Cornell University Library)
Cremmins, Edward T. The Art of Abstracting . 2nd ed. Arlington, Va: Information Resources Press, 1996
American Psychological Association. Publication Manual of the American Psychological Association . 6th ed. Washington, DC: American Psychological Association, 2010.
Modern Language Association of America. MLA Handbook for Writers of Research Papers . 7th ed. New York: Modern Language Association of America, 2009.
Turabian, Kate L., John Grossman, and Alice Bennett. A Manual for Writers of Research Papers, Theses, and Dissertations : Chicago Style for Students and Researchers . 8th /rev. by Wayne C. Booth, Gregory G. Colomb, Joseph M. Williams et al. Chicago: University of Chicago Press, 2013.
University of Chicago. The Chicago Manual of Style . 16th ed. Chicago: University of Chicago Press, 2010. Online http://go.middlebury.edu/chicago
An annotated bibliography includes a citation and a written statement about each work to help potential readers decide if an item is relevant to their interests. Most often they are arranged alphabetically by author, but they can also be arranged chronologically, or by topic. Most style manuals provide few details on how to write annotations. This guide only provides brief guidance. For more details see How to Prepare an Annotated Bibliography (created by Research & Learning Services, Olin Library, Cornell University Library, Ithaca, NY, USA and used with permission).
According to MLA Handbook (9th edition): The list should be titled Annotated Bibliography or Annotated List of Works Cited. "Annotations describe or evaluate sources or do both. They should not rehash minor details, cite evidence, quote the author, or recount steps in an argument. Annotations are generally written as succinct phrases." (section 5.132)
MLA Handbook - 9th edition format:
At the end of the bibliography citation "append an annotation to the end of the entry, indented an inch from the start of the entry (to distinguish it from the half inch hanging indent of entries composed of more than one line)." [5.132]
Example from MLA Handbook 9th edition [5.132]:
Moore, Nicole. The Censor's Library: Uncovering the Lost History of Australia's
Banned Books . U of Queensland P, 2012.
Comprehensive history of Australian print censorship, with
discussion of this history's implications for questions of
transnationalism and the construction of the reader.
Note: Annotation may also be given as complete sentences. Notice that the citation and annotation is double-spaced, as in past editions.
See MLA Handbook 9th ed. [5.132] for additional guidance and examples.
APA does not mention annotated bibliographies but instead gives directions for writing abstracts. According to the Publication Manual of the American Psychological Association (6th edition), an abstract is defined as "a brief, comprehensive summary of the contents of the article; it allows readers to survey the contents of an article quickly and, like a title, it enables persons interested in the document to retrieve it from abstracting and indexing databases." (p.25) The APA guidelines for authors writing their own abstracts may be helpful for students as well. The manual describes elements to include for specific types of reports and articles. See pages 26-27 for details.
According to Turabian, Kate L. A Manual for Writers of Research Papers, Theses, and Dissertations (8th edition) section 16.2.1: "Some writers annotate each bibliography entry with a brief description of the work's contents or relevance to their research..."
The Turabian (section 16.2.1) and Chicago manuals (section 14.59) offers two ways of using annotations. "If your annotations are brief phrases, add them in brackets after the publication data..." Examples from Turabian 7th edition:
"You may also add full-sentence annotations on a new line with paragraph indentation" (example from Turabian):
Chicago Annotated Bibliography Format and Example Examples from bibliography.com
Only 2 styles automatically format annotated bibliographies:
You may need to add these styles to Zotero (choose "get additional styles" under Settings – Preferences – Cite tab)
For APA style, put the annotation in the "abstract" field.
For Chicago style, put the annotation in "extra" field
<< Previous: Other Resources
Last Updated: Nov 15, 2023 4:18 PM
URL: https://middlebury.libguides.com/citation

CITATION QUICK GUIDE
Source citations in the Turabian manual come in two varieties: (1) notes and bibliography (or simply notes) and (2) author-date. These two systems are also sometimes referred to as Chicago-style citations, because they are the same as the ones presented in The Chicago Manual of Style .
If you already know which system to use, follow one of the links above to see sample citations for a variety of common sources. Otherwise, read on.
Notes and Bibliography or Author-Date?
The notes and bibliography style is popular in the humanities—including literature, history, and the arts. In this system, sources are cited in numbered footnotes or endnotes. Each note corresponds to a raised (superscript) number in the text. Sources are also usually listed in a separate bibliography. This system is very flexible and can easily accommodate a wide variety of sources.
The author-date style is more common in the physical, natural, and social sciences. In this system, sources are briefly cited in the text, usually in parentheses, by author's last name and year of publication. Each citation in the text matches up with an entry in a reference list, where full bibliographic information is provided.
Aside from the way they cite sources in the text, the two styles are very similar. To compare them, follow the links at the top of this page, where you'll find examples of the more common source types cited in each style.
If you're not sure which style you should use, ask your instructor. You will also find more information here .
For a more detailed description of the styles and many more examples, see chapters 16 and 17 of the 9th edition of the Turabian manual for notes style and chapters 18 and 19 for author-date style.
Become Involved |
Give to the Library |
Staff Directory |
UNF Library
Thomas G. Carpenter Library
Citation Styles: A Brief Guide to APA, MLA and Turabian
Sample bibliography: turabian.
Journal Articles
Magazine Articles
Newspaper Articles
Government Publications
Other Materials
In Text Citations
Sample Bibliography: APA
Sample Bibliography: MLA
Creating an Annotated Bibliography This link opens in a new window
The basic format for a book citation requires listing the author's name, the title of the book, the publisher's name, and the date of publication. Edited books, when cited in full, will list the editor's name instead of an author's name.
Bibliography
Clemens, Lieselotte. Old Lutheran Emigration from Pomerania to the U.S.A. : History and Motivation, 1839-1843 . Kiel, West Germany: Pomeranian Foundation, 1976.
Detzler, Jack J. "'I Live Here Happily': A German Immigrant in Territorial Wisconsin." Wisconsin Magazine of History 50, no. 3 (2007): 254-259.
Gruenwald, Myron Eugene. Baltic Teutons : Pioneers of America's Frontier . Oshkosh, WI: Pommerschen Leute, 1988.
------. Two Worlds for Our Children . Oshkosh, WI: Pommerschen Leute, 1985.
Kuyper, Susan Jean. The Americanization of German Immigrants : Language, Religion and Schools in Nineteenth Century Rural Wisconsin , 1981.
Marth, Elmer H. "Gustav Adolph Kindermann - Leader of a German Lutheran Immigration and Pioneer Southeastern Wisconsin Pastor." Concordia Historical Institute Quarterly 38, no. 3 (1965): 135-145.
Ostergren, Robert Clifford, Cora Lee Kluge, and Heike Bungert. Wisconsin German Land and Life . Madison, WI: Max Kade Institute for German-American Studies, University of Wisconsin--Madison, 2006.
Reppmann, Joachim. Freedom, Education and Well-Being for All : North Germans in the USA, 1847-1860 . Davenport, Iowa; Germany: Hesperian Press; Verlag für Amerikanistik, 1999.
Schlemper, M. B. "From the Rhenish Prussian Eifel to the Wisconsin Holyland: Immigration, Identity and Acculturation at the Regional Scale." Journal of Historical Geography 33, no. 2 (2007): 377-402. http://www.sciencedirect.com/science/article/B6WJN-4KRY3YV-1/2/e32171402b1650a576a754073 76ef15d (accessed April 28, 2009).
Strohschänk, Johannes. 2001. "The Official Word vs. the Horse's Mouth: Descriptions of Wisconsin for the German Emigrant in the 1850s." Yearbook of German-American Studies 36 (2001): 129-156.
Strohschänk, Johannes, William G. Thiel, and Max Kade Institute for German-American Studies (University of Wisconsin--Madison). The Wisconsin Office of Emigration, 1852-1855, and Its Impact on German Immigration to the State . Madison, WI: Max Kade Institute for German-American Studies, 2005.
Tabbert, Ronald. "Milwaukee's Trinity Designated a 'Landmark'." Concordia Historical Institute Quarterly 41, no. 4 (1968): 153-155. Zucker, A. E. 1958. "Roesler, Doughty Forty-Eighter." American-German Review 24, no. 6: 25-27.
<< Previous: Sample Bibliography: MLA
Next: Creating an Annotated Bibliography >>
Last Updated: Sep 1, 2022 9:39 AM
URL: https://libguides.unf.edu/citationguide
Generate accurate Chicago citations for free
Knowledge Base
Chicago Style
How to Format a Turabian/Chicago Style Title Page | Example
Published on October 10, 2019 by Jack Caulfield . Revised on December 5, 2022.
Turabian style , a version of Chicago style designed specifically for writing research papers , theses , and dissertations , provides detailed guidelines for formatting a title page.
A title page is not mandatory; if you haven't been told to include one, you can just center your title at the top of the first page.
These are the key guidelines for creating a title page in Turabian style:
Title and subtitle appear ⅓ of the way down the page.
Other information (e.g., your name, the date, class information) appears ⅔ down the page.
All text is center-aligned and double-spaced .
No page number is included on the title page.
Chicago Reference Generator
Table of contents
Chicago title page example, general formatting of the title page, placement and format of the title, placement and format of other information, frequently asked questions about chicago format.
Below is an example of a typical title page following Turabian guidelines: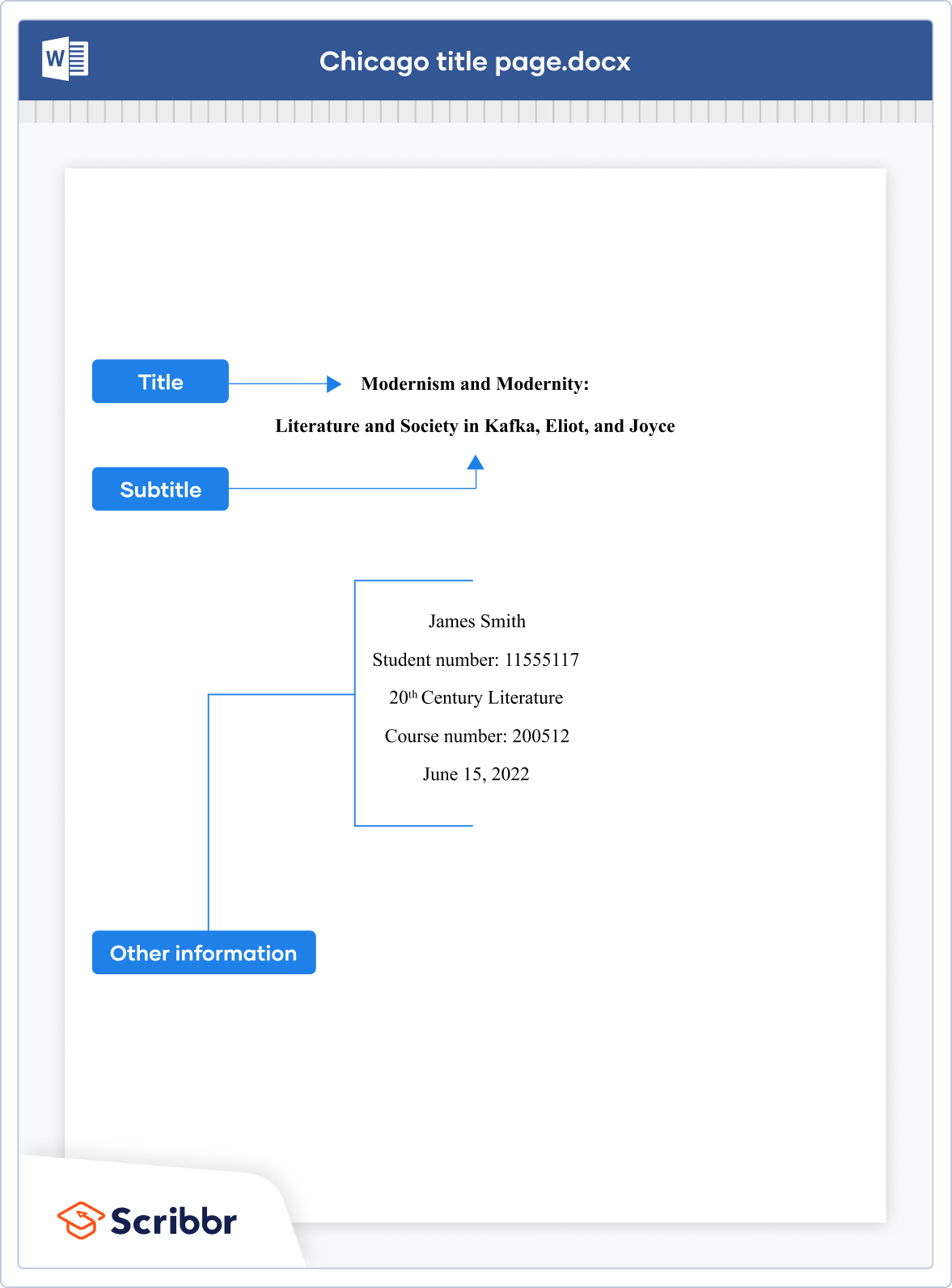 Prevent plagiarism. Run a free check.
The title page is the very first page of your text, appearing before the table of contents , acknowledgements , abstract , etc.
All text on your title page should be presented in the same font you use for the main text, center-aligned and double-spaced. The title page does not feature a page number, but it is included in the page count—that means that the following page should be page 2.
The title appears roughly ⅓ of the way down the page (it's not important to be precise) in bold. It can also be written in a larger font size than the rest of the text, though this is optional.
Use headline capitalization, which means capitalizing all important words:
Summary of results
Summary of Results
If you have a subtitle, the main title should be followed by a colon, and the subtitle should appear on the next line. It should also appear in headline capitalization , in bold, and in the same font size as the main title.
Roughly ⅔ of the way down the page, add any other information your instructor or faculty requires you to include. This information should not be in bold, and should be in the same font size as your main text. Each new piece of information appears on a new line.
This might include your name, student number, the course name and number, and/or your instructor's name, among other things. There's no standard list of information to include, but you'll usually be told clearly by your university what needs to be here.
Turabian style is a version of Chicago style designed specifically for students and researchers. It follows most Chicago conventions, but also adds extra guidelines for formatting research papers , theses and dissertations .
More information can be found in A Manual for Writers of Research Papers, Theses, and Dissertations by Kate L. Turabian, now in its ninth edition.
Chicago format doesn't require you to use any specific font, as long as you choose something readable. A good standard choice is 12 pt Times New Roman.
Cite this Scribbr article
If you want to cite this source, you can copy and paste the citation or click the "Cite this Scribbr article" button to automatically add the citation to our free Citation Generator.
Caulfield, J. (2022, December 05). How to Format a Turabian/Chicago Style Title Page | Example. Scribbr. Retrieved November 14, 2023, from https://www.scribbr.com/chicago-style/turabian-title-page/
Is this article helpful?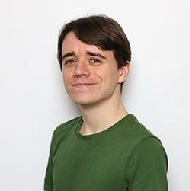 Jack Caulfield
Other students also liked, chicago style format for papers | requirements & examples, creating a chicago style bibliography | format & examples, chicago in-text citations | styles, format & examples, what is your plagiarism score.
Turabian Annotated Bibliography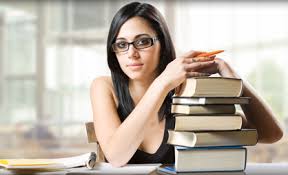 Use of Turabian Style
The famous Turabian's Manual for Writers of Research Papers, Theses, and Dissertations has been elaborated for the University of Chicago by Kate Turabian. Hence, it has shared many features in common with the Chicago Manual of Style. While the most used styles (APA, MLA, and Chicago style) are employed in publications (or works which should be published), Turabian style is elaborated in order to be used by students writing research papers, master theses , PhD dissertations, etc. This style allows for using references in footnotes or endnotes (the so-called notes-bibliography style). There are some small differences between the use of references in the notes, and its use in bibliography which should be taken into consideration when you prepare your work according to the Turabian style.
Each bibliographical entry may be described in one or several short sentences; this is called annotation. To write a good annotation means that you have understood the content of the cited titles very well, and also that you are able to evaluate them critically.
If you are required to write an annotated bibliography in Turabian style, then you should follow some rules.
Turabian annotated bibliography – 6 important rules
Rule 1: cite all titles in the bibliography .
First, your Turabian annotated bibliography should contain all titles cited throughout your paper, even if you have not used direct quotations from the given sources. For example, you may simply inform your reader that a given problem has been researched by d-r A. in the book B. Then the book B should be included in your bibliography.
Rule 2: Annotate correctly
Second, when you annotate every title, you have two options: 
To use brief phrases (4-5 words); then add them in brackets immediately after the publication data.
To use full sentences; then add them on a new line, without bracketing.
Rule 3: Center "Annotated Bibliography" at the end
Third, the phrase "Annotated Bibliography" should be placed at the end of your work, centered one inch from the top of the page. After it you should present the title of your paper. As with other academic styles, the titles are put in an alphabetical order.
Rule 4: Use correct formatting
Fourth, be careful with formatting: use Times New Roman, font pt. 12. The first line of each entry should begin at the left margin. The first line of the annotation should have a hanging indentation. Every subsequent line should have a five-space indentation. You should use double space between entries, but single space within entries.
Rule 5: Distinguish between the notes style & the bibliography style
Fifth, you should distinguish between the notes style and the bibliography style. The latter uses periods instead of commas and parentheses.
Rule 6: Make the description of every title brief
Sixth, it is recommended that brief description of every title is less than five sentences, 150 words. Don't forget that you are writing an annotated bibliography and not an abstract of each work. You may simply review (describe) the work, make critical evaluation , or combine both.
Example of Turabian annotated bibliography
Annotated bibliography example
Pragmatist approaches to epistemology
Encyclopedia Britannica , 9th ed., "Pragmatism."
        A well-written article about the philosophical movement called Pragmatism.
     Contains useful information and critical remarks.
Johanson, Arnold E. "Philosophy and the Limits of Doubt." Ph.D. diss., Yale University,
        The author investigates the nature and the forms of doubt in classical pragmatism. A
     comprehensive and innovative PhD dissertation.
Mead, George H. The Philosophy of the Act .  Chicago: The University of Chicago Press,
        A fundamental work by the founder of social psychology. According to Mead,
     thought and act exist in union. The theoretical cannot be considered separately from
     the practical.
Murphey, Murray G. "On Peirce's Metaphysics." Transactions of the Charles S. Peirce
      Society 1, no.1 (1965): 12-25.
        As one of the most renowned pragmatist scholars, Murphey offers a conception
     based on the assumption that Peirce's metaphysics is the fundament of his
     pragmatism. Classical pragmatism does not turn upon epistemology, but on
     metaphysics, particularly on Peirce's theory of categories.
Putnam, Ruth-Anna, ed. The Cambridge Companion to William James . Cambridge:
     Cambridge University Press, 1997.
        A volume devoted to William James' thought. It contains useful insights elaborated
     by James' scholars. A perfect book for everyone interested in classical pragmatism
     and modern epistemology.
Do you need help with writing an annotated bibliography in Turabian format? 
Order Paper
Our guarantees, customer feedback.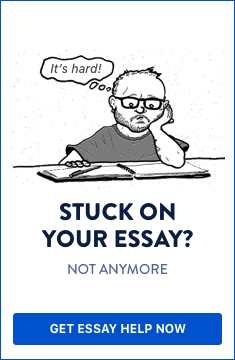 © 2023 SolidEssay. All Rights Reserved.
Powered by Data Researchers Network
Free Tools for Students
Turabian Citation Generator
Free Turabian Citation Generator
Generate accurate Turabian citations quickly and easily, with MyBib!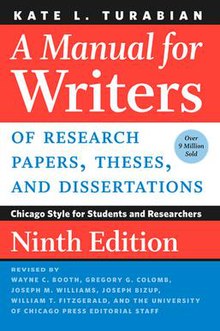 🤔 What is a Turabian Citation Generator?
A Turabian citation generator is a software tool that can automatically create academic citations in the Turabian citation style.
It will usually request key details about a source -- like the authors, title, and publish date -- and will output these details with the correct punctuation and layout required by the official Turabian style guide.
Formatted Turabian citations created by a generator can be used to give credit to others' work that you reference in your own.
🤓 What is the Turabian citation style?
The Turabian citation style is largely based on the Chicago style, but aims to be simpler for students who are not writing for publication. It was created by Kate Turabian, and the rules are published in the Manual for Writers .
The Manual for Writers specifies how to research and compose an academic paper, and includes guidelines to:
Design a strong research question
Construct an evidence-based argument
Structure academic papers in a logical way
Cite sources (this is the part we can help with!)
Like Chicago, there are two ways to cite sources in Turabian style: 'notes and bibliography', and 'author-date'--your instructor will usually tell you which one to use. More information about the differences between the two can be found in the official Citation Quick Guide .
👩‍🎓 Who uses a Turabian Citation Generator?
Turabian is mostly used by students studying the humanities, literature, history, arts, and also across the sciences. Students in these areas looking to manage and correctly cite their sources will use a Turabian Citation Generator to aid them.
🙌 Why should I use an Turabian Citation Generator?
Every academic field will recommend using a tool to record the sources cited in your writing. A citation generator like MyBib can store this data, and can also automatically create an accurate Turabian style bibliography or reference list from it (including the necessary in-text citations too), which should be appended to your document.
⚙️ How do I use MyBib's Turabian Citation Generator?
MyBib's Turabian citation generator was designed to be fast and easy to use. Follow these steps:
Search for the article, website, or document you want to cite using the search box at the top of the page.
Look through the list of results found and choose the one that you referenced in your work.
Make sure the details are correct, and fix any that are not. Then click Generate!
The generator will produce a formatted Turabian citation that can be copied and pasted directly into your document, or saved to MyBib as part of your overall bibliography or reference list (which can be downloaded fully later!).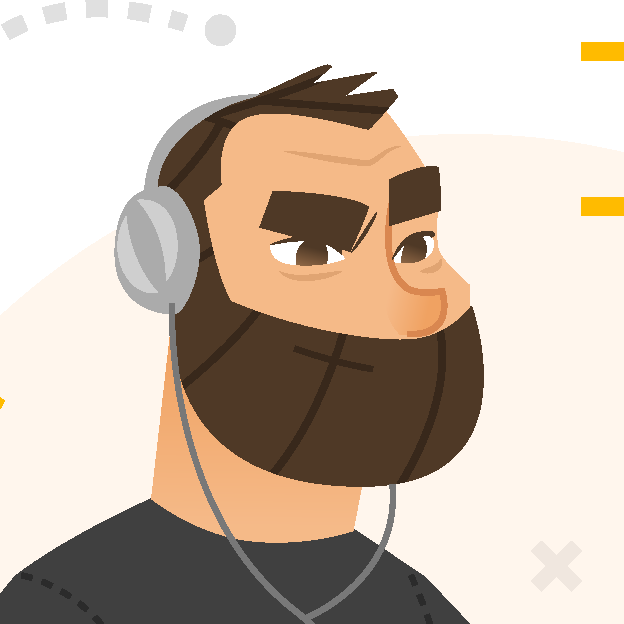 Daniel is a qualified librarian, former teacher, and citation expert. He has been contributing to MyBib since 2018.