Home Blog PowerPoint Tutorials How to Share a PowerPoint Presentation on Microsoft Teams
How to Share a PowerPoint Presentation on Microsoft Teams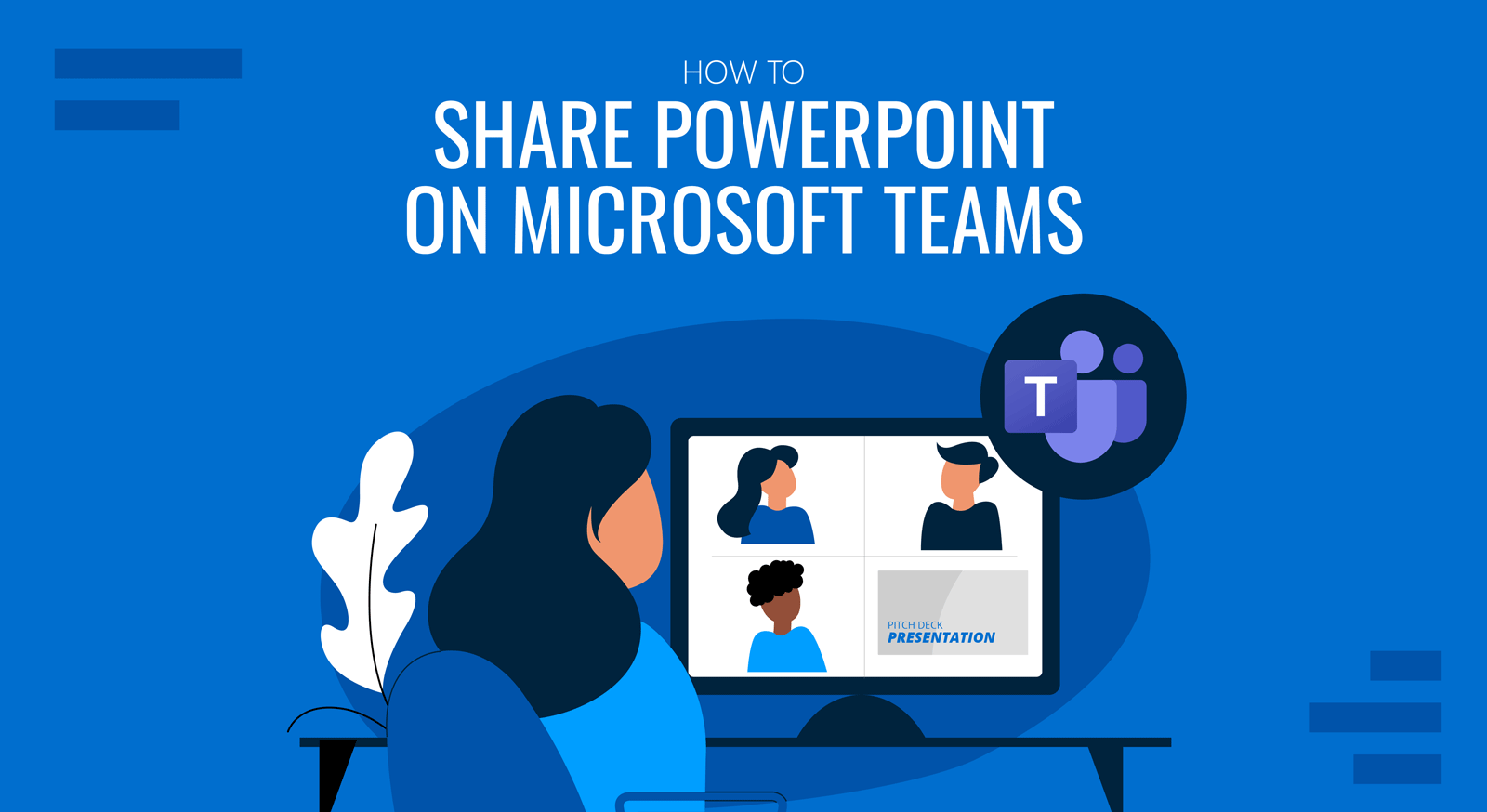 In recent years many remote meeting tools like Microsoft Teams and Zoom have become the norm for regular remote meetings. If you're new to Microsoft Teams, the chances are you are still finding your way around various options. One of the most common questions a Microsoft Teams newbie might ask is how to share PowerPoint on Teams.
What is Microsoft Teams?
Microsoft Teams is a messaging app by Microsoft for online collaboration and remote meetings that comes integrated with Microsoft 365. It provides a real-time workspace where end users can collaborate via chat, Teams Channels, Live calls, etc. Microsoft Teams also integrates with other Microsoft products like PowerPoint and OneDrive, enabling instant file sharing via the cloud.
Why use Microsoft Teams to Present Your PowerPoint Presentations?
Many organizations use Microsoft Teams for online collaboration and remote meetings. Organizations with integrated Microsoft products like its Windows operating system, Microsoft Office, and Azure Active Directory prefer Teams as the primary internal and external communication app. Organizations use Microsoft Teams to provide secure accounts to employees, with two-factor authentication and data encryption. These accounts are integrated into the Active Directory, providing scalability and control for IT administrators to offer people within an organization an online collaboration platform that can be securely used within the limits of the organization's data protection policies.
While there are many alternatives to Microsoft teams, such as Zoom and Google Meet, the integration of teams with other Microsoft products, such as Azure, Microsoft Office apps, and OneDrive, makes it attractive within a secure enterprise environment.
How to Present Your PowerPoint slides on Teams
There are two main methods for sharing PPTs on teams. This includes sharing a PowerPoint file directly and presenting your slide deck before one or more meeting participants, or perhaps PowerPoint templates or Google Slides templates to help a colleague design a slide deck.
How to Attach and Share Your PowerPoint Slides on Teams
To share a PowerPoint file on teams, go to an ongoing conversation or meeting window and click Attach files . This will provide you with the option to either fetch a file via OneDrive or from your device. This option can be used for sharing PowerPoint files and other types of files, such as documents, spreadsheets, videos, compressed files, etc.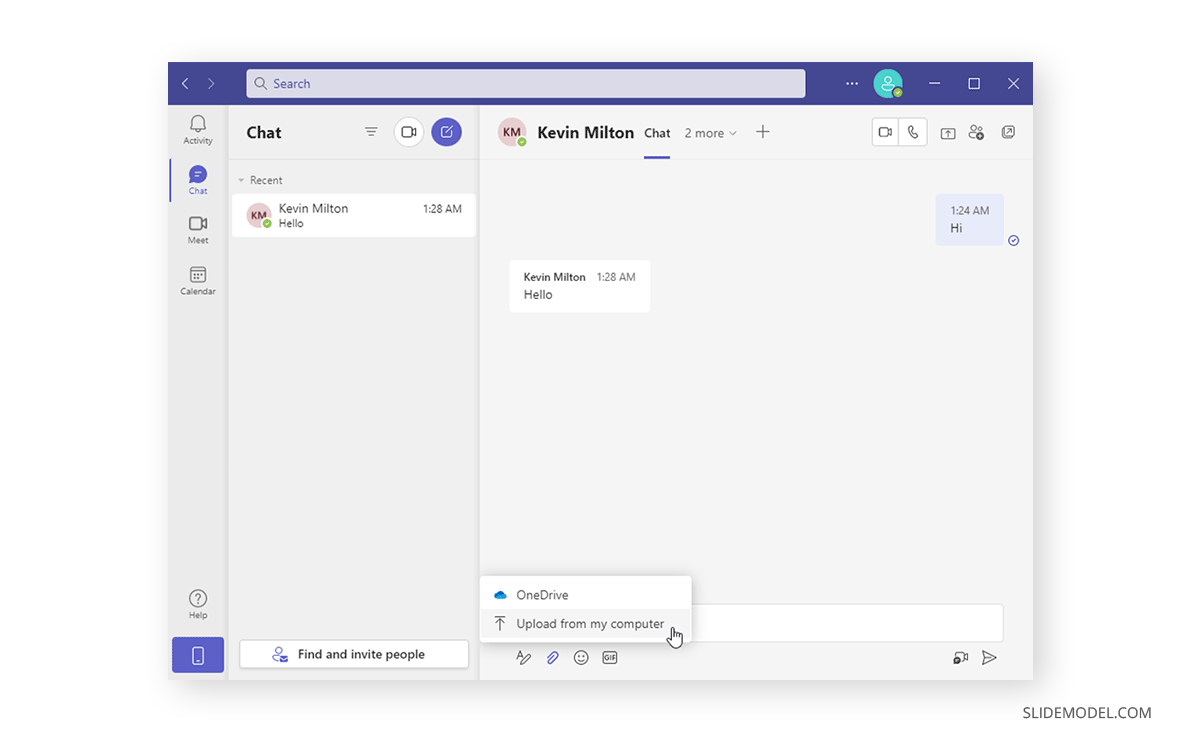 When sharing a file, you can add a message optionally before hitting Send .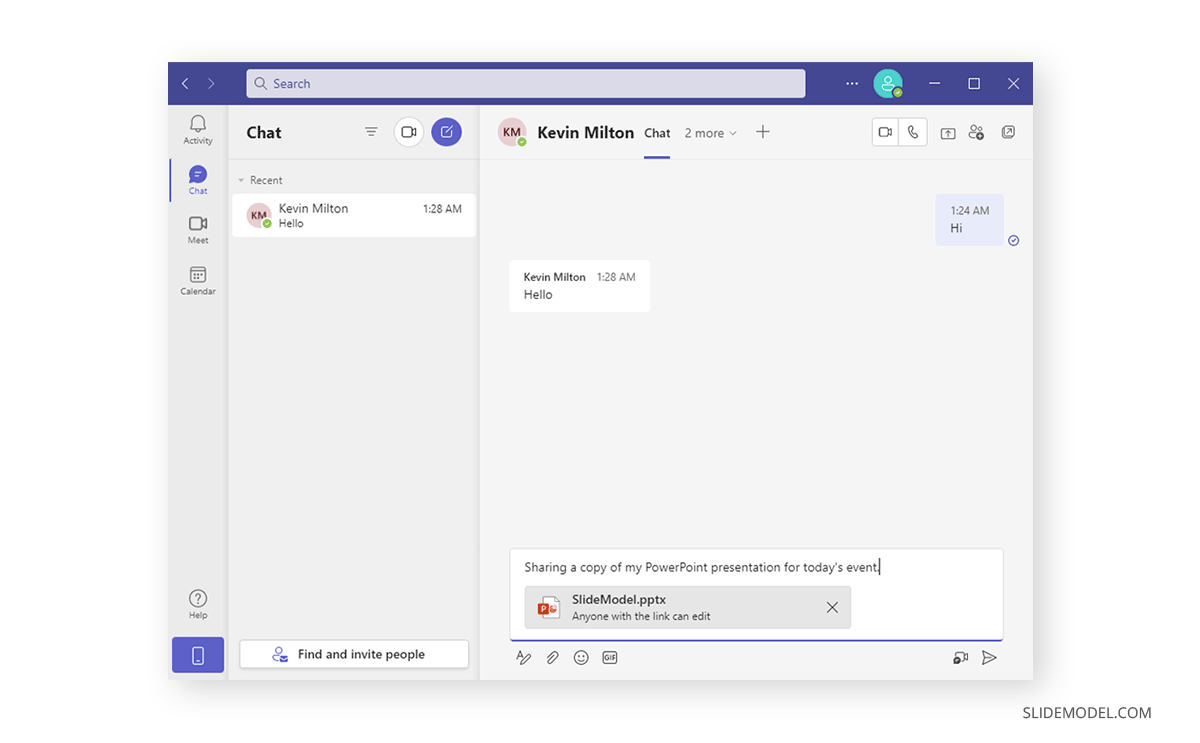 The recipient and the sender can download the file, open it in a browser, or copy the file link for further sharing.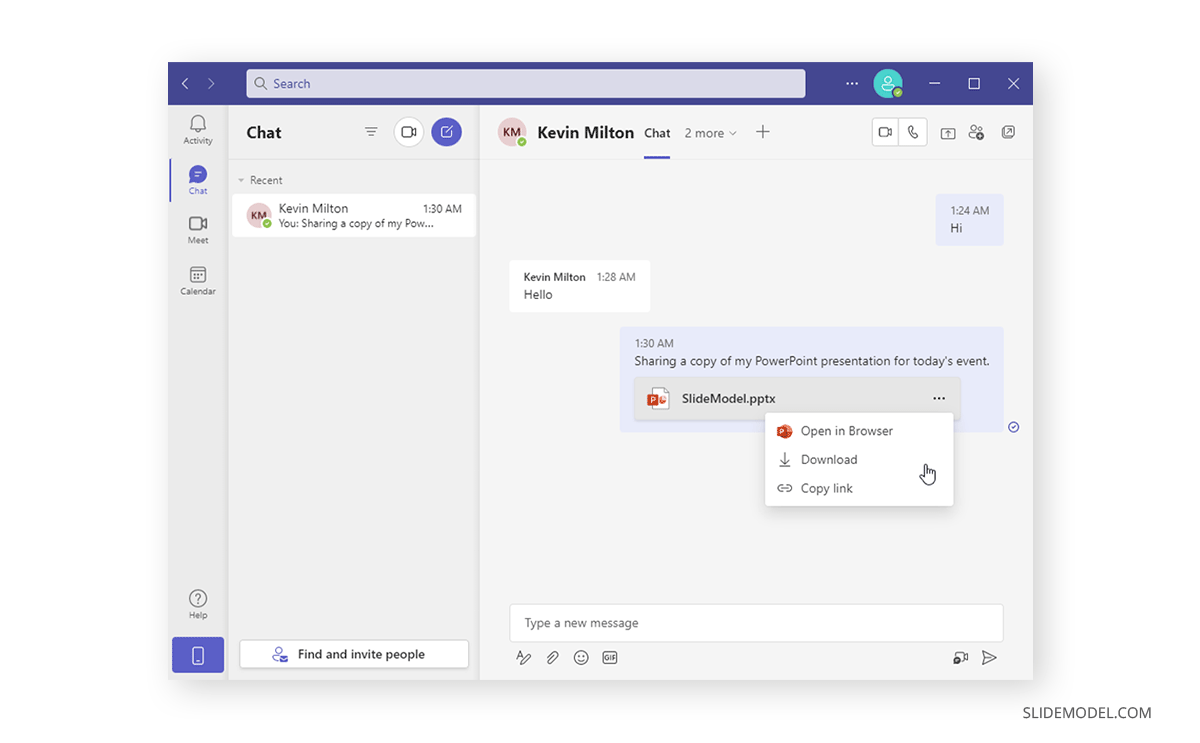 How to Present Your PowerPoint Slides on Teams
Use the share button in powerpoint.
You can also directly present your slide deck via Teams by sharing your screen to start a Live presentation during a remote meeting instantly. Suppose your organization uses Teams regularly. In that case, the chances are you will be using it for presentations during remote meetings; therefore, it's essential to know how to use the screen-sharing option to present online.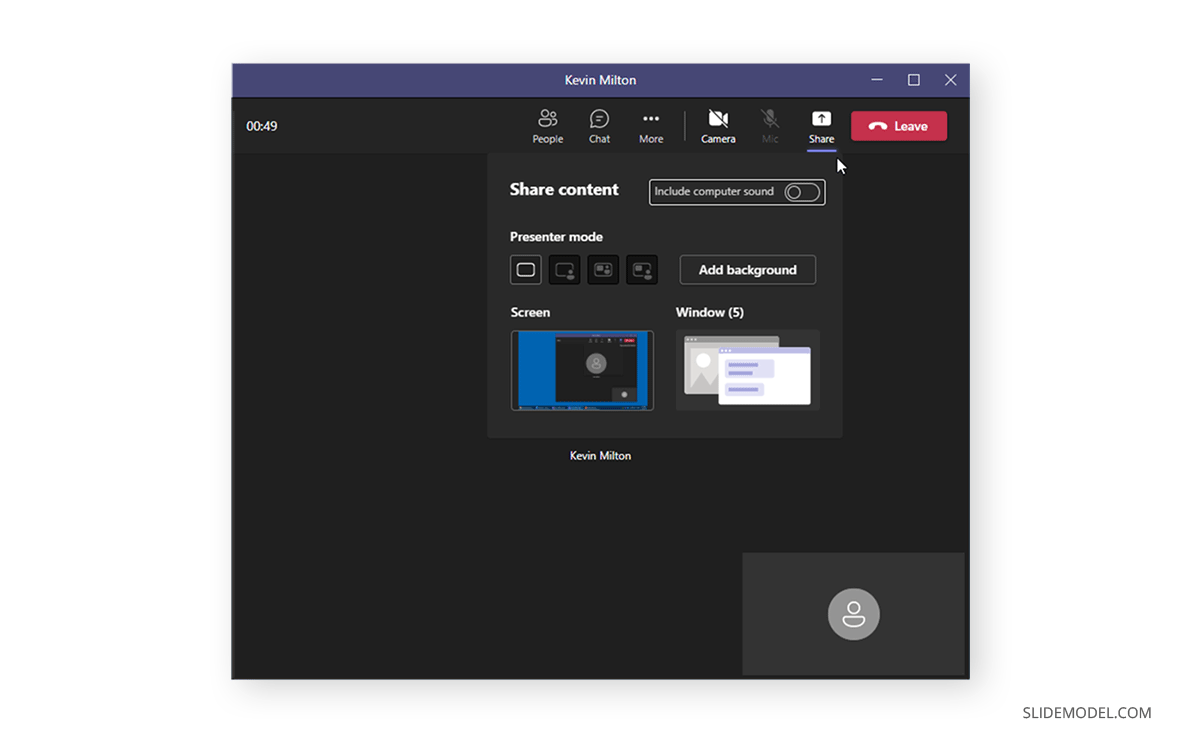 Share Screen to Present a PowerPoint Presentation
If you share your screen, this will show the audience whatever is visible on the entire screen on your device.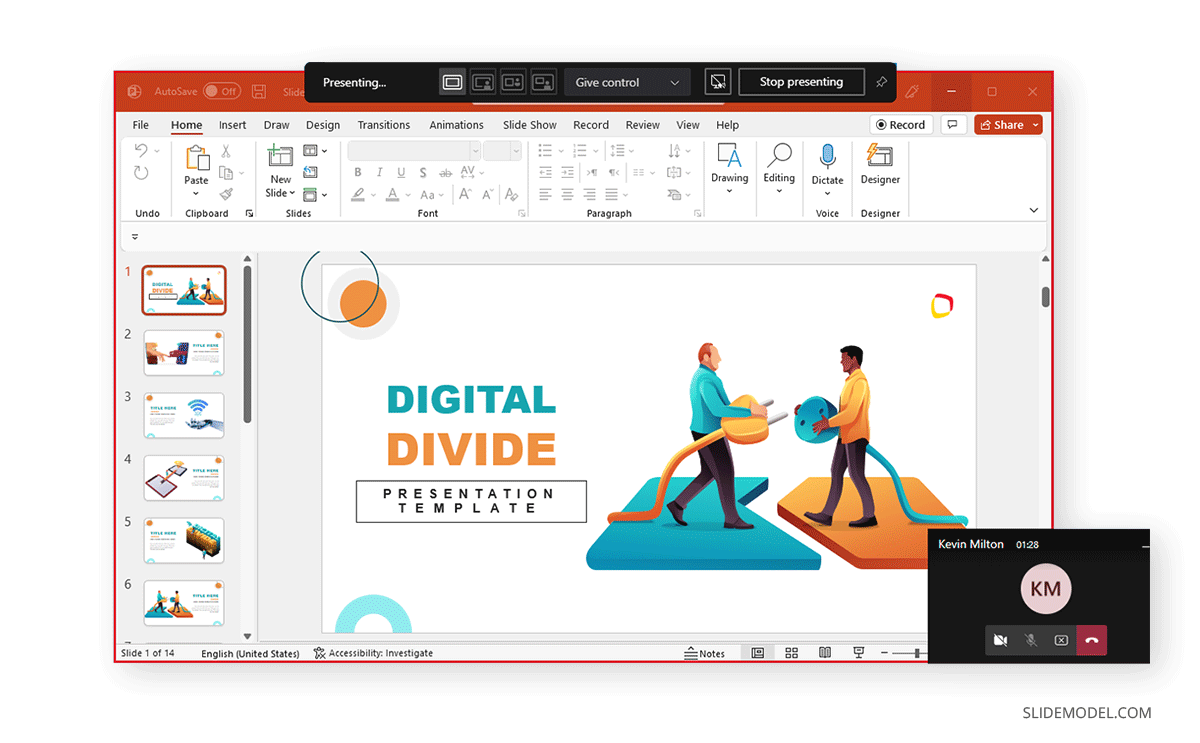 Share PowerPoint Window to Present Your Slides
If you intend to hide parts of your screen, you can simply share the relevant PowerPoint window so that your audience can only view the presentation. During a Live call, click the Share button and select your screen or window to share.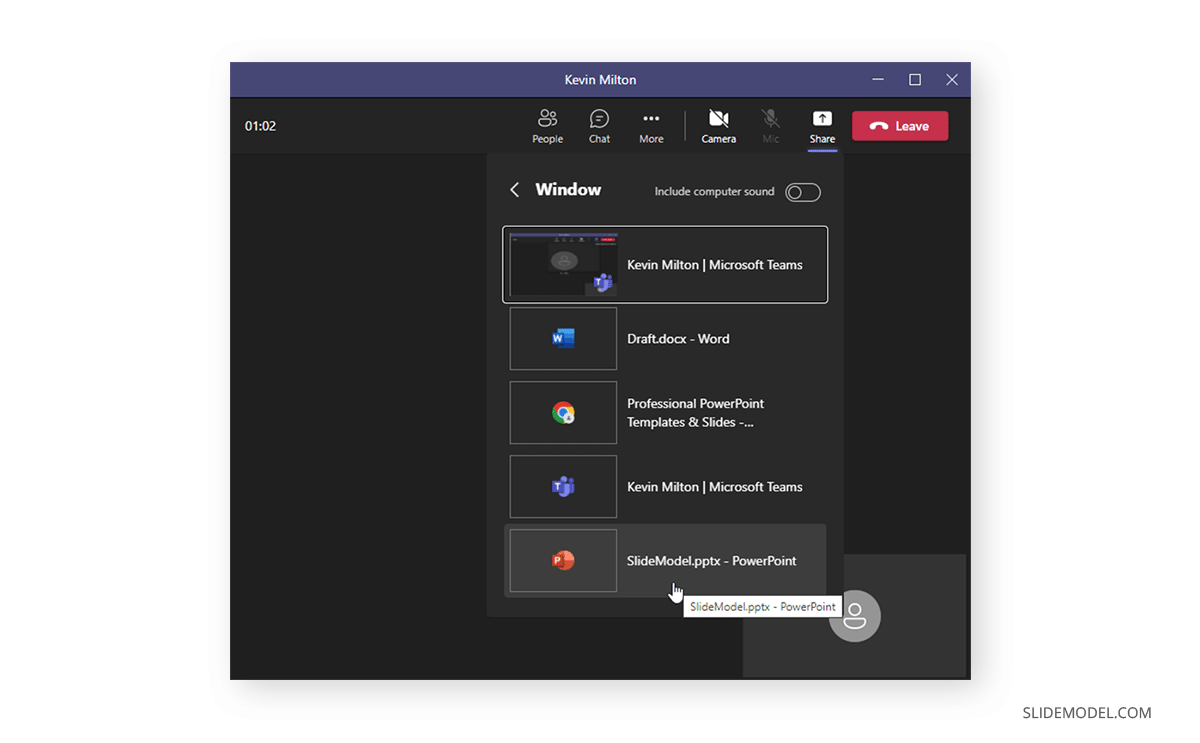 5 Features to Make the Most from Your Microsoft PowerPoint Presentation Sharing in Teams
Microsoft Teams offers a wide array of features that make it a robust remote meeting and online collaboration app since it leverages the full force of Microsoft 365 and other Microsoft products.
1. Translate Slides into a Different Language
This is a private feature that individuals can use to translate slides in their language instantly. As a presenter, you can ask your audience to use this feature if they deem it convenient to help bridge a gap that might exist due to a language barrier.
Slides can be viewed in a different language via More actions > Translate Slides . From the drop-down list, you can pick a preferred language.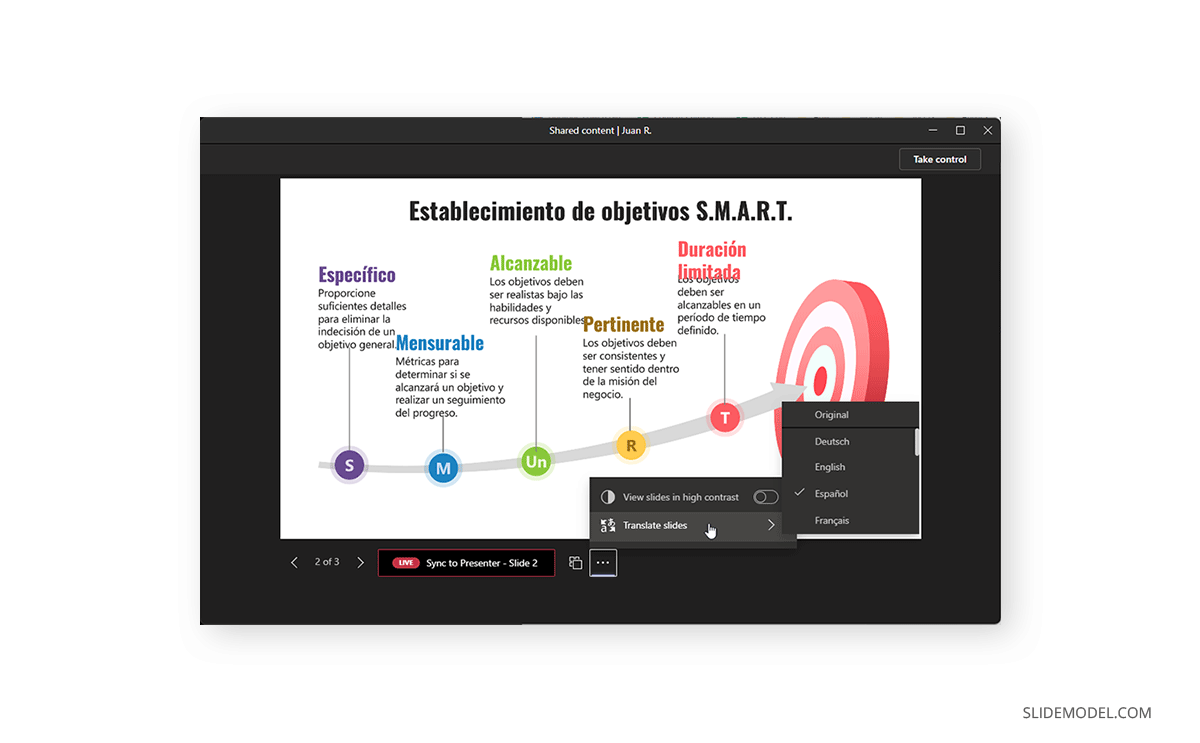 2. Use Live Captions
Microsoft Teams supports Live Captions / Closed Captions (CC) to help persons with disabilities, including those suffering from hearing impairment. Closed Captions can also be helpful for people to translate or view text in a preferred language.
Turn on Live Captions: To enable Live Captions on Teams, go to More options > Turn on live captions . Translate Spoken Language: To translate Live Captions, go to Captions settings > Change spoken language .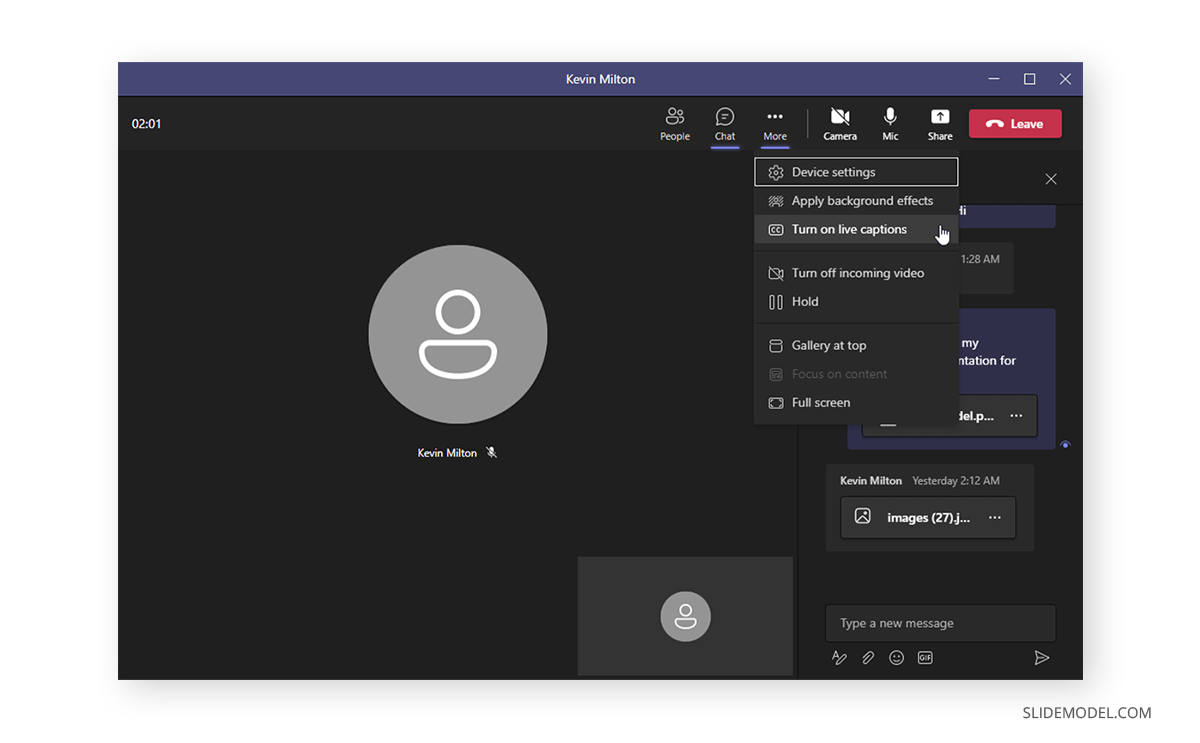 Turn Off Live Captions: You can turn off Live captions anytime via More actions > Turn off live captions .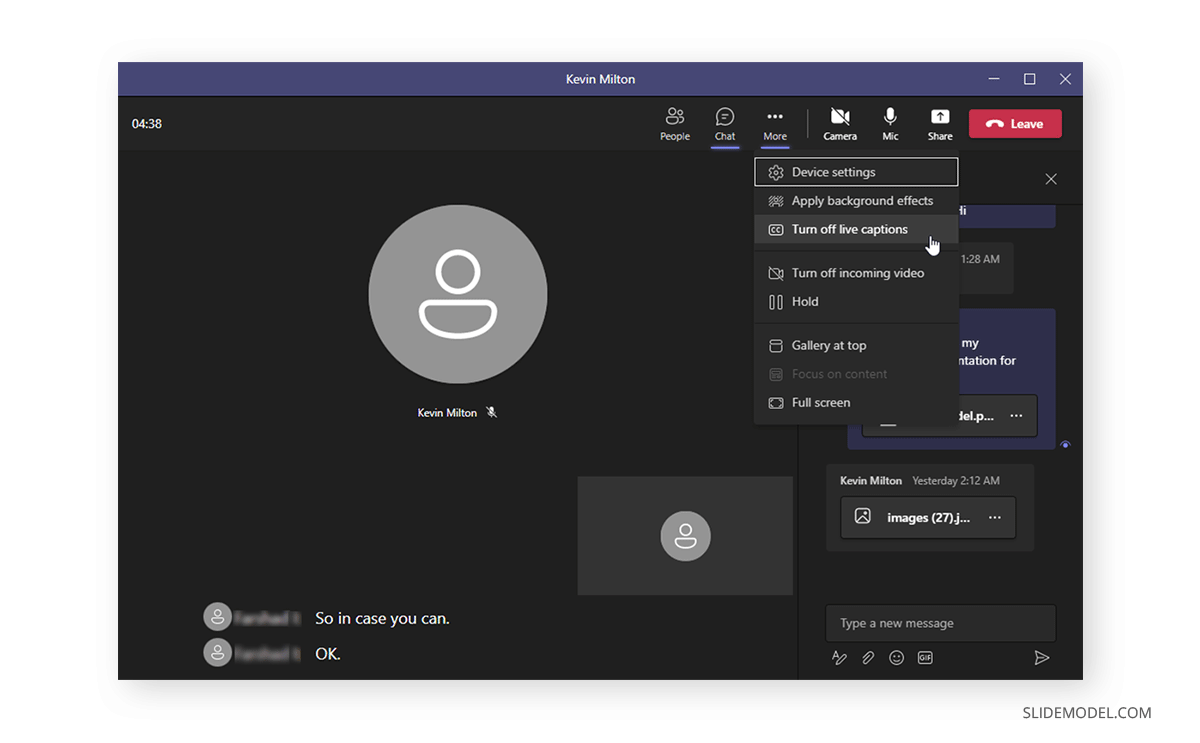 3. View Slides in High Contrast
Viewing slides in high contrast on Teams can have several benefits. For example, it helps you focus on the content and is also helpful for people with visual impairment. To configure your slides to appear in high contrast, follow the steps below:
1. Launch your PowerPoint presentation.
2. Click on the Present tab at the top of the window.3. Go to More action > View slides in high contrast .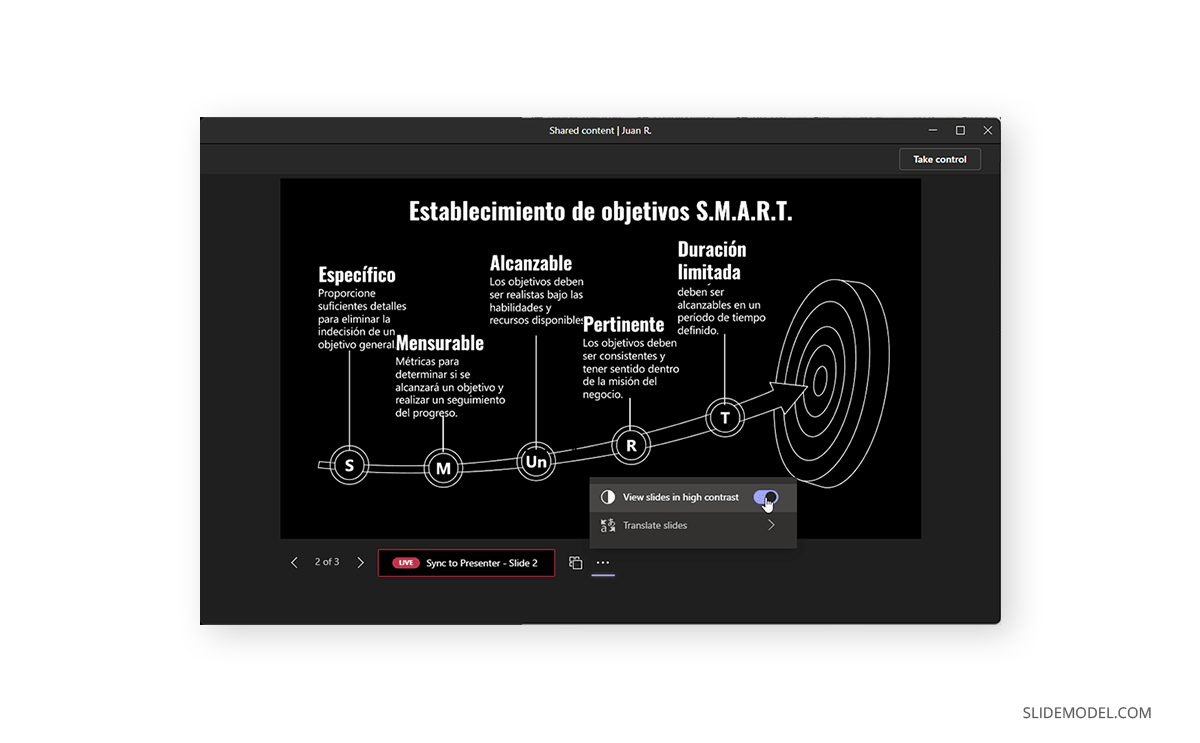 4. Annotate your Slides in Real Time
Like any standard remote meeting app, Microsoft Teams also provides a number of handy annotation options to help you make the most out of your PowerPoint presentations. You can click on Start annotation when sharing your full screen during presentations to start annotating slides.
Powered by Microsoft Whiteboard, this powerful feature enables one or more meeting participants or the presenter to annotate presentations. It can also be a helpful feature when you're looking to collaborate online during a Live presentation.
5. Pop Out the Window
You can separate the presentation window from the Teams window to make it easier to work with the two. This feature can be handy when working with multiple monitors or separating the two windows from uncluttering your screen. You can use this option by clicking on the Pop-out option from the toolbar during a screen-sharing session.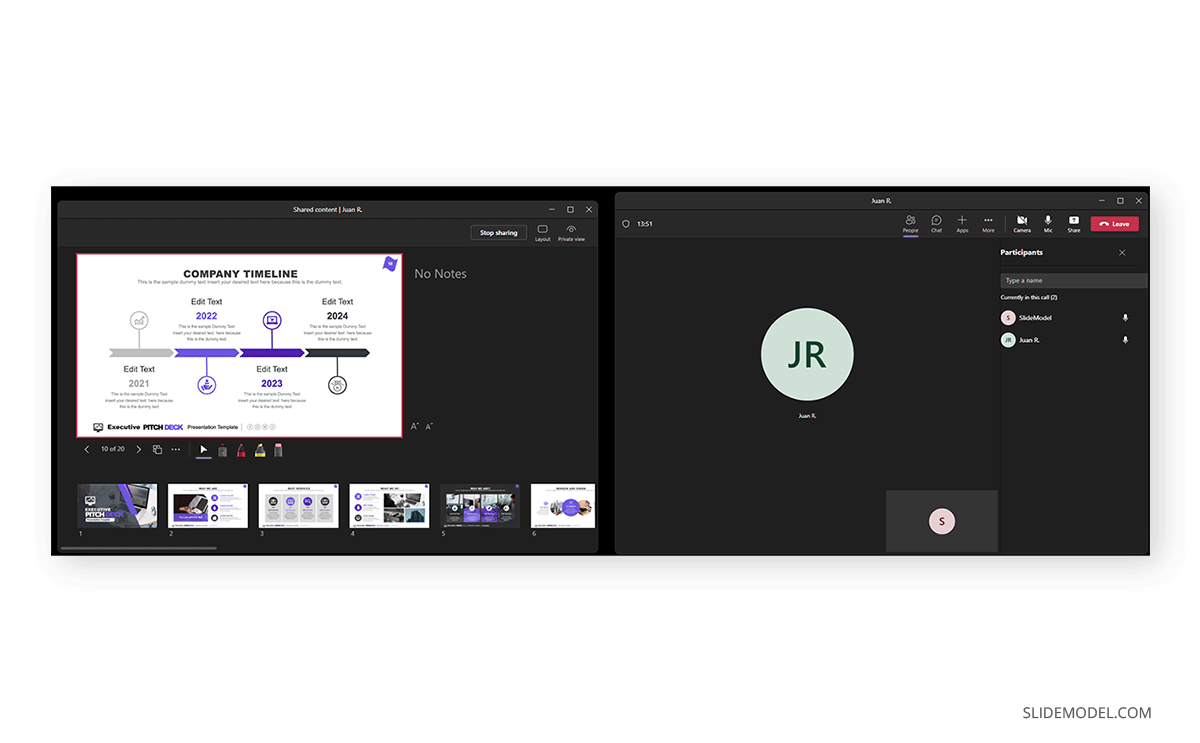 How to Stop Presenting on Teams
When presenting your slide deck, you can also present your PowerPoint presentation using any view, be it as a SlideShow or in Normal view. Once you're done presenting, click Stop Presenting to conclude your session. Furthermore, you can also choose to enable or disable your camera and computer sound when presenting your slides.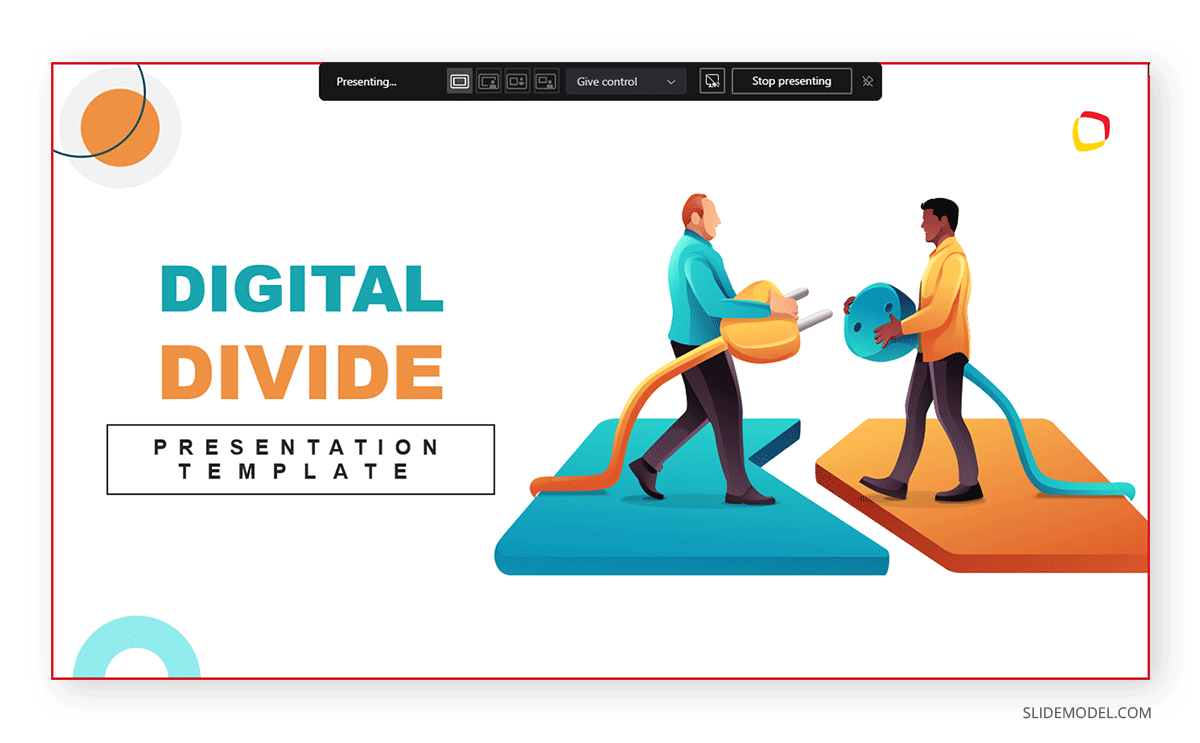 To turn off screen sharing during a remote meeting, you can click Stop Sharing .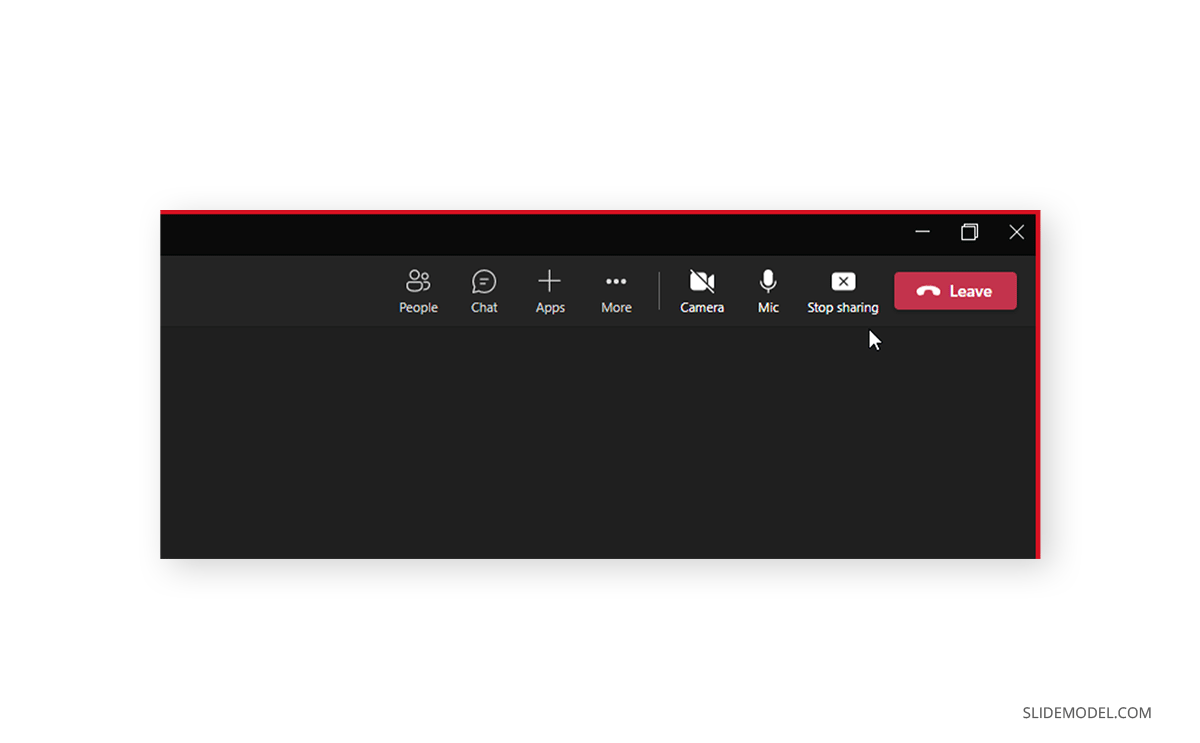 Present in Teams Button in PowerPoint is Missing. How to Fix it?
Some users might have used the Present in Teams option to share a PowerPoint presentation during a meeting. Suppose you are wondering why the Present in Teams button in PowerPoint Presentations is missing. In that case, this option isn't available for anyone using the free version of Teams, as only users with a paid subscription, such as a Business Standard or Business Premium Plan. Furthermore, you must share your PowerPoint presentation with OneDrive to use this option. To use the Present in Teams option, upload your PowerPoint presentation to OneDrive. You can do this via File > Save As > OneDrive .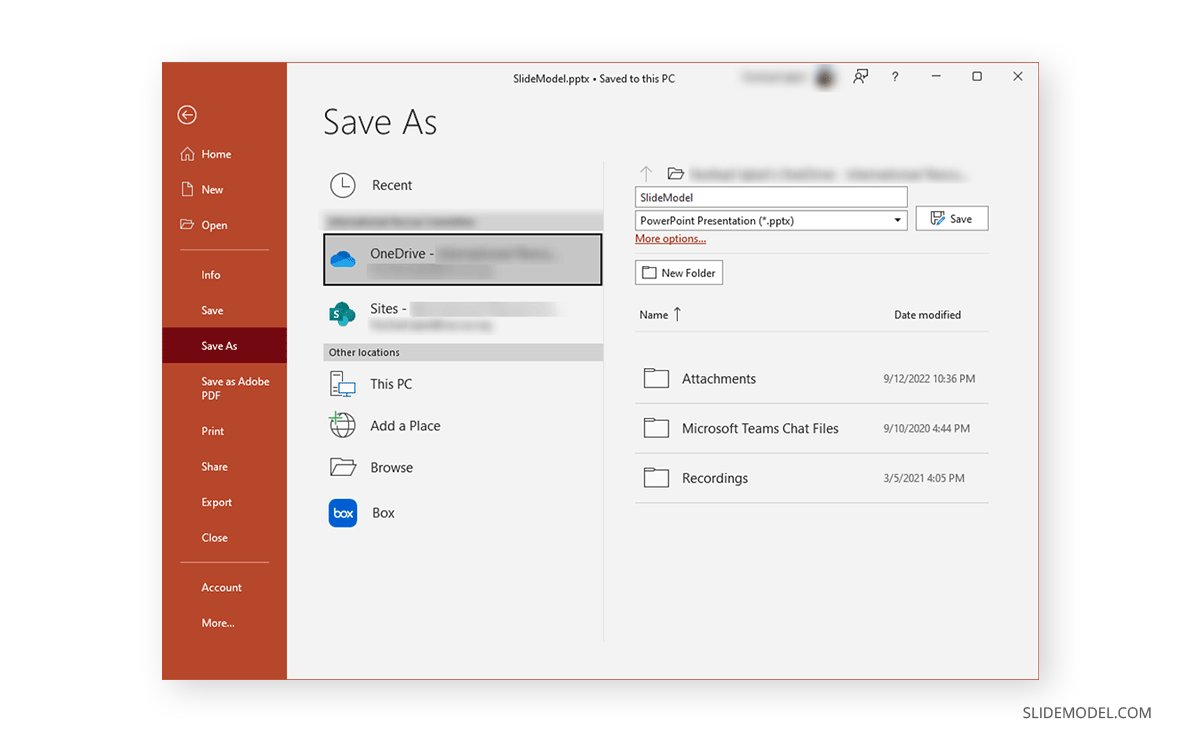 Once done, the Present in Teams button will become available to instantly launch your presentation for sharing during a Teams call.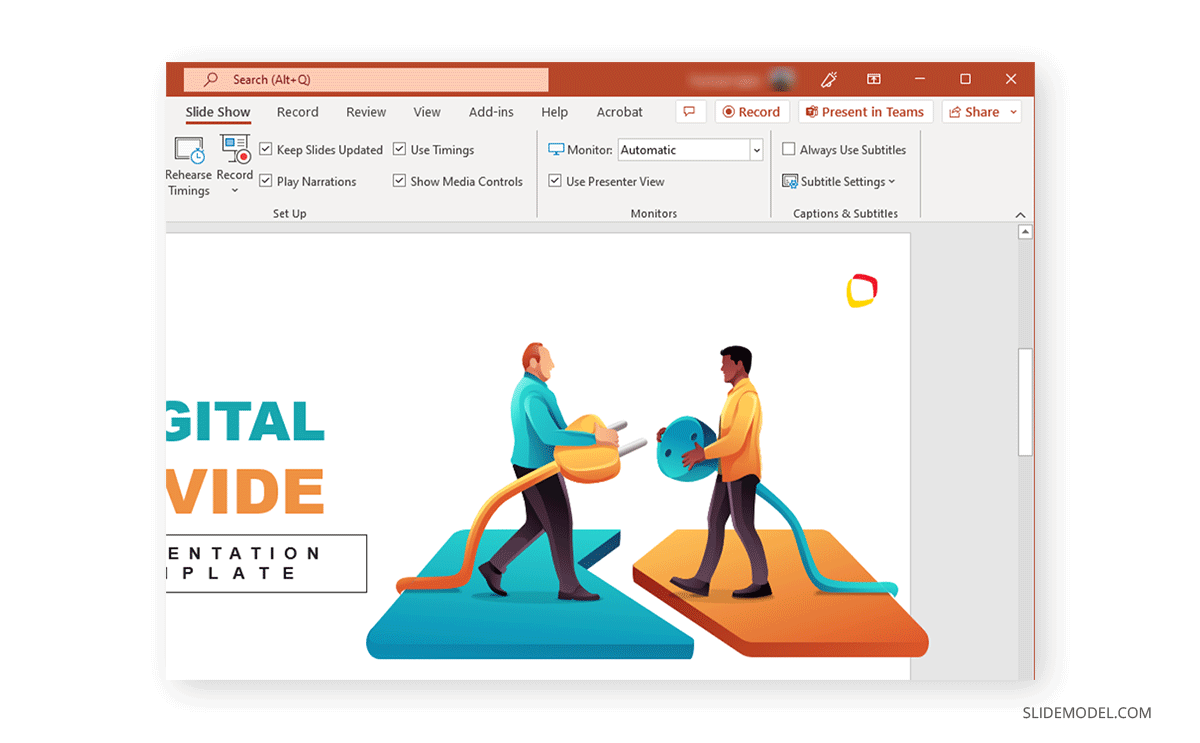 5 Tips to Make your Presentation a Success on Microsoft Teams
Presenting PowerPoint in Teams can require being mindful of a number of things. This includes accounting for brevity to ensure your presentation does not take more than its designated time, using slides that are suitable for remote meetings. Below is a list of 5 tips to make your presentation successful using Microsoft Teams.
1. Check Your Audio and Video Settings
One of the most annoying problems faced during remote meetings is technical failures such as no or low audio quality. This becomes even more annoying when the meeting organizer or a presenter during their session faces the issue, wasting precious time. This is why you must check your audio and video settings beforehand to ensure everything works correctly. If you need to play a video during your session, make a test call with a colleague and get feedback if the sound and video quality are up to the mark.
2. Make Sure Your Slides are Clear and Concise
Presentations delivered via Microsoft Teams will often take place during scheduled remote meetings. This means that you will have to account for the designated time given for your session, which is why you must ensure that your slides are clear and concise.
3. Use Animations and Transitions Sparingly
Since remote meetings will be attended by participants using different types of computers and mobile devices, some animations and transitions might not be suitable. This is because they can cause Teams to slow down, or the slides might not display appropriately via screen sharing. For example, 3D animations , GIF animations , and objects with elaborate PowerPoint animated sequences might cause issues when displayed via Teams.
4. Keep Your Slides on Topic
One of the banes of remote meetings is how a discussion can go off-topic very quickly. This is why it's best to ensure that your slides remain focused on the topic and additional discussions are discouraged during the presentation session.
5. Use Team Members' Names Sparingly to Call Out Specific Points
Calling out team members for their opinion or advice during a remote meeting can quickly lead to a very lengthy and off-topic discussion. This is why it's best to call out team members' sparingly. If you have been using Teams or other remote meeting apps long enough, you would have learned by now that for some topics, it's best to ask participants to schedule a separate meeting so that the ongoing discussion remains on track.
Other Issues to Troubleshoot while presenting a PowerPoint presentation on Microsoft Teams
Someone has already set up Teams for your organization's error
If you're using a premium subscription for Microsoft Teams managed by your organization's IT team, you might get an error when logging in to Teams. In such a case, you might get the following error:
"Someone has already set up Teams for your organization."
If you see the error message mentioned above, this means that your account isn't ready yet, and you need to contact your organization's IT team to ask when your account might be ready for use.
We're sorry–we've run into an issue error.
Another prevalent issue is when the following error message appears:
"We're sorry–we've run into an issue."
This is a generic message, and usually, it can be resolved by clicking the Restart button that appears below the error. In case the issue isn't resolved after restarting the Teams app, ensure your Internet connection is working. More often than not, the issue is associated with the Internet connection. If the issue persists, you can clear your cache , reinstall Teams or contact your IT support team. The error can also occur if there is an outage affecting Microsoft products or if there is a configuration issue for Microsoft 365 accounts associated with your organization.
Final Words
Using Microsoft Teams to share a presentation file is easy enough. However, when presenting a PowerPoint presentation in Teams, you must decide how to present your slide deck. If you need to switch back and forth between your slides and another document, spreadsheet, or browser window, it might be best to share your entire screen. However, if you wish to focus only on the slide deck, sharing your Window can help you avoid sharing the rest of your screen with the audience.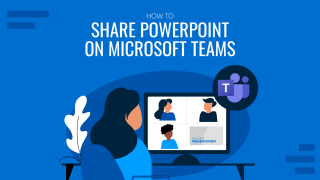 Like this article? Please share
Meeting, Microsoft Teams, Share Filed under PowerPoint Tutorials
Related Articles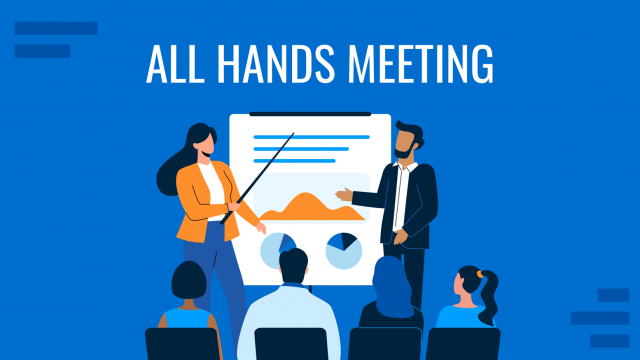 Filed under Business • July 28th, 2022
What is an All Hands Meeting?
The proper meeting format can boost your company's transparency and help employees align with its core values. In this article, we will introduce the All Hands Meeting model and why it's a resource you should consider from now on.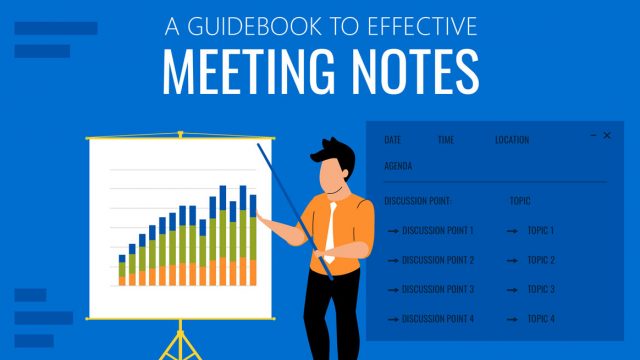 Filed under Business • February 17th, 2022
A guidebook to set Meeting Objectives by taking Effective Meeting Notes
Make an impact in your meetings by applying the science of note-taking. Capture all the valuable information you require by taking effective meeting notes.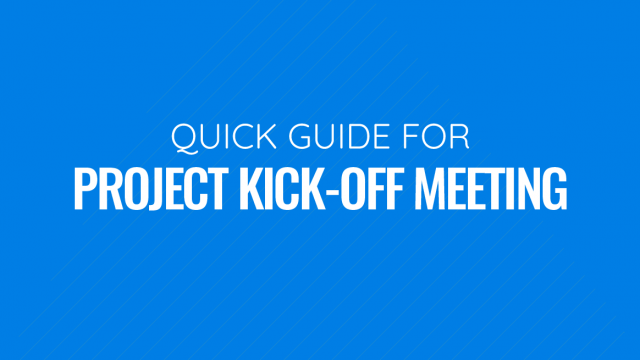 Filed under Business • May 20th, 2021
Quick Guide to Project Kick Off Meetings
Every time a team must begin a project an essential set of meetings must happen to ensure the success of the project. In this blog post we discuss the Project Kick Off Meeting and why it´s so important at the beginning of any new project.
Leave a Reply
Apr 6, 2021
Try presenting in Teams meetings from PowerPoint
Add our blog to your RSS feed reader" href="/rss/blog.xml" data-bi-name="RSS Subscription" data-bi-id="rss_feed" data-bi-bhvr="120" data-bi-socchn="RSSSubscription" title="Microsoft 365 Insider Blog RSS" target="blank" class="d-inline-block">
Hello Office Insiders, I'm Lishan Yu, a program manager on the PowerPoint team. You might have heard that we announced the PowerPoint Live in Teams feature at Microsoft Ignite last month. Today, I'm excited to show you how to check out this new experience, and start presenting in Teams meetings from PowerPoint.
Presenting in Teams meetings
Presenting in a meeting used to be as simple as clicking Slide Show in your PowerPoint deck. Nowadays, even though you may not be in the same room as your audience, we believe your flow to present should be as easy and intuitive – clicking the Present in Teams button in PowerPoint is the only step you need to take to present the deck in your Teams meeting!
How it works
Give the feature a try next time you need to present in a Teams meetings:
Join a Teams meeting or an ad-hoc Teams call.
Open your presentation in PowerPoint for Windows.
Click the Present in Teams button in the top right corner.
Scenarios to try
Ready to take the PowerPoint Live feature for a spin? Try some of the scenarios below.
As a presenter :
After clicking the Present in Teams button in PowerPoint, notice that you can see both the chat and your content at the same time in Teams (and don't feel like you're missing out on the discussion).
Take advantage of features like grid review and slide notes to present more effectively.
As an audience member :
If you joined late, move back through the deck and quickly catch up without having to ask the presenter to stop and recap what was already shared.
Interact with and experience the richness of the content being presented such as better video quality, live web links, and more.
Make any adjustments you need to more fully enjoy the presentation (i.e., use high-contrast mode).
Requirements
In order to try out the feature, you will need to:
Have the latest Teams desktop app installed.
Store the presentation on OneDrive for Business or SharePoint.
Join a Teams meeting before clicking the Present in Teams button in PowerPoint for Windows.
Be using an Office 365 E3/A3, Office 365 E5/A5, or Microsoft 365 for Government license.
Availability
This feature is rolling out over the next several days to Insiders running Beta Channel Version 2104 (Build 13926.20000) and later.
We'd love your feedback, so please let us know how you think. To get in touch, do either of the following:
Inside the app, select the Help button in the top-right corner of the app.
Respond to this post or tweet at @OfficeInsider .
Learn what other information you should include in your feedback to ensure it's actionable and reaches the right people. We're excited to hear from you!
Sign up for the Office Insider newsletter and get the latest information about Insider features in your inbox once a month!
Sorry, JavaScript must be enabled to use this app.
Technology Enhanced Learning Team
Sharing a powerpoint presentation in teams.

For: Staff Application: MS Teams Tagged: Microsoft Teams , web conferencing
To share an online presentation, you can either share your screen with PowerPoint open on your PC or upload your presentation directly into Teams . There are several options for screen sharing and configuring your PowerPoint files when presenting online. You can choose to display your entire desktop or just a specific application on your PC. You can also configure Teams to utilise multiple displays to host a presentation (where multiple monitors are available).
This guide covers:
Share your screen in teams, powerpoint presentations with multiple displays, upload a presentation file into teams.
During a Teams meeting, select the Share Content icon at the top of the window to initiate screen sharing. You will be presented with a window displaying all the available options for sharing. This window will list any displays connected to your device (i.e., Desktop 1, Desktop 2), which will broadcast everything on the selected desktop.
Sharing your entire screen may be the best option if you intend to switch between applications during your presentation. When sharing media, like a video or audio clip, toggle the option to Include computer sound .
Teams will also list options for sharing any specific windows currently open on your PC, allowing you to only broadcast a specific application and hiding the rest of your desktop from view. If you want to only display your presentation file, ensure the PowerPoint presentation is open prior to clicking the Share Screen button .
Upon sharing your screen, the Teams interface will minimise so you can better view your shared content. There will be a small Teams window at the bottom of your screen where you can see the active speaker and use basic meeting controls.
There will also be a bar at the top of the screen allowing you to give control of the presentation to another participant or Stop presenting . If this bar disappears, hover your cursor at the top of your screen and it will unhide. Click the ' Pin ' icon to keep the bar visible at all times.
Please note: If you are sharing your web browser, Teams will broadcast any tab open on your screen to participants. Keep this in mind if you need to access personal information such as your email account.
When delivering a Teams presentation with multiple displays (i.e., two monitors connected to a PC or a laptop with external monitor), you may want to take advantage of the second display to monitor participants. By adjusting your PowerPoint settings to disable 'Presenter View' , you can utilise an additional display to open the Chat and Participants windows, or to view participant videos.
To disable Presenter View, open PowerPoint and select the Slide Show tab and then click Set Up Slide Show .
In the options window, under Show type , select Browsed by an individual (window) , and click OK .
When ready to present, click Play from Start to expand your presentation view. Rather than taking over both displays, your presentation will now display in a window that can be expanded and moved between your screens.
Select Share content in Teams and select your PowerPoint presentation from the list of windows to share . Open the main Teams meeting window after sharing your screen and move it to your second display. You can now monitor the chat and manage participants whilst presenting.
If you do not want to share your PC screen when presenting, you can upload and share a PowerPoint file directly in Teams. This can be advantageous when you do not have a strong internet connection or if you have multiple presenters who will need to control the slides during the session.
Click the Share content icon at the top of the meeting window and select Browse my computer to upload a file (or select Browse OneDrive if your presentation is located in your QMUL Office 365 account).
In the file browser , locate the presentation file on your PC and click Open . It may take a few moments for Teams to upload and convert your presentation file.
When the presentation has been shared, you will have a set of PowerPoint controls at the bottom of your slides. Use these options to move between slides , open grid view to quickly jump between slides, select a laser pointer , or one of the pen tools to annotate your slides.
Click the ' … ' More actions icon to switch between single slide and presenter view, or to view the slides in high contrast mode (which may be helpful in certain instances for accessibility purposes).
In presenter view, you will see any presenter notes displayed on the right side of your presentation.
At the top of the window, there is a 'eye' icon which you can click to toggle to allow or prevent participants from moving through your shared presentation on their own . Click Stop presenting to end the presentation.
Did this answer your query? If not, you can raise a ticket on the online Helpdesk or email: [email protected] . Alternatively you can also request a particular guide or highlight an error in this guide using our guides request tracker.
Related items
Automate the creation of Teams for teaching sessions
Using Mentimeter polling in Microsoft Teams
Working with breakout rooms in Teams
The right way to present a PowerPoint file during a Microsoft Teams meeting
Check out Matt's book!
This is the field guide every Microsoft Teams user out there has been waiting for, covering Teams, chat, meetings, files, and more!
Subscribe to our newsletter!
Stay in the know with goings-on in Office 365, SharePoint, Microsoft Teams and more. It only takes a second, plus it's free!
Get the Periodic Table as a Poster
You can have your PPT cake and eat it too
PowerPoint is likely one of the most popular apps shared during a Teams meeting. There's a reason when you bring up the share options, PowerPoint takes up more than a third of it. People present slides all the time. But are they using PowerPoint to its potential when they use Teams? Most people do not. To view a video version of this post (lots of video demos!), press play below. (You should watch it, actually.)
PowerPoint has a lot of really great features and while this isn't a PowerPoint best practices post, I do really appreciate PowerPoint for many of its professional features, like smooth transitions (Morph can be amazing), slide notes, non-distracting animations, screen annotations, and especially presenter view.
Well, if you've ever tried to present a slide deck in Teams, you'll know that some of these features can be hard to find depending on which method you use to share your slides. There are three main sharing options and these are the only three I'll cover today.
The three options—and I'm going to stick to this naming convention throughout the post—are The Teams Built-In Share, Desktop Window Share, and Presenter View Share.
TL;DR: For the most part, you want Presenter View Share. Launch your slideshow like you would normally. Alt-Tab to your meeting and share the window (not the screen) , Alt-Tab back to your presentation, right-click, and select Use Presenter View . That's it! Below is a more in-depth review of this way and the most common other ways to share slide decks during a Teams meeting.
Teams Built-In Share
Teams Built-In Share is the first option we're going to discuss and it uses the built-in PowerPoint option. The sharing drawer shows you all your recent PowerPoint files. Though note that they're only ones you've accessed in SharePoint or OneDrive; you don't see anything from your local device or other cloud locations like Google Drive. Whether you know it or not, this method makes use of PowerPoint for the web—or formerly known as PowerPointOnline—so you're getting the "Lite" version of PowerPoint when you present. That can work in many situations, especially if your slides are simple and straight forward.
There are a couple major upsides to this method. First, everything stays right in Teams and you have full control of your computer and its screen, unlike normal presentation mode with PowerPoint, where it completely takes over your screen. The other is that your viewers can actually choose to jump ahead or backward in your slides at their own pace without impacting what others see, which is a benefit you don't get from any otherPowerPoint sharing option. You can disable this if you want to keep them on the slide you're presenting, though. I generally don't like people being able to jump slides on their own; it's usually more a distraction than a benefit. So for me, this isn't a compelling feature.
The major downsides to this method are that you're stuck with PowerPoint Lite: animations and transitions are sometimes really poor—and yes, animations and transitions are incredibly powerful for your message when they're used correctly. But more importantly to me, you don't get presenter view, so no annotations, no notes, and you have absolutely no idea which slide or animation is coming up next (unless you practice your slides a lot, but let's be real: you probably cobbled them together right before the meeting). Those downsides are the reason that I never use this method, even if it is right up in my face when I want to share a slide deck in Teams. The only way you'll find me using Teams Built-In Share is once presenter view is built into PowerPoint for the web. 
Desktop Window Share
Desktop Window Share, the second option, is a nice little hack for sharing your presentation from the desktop app, complete with all the slick transitions and animations you'd like. You won't get presenter view with this method, but you will get safety and comfort of all the full-fledged features in the desktop app and it won't take up your whole screen while you're presenting. Though it will include a little chrome in the top toolbar.
This method is similar to what people use when they set up kiosks for people to browse at expos or stores, except in this case, it doesn't take up the whole screen. To present this way, you need to toggle a setting. Jump into the Slide Show tab in PowerPoint and click Set Up Slide Show . Select Browsed by an individual and click OK.
Now when you present this slideshow, it'll show your entire slide in its own window, without the rest of PowerPoint showing. It's like a mini PowerPoint presenter mode. To share this window, jump to your Teams meeting, click Share , and select PowerPoint under the Window section. Handy.
Presenter View Share
Note: This feature seems to have been recently removed from PowerPoint on macOS; I haven't been able to test it on Windows to confirm any impact there. I've reached out to Microsoft for some explanation or insights on this. I'll provide an update when I have one.
And lastly, Presenter View Share is my favorite way to present a slide deck during a Teams meeting and it's really the subject of this post. Presenter View Share gives you all the features of the desktop app—because that's what you're using—including presenter view. That means you get notes and annotations, can see the upcoming slide, and can jump around slides as much as you want.
This technique is actually stupidly simple, but it's not obvious at all. To share your presentation this way, it works best if you're only using one monitor. If you have a second monitor, I'd actually recommend disconnecting it. And that's coming from someone who always uses two monitors. The reason for that is the feature isn't available when you have two monitors because you'll already have presenter view on one of them and you can't share PowerPoint as a window when you have two monitors because the app takes up two windows and becomes essentially disqualified from being shared as a window (the only way to share the slides is by sharing the whole screen, which is less private).
First, have your PowerPoint file open and start the presentation the way you normally would. Now, Alt-Tab (Command-Tab on Mac) back to your Teams meeting and share the PowerPoint window—not the whole screen. Alt-Tab back to PowerPoint. And here's where the magic happens: right-click on your slide and click Use Presenter View . And that's it!
Wait, you're worried that the people on the other end are seeing presenter view? They're not. In fact, they didn't even see you right-click because the menu isn't part of the window. For them, nothing happened. While on your side, you just went from low fi to high fi in a matter of two clicks. From here you can do all the stuff you want through presenter mode and everyone on the other end will only see slides.
So, why do I like this method the most? Because I get to have my cake and eat it too! Sure, the slides take up my whole screen, but that doesn't stop me from jumping around my device all I want. Alt-Tab is your best friend. If you're not an Alt-Tab person now, you will be moving forward, because it's a great little trick for jumping between apps.
That means I can be taking notes about a potential customer in my OneNote app during a demo without them knowing. Or I can check in on the meeting itself to see if someone's raised their hand or said something I need to respond to. All they'll ever see is the current slide—even if you see another app on top of it—because all I'm sharing with them is the PowerPoint window.
Edit: Some folks have reported they can actually use two monitors and still are able to share the single presented-view of PowerPoint. I can't confirm this because on Mac, the Use Presenter View isn't available when you have two screens (the option is not available in the right-click menu). That said, if you use multiple monitors, you're a power user. So take 2 minutes to check with a colleagues to test if it still works in your situation to pull this off, but with the multiple monitors you're used to. So if one of your original thoughts was, "I can't not use two monitors", test before you knock it. 🙂
Frankly, I'll never look back on any other presentation options again. At least until Teams Built-In Share—remember, I really mean PowerPoint for the Web when I say this—finally transitions from PowerPoint Lite to a full-fledged version of PowerPoint. Once that day comes, I may convert. But for now, I'm sticking to the desktop app because it's a beast.
But what do you think? How do you present slides during Teams meetings? What tips do you have when you're presenting? Share them in a comment below so others can learn some of your tips and hacks for better meetings in Teams.
Recent blog posts
Periodic Table of Microsoft 365 - 2022 Edition
Send a link to a Power App in an email or communication
Publish a Power App to a SharePoint page
Obviously you have an opinion, so share it.
[email protected] ​ jumpto365, Inc. PO Box 1960 PMB 24057 Wilmington, DE 19899
Infographics
Periodic Table
Periodic Table Poster
Other Tables
Recipes by jumpto365
Reuse Requirements
Privacy Policy
Terms of Service
Billing Portal
Tools & Service Descriptions (preview)
Integrations (alpha).
Create and open Article
Share and collaborate Article
Add and format Article
Design Article
Give a presentation Article
Share and collaborate
Share and collaborate with powerpoint.
Share your presentation
Select Share on the ribbon.
Enter the names or email addresses of the people you want to share with.
Or select the drop-down to change permissions. Allow editing is checked by default. To change permission to view only, uncheck this box and select Apply .
Include a message if you'd like and select Send .
You can also select Get a link to create a link that you can copy into an email.
Co-author a presentation
After you share your file, you can work together at the same time.
Under Share , see who is also working in the file.
Colored flags show where each person is editing.
Comments in presentations
Select Review > New Comment . Or select New if the Comments pane is open.
In the Comments pane, type your message in the box and press Enter.
Select Reply and type your response.
Select the Next or Back buttons to go between comments and slides.
Select the X in the upper corner of the comment.
Chat while editing
If there's another person editing your file, select their image or initials in the upper right corner to open a chat window.
Type some text and press Enter.
Note:  Your conversations won't be saved when you close a file.
Show changes
Open the original version of the presentation that you saved on your computer.
Select Review > Compare , and then Compare .
In the Choose File to Merge with Current Presentation box, find the version of your presentation that you saved to the shared location, select it, and then choose Merge .
If reviewers left comments in your presentation, you'll see them under Slide Changes in the Revisions task pane.
Version history
Select File > Info > Version history .
In the Version history pane, select a version to open and view it in a separate window.
Need more help?
Want more options.
Explore subscription benefits, browse training courses, learn how to secure your device, and more.
Microsoft 365 subscription benefits
Microsoft 365 training
Microsoft security
Accessibility center
Communities help you ask and answer questions, give feedback, and hear from experts with rich knowledge.
Ask the Microsoft Community
Microsoft Tech Community
Windows Insiders
Microsoft 365 Insiders
Was this information helpful?
Thank you for your feedback.
How to share PowerPoint presentations in Microsoft Teams?
Here is a question from Wendy:
Hello folks, i work as a consulting in an IT software firm. So far used Webex and now transitioned to Microsoft Teams. I understand that there are several techniques to share pptx slides in Microsoft Teams for Windows. Specifically i am interested to share my presentation without showing the presenter notes to the participants (i still would like to view my notes though). One extra requirement is to be able to view the participants list and video feed of those connecting using their cameras. Any pointers are appreciated.
Thanks for the question. There are several ways to show your slides in a Teams meeting. We'll focus on the most prevalent ones.
Using the PowerPoint Slide view shared over Teams.
Using your PowerPoint Presenter View and two screens
Using the Microsoft Teams PowerPoint live sharing
Note: We developed this answer using Windows but this will work almost perfectly in PowerPoint and Teams for macOS.
Share the PowerPoint Slide View
This is probably the simplest and most straightforward option for sharing slides.
First off, open PowerPoint and load your presentation.
Then start or connect to your Teams meeting from your Calendar; or start a new Team meeting.
Use the Teams share tray to start sharing your desktop.
Then pick the Screenshare (Desktop/Window) option.
Choose to share the content of one of your screens or the relevant PowerPoint presentation window.
Hit Share .
Back to PowerPoint, move to Slide Show view by clicking F5. This will allow to share your PowerPoint presentation in full screen mode.
Summary : Note that although this method is pretty simple it has shortcomings. Unless you have two screens you won't be able to access your notes. You won't also be able to view the Teams meeting controls when presenting, so you'll be able to display the participants list or access the meeting chat while presenting.
Present your slides using Presenter View
If you have two screens you are able to use the PowerPoint presenter View.
Open PowerPoint and load your Presentation slides.
From the PowerPoint Ribbon hit Slide Show .
Then in the Monitor section tick Use Presenter View .
Then hit F5 (or select Slide Show and then From Beginning ).
Now access your Teams meeting from your Teams or Outlook Calendar.
In the Teams Meeting controls sharing tray , select Screenshare and then select the monitor that displays your slide in full screen.
Hit Share , and present your slides.
Summary : This is a more robust method, which allows you to see your notes when presenting, but it requires more than one screen. It also doesn't allow you to access the Teams user interface and view the participants list etc'.
Using PowerPoint Live to present in Teams
You can now use PowerPoint live capability to improve your presentation delivery in Teams.
First off, upload your Presentation to a Teams channel or OneDrive.
Then access your Teams Meeting from Outlook or the Teams Calendar.
Next, from the meeting control, select the PowerPoint presentation you would like to share. In the example below, we have only one presentation available named Share.pptx.
If you see your Presentation in the list, you can use the Browse button (as shown above) to either upload a presentation to Teams, browse from existing presentations shared in your Channel or pick one from OneDrive.
Once the presentation is picked you'll see your Teams live PowerPoint view.
As you can see, the presenter view in Teams allows you to access the your notes. Obviously the meeting participants will see the full screen view . Note that both you and participants will be able to move back and forth between the slides as needed.
You can use the Teams meeting controls (from the lower part of the screen) to view the Team conversation and participant list.
This capability is a very cool option for presenters. Main drawback being that given the fact that it currently leverages the web version of PowerPoint, there might be some features and animations that might not fully work in PowerPoint live.
Follow up learning
How to find conversations not visible in the Teams chat app?

How to Share PowerPoint in Teams
If you work for a company that uses Microsoft Teams, then you know how important it is to be able to share and collaborate on documents. One of the most common documents shared in Teams is PowerPoint presentations. In this article, we'll cover everything you need to know about how to share a PowerPoint in Teams, from creating your presentation to troubleshooting common issues. Let's get started!
Table of Contents
What is Microsoft Teams?
Before we dive into how to share PowerPoint in Teams, let's first define what Microsoft Teams is. Teams is a collaboration platform that allows users to chat, host video and audio conferences, and share files with each other. It integrates with other Microsoft Office products, including PowerPoint, making it easy to collaborate on presentations with your team.
Microsoft Teams is a cloud-based platform that can be accessed from anywhere, making it ideal for remote teams. It also offers a range of features, such as screen sharing and virtual backgrounds, that make it easy to collaborate and communicate effectively.
In addition to its collaboration features, Microsoft Teams also offers a range of security and compliance features, such as data encryption and multi-factor authentication, that help keep your team's data safe and secure. This makes it a popular choice for businesses and organizations that need to comply with strict data protection regulations.
Creating a PowerPoint Presentation in Teams
Before you can share your PowerPoint presentation in Teams, you first need to create one. Luckily, Microsoft Teams makes it easy to create and edit presentations right within the platform. Simply navigate to the channel where you want to share the presentation, click on the "Files" tab, and select "New" to create a new PowerPoint presentation.
Once your presentation has been created, you can click on it to open it in PowerPoint Online. From there, you can add your content, images, and other media to your slides. When you're finished, click "Save" to save your changes.
It's important to keep in mind that when creating a PowerPoint presentation in Teams, you should consider the audience you will be presenting to. Will they be viewing the presentation on a large screen or on their own devices? This can affect the font size and layout of your slides. Additionally, you may want to include interactive elements such as polls or quizzes to engage your audience.
Another useful feature in Teams is the ability to collaborate on a PowerPoint presentation with others in real-time. This can be especially helpful when working on a group project or when receiving feedback from colleagues. Simply share the presentation with your team members and everyone can work on it simultaneously, making the process more efficient and collaborative.
Uploading a PowerPoint to Teams
If you've already created a PowerPoint presentation outside of Teams, you can easily upload it to the platform to share it with your team. To upload a PowerPoint, navigate to the channel where you want to share the presentation and click on the "Files" tab. Then, click on the "Upload" button and select your PowerPoint file from your computer.
Once your file has been uploaded, you can click on it to open it in PowerPoint Online and make any necessary edits. When you're finished, don't forget to save your changes before moving on.
It's important to note that when you upload a PowerPoint to Teams, it will be stored in the cloud and accessible to anyone in your team who has access to the channel. This means that you don't have to worry about sending large files via email or other file-sharing platforms.
Additionally, Teams allows you to collaborate on PowerPoint presentations in real-time, making it easy to work together with your team members to create a polished and professional presentation. You can use the chat feature to discuss changes and ideas, and even co-author the presentation with multiple team members at once.
Sharing a PowerPoint Presentation in Teams
Now that you have your PowerPoint presentation ready to go, it's time to share it with your team in Teams. There are a few different ways to do this, depending on how you want to share it.
The first option is to simply post a link to your presentation in the chat. To do this, navigate to the channel where you want to share the presentation and click on the "Files" tab. Then, click on your PowerPoint presentation to open it. From there, copy the URL from your browser's address bar and past it into the chat.
If you want to share your presentation more formally, you can schedule a Teams meeting and present your PowerPoint during the meeting. To do this, create a new meeting and select "Share content" from the toolbar. From there, select your PowerPoint presentation and click "Share."
Another option for sharing your PowerPoint presentation in Teams is to upload it directly to the channel. To do this, navigate to the channel where you want to share the presentation and click on the "Files" tab. Then, click on the "Upload" button and select your PowerPoint presentation from your computer. Once the upload is complete, your team members will be able to access the presentation directly from the channel.
It's important to note that when sharing a PowerPoint presentation in Teams, you may want to consider giving your team members editing permissions. This will allow them to make changes or add comments to the presentation as needed. To do this, simply click on the "…" next to the presentation in the Files tab and select "Manage access." From there, you can choose to give editing permissions to specific team members or to the entire team.
Collaborating on a PowerPoint in Teams
One of the biggest benefits of sharing a PowerPoint presentation in Teams is that it allows for easy collaboration. You can work on your presentation with your team in real-time, making changes and sharing feedback as you go.
To collaborate on a PowerPoint in Teams, simply open the presentation and click on the "Share" button at the top of the screen. From there, you can invite other members of your team to collaborate on the presentation with you.
Another great feature of collaborating on a PowerPoint in Teams is the ability to track changes and see who made them. This can be especially helpful when working on a presentation with multiple team members, as it allows you to easily keep track of updates and revisions.
Presenting a PowerPoint in Teams
If you're presenting a PowerPoint in Teams, there are a few things you should keep in mind to ensure a smooth experience for everyone involved.
First, make sure you have a stable internet connection and that your audio and video settings are configured correctly. You don't want to start your presentation only to find out that nobody can hear you!
Next, make sure you have your PowerPoint presentation open and ready to go. Practice navigating through your slides beforehand so that you're comfortable with the flow of your presentation.
Finally, consider sharing your screen to make it easier for your audience to follow along. This will allow them to see your presentation exactly as you see it, rather than just viewing it as a separate file.
Giving Feedback on a PowerPoint in Teams
If you're not the one presenting the PowerPoint but still want to provide feedback, Teams makes it easy to do so. Simply open the presentation and use the commenting feature to provide your thoughts and suggestions. You can also use the "@" symbol to tag specific team members and bring their attention to your comments.
Troubleshooting Common Issues with Sharing PowerPoints in Teams
While sharing PowerPoint presentations in Teams is generally a smooth process, there are occasionally issues that can arise. Some common issues include file size limitations, internet connectivity problems, and compatibility issues between different versions of PowerPoint. In most cases, these issues can be resolved by taking a few simple steps, such as compressing your file or updating your software to the latest version.
Best Practices for Sharing PowerPoints in Teams
To ensure a successful experience when sharing PowerPoint presentations in Teams, there are a few best practices you should follow:
Always save your PowerPoint in the .pptx format to ensure compatibility with Teams.
Compress large files before sharing them to ensure quick loading times.
Make sure all team members have the necessary permissions to access and edit the presentation.
Provide clear instructions on how to access and view the presentation.
Keep your presentation organized and easy to navigate to ensure a smooth presentation experience.
Benefits of Sharing PowerPoints in Teams
There are many benefits to sharing PowerPoint presentations in Teams. For one, it allows for easy collaboration, so team members can work together to create the best possible presentation. It also streamlines the presentation process, as team members can view and comment on the presentation in real-time. Finally, it ensures that everyone is on the same page, as all team members have access to the same presentation and any updates made to it.
Alternatives to Sharing PowerPoints in Teams
While Teams is a powerful tool for sharing PowerPoint presentations, it's not the only option. Other platforms that allow for easy sharing and collaboration on PowerPoint presentations include Google Slides, Dropbox, and OneDrive. When choosing which platform to use, consider factors like ease of use, compatibility with other software, and the size of your team.
How to Share Multiple PowerPoints in Teams
If you need to share multiple PowerPoint presentations in Teams, there are a few different methods you can use. One option is to create a folder in Teams and upload all of your presentations to that folder. You can then share the folder with your team, and they will have access to all of the presentations within it.
Another option is to share each presentation individually, but with clear naming conventions to make it easy for your team to find the presentation they need.
Customizing Your PowerPoint Presentation for Sharing on Teams
Finally, it's important to consider how to customize your PowerPoint presentation for sharing on Teams. One key consideration is file size – you'll want to make sure your presentation is small enough to be easily shared and loaded by your team. You can also consider adding team branding or custom elements to your presentation to make it more visually appealing and engaging.
Maximizing the Use of Features Available when Sharing PowerPoints on Microsoft Teams
Overall, sharing PowerPoint presentations in Teams is a powerful way to collaborate with your team and ensure that everyone is on the same page. By following best practices and customizing your presentation for sharing on Teams, you can make sure that your presentation is a success and that your team is engaged and informed.
Related Resources
How to Share a PowerPoint in Teams
How to Present PowerPoint in Teams
How to View Notes in PowerPoint While Presenting on Teams
How to Open PowerPoint in Google Slides
Turn complex data into a compelling story with zebra bi, stunning reports, ease of use, insight-driven success, take your reporting to the next level.
Powerful presentations - visualize data like a Pro
Create reports with linked Excel data and customizable themes.  Right in your PowerPoint for FREE.
How to Share a PowerPoint Presentation on Microsoft Teams
Microsoft Teams is a digital management tool that allows users to share and collaborate with their groupmates, teams, and friends. Not only does this program allows the user to share their files with other people , but it also lets the user easily pick who to share and collaborate with.
Step 1 – Open or Launch Any Version of Microsoft Teamhttps:
Step 2 – Select a Team Channel to Send the PowerPoint Presentation
Step 3 – Inserting and Sending the PowerPoint Presentation into the Channel
If I were to edit the PowerPoint while I share my screen, will it immediately reflect the changes to the people in the meeting?
Can i share the web version of microsoft powerpoint in a teams meeting, after the meeting, will microsoft teams send the participants the powerpoint file i used on the share screen, can i edit the share screens settings while i share my powerpoint in microsoft teams, can i change the powerpoint i am sharing in the teams meeting.
Cyber Monday Facebook ShareTemplate
Sharepoint Consultant Job Description
Sharepoint Consultant Cover Letter
Printable Share Certificate Template
First Shareholder Meeting Minutes Template
Annual Shareholder Meeting Minutes Template
Share Subscription Agreement For Venture Capital Template
Agreement Of Purchase And Sale Of Shares By Shareholder Template
Employee Share Purchase Plan Template
Company Shareholders Agreement Template
Get instant access to free & premium share templates, designs & documents , ai tools & daily fresh content.
Get access to 1 million+ FREE, PRO, template bundles with professional written original content. Advanced AI, design, document editing tools
Free All-in-One Office Suite with PDF Editor
Edit Word, Excel, and PPT for FREE.
Read, edit, and convert PDFs with the powerful PDF toolkit.
Microsoft-like interface, easy to use.
Windows • MacOS • Linux • iOS • Android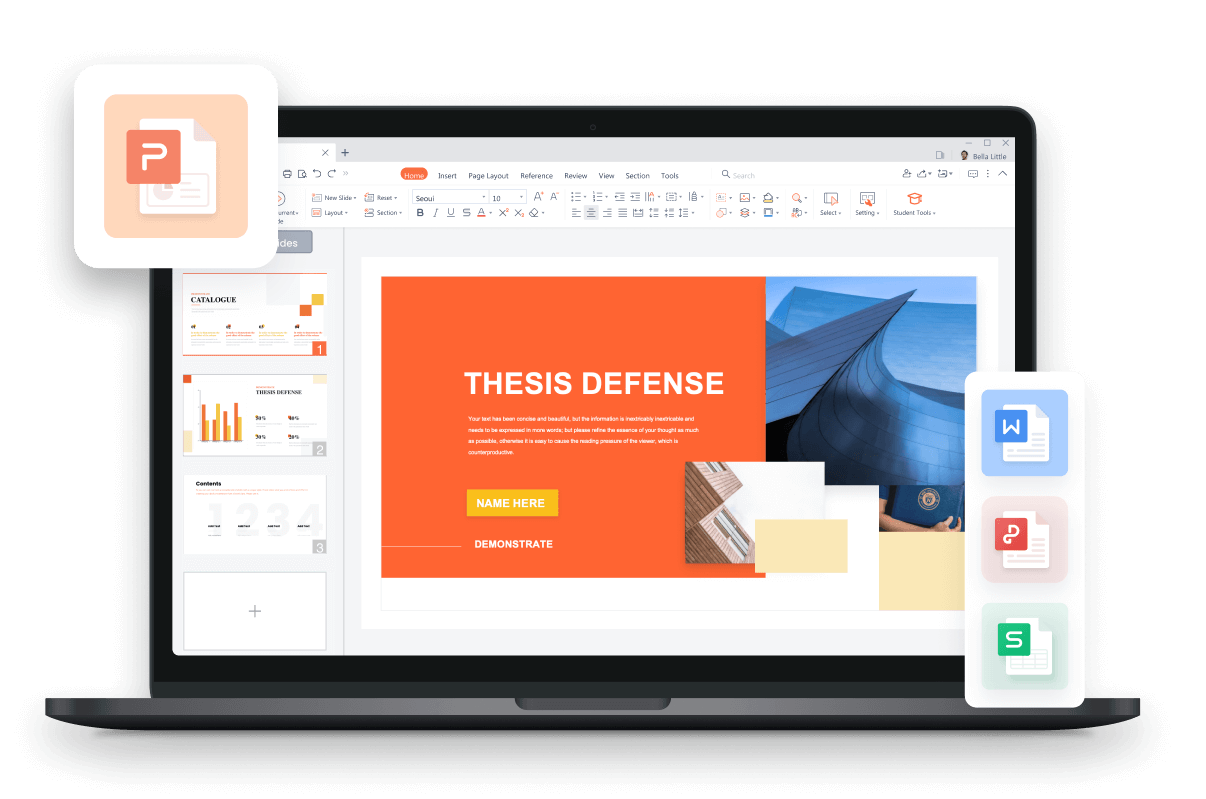 How to Share PowerPoint On Teams without Showing Notes
Microsoft Teams help individuals to conduct meetings online and collaborate conveniently. You can also present a PowerPoint presentation with your team using Microsoft Teams. However, many people need to learn how to share PowerPoint on Teams.
Do you want to share PowerPoint presentations on Teams without showing Notes? This article will help you to learn how to share PowerPoint on Teams without showing notes. Stay with us.
Part 1. How To Share PowerPoint on Teams Without Showing Notes?
You can easily share your PowerPoint on Teams in simple steps. You can share the PowerPoint in Slide View, Presenter View, or PowerPoint Live. Let's discuss each method in detail.
Method 1. Share the PowerPoint Slide View
This is the most straightforward method to share PowerPoint on Teams. Follow these steps to share your presentation on Teams.
Step 1: Open your presentation in PowerPoint that you want to share.
Step 2: Connect with your team using Teams or start a new meeting.
Step 3: Go to the Share option in Microsoft Teams.
Step 4: Select the Window option.
Step 5: Choose the PowerPoint presentation window to share and click the Share button.
Step 6: Go to the PowerPoint again and select the Slide Show option or press the F5 key to present the presentation in full screen.
Using this option, you can present your presentation in full screen on Teams. Your team members will not see the notes. However, the notes will be hidden from you also. Also, you won't be able to see Team controls.
Method 2: Using The Presenter View
If you have two screens, you can use the Presenter view option to share your presentation on Teams. Follow these steps to use this method.
Step 1: Open your presentation in PowerPoint.
Step 2: Select the Slide Show option in PowerPoint or press the F5 key.
Step 3: Select Use Presenter View in the monitor section.
Step 4: Press F5 or select Slide Show again from PowerPoint.
Step 5: Access your Teams meeting from Teams or Calendar or start a New Meeting.
Step 6: Select Screen Share from the Teams sharing tray and then select the monitor you are using.
Step 7: Click the Share button to share your presentation on Teams.
This method allows you to see the notes with each slide while sharing the presentation. However, you can not see different options and tools of Teams and can not interact with your team members.
Method 3. Using PowerPoint Live
PowerPoint Live allows you to present your presentation directly from within the Teams. It gives the Presenter and the audience a unique and engaging experience. You can share your presentation using PowerPoint Live using these steps.
Step 1: If you are in a Teams meeting, select Share and select the PowerPoint presentation in the PowerPoint Live option. If you cannot see your required presentation, browse for your desired presentation in OneDrive or My PC.
Step 2: If your presentation is already opened in PowerPoint, Go to the File menu and select Share, and then click the Present Online option.
Step 3: If you are using PowerPoint for the web, select Present and then select Present in Teams.
Using PowerPoint Live helps you to access all the options and tools of Teams. You can easily engage with your audience using different opinions available. You can turn Chat on or off and see raised hands by the audience in real-time. You can also customize other Layout options for your presentation.
Part 2: Free Alternative Choice-WPS Office
WPS Office is the best office solution in the modern world. It is a powerful office productivity suite used by millions nowadays. Professionals and students use WPS Office to create impressive documents, analytical spreadsheets, stunning presentations, etc. WPS Office is an all-in-one productivity suite that contains the following applications and tools.
Writer - to create Word documents, CVs, resumes, and much more
Spreadsheet - to create Excel sheets used for data analysis and insights
Presentation - used to create impressive PowerPoint presentations
AirPage - online document collaboration tool
PDF - to create, edit, and open PDF documents
Besides these, WPS Office also has Teams, WPS Cloud, document conversion tools, and many more practical applications.
Amazing and Unique Features of WPS Office
WPS Office has powerful and unique features and functions, making it the best alternative to Microsoft Office, Libre Office, and other office suites. Some of the special and modern features and functions of WPS Office are listed below.
Free To Use
The most in-demand and unique feature of WPS Office is its free availability for all platforms. Users can use WPS Office on Windows, Mac, Linux, Android, and iOS devices free of cost.
Templates Library
WPS Office has a vast collection of attractive templates in its applications. You can use these built-in templates to design a CV, resume, presentation, etc. There is no need to create your documents from scratch. You can use any of the suitable templates and create your documents easily.
WPS Productivity Tools
WPS also contains many helpful productivity tools included in the Office suite. You can easily convert between different document formats. There is no need to use third-party conversion tools. You can also insert or remove watermarks from your document. There is a Screen Recorder in WPS Office, which helps you to record screens, record a particular window, or record using the Webcam of your PC.
Use Word, Excel, and PPT for FREE, No Ads.
Edit PDF files with the powerful PDF toolkit.
Microsoft-like interface. Easy to learn. 100% Compatibility.
Boost your productivity with WPS's abundant free Word, Excel, PPT, and CV templates.
WPS Academy
WPS Academy offers free easy to understand office tutorials. It provides free video tutorials regarding different features and functions of WPS Office and how to use them. These tutorials help you to master your skills in Excel, PowerPoint, Writer, and PDF applications.
Picture To PDF
This tool helps you to convert your images to PDFs. You can take pictures of the documents and then can generate PDF documents quickly. This feature lets you scan an entire book and make a PDF from all the scanned photos.
Auto Backup Feature
WPS Office also offers an Auto Backup feature. This feature helps you to create a local backup of all your documents. You can create your Word, PowerPoint, Excel, and document backups. You can also save this backup to WPS Cloud.
You can create a team of all your teammates using WPS Team. WPS Teams help you to interact with your colleagues easily. You can share your files. You can also track changes and see all files' version history.
How to Download WPS Office?
You can easily download WPS Office from its official website. Go to the website and click the Free Download option. After the download, run the installer file, and WPS Office will be installed on your PC.
Frequently Asked Questions
1. how to share powerpoint presentations on teams without displaying speaker notes.
You will need two screens to use the Presenter view to show the presentation without showing notes.
2. How do I change the Presenter mode in PowerPoint?
Go to the Slide Show option from the main menu in PowerPoint and check the Presenter View checkbox to use the presenter mode in PowerPoint.
How To Share PowerPoint On Teams Without Showing Notes - Wrap Up
You can easily share your PowerPoint presentation on Teams. You can use the Slide Show option or use the Presenter View to share your PowerPoint presentation. You can also use the PowerPoint Live option to share your PPT on Teams. This article provided you with a detailed tutorial on how to share PowerPoint on Teams without showing notes.
WPS Office is also a powerful solution that lets you share your PowerPoint presentation on WPS Teams in simple and easy steps. You can download WPS Office for free from its official website.
1. How to Share PowerPoint Without Showing Notes (Step-By-Step)
2. Zoom: Sharing PowerPoint without Showing Notes On Mac
3. How to Use Microsoft Copilot in Teams (Step-by-Step)
4. How to Use Teams Presenter Mode for PowerPoint Presentations
5. How to Share PowerPoint on Teams: A Step-by-Step Guide
6. How to Share PowerPoint on Zoom Without Showing Notes (In Easy Methods)
15 years of office industry experience, tech lover and copywriter. Follow me for product reviews, comparisons, and recommendations for new apps and software.
Global Offices Texas Global partners with faculty, departments, colleges and schools across the university to advance UT Austin's mission and enhance its international reputation.
Global Connections on Campus The depth and scope of UT's global academics are evident in the vast network of centers, programs and organizations dedicated to international scholarship, research, creative activity and teaching.
Global Research and Creative Activity UT faculty engage in research and creative activities on every continent, advancing UT Austin's academic mission and global impact.
Communications from Leadership
Global Alumni Relations
Global Risk and Safety
President's Award for Global Learning 2023 Presentations
Tue, Nov 14 2023, 5 - 7pm Add to calendar Google Outlook iCal
Main Building (MAI), Room 212
Attend the 2023 President's Award for Global Learning presentations as the teams share their research from the past year of collaboration with their international partners in Kenya and Peru.
International Education Week
Research and Creative Activity
Student Experiences
Global Connections on Campus
Global Research and Creative Activity
Education Abroad
Explore Abroad
Global Learning On Campus
North America
South America
United States
2024 U.S. Under-18 Women's National Team Roster Announced
By USA Hockey , 11/07/23, 11:45AM EST
Team to compete at IIHF U18 Women's World Championship in January
COLORADO SPRINGS, Colo. – USA Hockey announced today the 25-player roster for its 2024 U.S. Under-18 Women's National Team that will compete in the 2024 International Ice Hockey Federation Under-18 Women's World Championship, Jan. 6-14, 2024, in Zug, Switzerland.
The roster features seven returners from the 2023 squad that took home bronze in the world championship, including Kendra Distad (Burnsville, Minn.), Rose Dwyer (Wynnewood, Pa.), Bella Fanale (Webster, N.Y.), Megan Healy (South Burlington, Vt.), Layla Hemp (Chanhassen, Minn.), Maggie Scannell (Wynantskill, N.Y.) and Josie St. Martin (Stillwater, Minn.). Scannell and St. Martin were also members of the 2022 U.S. Under-18 National Team that earned silver.
"We're excited about our team and look forward to competing for a gold medal in Switzerland," said Liz Keady Norton (Boston, Mass), head coach of the 2024 U.S. Under-18 Women's National Team. "It is always challenging to settle on a final roster, but we really like the group we have and know they'll represent our country extremely well."
For the complete roster and coverage of Team USA in the lead up to and during the 2024 IIHF Under-18 Women's World Championship, click HERE .
NOTES : The U.S. roster includes seven players from Massachusetts and Minnesota, two from New York, Pennsylvania and Vermont, and one from Illinois, Michigan, Nebraska, New Jersey and North Carolina … The 25 players include 14 forwards, eight defenders and three goaltenders … The U.S. has medaled in every IIHF U18 Women's World Championship and has played in allbut one of the 15 gold-medal games contested. Team USA has eight gold medals, six silver medals and one bronze medal to its credit all-time.
More USA Hockey News
U.S. Under-18 Women's National Team Selection Camp Roster Announced
By USA Hockey 10/10/2023, 12:00pm EDT
30 players to gather Oct. 29-31 in Blaine, Minnesota
2023 U.S. Collegiate Select and Under-18 Select Teams Announced
By USA Hockey 08/13/2023, 10:30am EDT
Teams Set For Three-Game Series With Canada in Lake Placid August 16, 17 and 19
Keady Norton To Coach 2024 U.S. Under-18 Women's National Team
By USA Hockey 04/20/2023, 5:00pm EDT
Decker, Roth and Sandahl Tabbed Assistant Coaches
U.S. Under-18 Women's National Team Bonds Over Effort to Win Bronze
By Nicole Haase 01/17/2023, 3:45pm EST
Team USA responded to semifinal loss with a 5-0 win over Finland
U.S. Shuts Out Finland to Win Bronze at U18 Women's Worlds
By USA Hockey 01/15/2023, 1:45pm EST
Nine Americans record points en route to 5-0 victory in Sweden
Tag(s): News Women's U18 World Championship Home Spotlight 2024 IIHF U18 WWC
Back to Previous Page
Print This Page
Content Search