Can I Use The Same Cover Letter For Multiple Jobs?
Applying for jobs can be exciting and overwhelming and, sometimes, very time-consuming. You put in the effort to design a great resume and then get asked for a cover letter too? People enjoy saving time by reusing writing but, can you use the same cover letter for multiple jobs?
You shouldn't use the same cover letter for multiple jobs because every company has different visions and requirements. A cover letter should be tailored to showcase how your skills will match the job at each specific company. This conveys your research and higher interest in working for the company.
We're going to help you out a bit more with your cover letter queries. Read on to see!
Should I write a new cover letter for every job?
You should write a new cover letter for every job that you apply to because you want to address the company's specific requirements. Cover letters are an introduction of yourself as a worker to a hiring manager and they will be searching for specific characteristics.
Writing a new cover letter for every job give you an opportunity to properly address the recruitment team, instead of using a generic greeting. It also allows you to paint a picture of yourself as a worker for them specifically. You want to tailor your writing to their professional standards to match the company. Explain why you meet each dot point in their employee requirement list. This is your chance to explain what you have to offer the company. It's just like highlighting your most suitable qualifications by adapting your resume for different jobs .
A well-written cover letter can make all the difference between getting an interview or not. By tailoring your cover letter to each company, you're showing that you care about your work. You will seem more eager to become a part of their team. This is also beneficial if the hiring company is using a recruitment agency to find workers. You will have an extra level of people to impress initially to move through the application process. For example, a business might request labour hire from somewhere like Canberra Labour Hire. It is our job to organise the most qualified and reliable labour workers for the job. If you customise your cover letter for the job, you're more likely to be interviewed because you already pointed out why you're a good match.
Why you shouldn't send the same cover letter to different employers
By tailoring your cover letter to each company, you are also giving your personality more of a chance to show. Think of how you would act at each company for an interview. The way you act at job interviews changes with every interview. Apply this to your cover letter writing to make it more personal. Then you have a great combination of matching their requirements while showcasing your personality.
Employers also examine your cover letter for how much research you have put into the company. If you don't show any evidence that you have checked out the company as well as the job, you're less likely to gain an interview. A great thing to research is the company's main ideas and values. These might be similar to other companies, but they will always have their own unique touch. If you send the same cover letter to multiple companies, you are risking not showing an understanding of these company visions.
A recent survey found that 83% of all hiring decision-makers would give an applicant a chance if they received a good cover letter, even if the applicant had a lacklustre resume. By tailoring and personalising every cover letter, you are greatly increasing your chances of being requested for an interview. For an extra 20 minutes during a job application – why wouldn't you do it?
What parts of a cover letter can I reuse?
When it comes to changing your cover letter for different jobs, you just want to focus on incorporating their visions into your skills. Because it is only a brief introduction to who you are, you don't need to completely scrap your cover letter every time. Keep mentions of your qualifications, experience, and skills, but explain why they are useful for that job specifically. This is all part of writing cover letters for multiple jobs instead of using the same cover letter.
Can I reuse a cover letter at the same company?
You shouldn't reuse a cover letter at the same company or when applying for multiple jobs. Even if it is a position at a company you already work at, it's important to adapt your cover letter for the specific job. You show that you have put more time and effort into your application and that you appreciate the work by hiring managers too. Plus, you never know what might draw them to you. You might add an extra sentence to your second cover letter that completely catches their eye. That could be the sentence that gets you the job interview.
You can use a similar, but not an identical cover letter at the same company you have already applied to. The company will still have the same visions in mind. It's your task to change how you explain your skills to match these visions in a different job position. If you can show your versatility through two different applications at the same company, you will get the attention of employers.
The job application process is exciting and a bit nerve-wracking. You want to make sure that you do everything right along the way. Have you wondered if you should call about a job application ? Sometimes you successfully make it through the hiring process, but then a job turns out different than advertised . We have lots of work guidance and more on our Canberra Labour Hire blog! If you're looking to hire labour workers in Canberra, reach out and let us help you find the perfect person for the job!
Share This Share this content
You Might Also Like
What Does it Mean to Work Autonomously?
Why You Should Become A Carpenter
The Difference Between General And Skilled Labourer
Search Search Please fill out this field.
Career Planning
Finding a Job
Cover Letters
Cover Letter Example for Applying for Multiple Jobs
Should You Apply for Multiple Jobs at a Company?
Tips for writing a cover letter for two jobs at a company, sample cover letter applying for two jobs, more cover letter examples.
When you're excited about a company, you may want to apply to several different positions there. But what kind of impression does that leave with potential employers? There are times when applying to multiple positions at the same company could make a job seeker seem desperate—or worse, unqualified—for any of the positions. 
That's not always the case, however. 
Find out more about when applying for multiple jobs at a company is a good idea. Also, see a cover letter example for applying for multiple jobs within the same company. 
Applying for different positions in a company is effective if you are truly qualified for the positions you're applying to. If you are a strong candidate for all the positions, it makes sense to apply to them.
Applying to multiple positions at the same company can be a good option for people at the start of their careers. That is, if a company has multiple entry-level positions available, it's possible that you're equally qualified for all of them. 
Another factor you must consider is the size of the company. If it is a large company, then there's a good chance you won't get the same hiring manager reviewing each application. Therefore, there is no harm in applying for multiple jobs. At a small company, however, it's more likely that the same hiring manager will see your application for multiple jobs.
If you're applying for multiple positions at a company, try to limit yourself and be realistic. Applying to two or three positions you qualify for is acceptable, but submitting your resume for every single position listed can be a turnoff to hiring managers, and a poor use of your own time.
Not sure what to do? Ask for advice: Reach out to a mentor, a trusted colleague, or other career connections for help thinking through the best option. 
Some people recommend applying to one job at a time and, if you don't hear back and some time has passed, applying for another position later. However, there's a chance that the jobs may be gone by the time you're ready to apply again. 
Anytime you're considering applying for multiple roles at the same company, you'll have to weigh the potential risks and benefits. 
When applying to two or more jobs at a company, you will typically submit separate resumes and cover letters for each job. Every resume and cover letter should be tailored to fit the specific job listing. For each job application,include keywords related to the specific job.
However, if you are allowed to only submit one job application to the company, or the two jobs are in the same department and are similar, you might consider writing one cover letter for two or more jobs.
When doing this, you need to keep a few things in mind:
Address the Right Person
Since you are submitting your cover letter to two jobs, two separate people might be looking at the cover letter. In your salutation, be sure to address all of the people who will be reading your cover letter (or use a general phrase such as "To Whom It May Concern" ). This way, you will not appear to be emphasizing your interest in one job over the other.
Express Your Qualifications for Both Jobs
Be sure to explain why you are qualified for both jobs. Consider writing one paragraph mentioning your skills and experiences for one job, and another paragraph for the other job. 
Another option (if the two jobs are related) is to list your skills and experience that apply to both jobs.
Express Enthusiasm for the Company
Clearly state your interest in the company, so that the hiring managers understand your interest. Perhaps include a paragraph that states why you think you are a good fit for the company generally. Include keywords from the company website in this paragraph.
Also emphasize how you can benefit the company—explain that you hope to add value to the company in either of these jobs.
The following is a cover letter example applying for two positions at the same company. Download the cover letter template (compatible with Google Docs and Word Online) or see below for more examples.
Cover Letter Example Applying for Two Jobs (Text Version)
Zach Applicant 123 Main Street Anytown, CA 12345 555-555-5555 zach.applicant@email.com
July 19, 2021
Manfred Lee Chief Technology Officer WebTech Solutions 123 Business Rd. Business City, NY 54321
Dear Mr. Lee:
Your IT department has advertised two job openings for which my experience directly qualifies me. My nuclear power experience would translate well into the chemical industry. Both industries endure extreme regulatory pressure for environmental impact. I am highly knowledgeable and familiar with this kind of regulatory environment, and I recognize how vital IT is for the record-keeping that is necessary for dealing with that kind of scrutiny.
My IT experience gives me a unique ability to apply technology, in all its forms, to business processes. Some of the business process knowledge includes accounting, finance, facilities, inventory control, budgeting, vendor management, and various operational processes.
I have experience with merger/acquisition events, high growth challenges, technology replacement projects, and IT process improvement. I have delivered large technology projects on schedule/on budget, and in alignment with the business strategy. Companies I have worked for include Dakil Energy, Hoppy Rent a Car, Digit Equipment, and Miners Gas and Electric.
I would appreciate an opportunity to talk with you or someone in your organization to see where my skill set would be of the greatest benefit to your company. I know I could be a great asset to your department.
Signature  (hard copy letter)
Zach Applicant 
Review more cover letter templates and examples of cover letters for a variety of different types of jobs , types of job seekers, and types of job applications.
By clicking "Accept All Cookies", you agree to the storing of cookies on your device to enhance site navigation, analyze site usage, and assist in our marketing efforts.
Tips for nailing your CV
Writing the perfect cover letter
Searching for jobs
Landing your first job
Effective interviewing
Your online presence
Workplace tips & wellbeing
Changing careers
Growing your skills
Managing job loss
Taking leave
Market updates
Newshub Summer Series
Careers advice
How to tailor your cover letter (with examples)
Sending the same cover letter in different applications might seem quick and easy, but is it damaging your chances?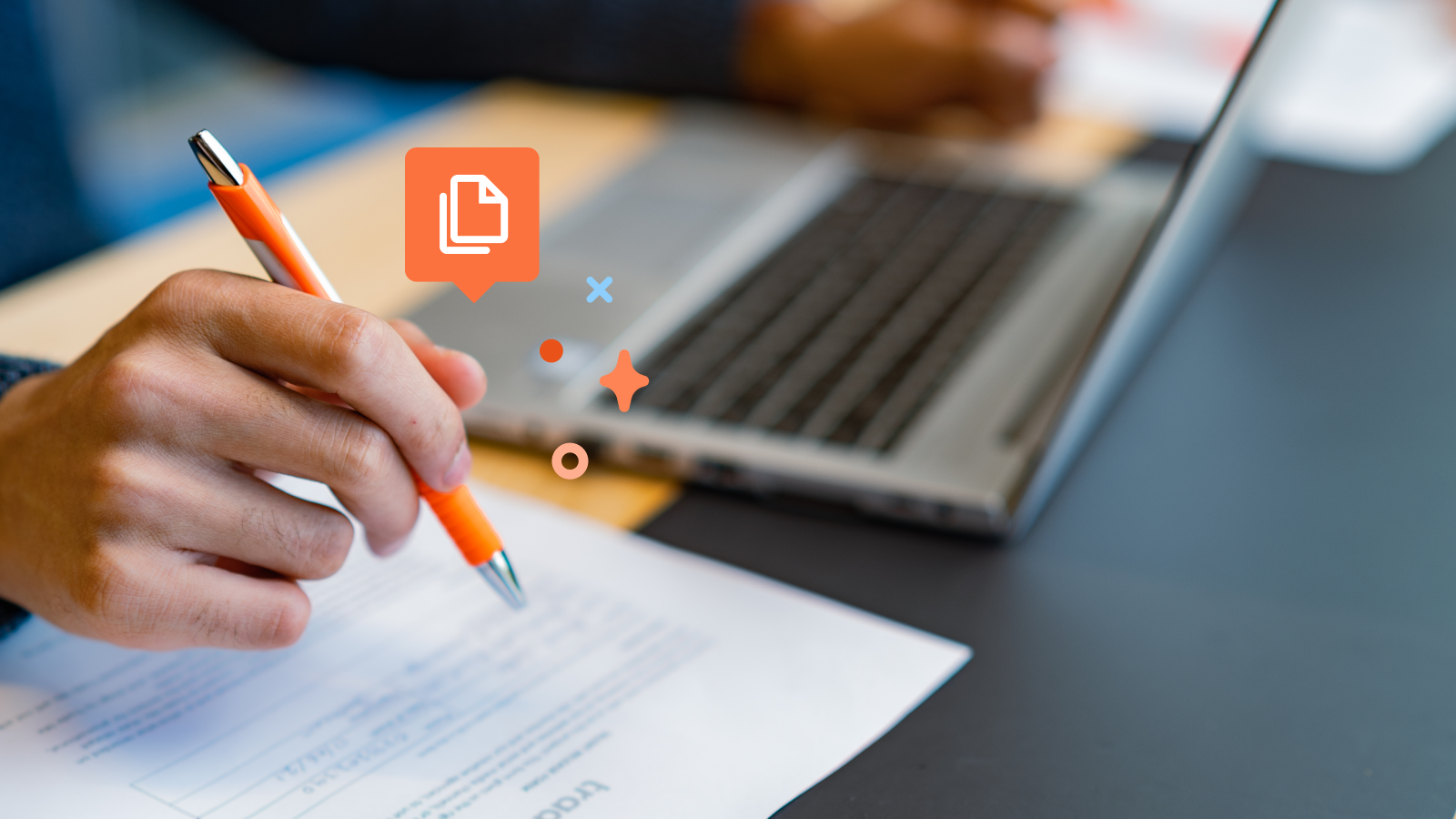 What you'll learn:
Can you use the same cover letter for more than one job?
Examples of how to tailor your cover letter for each job application.
How to research a company, and how to use this information in your cover letter.
The role of keywords in your application.
When you're deep into the job search, you'll be tempted to take any steps possible to make your hunt more efficient .
However, while we're all about working smart over working hard, sometimes trying to speed things up too much can damage your job application. Today, we're going to look at this idea in relation to cover letters.
We'll look at some key cover letter tips for job seekers, and explore some ways you can tailor yours in your next application. By the end, you'll be able to create a cover letter that speaks directly to whichever organisation you're applying for, highlights your key skills and experience, and even impresses robots.
Can I use the same cover letter for multiple jobs?
In a nutshell, no. In fact, doing this is one of the most common and costly cover letter mistakes applicants make.
But why is it so bad?
Think about the purpose of a cover letter. This part of your application is supposed to:
Introduce you to the company or organisation.
Show you're interested in them, and the specific role on offer.
Highlight your most relevant skills.
Motivate the reader to call you in for an interview.
Looking at that list, it's easy to see why sending the same cover letter for each job application is unlikely to get the result you want. This is because, depending on the unique requirements of the role and the organisation, things like your most relevant skills and why you're interested in the role will be different in each case. Even in a scenario where you think you're a perfect match for the role and have lots of relevant experience, you'll still want to be creating the best possible impression by cherry picking the items from your CV that will be the most eye-catching. If you chose to send a generic cover letter to each employer instead, they might think you're an okay fit, but the lack of specifics could give another candidate the edge.
What's more, employers and recruiters can pick out stock cover letters easily. After all, they look at hundreds, if not thousands, of cover letters throughout their career, and, if they think you haven't bothered to take the time to tailor your application, they'll hear alarm bells regarding your commitment to the role and the company.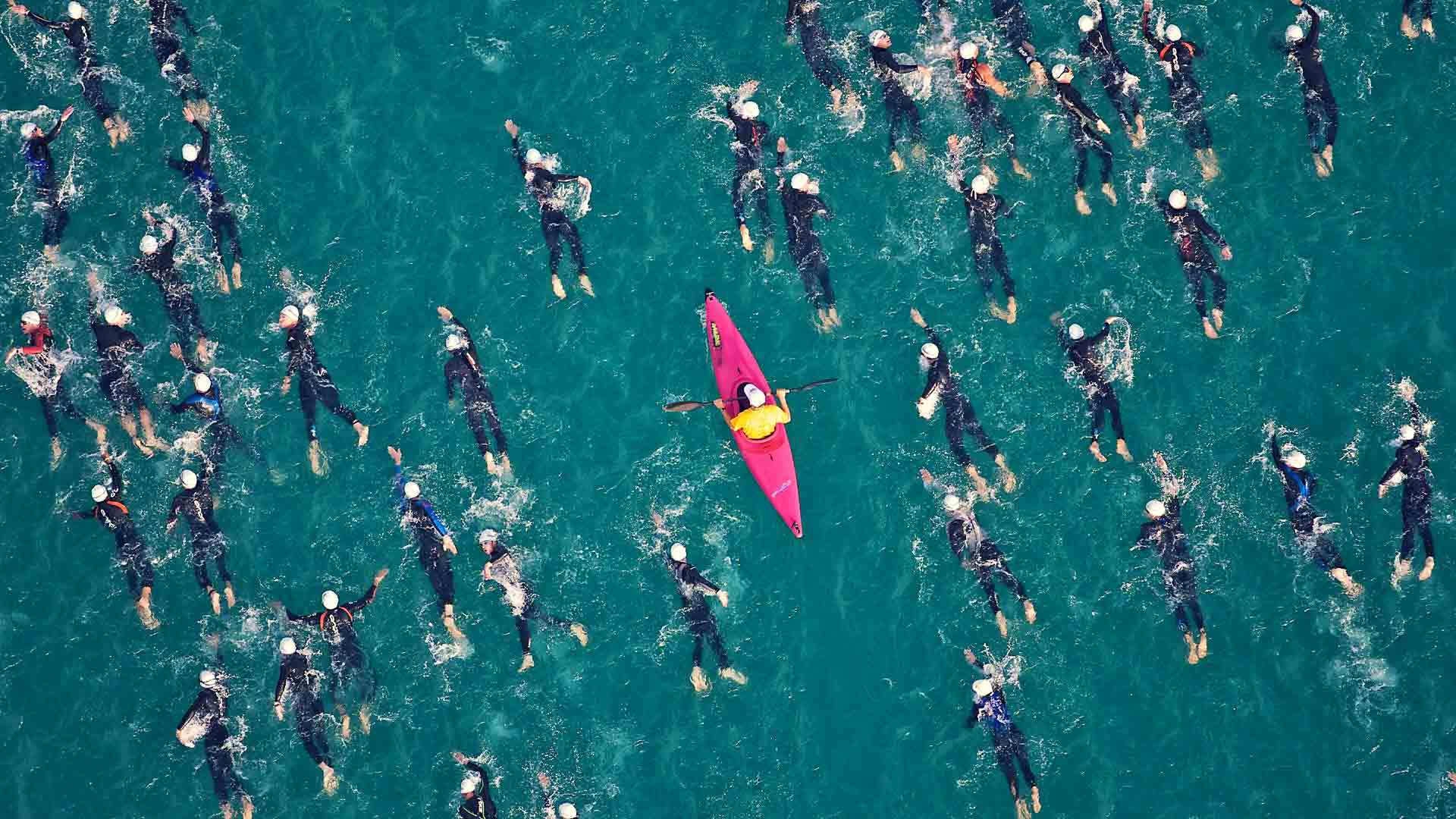 You want your cover letter to stand out from the crowd.
How to tailor an NZ cover letter (with examples)
There are a few important pieces of personalisation you should include in a cover letter to help you stand out :
1. The employer's/recruiter's name : this goes a long way, especially when compared with the awful 'to whom it may concern' (ew). If there isn't a name on the job listing, have a stalk of the company website. If you're still unsure, address it to the head of department, or go with 'Dear Hiring Manager'.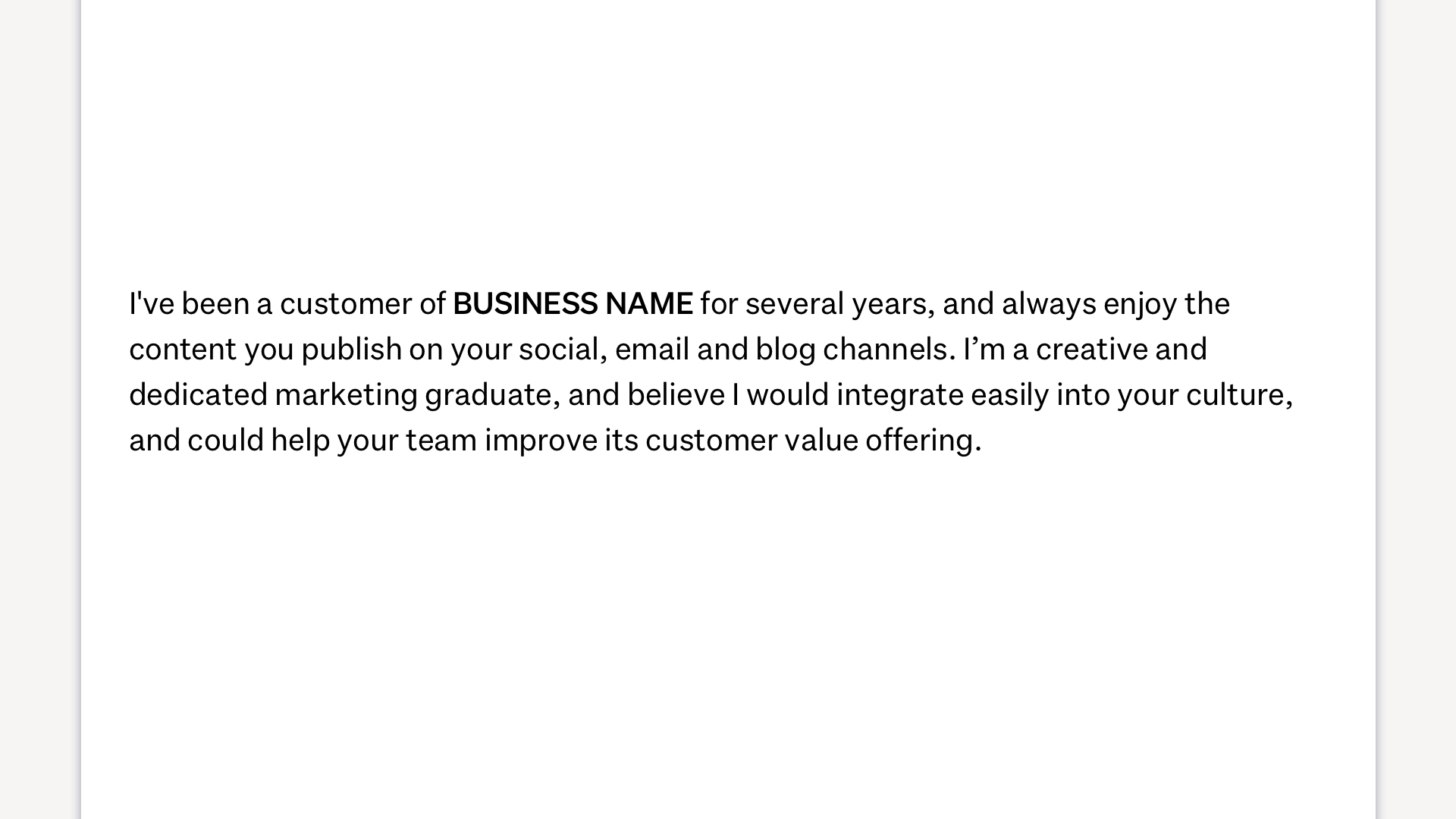 Showing you've studied the business is a great to way to demonstrate that this is a tailored cover letter.
3. Why you're who they're looking for: study the job description, and match your skills to what they're looking for. Top tip: use your Trade Me Jobs Profile to skim your work experience and qualifications, and cherry pick the most relevant. Using facts and figures to highlight how you can benefit the company will take this part of your cover letter to the next level. We'll cover this bit in more detail below in the section on choosing your keywords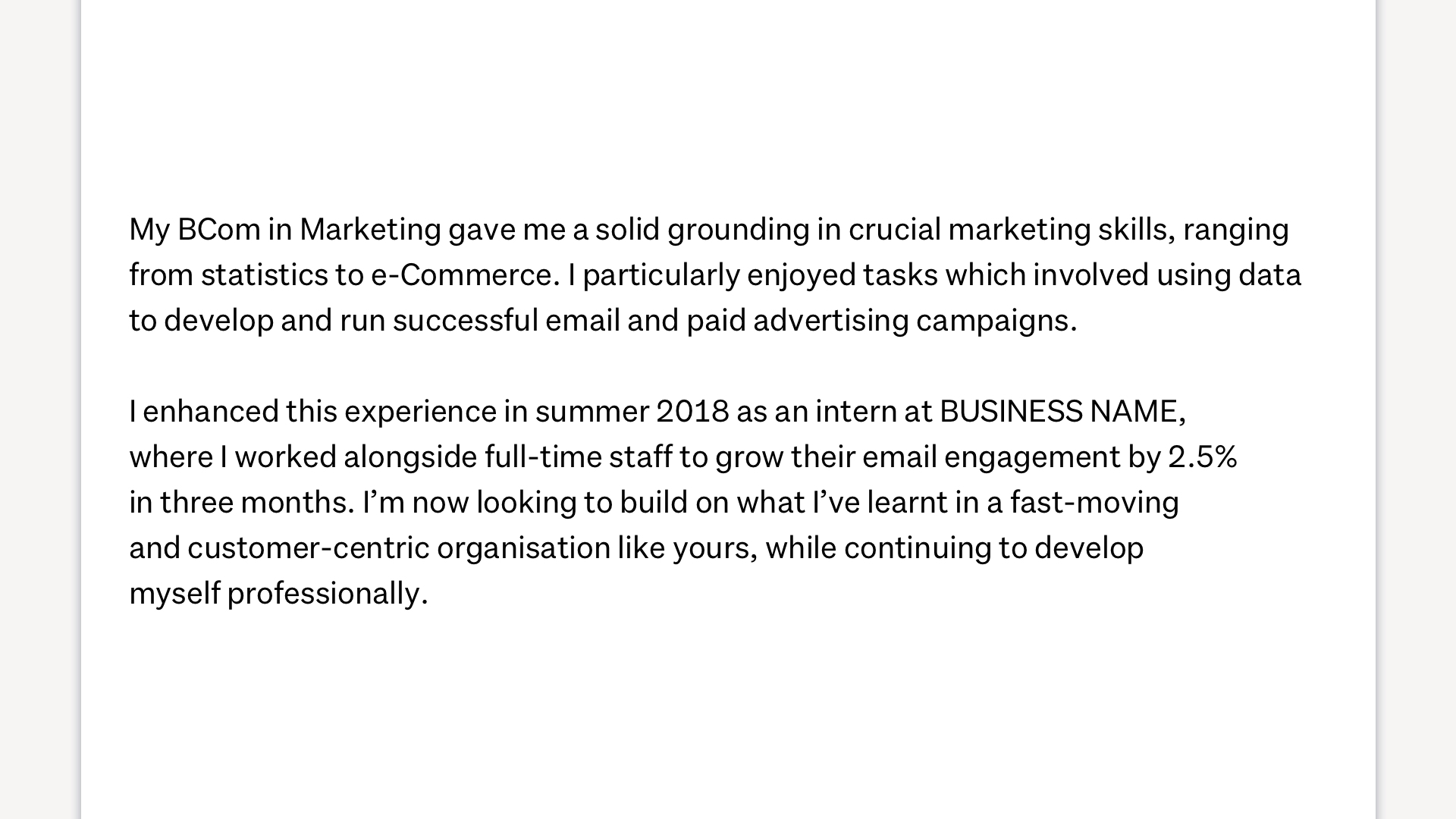 Next, namedrop key skills from the job listing to show what you'd bring to their organisation.
4. Your sign off : use your closing paragraph to hammer home your unique combination of skills and experience, and politely prompt them to get in touch. Remember to finish up with "Yours sincerely," and your name.
How to research the company for your cover letter
An important part of the message you're trying to get across is that you want to work for the company because of who they are and what they do. This will also be important when it comes to your job interview, as it's very common to receive a question along the lines of "why do you want to work for this company?".
All of this means you'll need to include thorough company research on your to-do list when it comes to writing a cover letter. There are two important, and complimentary, things you'll need to do to research the company properly:
1. Google the organisation
The 21st century answer to any problem – Google it. This is important because the results you'll see (except the company's own website) can help you to form a relatively unbiased picture of the company. Has it been in the news recently? What for? For good or bad reasons? Are their reviews from former employers that paint a different picture to the one you have in your head?
In extreme examples, what you find might cause you to think twice about applying in the first place. But, much more likely, you'll be able to understand what the organisation has been up to recently, and any cool or exciting projects it has coming up. This will all help you to demonstrate that you're applying because you're actually interested in what the company does, rather than because you need a job (even if the latter is more accurate!).
2. Check out the company's website
Of course, you'll also be able to find out what the company is doing by checking out its website. However, the main point of this second exercise is to understand how the organisation views itself, and how it wants to be seen. While you don't want to gush or bootlick in your cover letter, there's no harm in describing the reasons why you'd like to work for the company using the vision they have of themselves, as long as you're not too obvious.
3. Tap your network
If you know someone who's currently working for the organisation you're applying to, these people can be an invaluable resource, for a number of reasons. Firstly, organisations are often keen to take recommendations from existing staff, as this can cut down the time, and therefore costs, involved in hiring. This friend could be your ticket to the front of the interview queue.
What's more, this person has already successfully done what you're hoping to achieve – being hired by this organisation. So, it really would make quite a lot of sense to pick their brains on everything you can expect to face, and how best to tick the boxes. If they were applying to a similar role that you are, and you feel comfortable doing so, you could even ask to take a sneaky peak at their cover letter, to see if there's anything they're doing differently to stand out.
How to use keywords in your cover letter
So far, we've talked about how to tailor your cover letter to impress the humans reading it. But what about the robots? Don't worry, you haven't slept through some sort of futuristic armageddon in which robots are now our lords and masters. However, the use of automated applicant tracking systems (ATSs) are now commonly used by organisations when they are hiring candidates.
What are ATSs?
ATSs are software programs that collate and sort the resumes a company receives when it advertises a job online. Among the tasks they perform is ranking the applications from candidates, based on how well the applicants match the job profile created by the organisation.
A huge part of this is the presence or absence of keywords or phrases in a candidate's CV and cover letter. For example, if an organisation is hunting for a software developer, the first step in the process might be for the ATS to scan the cover letters to ensure they include this term, i.e. "Dear NAME, I'm writing to apply for the software developer role you currently have advertised." Potentially, any cover letters that don't include this term could be discounted at this stage.
Of course, there will be other keywords and keyphrases the ATS will scan for, in particular around the key skills and experience the organisation is looking for.
How to tailor your cover letter to impress ATSs
We understand the idea of having to impress ATSs as well as hiring managers seems daunting, but, in reality, this is actually very easy. Here are the steps we'd recommend:
Analysing the job description: Go through the job description with a fine tooth comb. In fact, we'd recommend copying and pasting the wording of the job description from the Trade Me Jobs listing into a Word or Google doc, and going through with a highlighter to really hone in on the most important bits. Here, you're looking for the specific skills they're seeking and experiences they'll value. For example, "experience working in a Big Four company."
Include these terms in your cover letter : once you've identified your key terms and phrases, you need to factor these into your cover letter. Importantly, the keyword or phrase should be exactly as it appears in the job description, as this will be how it's included in the ATS. However, you don't want to parrot entire sentences or paragraphs back to the employer. Even if this gets past the ATS, there's a good chance that the person who wrote the job advertisement will be the same person reading your cover letter, and will recognise their own words.
Use a combo of long-form terms and their acronyms (where relevant) : for example, if you were applying for a SEO manager position, you'd want to ensure your cover letter features both the acronym 'SEO', and 'search engine optimisation', to cover both bases.
Keep your section headings traditional : it might be tempting to try and stand out by using non-standard section headings in your cover letter, like "What I've learnt", rather than "Education". We'd recommend avoiding this approach, as ATS are generally set up to recognise standard cover letter layouts.
Think about your formatting : while ATSs can be very handy for employers, they obviously lack the intuition of a human reader, and a few things can confuse them, including: - Columns and tables : ATS struggle to read these properly, meaning they might struggle to comprehend the information contained within them. - Header and footers : the same issue applies, so don't include things like the job title in these sections. - Fonts : keep these simple - this isn't the time for Geraldine. - File type : save and submit your cover letter as a .docx wherever possible.
Tailored cover letter example
Please feel free to download the cover letter sample below and use it in your own applications!
1 Jobs Road
I'm hugely excited about the Digital Content Specialist role currently advertised on Trade Me Jobs. I'm a skilled content strategist and producer with agency and in-house experience, and I'd love to be involved in your mission helping New Zealanders tickle more puppies.
My MA in COURSE NAME was all about creating and distributing high quality digital content, and I've applied what I learnt in various roles. As such, I understand the crucial role that high quality, efficiently targeted, content has in reaching your audience.
As a puppy owner myself, and someone who understands the health benefits of owning an animal, your mission is one that speaks to me personally, and I believe my firsthand experience will help me to craft content that will speak to users along various stages of their consumer journey. In addition, your company's emphasis on creating an inclusive and collaborative working environment is something that's very important to me, and I'm keen to learn and grow based on the interactions I'd have with other staff members.
At PREVIOUS EMPLOYER, I've spearheaded the company's move towards SEO driven, user-focussed content. My primary responsibilities have included creating and implementing detailed B2C and B2B content strategies, drawing up content calendars, and leading email marketing campaigns. Tracking these results in Google Analytics and PowerBI, my content has increased our average monthly returning users by 48%, reduced our bounce rate and more than doubled our average pages per session.
I was also integrally involved in PREVIOUS EMPLOYER'S shift to a new CMS, and worked closely with designers and developers on creating a search optimised and user-friendly site experience. I continue to work with these teams, and other areas of the business, to ensure best practices regarding search engine optimisation and content production.
These experiences built on my time at OTHER PREVIOUS EMPLOYER, a content marketing agency. Here, I produced blog articles, social posts and eDM content for clients ranging from Heads And Shoulders to Knees And Toes. In addition to honing my SEO writing, researching and editing skills, I took on managerial responsibilities such as auditing junior writers and creating editorial briefs as well as tone and style guides.
As Communications Officer supporting the valuable work of YET ANOTHER PREVIOUS EMPLOYER, I devised and implemented a targeted social media strategy while also redesigning their website with updated, SEO-driven content. Communications guidelines I produced ensured that both internal and external communications conformed to the organisation's values while my press releases promoted their objectives to stakeholders and the public.
I believe I have the skills and experience to hit the ground running in this role, and would be thrilled to join an energetic team where I could both learn and enthusiastically. Thank you for considering this application and I look forward to hearing from you.
Yours faithfully,
Other articles you might like
These cover letter tips will help you avoid the simple mistakes that so many job applicants make, and get out in front.
Along with your CV, a cover letter is essential to any NZ job application. Let's get you started.
A good cover letter intro is like a good espresso – short, sharp and energising. Here's how to brew one of your own.
List an item
My Trade Me
Marketplace
Latest deals
Closing soon
Browse categories
Salary guide
Advertisers advice
Boats & marine
Other vehicles
International property
News & guides
Homes.co.nz
OneHub for agents
Domestic services
Events & entertainment
Health & wellbeing
Announcements
Trust & safety
Seller information
Desktop site
Privacy policy
Terms & conditions
Follow Trade Me on Facebook
Follow Trade Me on Twitter
Credit cards
View all credit cards
Banking guide
Loans guide
Insurance guide
Personal finance
View all personal finance
Investing + Retirement
Small business
View all small business
You're our first priority. Every time.
We believe everyone should be able to make financial decisions with confidence. And while our site doesn't feature every company or financial product available on the market, we're proud that the guidance we offer, the information we provide and the tools we create are objective, independent, straightforward — and free.
So how do we make money? Our partners compensate us. This may influence which products we review and write about (and where those products appear on the site), but it in no way affects our recommendations or advice, which are grounded in thousands of hours of research. Our partners cannot pay us to guarantee favorable reviews of their products or services. Here is a list of our partners .
4 Tips for Applying for Multiple Jobs at the Same Company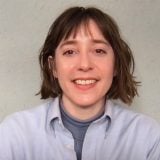 Many or all of the products featured here are from our partners who compensate us. This influences which products we write about and where and how the product appears on a page. However, this does not influence our evaluations. Our opinions are our own. Here is a list of our partners and here's how we make money .
When you get excited about a company during a job search, you may find yourself wanting to apply for more than one opening. But determining whether to apply for multiple jobs at the same company can be tricky.
"The best course of action is to apply for one job at a time," says Diane Farrell, director of career services at University of North Georgia.
The risk of applying for several positions with a single company? "You're going to look like you don't know what you want to do," she says.
However, job coaches say applying for a couple of roles can be acceptable if you're thoughtful about it. For each position, you'll want to meet the qualifications and take the necessary time to make a compelling case for yourself.
Here's what else to note if you're considering multiple jobs at the same company.
1. Focus on your qualifications
"Don't limit yourself to one position if you're qualified for multiple," says Amy Yandell, a North Carolina-based career specialist with coaching firm Ama La Vida. At the same time, she recommends being selective. "Don't just throw your resume at any job."
When deciding which jobs to apply for at a single company, Yandell suggests taking inventory of your goals, skills, work experience and any special value you'd bring to a company.
Then narrow down your options by focusing on each job's qualifications. Note that you don't need to meet 100% of the qualifications to be a match for a job. Farrell suggests aiming for about 80%.
» MORE: How to ask for feedback after a job rejection
2. Get to know the roles
If you qualify for multiple jobs at the same company, your next move could be setting up informational interviews with a recruiter or someone else at the company, according to Yandell.
Recruiters are looking for candidates who are enthusiastic about the company they represent, so they would likely be happy to hear from you, she says. Or you can look for people who work in the departments with open roles. To find these employees, check for bios on the company website or search in a networking website like LinkedIn.
In an informational interview, ask questions about the company and the open jobs. This discussion is also a chance to humanize the job search experience, Yandell says. "It can lead to really fruitful conversations where someone inside the company is telling you where you'd be a good fit."
3. Tailor your application materials
Don't use the same cover letter for multiple jobs at the same company (or even multiple jobs at different companies). Instead, tailor your cover letter, as well as your resume, to each role you apply for.
If you did informational interviews about the roles, you could use what you learned to craft letters that demonstrate how your experience and skills are suited for each position, Yandell says.
» MORE: Should you call after applying for a job?
4. Follow up with the hiring team
If you decide to submit applications for multiple jobs at the same company, follow up with the human resources department or recruiter, Farrell says. That gives you a chance to tell them you intentionally applied for multiple roles and briefly explain why you did.
"It won't be hard to explain," if the jobs are similar, Farrell says. "But if they are fairly different roles, you can talk about your different backgrounds."
On a similar note...
How to Write a Generic Cover Letter for Multiple Purposes
Cover Letters
')" data-event="social share" data-info="Pinterest" aria-label="Share on Pinterest">
')" data-event="social share" data-info="Reddit" aria-label="Share on Reddit">
')" data-event="social share" data-info="Flipboard" aria-label="Share on Flipboard">
How to Sell Yourself in a 60 Second Interview
How to write a letter to reject an interview, how to write a sample letter accepting an interview opportunity.
How to Present Yourself on a Job Application
How to Write a Cover Letter Without a Job in Mind
Writing a generic cover letter can be an efficient and effective way to quickly apply for multiple jobs without having to create every application or resume package from scratch. The trick to doing this effectively is to write a generic cover letter that doesn't sound blase, and that can be appropriate for a variety of purposes.
Writing a Solid Cover Letter
A persuasive cover letter contains a number of key elements that both catch the hiring manager's eye and establish you as a capable professional in your field. Even if you're crafting a boiler plate generic template, you can use this approach by employing the following openers:
Enthusiasm: Get a good start right out of the gate with the language you use to convey interest in the position. For example:
I was very excited to learn that you're looking for a...
I'd be delighted with the opportunity to join your dynamic team as...
It would be a professional pleasure to be considered for...
Company kudos: While you don't want to come across as cloying, demonstrate your respect for the company you're applying with.
As a well-respected industry leader, it would be a privilege to join your team.
I understand your organization is known for its dynamic approach to teamwork - it's that type of professional work environment I'm looking to become part of.
My objective is to join a respected company, known for its professionalism, focus on customer service and delivery of quality products.
Somewhat vague job description: To be useful as a cover letter for multiple job purposes, a generic cover letter should allude to the type of work you're seeking without being too specific.
Seeking a challenging role in communications.
Looking for to join a dynamic marketing team.
Looking for the chance to flex my high-level customer service skills.
Focus on Your Key Skills
While a job-specific cover letter would focus on your skills as they apply to the job description you're referencing, a generic cover letter should provide a broad overview of your abilities and achievements. This might include:
Summary of experience: I have more than 20 years' experience in marketing, sales and communications, with a focus on healthcare industry promotions.
Professional career highlights: I have been the top-earning sales rep in my region for the past three years, and was twice recognized with the ABC Career Sales Award.
P ersonal skills: I am a strong communicator , and have the ability to get along with a diverse variety of customers, clients and colleagues.
Unique skill sets: I speak fluent Spanish, French and German, and I am well-versed in working with a global customer base.
What you're looking for: I want an opportunity to lead a dynamic marketing team in achieving ambitious goals while simultaneously delivering high quality customer service.
Highlight Personality Traits
Spotlight your personal and professional traits in your generic application letter that make you a good overall employee. For example:
I'm detail-oriented, have exceptional time management skills, and consistently meet deadlines.
I enjoy working as part of a team, and I believe that collaborative work efforts create the best end results.
I have a unique management approach that hs served me well, which includes pairing.
The management approach that has served me well, which includes pairing the right people with the right projects and inviting input from all departments in crafting a strategic vision.
I have a good sense of humor, a personable nature, and appreciate the opportunity to work with other creative individuals in a fast-paced work environment.
It's also wise to includ e a summary of programs or equipment you're familiar with.
For example: Proficient in Excel, PowerPoint, Outlook, Workfront and OneNote.
Cast a Wide Net
If you're applying for jobs across a wide geographic range and want to use the same cover letter for multiple job s, your generic cover letter should indicate as much so employers aren't concerned about the current address on your resume. For example:
While I currently reside in Chicago, I am interested in expanding my career horizons and am happy to relocate for the right opportunity.
If you're looking for an opportunity move to a specific location, make it clear.
While I have called New York home for the past 10 years, my spouse is relocating to Los Angels for a new role and I am subsequently seeking new opportunity in Southern California myself.
Reference Outside Sources
You can make a generic application letter more personal by including links to outside sources that will give potential employers more detail about your professional background. This might include a link to an online portfolio or resume, a personal website or a professional networking site. Use caution in linking to personal social media pages. If you include them, make sure they are free or embarrassing, polarizing or controversial information that could paint you in a bad light - even by association with your friend's posts.
Customize Generic Cover Letters
If you're looking for work across a variety of fields, consider creating different versions of your generic application letter that can be used for multiple purposes. This allows you to use the same cover letter for different jobs and focus in on different key areas without investing too much addition time. For example, if you're a marketing professional who would also be interested in sales, customer service, communications, social media, branding or a related field, create individual generic versions, with each focusing on its own particular area.
Consider Best Practices
While it's true that an all-purpose generic cover letter allows you to apply for more jobs at a faster pace, there's still no escaping the fact that the letter is not specifically tailored to the job being sought. Here's why:
You won't be addressing the specific qualifications outlined in a job description. Just as you are mass-submitting your resume, the company may very well be mass-sorting applications, and if it's a computerized process, your cover letter may get discarded if it doesn't contain specific key words or phrases from the posted job description.
You won't get the opportunity to speak to how you fit into a specific company, nor demonstrate your knowledge of the organization, which can also put you at a disadvantage. Being able to say, " I have always wanted the opportunity to be part of the 100-year legacy of Waterworks in providing high-quality plumbing services to the greater Nashville area " looks better than, " I'm interested in a plumbing-related occupation ."
In short, using the same cover letter for different jobs is better than not using a cover letter at all, but it also doesn't allow you to position yourself as someone who is pinpoint focused on and serious about a specific opportunity. Hiring managers will appreciate it if you take the time to prepare correspondence specifically tailored just for their job posting. Consider the benefits of a hybrid approach - creating a generic application letter that you can tweak and tailor to the specific roles you're applying for.
Fast Company: 5 Methods To Make Your Cover Letter Irresistible To Hiring Managers
Entrepreneur: 6 of the Most Captivating Cover Letter Openers -- and Why They Work
Business Insider: The Three Cover Letter Mistakes to Avoid if you Want to Get an Interview
Robert Half: How to Write a Cover Letter
Format your letter using basic rules for formatting business correspondence. Use one-inch margins and divide your letter into several paragraphs. Virginia Tech Division of Student Affairs suggests using a clear, commonplace font such as Arial, Calibri or Times New Roman for easier readability.
Avoid discussing personal information unless it specifically relates to your career. While you may be proud of your softball league trophy or your hobby tying fishing flies, don't include this kind of information in a cover letter. It won't help you get the job and may distract the employer from reading about your accomplishments.
Lisa McQuerrey has been an award-winning writer and author for more than 25 years. She specializes in business, finance, workplace/career and education. Publications she's written for include Southwest Exchange and InBusiness Las Vegas.
Related Articles
How to write a simple application cover letter, how to create a resume for a current employer, how to write a first-class cover letter, example of an application letter for hotel & restaurant management, how to express urgency in a cover letter, how to write a letter looking for work, how to make a good application letter, how to write a cover letter to a company that does not have a job opening, how to describe my teamwork skills, most popular.
1 How to Write a Simple Application Cover Letter
2 How to Create a Resume for a Current Employer
3 How to Write a First-Class Cover Letter
4 Example of an Application Letter for Hotel & Restaurant Management