Company Presentation: What Your Prospects Want to See
Before prospective clients hire you, they want to know what you can do for them and how qualified you are to do it. As a result, your company presentation plays a crucial role in helping you secure new clients. Here's how to structure your company presentation to show prospects what they want and need to see.
Table of Contents
5 Key Parts of a Company Presentation
When you talk about your business during a sales pitch , your company presentation has to be very tight, well-organized and compelling. The best visual format for your company presentation, which is often in PowerPoint , is to include an image with a couple of bullet points on each slide.
To create a website quickly, we recommend Wix (affiliate link) for its ease of use and affordable pricing.
There are five main sections you should include in your company presentation. You can also use these sections on your website . Here they are in order:
1. About Us – Your Company Story
The About Us section touches on the basic information about your company without going into too much detail. Succinctly explain what you do and who you do it for.
Keep this key thought in mind for your company presentation story: if you are small and do everything under the sun, you lose credibility. Organizations prefer to hire specialists as consultants, not generalists. Use tools like ChatGPT or Jasper to craft concise words to use in your slide.
Examples of company presentation one-liner slides:
MoreBusiness.com: We help B2B SaaS companies rank on page 1 of Google so they can build sales pipeline without paying for ads
EcoGarden Solutions: We provide sustainable gardening products and services for eco-friendly gardens with minimal maintenance
PetHealth Tracker: We offer a real-time pet health monitoring app for activity levels, reminders, and alerts for optimal care
BizPrint Services: We print and deliver high-quality marketing materials, business cards, and promotional items with guaranteed 48-hour turnaround
CloudTech Solutions: We provide small businesses with cloud computing and scalable technology solutions for seamless data storage and collaboration
AdventureExplorer Tours: We offer thrilling adventure travel experiences with expert guides, off-the-beaten-path exploration, and exhilarating activities
KidTech Academy: We empower kids (6-14) with coding, robotics, and app development workshops for creativity and problem-solving
CleanEat Delivery: We provide convenient and healthy meal delivery service with freshly made, chef-curated, locally sourced, organic meals
If you have an interesting story about your company's origin, such as why or how it got started, you can share this during your presentation. Your slide deck should be limited to a few points so just add the story as you speak to your audience.
Also see How to Write an About Us Page for information about creating a story for your website and these About Us slide templates , which you can use in your company presentation.
2. What We Do – Services, Solutions, Capabilities
Describe your core capabilities as well as your uniqueness. If you sound just like every other company that provides similar products or services, your prospects will have a hard time deciding whether they should hire you or someone else.
In this section, address questions like these:
What unique capability sets you apart from your competitors?
Do you have intellectual property, proprietary tools, exclusive distribution agreements that your prospects cannot get anywhere else?
Does your team have rare skills that can help your prospect achieve success faster?
Will your infrastructure enable your prospect to save money?
3. Who We Are – Leadership, Staff
Describe your team's relevant experience in a functional, not chronological, manner. This isn't the time to list everything on your resume. Instead, highlight important items that go to the heart of why your prospect should hire you.
If you're small, that's okay. Consultants and small businesses often use outside associates and operate with a small support staff. Include this information and point out that this leads to controlled overhead expenses – a direct benefit to the client.
Another advantage if you're a small business: you can say that you will put your best and brightest on the project. If you are a principal in your company and manage the project, tell your prospect that you will personally be involved every step of the way. Unlike large companies who may have senior staff pitch a project, then assign junior staff to do it, you can make sure the project gets time and attention from very experienced staff.
4. Sample Projects – Case Studies, Clients
A listing of representative clients is important to show that you are not new to the business. Dropping some well known names will enhance your credibility, thus instilling a sense of security in the decision-maker's mind. Avoid using past clients by name unless you have worked with them under your current company name or as an independent consultant.
Use this opportunity to briefly describe successful projects that you have worked on. Try to use examples that are like the project you are pitching. It will help your prospect see you as the obvious choice.
Create case studies that you can hand out to illustrate your creativity and solutions. Take along a welcome packet for new clients  to show your audience what they will get when they sign with you. This plants a seed in your prospect's mind about customer satisfaction .
5. What People Are Saying – Testimonials
Saying you can do the work is one thing. Having clients say you did a great job is quite another. Gather testimonials from your current or past clients and share them as quotes in your company presentation.
Be sure you include strong testimonials that talk to different aspects of a client experience. You want your prospects to feel comfortable knowing that when they select you and your team for their project, they will be in trustworthy hands.
See our Customer Testimonial Template for a copy/paste way to gather great testimonials for your company presentation.
Other Sections
You may want to include other sections such as Facilities or Equipment if your infrastructure is an advantage.
If your prospect is expecting pricing information, you can include a short statement about your fee structure in a section on Cost, Rates or Pricing. If you don't need to provide specific pricing, use simple statement such as "Projects are conducted on a contractual, retainer, fixed fee, or cost-plus basis" to convey a professional approach to your fees. Avoid saying "competitive" or "negotiable." The word "competitive" is so overused that it has lost its meaning.
Company Presentation Tips
Take pains to avoid these mistakes when you produce your profile: beginning with a vague purpose, overselling or under-rating your business, and writing unclear text.
Have others review it for content, clarity, and appearance before you distribute it. Consider using a professional writer or editor to help you get your company presentation into its final form.
Get free stock images to enhance the look and feel of your presentation so it's not plain, boring text.
Remember that by focusing on the benefits you have to offer and not just the features that describe what you do, potential clients will be more inclined to select you instead of your competitor.
I need help with:
Popular topics:.
Starting My First Business
Learning SEO
Generating Sales
Writing a Marketing Plan
Writing a Business Plan
Leading My Team
Free Marketing Webinars
Affiliate Disclosure : This post may contain affiliate links, meaning we get a commission if you decide to purchase something using one of our links at no extra cost to you.
You Might Also Like...
A Guide to Evaluating The Trustworthiness of Web Hosting Providers
7 Compelling Reasons to Invest in Board Portals
Collaboration in the Digital Age: Online Tools Facilitating Teamwork
Ranking Higher for Bad-Credit Loan Keywords
Backlink Audit Workflow: How to Identify Spam Anchors
The Importance of WordPress Backups
Advanced Link-Building Techniques: Moving Beyond the Basics
Dennis Yu: Dollar a Day Strategy – MoreBusiness.com Podcast
SEO Coaching and Marketing Courses
Get More Business
Marketing tools.
SEO Keyword Tool
MSP Website Content Kit
Done-for-You Content
Graphic Design Tool
Webinar Automation
Getting Referrals
Hubspot Marketing Automation
Popular Downloads
Marketing Plan Example
MSP Marketing Plan
Life Coach Business Plan
Consulting Business Plan
How to Write a Business Plan
Clothing Line Business Plan
Restaurant Business Plan
Personal Trainer Business Plan
Trucking Business Plan
Pizza Restaurant Business Plan
Free Guides
Buyer Persona Examples
How to Increase Google Rankings
New Client Welcome Package
How to Create a Happy Customer
Brand Development Guide
Types of Corporations
SaaS Metrics Dashboard
Salary Calculator
Marketing and SEO Videos
Contributing Content
Affiliate Disclosure
10 must-have slides in a business presentation
Nearly every professional, regardless of their role and field, will create and deliver a business presentation at some point in their career. Creating a slide deck takes a lot of preparation, including planning the content, structuring the slides, designing with appealing visuals and rehearsing the pitch.
  The 10-20-30 rule is a commonly used and much-praised structure for creating a business presentation. Following the 10-20-30 rule, the presenter should not present more than 10 slides, should not exceed 20 minutes, and should not use font sizes less than 30 point. Created by Guy Kawasaki , this method is for presenters to create and deliver impactful presentation.
  For a business deck, presenting your content in 10 slides can be a challenging task, as your messaging needs to be concise yet persuasive. Here are 10 slides that you should include in your business presentation to make your slide deck a success.
1. Title slide
This is the introduction slide that gives your audience an overview of what your presentation is about. Include important details like your topic, company name, logo, date of presentation, presenter name, and designation.
What makes a good title slide?
If you're promoting a product or a service to your audience, then use a picture of it in the title slide instead of stock images. Provide crucial details that help your audience understand what they can expect from the session. Use a clean, simple font style in an appropriate size with a contrasting background to make the title easy to read.
2. Problem statement 
The objective of a business presentation should be to offer a solution to a business problem. Use this slide to define the problem for which you're proposing a solution. Make your points clear, concise, and persuasive by highlighting the impact it has on the business.
What makes a good problem statement slide?
State the business problem you've set out to solve. Involve your audience by asking them if they have a solution to the above problem and then explain how your idea can impact the business. Make your content precise and easy to read without overwhelming your audience with too much information.
Define the goals you're aiming to achieve through this presentation and list them as stages in your plan. Demonstrate your goals as points with a realistic timeline for each milestone.
What makes a good goals slide?
  Goals help set the direction for your business plan. Let's say you're launching a new product in the market and need to list the various milestones you're aiming to accomplish to get the product to your audience. Instead of showcasing them as plain bullet points, break them down into milestones with timelines. Explain them in a few words and emphasize key points with animation effects and icons to make it visually appealing.
  4. Solution or Strategy
Now that you have mentioned the problem and set goals for your business, use this slide to talk about how you're planning to achieve them. Write an overview of your strategy and plan of action and highlight the key points.
What makes a good solution slide?
Introduce your strategy with an impressive title and emphasize important content using text effects. Make your content compelling by highlighting the benefits of your strategy and presenting your solution as a narrative with eye-catching visuals and icons.
  5. Analysis
Your market, SWOT, and competitor analysis form an essential component in laying out your business plan in detail. Use supporting data in your business presentation to walk your audience through the analysis.
What makes a good analysis slide?
If your slide deck is for a product launch, then validate your strategy by including your analysis of the market, competitors, and your target customers to understand your position in the business. Instead of plain text, use charts and tables to explain your insights for these numbers. Bring your data to life with animation and text effects.
6. Financial plan and revenue    
Your business presentation should include your financial plan, revenue projections, and other relevant metrics necessary to measure the success of your business strategy.
What makes a good finance slide?
Present the budget required for different business stages like research, development, execution, marketing, etc. Use charts to break down your finances in planned stages. Add visuals and bring your charts to life with animation and effects.
Every business deck needs supporting data to validate your analysis and plan. Use charts and tables to help your audience understand your business position better.
  What makes a good data slide?
For business presentations like project management, add data to compare and analyze your plan and  identify  areas of improvement. Determine the best chart style to showcase your numbers and highlight the compelling data points, then add a line or two of your own conclusions from these numbers and explain them in detail during the presentation.
8. Timeline  
Setting up a timeline for your business is crucial as it establishes the direction, priorities, and roadmap for achieving your business goals. You can also use a timeline to showcase your company's journey by featuring various milestones, starting with its inception and highlighting some of your prominent projects to date.
What makes a good timeline slide?
Make your timeline slide less text-heavy and more visual with a timeline chart to take your audience through the various milestones. Add visuals, icons, and path animations to make your timeline visually engaging.
Introducing your team members forms an integral part of your business presentation as its sends a strong message of your company's expertise. For a small business, you can introduce all your employees, while bigger companies should introduce members crucial for the operation of your company.
What makes a good team slide?
For presentations like a project report or sales pitch, it's necessary to include your team slide as the audience needs to know the members involved in the project. Include headshots of your team members with their title/designation, along with a short description of their role in the business.
10. Q&A or End Slide
This will be the closing slide of your business presentation and must leave a lasting impact on your audience. If you want to answer audience questions, schedule your Q&A session at the end of your presentation.
What makes a good end slide?
A good end slide recaps your overall presentation and contains your company's important details. Close your presentation with a rhetorical question to make a thought-provoking impact on your audience.
  For nearly every type of business presentation or pitch, these ten slides will help you create a strong framework for your slide deck. However, don't forget that different sorts of business presentations have their styles and needs based on the objective, industry, and the target audience. To learn more about some best practices for creating a presentation template for every industry,   take a look at our previous blog post .
Leave a Reply Cancel reply
Your email address will not be published. Required fields are marked *
Related Posts
Researched by Consultants from Top-Tier Management Companies
Powerpoint Templates
Icon Bundle
Kpi Dashboard
Professional
Business Plans
Swot Analysis
Gantt Chart
Business Proposal
Marketing Plan
Project Management
Business Case
Business Model
Cyber Security
Business PPT
Digital Marketing
Digital Transformation
Human Resources
Product Management
Artificial Intelligence
Company Profile
Acknowledgement PPT
PPT Presentation
Reports Brochures
One Page Pitch
Interview PPT
All Categories
[Updated 2023] 50 Best Company Presentation Templates To Ace The Corporate Ladder
Malvika Varma
Let's face it! Company presentations are generally the same– unattractive and boring. 
Your company presentation is a crucial thing! It is often the primary stage of your business as it forms the ground for further discussions. Do it right and witness your company flourish! Do it wrong and lose a lot more — brand identity, productivity, and communication effectiveness. Whether you're introducing your company to venture investors and potential clients or discussing the business with senior management, you need to make an amazing first impression . 
A well-crafted business presentation assists you in achieving significant goals like sealing deals or developing of partnerships. It is an important tool that evaluates the components of the company, like plans, progress, and specific goals. The secret ingredient of a successful business presentation is putting your heart and soul into it. The right presentation will help you in connecting with your audience and show them the value of your ideas and vision, thereby serving the purpose. 
Now the question is how can you make an engaging company presentation? Well, this is where we come into the picture. SlideTeam provides the 50 best company presentation template complete decks that are as unique as your organization, your products, and your services and make you stand out from a dozen others. 
Company Presentation Templates To Download
Template 1: company profile ppt template.
Download this template
Our PPT Template is the perfect solution for anyone looking to create a comprehensive, engaging, and visually stunning overview of their company. With our Company Profile PPT Template, you can showcase your brand's vision and mission, introduce your founders and team members, and highlight your company's goals and objectives. Our template allows you to share your organization structure, workflow, and future projects with your audience, giving them a clear picture of where your company is headed. But that's not all - our PPT Template also provides a detailed comparison with your competitors, enabling you to showcase what sets your brand apart from others in your industry. By illustrating your company's unique selling points and core values, you can create a compelling brand narrative that resonates with your audience and sets you apart from the competition. Download now.
Template 2: Business Plan for New Company PowerPoint Presentation Slides
Looking for a professional and comprehensive way to showcase your business to investors, stakeholders, or potential clients? Look no further than our Business Plan PPT Template!
Our template is designed to give you a head start in creating a visually appealing and informative company profile presentation. It includes all the key sections you need to highlight your brand, including your value proposition, product roadmap, business model, revenue model, go-to-market strategy, and financial projections. Our template helps to create a compelling story about your business that showcases its strengths and potential while providing key insights that will help stakeholders make informed decisions. Get it now.
Template 3: Business Model For Startup Companies PPT Template
Introducing the ultimate PPT template for startup companies - the perfect tool to help you unlock the full potential of your business. Our Business Model PPT template is designed to provide you with the tools you need to effectively communicate your market insights, the company's unique selling proposition (USP), projected key financials, objectives, and strategic positioning to investors, partners, and stakeholders.
Crafted with the needs of startups in mind, this template is both creative and engaging, making it easy for you to capture your audience's attention and communicate your message effectively. 
With this template, you'll be able to showcase your startup's unique value proposition and market insights in a visually stunning way. You'll also be able to present your financial projections and key objectives with clarity and precision, helping you to secure the investment and support you need to take your business to the next level. Download now.
Template 4: Company Profiling PPT Template 
Download Company Profiling PowerPoint Presentation Slides
As you know, a company presentation is your best tool to narrate your corporate story to the audience with clarity and simplicity. Highlight the strengths of your enterprise in an interesting manner using our complete PPT deck. The professional summary of your business and its activities presented here will keep the audience engaged and make it informative for the investors as well as management staff. Our company presentation templates are pre-designed to help you out with numerous ideas on how to illustrate the various facets of your organization. Reach new heights with this captivating enterprise PPT deck. This company profiling PowerPoint template can be employed for company introduction to new employees, pitch capitalists, and whatnot. 
Template 5: Company Summary Of Business Plan
Break the stereotype of monotonous company presentations. Save yourself from the yawn-inducing corporate presentation by downloading our attention-grabbing company profiling PowerPoint template. All crucial elements to making an awesome business presentation are incorporated in this PowerPoint layout. Acquisition strategy plan, core values, company objectives, organizational structure, and other aspects which amplify the success of the firm can be presented effectively. It is also useful for project managers, HR, and other management meetings conducted to track corporate milestones.
Template 6: Corporate Profile PPT Slides
Do wnload Corporate Profile PowerPoint Presentation Slides
Deliver an in-depth blueprint of the organizational structure and leave a mark on the audience's mind by utilizing this corporate profiling PowerPoint theme. The complete deck is specially designed by keeping in mind all the essential elements that can help you reach the top of the corporate success ladder. Build a strong connection with your audience by using this corporate profile PPT presentation describing the agenda, vision and mission of the enterprise, achievements accomplished and lots more. Utilize our professionally designed company presentation template in meetings, where core values, solutions, and business strategies are to be discussed with co-workers and management staff.
Template 7: Vision, Mission, Goals, And Objectives
Download Vision Mission Goals And Objectives PowerPoint Presentation Slides
Is achieving targets on your mind? Look no further. Incorporate our company goals PowerPoint template to state and achieve corporate goals within the deadline. Our business goals PPT presentation is interactive enough to communicate your ideas effectively. This attractively designed PowerPoint complete deck can also be used to foster teamwork and describe what your institution wants to accomplish.  
Template 8: Business Pitch
Download Business Pitch PowerPoint Presentation Slides
Weave an interesting story for your startup fundraising meeting by introducing this awe-inspiring business pitch PowerPoint template. If you are new to the corporate world and looking to start your own business, then this content ready company PowerPoint template can be of great use to you. The format, design, and selection of slides make it very easy to explain the financial projections and growth strategy to the stakeholders. Impress your prospects by giving a framework to your business ideas and climb up the corporate ladder.
Template 9: Business Achievements PPT Template
Download Business Achievements PowerPoint Presentation Slides
Business accomplishments give us the much-needed confidence to excel further. The company presentation template consisting of business achievements can be employed to illustrate the key milestones achieved. Project managers can present our pre-designed corporate achievements PowerPoint complete deck to acknowledge the teammates and encourage them to continue showing dedication. You can list the company achievements with the use of the timeline so that the viewer gets a clear idea about the progression of your firm. 
Template 10: Business Campaigning
Download Business Campaigning PowerPoint Presentation Slides
Campaigning is so important in the success of any business. Poor business campaigning can easily fade your presence from the market. Discuss the brand promotion channels and tools with the marketing team to outshine your competitors. Advertising techniques to boost the business in the online and offline market can be formulated by taking the aid of this company presentation template complete deck. This editable company promotion PowerPoint template can be incorporated to analyze the marketing strategies to target different sets of audiences.
Template 11: Business Operational Excellence Strategy
Download Business Operational Excellence Strategy PowerPoint Presentation Slides
Business Operational PowerPoint template can be used to showcase the operational excellence for your company to create value for customers and stakeholders. Discuss the agenda, operational and customer-related challenges with the senior managers and figure out ways to mitigate sales and marketing challenges using this PowerPoint template. The eye-appealing graphics with a thoroughly researched content of the company presentation template complete deck makes it a perfect fit for presenting the company stats across the table.
Template 12: Business Overview Module
Download Business Overview Module PowerPoint Presentation Slides
Portray all your success stories with our company overview module PowerPoint presentation. Amplify your core values, milestones achieved, and services offered to ace your business presentation. This business presentation template can be tailored to suit your needs as it is completely editable. You can also bring the spotlight on the press and media coverage of your institution with the assistance of our company presentation PowerPoint layout. Present this complete deck in front of your clients and get an overwhelming response converting it into a deal done right.
Template 13: Product Design And Development
Download Product Design And Development PowerPoint Presentation Slides
If you are looking for a powerful company presentation template to launch a new product in the market, you are just a few clicks away. This product design and development PowerPoint template can make your brand stand ahead of others. Comprising PowerPoint slides such as product idea screening, product lifecycle, market analysis, development plans, cost analysis, product roadmap, and other significant features, you can download our company presentation complete deck to ace your next product launch meeting.
Template 14: Market Growth Rate
Download Market Growth Rate PowerPoint Presentation Slides
Demonstrate the market driving factors with the help of this professionally designed market growth rate PowerPoint layout. Discuss the market analysis with the marketing team to identify trends and driving forces to forecast the sales and mitigate risks beforehand. Incorporate our pre-designed company PowerPoint layout to boost the dominance in the field. Download this corporate presentation template to communicate right and build your brand image. Just add your organization's statistics and you are ready to go.
Template 15: Business Strategy Innovation
Download Business Strategy Innovation PowerPoint Presentation Slides
Introducing business ideas is no piece of cake. The repercussions of a single decision can last for a long time. Download our innovative business strategy PowerPoint complete deck to bring business innovation in an organization for a positive impact on the overall growth of the company. This PPT deck includes topics such as business model innovation framework approaches to the business model, the strategy of innovation, business model innovation segments, and many more. Download this impactful company presentation template to give an engaging presentation to your seniors and colleagues to have a competitive edge over others.
Template 16: Quarterly Business Review
Download Quarterly Business Review PowerPoint Presentation Slides
Use this template to talk about quarterly highlights, financial summary, key developments, balance sheet, cash flow statement, key financial ratios, and other important information of your organization. Beneficial in showcasing the company results and suggesting methodologies for improvement, this company presentation template can be of great advantage to you. No need to prepare the presentation from scratch as this PowerPoint template is well-researched and the designing aspect makes it very appealing.
Template 17: Start-Up Business Proposal
Download Start-Up Business Proposal PowerPoint Presentation Slides
Startups have to toil day and night to get an opportunity to make their business ideas come to reality and we want to give our best shot. Download our professionally designed startup company presentation template to showcase the executive summary, market insights, services offered, objectives, key financial highlights and other crucial elements to convince your investors. This start-up company PowerPoint complete deck is a must for your institution as it covers all the aspects of a great business pitch. 
Template 18: Organizational Success
Download Organizational Success PowerPoint Presentation Slides
Organizational success is dependent on numerous factors and each element plays a crucial role in determining the corporate triumph. Discuss the tools and techniques your company adopts to increase the efficiency by employing our professionally designed company presentation template. This enterprise success PowerPoint complete deck can be used to illustrate the steps to achieve organizational effectiveness along with the dimension. Human resource management of your firm can utilize this business PPT theme. 
Template 19: Detailed Business Plan For Company
Download Detailed Business Plan For Company PowerPoint Presentation Slides
Have a business plan but clueless about how to prepare an attention-grabbing PowerPoint presentation? The solution is just a click away. Download our business plan PowerPoint theme and illustrate the solutions to the problems and a detailed growth plan suggested to a strong market game. Including the contents, growth strategies, financial projections, details of shareholders, this company presentation template can also be employed by start-up companies to c onvince the investors to invest in your business idea. The shareholding pattern and milestones achieved can be highlighted in an effective manner using this visually attractive business plan PPT theme.
Template 20: Investor Relations Profile
Download Investor Relations Profile PowerPoint Presentation Slides
Investors' relations are directly linked to the brand image. Employ this company presentation template to discuss the business canvas model, investment deals and monthly run revenue to showcase the company achievements. This investor relations PowerPoint complete deck is particularly helpful in building trust with potential clients. Download this customer relations PPT template and convince your clients to work with you.  
Template 21: Business Performance Analysis And Planning
Download Business Performance Analysis And Planning PowerPoint Presentation Slides
Analyze the financial situation of your business by incorporating this detailed company presentation template. This business performance analysis and planning PowerPoint template can be utilized as the quarterly results of the company as it includes topics such as financial summary, key developments, balance sheets, cash flow statements, etc. to give a clear view of the financial status of the firm. Employ this corporate performance PPT theme to ace your business.
Template 22: Financial Assets Management KPI And Dashboard
Incorporate this company dashboard PPT template in providing an overview of setting up KPI reports for your enterprise. Summarize your business stats and figures in an impressive report of business performance to help your organization navigate the best strategy to adopt for boosting the sales and profitability of the company. This pre-designed company presentation template can be downloaded by finance analysts to present the company results in an interesting way to the viewers. 
Template 23: Brand Resonance
Download Brand Resonance PowerPoint Presentation Slides
Brand image plays a crucial role in determining the success of the company, which can be effectively communicated by introducing this company presentation template. The concepts like the brand loyalty pyramid, measurement framework, and brand measurement can be discussed with your employees with the assistance of our brand resonance PowerPoint template.
Template 24: Business Operational Challenges
Download Business Operational Challenges PowerPoint Presentation Slides
The general operational challenges faced by business houses can be described using this company presentation template. Illustrate ground realities of the market scenario to employees to showcase the company strategy, objectives, changes in the competitive market scenario, sources of revenue, etc., with this business challenges PowerPoint presentation. Download this PPT theme to highlight the key performance indicators of your firm and strategize the methodology to be followed accordingly. 
Template 25: Company Marketing Analysis Report
Download Company Marketing Analysis Report PowerPoint Presentation Slides
Marketing analysis of an enterprise is of great importance as it is related to the generation of revenue of the company. Download this company presentation template to showcase the key highlights of your business. Discuss the factors that are responsible for company sales and marketing by utilizing our content-ready PowerPoint presentation.
Template 26: Entering a New Market
Enter the market with a bang by incorporating this powerful company presentation template. Identify your target market, have thorough market research, and a good marketing strategy like market assessment, business case development, implementation roadmap, etc., can be illustrated by employing this entering a new market PowerPoint theme. Download this business PPT complete deck and impress your prospects.
Template 27: Business Model Design
Download Business Model Design PowerPoint Presentation Slides
Present your business model like a pro by introducing our professionally designed company presentation template. Essential for your business meetings, this business model PowerPoint complete deck covers all the topics which give an edge over other presenters. Discuss the enterprise roadmap, agenda, objectives, and goals by downloading this visually attractive PPT layout and excel at the business conferences. 
Template 28: HR Induction
Download Hr Induction PowerPoint Presentation Slides
Have an impressive HR induction by downloading this very handy company presentation template. Giving a detailed overview of the company success road map, milestones achieved, corporate hierarchy, office timings, office dress code, attendance portal, leaves and holidays, rules and regulations, this company briefing PowerPoint template is a must to give the information to the new employee in an interesting and engaging manner.
Template 29: Recruiting Process PPT Template
The HR department can download this company presentation template to illustrate the recruitment process and portray the transparency of the organization. Elaborate your hiring process using this eye-catching PowerPoint complete deck to strengthen the human resource process of your institution. Showcase the recruitment agencies, hiring process, job description, recruitment funnel, the budget allocated and other such important components of the employee recruitment process by downloading this company hiring PPT theme.
Template 30: New Product Analysis
Product analysis before launching in the market is a significant step as the company's reputation is at stake. Download this visually appealing company presentation template to highlight the key features to be analyzed before introducing a new product in the market. Illustrate the different parameters that must be met for performing well by utilizing this new product evaluation PowerPoint complete deck. 
Template 31: Business Operations Cycles
Download Business Operation Cycles PowerPoint Presentation Slides
Business operation cycles are essential for the smooth functioning of your organization. Incorporate this company presentation template for displaying the executive summary, company mission statement, strategy to excel in business, potential sources of revenue and other chief areas. Download this awe-inspiring business management PowerPoint complete deck to illustrate the key performance indicators, financial and operational summary of your organization. The designing element used here is definitely attention-grabbing.
Template 32: Business Strategic Planning Template For Organizations
Business Strategic Planning Template For Organizations PowerPoint Presentation Slides
Accomplish the company goals by stating your mission and vision and lay a firm ground for your organization. Employ this business strategic planning PowerPoint complete deck highlight the purpose of the business plan, the SWOT analysis, brand promotion road map, company sales & performance dashboard effectively. Download this company presentation template to give an impressive enterprise overview for the board meetings.
Template 33: Project Management Concepts And Principles
Download Project Management Concepts And Principles PowerPoint Presentation Slides
Gain a competitive edge in your company by illustrating this company presentation template to your employees. Precisely highlight your project management principles and concepts by downloading our content ready business PPT complete deck. Brief your colleagues about project management principles and techniques for precise control and monitoring.  Download this business management PowerPoint template about the constraints or roadblocks of your organization. 
Template 34: Company Overview
Give an impressive company overview by employing our aesthetically appealing organization profiling PowerPoint complete deck. This visually communicating company presentation template is perfect for highlighting your enterprise's strength in front of your investors and potential clients. You can also demonstrate the risk management report to discuss ways of mitigating risks in business.  
Template 35: Customer Acquisition Business Process
Download Customer Acquisition Business Process PowerPoint Presentation Slides
Showcase the procedure your company adopts for gaining new clients by stating the agenda, customer acquisition management, framework and target prospects in a very compelling manner. Download this pictorial company presentation template to highlight the efforts as well as tips required to turn a prospect into a loyal customer and hence boost the sales of your organization. 
Template 36: Introduce Company Profile
Download Introduce Company Profile PowerPoint Presentation Slides
Introduce your enterprise for pitching investors and leave a powerful impression by employing our company presentation template. Starting with the agenda of your company you can easily strike the viewers' attention as this pre-designed organization briefing PowerPoint complete deck covers all the essential elements of portraying the strengths of your company. You can showcase the founders and your talented workforce in an effective way by introducing this organizational introduction PPT theme. 
Template 37: Business Profile PPT Template
Download Business Profile PowerPoint Presentation Slides
Incorporate our multi-purpose company presentation template to highlight the business framework and the core values of your organization. The color palette used in this business PPT complete deck caters to a wide variety of topics such as milestones achieved, company roadmap, organization structure, services offered and lots more which portray the efficiency and dominance of the company in the market. 
Template 38: Business Change Principles
Download Business Change Principles PowerPoint Presentation Slides
Engage your audience with this beautifully designed company presentation template and explain the concept and principles of business change management effectively. Discover opportunities and educate your employees to learn new skills with the help of this business transformation PowerPoint complete deck. Take the help of this content ready organization change strategy PPT layout to formulate a plan and provide effective training to your workforce. Download our professionally designed business PowerPoint template to manage time and prioritize different tasks in your enterprise.
Template 39: Strategic and Operational Planning
Download S And Op PowerPoint Presentation Slides
Document and establish the right direction of your business by incorporating this company presentation template. The progress of your business is directly linked to the strategic and operational plans you adopt to manage resources, risk and return across an organization and stand ahead of your competitors. Articulate the decisions made about the organization's goals by downloading this business plan PPT complete deck.
Template 40: Marketing And Sales Strategy Business Plan
Download Marketing And Sales Strategy Business Plan PowerPoint Presentation Slides
A strong marketing and sales strategy can make or break a company. Highlight the significance of a powerful business plan by downloading this company presentation template. Illustrate the challenges and the solutions proposed to meet the target with the assistance of this content ready business PPT complete deck. Explain the value proposition and acknowledge your team by downloading our marketing and sales strategy PowerPoint templates.
Template 41: Company Introduction
Download About Our Company Introduction Profile PowerPoint Presentation With Slides
Cover the important aspects of your enterprise with this aesthetically appealing company presentation template. Introduce the founding members of your company and their vision and mission to showcase the core values and principles in a convincing manner. You can also showcase future projects and workflow in your organization. Influence your prospects by illustrating customer testimonials using this pre-designed business PPT theme.
Template 42: Business Continuity Audit Program And Checklist
Download Business Continuity Audit Program And Checklist PowerPoint Presentation Slides
Auditing is a very crucial component for your firm as it helps your business in keeping track and achieving goals. Highlight the types and procedures of your enterprise audits by downloading this company presentation template. Finance analysts can download this business continuity PowerPoint complete deck to illustrate the audit conversion system and portray the company efficiency. 
Template 43: Company Representation
Download Company Representation PowerPoint Presentation Slides
Introduce your organization with a bang by downloading this graphically convincing company presentation template. Amplify your business goals, objectives, ideas and core values by employing our striking business profiling PowerPoint theme. Showcase your services and upcoming projects to establish a solid foundation for your enterprise in front of your stakeholders. 
Template 44: Performance Rating
Download Performance Rating PowerPoint Presentation Slides
Discuss the performance rating system of your institution by giving an overview of the employee assessment criteria by utilizing this beneficial company presentation template. Discuss the evaluative methodologies and tools to access the overall work quality of your employees by downloading this human resource management PowerPoint complete deck. Workforce assessment on various parameters can be described with this graphically appealing HR PowerPoint template.
Template 45: Project Quality Management Plan Checklist
Download Project Quality Management Plan Checklist PowerPoint Presentation Slides
Ensure getting your quality assurance and quality control methods conveyed effectively by employing this quality management PowerPoint template. You can discuss the evolution of quality management in your organization and its key principles by employing this company presentation template and suggest solutions to the problems faced in the process. 
Template 46: Financial Proposal PPT Template
Download Financial Proposal PowerPoint Presentation Slides
Finance experts of your organization can make optimum use of this pre-designed company presentation template to highlight the financial plan proposed to pitch in investors. The business highlights and financial summary can be discussed with your fellow teammates by using this visually appealing company budget PowerPoint presentation.
Template 47: Elevator Pitch PPT Presentation
Download Elevator Pitch PowerPoint Presentation Slides
Leave no stone unturned by incorporating this professionally designed company presentation template to influence your potential investors. Present this awesome company presentation to impress your audience like never before. This content ready elevator pitch PowerPoint complete deck highlights all the essential elements to give you an edge over others. 
Template 48: New Employee Briefing
Download New Employee Briefing PowerPoint Presentation Slides
Employ this HR induction company presentation template to give a briefing to your new employees. Mention the attendance portal, leaves and holidays, office timings, dress code, rules and regulations, employee compensation and benefits and salary package with the assistance of our company presentation template.
Template 49: Feedback and Performance Management PPT Template
Download Feedback And Performance Management PowerPoint Presentation Slides
Feedback is so important to ensure continuous performance improvement in your business which can be highlighted using this company presentation template. Employee assessment and different criteria on which the capabilities are judged can be displayed to make the colleagues aware of the transparent rating system of your organization. Download this employee evaluation PowerPoint complete deck and portray the work efficiency of your enterprise.
Template 50: Company Results PPT Slides
Download Company Results PowerPoint Presentation Slides
Get the spotlight on you by incorporating this attractively designed company presentation template. Show your institutions overwhelming performance in our pre-designed and get applauded by your seniors. 
A company presentation is not just a deck of well-designed slides! They reflect the future of the company. Catering to a variety of purposes, we have curated the best company presentation templates to ease the work for you. If you're already feeling pumped about your next corporate meeting, then definitely download these 50 Best Company Presentation Templates and double your impact!
FAQs on Company Presentation
What is a company presentation.
A company presentation is a document or a set of materials, usually in a slide deck format, that provides an overview of a company, its products or services, and its overall performance. The purpose of a company presentation is to communicate the company's key information, objectives, strengths, and achievements to different stakeholders, including investors, customers, employees, partners, and the general public.
A typical company presentation may include information on the company's history, mission statement, leadership team, organizational structure, financial performance, and competitive landscape. It may also showcase the company's products or services, including their features, benefits, and value propositions, as well as highlight the company's achievements, awards, and recognition.
How to make an effective company presentation?
To make an effective company presentation, you should keep in mind the following tips:
Know your audience: Before creating your presentation, it's important to know your audience and their needs. This will help you tailor your content and messaging to their interests and priorities.
Define your key message: Identify the core message or takeaway that you want your audience to remember after your presentation. This will help you structure your content and focus on the most important points.
Keep it concise: Avoid overwhelming your audience with too much information. Stick to the key message and present information in a clear, concise, and easy-to-digest manner.
Use visuals: Visual aids such as images, infographics, and graphs can help to break up text and make information easier to understand. They also make your presentation more engaging and memorable.
Tell a story: Use storytelling techniques to create a narrative that connects with your audience and conveys your message in a compelling way. Use real-world examples and anecdotes to make your content relatable and memorable.
Practice and rehearse: Practice your presentation several times to ensure that you are comfortable with the material and can deliver it with confidence. Rehearse in front of friends or colleagues to get feedback and improve your delivery.
Be authentic and enthusiastic: Show your passion for your company and your message. Be authentic and enthusiastic, and use your own voice to connect with your audience and build rapport.
How to describe a company in a PPT presentation?
When describing a company in a PPT presentation, it's important to keep the following points in mind:
Company overview: Start with an overview of the company, including its history, mission statement, core values, and leadership team.
Products or services: Describe the products or services offered by the company, including their features, benefits, and value proposition. Use visuals and examples to illustrate how the company's products or services solve problems or meet customer needs.
Market and competition: Provide an overview of the market in which the company operates, including size, growth, and trends. Discuss the competitive landscape and how the company differentiates itself from its competitors.
Financial performance: Share the company's financial performance, including revenue, profit margins, and key metrics. Use charts and graphs to help visualize the data and provide context for your audience.
Future plans: Discuss the company's plans for growth and expansion, including new products or services, new markets, and strategic partnerships. Highlight any achievements, milestones, or awards that the company has earned.
Conclusion: End the presentation with a clear and compelling call to action, such as investing in the company or purchasing its products or services.
Related posts:
[Updated 2023] Top 10 Business Strategy Google Slides Templates To Empower Your Team
[Updated 2023] Top 10 Sales and Marketing Google Slides Templates for Sure Shot Business Success
Top 20 One Page Strategy Business Plans, Business Proposals, Executive Summaries and Pitches For Entrepreneurs
Top 10 Pitch Deck Google Slides Templates For Successful Fundraising
Liked this blog? Please recommend us
Top 50 July 4 PowerPoint Templates to Wish America Happy Birthday!
How to Use Harvey Balls in PowerPoint [Harvey Balls Templates Included]
11 Brainstorming Techniques To Generate Unique Ideas For Businesses [Brainstorming Templates Included]
Top 25 Business Plan Free PowerPoint Templates to Help your Business Grow!
[Updated 2023] Top 50 Cool Winter PowerPoint Templates to Bring on the Holiday Cheer
40 Best Lego Blocks PowerPoint Templates To Unlock Your Hidden Talent
2 thoughts on "[updated 2023] 50 best company presentation templates to ace the corporate ladder".
This form is protected by reCAPTCHA - the Google Privacy Policy and Terms of Service apply.
Digital revolution powerpoint presentation slides
Sales funnel results presentation layouts
3d men joinning circular jigsaw puzzles ppt graphics icons
Business Strategic Planning Template For Organizations Powerpoint Presentation Slides
Future plan powerpoint template slide
Project Management Team Powerpoint Presentation Slides
Brand marketing powerpoint presentation slides
Launching a new service powerpoint presentation with slides go to market
Agenda powerpoint slide show
Four key metrics donut chart with percentage
Engineering and technology ppt inspiration example introduction continuous process improvement
Meet our team representing in circular format
Next slide, please: A brief history of the corporate presentation
From million-dollar slide shows to Steve Jobs's introduction of the iPhone, a bit of show business never hurt plain old business.
Claire L. Evans archive page
It's 1948, and it isn't a great year for alcohol. Prohibition has come and gone, and booze is a buyer's market again. That much is obvious from Seagram's annual sales meeting, an 11-city traveling extravaganza designed to drum up nationwide sales. No expense has been spared: there's the two-hour, professionally acted stage play about the life of a whiskey salesman. The beautiful anteroom displays. The free drinks. But the real highlight is a slideshow. 
To call the Seagram-Vitarama a slideshow is an understatement. It's an experience : hundreds of images of the distilling process, set to music, projected across five 40-by-15-foot screens. "It is composed of pictures, yet it is not static," comments one awed witness. "The overall effect is one of magnificence." Inspired by an Eastman Kodak exhibit at the 1939 World's Fair, the Seagram-Vitarama is the first A/V presentation ever given at a sales meeting. It will not be the last. 
In the late '40s, multimedia was a novelty. But by the early 1960s, nearly all companies with national advertising budgets were using multimedia gear—16-­millimeter projectors, slide projectors, filmstrip projectors, and overheads—in their sales training and promotions, for public relations, and as part of their internal communications. Many employed in-house A/V directors, who were as much showmen as technicians. Because although presentations have a reputation for being tedious, when they're done right, they're theater. The business world knows it. Ever since the days of the Vitarama, companies have leveraged the dramatic power of images to sell their ideas to the world. 
Next slide, please
The sound of slides clacking is deafening. But it doesn't matter, because the champagne is flowing and the sound system is loud. The 2,500 dignitaries and VIPs in the audience are being treated to an hourlong operetta about luxury travel. Onstage, a massive chorus, the entire Stockholm Philharmonic, and some 50 dancers and performers are fluttering around a pair of Saab 9000CD sedans. Stunning images of chrome details, leather seats, and open roads dance across a 26-foot-tall screen behind them. The images here are all analog: nearly 7,000 film slides, carefully arranged in a grid of 80 Kodak projectors. It's 1987, and slideshows will never get any bigger than this. 
Before PowerPoint, and long before digital projectors, 35-millimeter film slides were king. Bigger, clearer, and less expensive to produce than 16-millimeter film, and more colorful and higher-resolution than video, slides were the only medium for the kinds of high-impact presentations given by CEOs and top brass at annual meetings for stockholders, employees, and salespeople. Known in the business as "multi-image" shows, these presentations required a small army of producers, photographers, and live production staff to pull off. First the entire show had to be written, storyboarded, and scored. Images were selected from a library, photo shoots arranged, animations and special effects produced. A white-gloved technician developed, mounted, and dusted each slide before dropping it into the carousel. Thousands of cues were programmed into the show control computers—then tested, and tested again. Because computers crash. Projector bulbs burn out. Slide carousels get jammed. 
"When you think of all the machines, all the connections, all the different bits and pieces, it's a miracle these things even played at all," says Douglas Mesney , a commercial photographer turned slide producer whose company Incredible Slidemakers produced the 80-­projector Saab launch. Now 77 years old, he's made a retirement project of archiving the now-forgotten slide business. Mesney pivoted to producing multi-image shows in the early 1970s after an encounter with an impressive six-screen setup at the 1972 New York Boat Show. He'd been shooting spreads for Penthouse and car magazines, occasionally lugging a Kodak projector or two to pitch meetings for advertising clients. "All of a sudden you look at six projectors and what they can do, and you go, Holy mackerel ," he remembers. 
"All of a sudden you look at six projectors and what they can do, and you go, Holy mackerel. " Douglas Mesney, a commercial photographer
Six was just the beginning. At the height of Mesney's career, his shows called for up to 100 projectors braced together in vertiginous rigs. With multiple projectors pointing toward the same screen, he could create seamless panoramas and complex animations, all synchronized to tape. Although the risk of disaster was always high, when he pulled it off, his shows dazzled audiences and made corporate suits look like giants. Mesney's clients included IKEA, Saab, Kodak, and Shell; he commanded production budgets in the hundreds of thousands of dollars. And in the multi-image business, that was cheap. Larger A/V staging companies, like Carabiner International, charged up to $1 million to orchestrate corporate meetings, jazzing up their generic multi-­image "modules" with laser light shows, dance numbers, and top-shelf talent like Hall & Oates, the Allman Brothers, and even the Muppets. "I liken it to being a rock-and-roll roadie, but I never went on the tour bus," explains Susan Buckland, a slide programmer who spent most of her career behind the screen at Carabiner. 
From its incorporation in 1976 to the mid-1980s, the Association for Multi-Image, a trade association for slide producers, grew from zero to 5,000 members. At its peak, the multi-image business employed some 20,000 people and supported several festivals and four different trade magazines. One of these ran a glowing profile of Douglas Mesney in 1980; when asked for his prognosis about the future of slides, he replied: "We could make a fortune or be out of business in a year." He wasn't wrong. 
At the time, some 30 manufacturers of electronic slide programming devices vied for the multi-image dollar. To meet the demand for high-impact shows, the tech had quickly evolved from manual dissolve units and basic control systems—programmed with punched paper tape, and then audiocassette—to dedicated slide control computers like the AVL Eagle I, which could drive 30 projectors at once. The Eagle, which came with word processing and accounting software, was a true business computer—so much so that when Eagle spun off from its parent company, Audio Visual Labs, in the early '80s, it became one of Silicon Valley's most promising computer startups. Eagle went public in the summer of 1983, making its president, Dennis R. Barnhart, an instant multimillionaire. Only hours after the IPO, Barnhart plowed his brand-new cherry-red Ferrari through a guardrail near the company's headquarters in Los Gatos, California, flipped through the air, crashed into a ravine, and died. The slide business would soon follow.
Douglas Mesney likes to say that if you never saw a slide show, you never will. The machines to show them have been landfilled. The slides themselves were rarely archived. Occasionally a few boxes containing an old multi-image "module" will turn up in a storage unit, and occasionally those will even be undamaged. But with the exception of a few hobbyists and retired programmers, the know-how to restore and stage multi-image slideshows is scarce. This leaves former slide professionals at a loss. "All of us are devastated that none of the modules survived," says Susan Buckland. "Basically, I don't have a past, because I can't explain it." The entire industry, which existed at an unexpected intersection of analog and high-tech artistry, came and went in a little over 20 years.
Presentations, like porn, have always pushed technology forward; in the multi-­image days, producers like Mesney took the slide as far as it could go, using every tool available to create bigger and bolder shows. Mesney claims to have set the land speed record for a slide presentation with a three-minute-long, 2,400-slide show, but even at top speed, slides are static. The computers that controlled them, however, were not—and it wasn't long before they evolved beyond the medium. "Back then, computers were fast enough to tell slides what to do, but they weren't fast enough to actually create the images themselves," explains Steven Michelsen, a former slide programmer who restores and runs old multi-image shows in his Delaware garage. "It took another 10 or 15 years until you could run a show straight from your computer and have the images look worth looking at," he adds. 
The last slide projector ever made rolled off the assembly line in 2004. The inside of its casing was signed by factory workers and Kodak brass before the unit was handed over to the Smithsonian. Toasts and speeches were made, but by then they were eulogies, because PowerPoint had already eaten the world.
Inventing PowerPoint
The Hotel Regina is an Art Nouveau marvel overlooking the Tuileries Garden and the Louvre. But on this day in 1992, its Old World meeting rooms have been retrofitted with advanced video technology. The color projector in the back of the room, the size of a small refrigerator, cost upwards of $100,000 and takes an hour to warm up. A team of technicians has spent the better part of the last 48 hours troubleshooting to ensure that nothing goes wrong when Robert Gaskins, the fastidious architect of a new piece of software called PowerPoint 3.0, walks into the room. He'll be carrying a laptop under his arm, and when he reaches the lectern, he'll pick up a video cable, plug it in, and demonstrate for the first time something that has been reproduced billions of times since: a video presentation, running straight off a laptop, in full color. The audience, full of Microsoft associates from across Europe, will go bananas. They "grasped immediately what the future would bring for their own presentations," Gaskins later wrote. "There was deafening applause." 
It's hard now to imagine deafening applause for a PowerPoint—almost as hard as it is to imagine anyone but Bob Gaskins standing at this particular lectern, ushering in the PowerPoint age. Presentations are in his blood. His father ran an A/V company, and family vacations usually included a trip to the Eastman Kodak factory. During his graduate studies at Berkeley, he tinkered with machine translation and coded computer-generated haiku. He ran away to Silicon Valley to find his fortune before he could finalize his triple PhDs in English, linguistics, and computer science, but he brought with him a deep appreciation for the humanities, staffing his team with like-minded polyglots, including a disproportionately large number of women in technical roles. Because Gaskins ensured that his offices—the only Microsoft division, at the time, in Silicon Valley—housed a museum-worthy art collection, PowerPoint's architects spent their days among works by Frank Stella, Richard Diebenkorn, and Robert Motherwell. 
Gaskins's 1984 proposal for PowerPoint, written when he was VP of product development at the Sunnyvale startup Forethought, is a manifesto in bullet points. It outlines the slumbering, largely-hidden-from-view $3.5 billion business presentation industry and its enormous need for clear, effective slides. It lists technology trends—laser printers, color graphics, "WYSIWYG" software—that point to an emerging desktop presentation market. It's a stunningly prescient document throughout. But Gaskins italicized only one bullet point in the whole thing.
User benefits:
Allows the content-originator to control the presentation.
This is Gaskins's key insight: a presentation's message is inevitably diluted when its production is outsourced. In the early '80s, he meant that literally. The first two versions of PowerPoint were created to help executives produce their own overhead transparencies and 35-millimeter slides, rather than passing the job off to their secretaries or a slide bureau. 
PowerPoint had become shorthand for the stupefying indignities of office life—a 2001 New Yorker profile summed it up as "software you impose on other people."
"In the '50s, '60s, and early '70s, information flow was narrow," explains Sandy Beetner, former CEO of Genigraphics, a business graphics company that was, for several decades, the industry leader in professional presentation graphics. Their clients were primarily Fortune 500 companies and government agencies with the resources to produce full-color charts, 3D renderings, and other high-tech imagery on those slides. Everyone else was limited to acetate overheads and— gasp —words. "Prior to PowerPoint," she says, "people communicated in black and white. There was just so much missed in that environment."
Beetner oversaw Genigraphics' national network service bureaus, which were located in every major American city and staffed 24 hours a day, 365 days a year, by graphic artists prepared to produce, polish, and print slides. The company was so vital to presentational culture that Gaskins negotiated a deal to make Genigraphics the official 35-millimeter slide production service for PowerPoint 2.0; a "Send to Genigraphics" menu command was baked into PowerPoint until 2003. This, incidentally, was around the same time that Kodak stopped making Carousel projectors. 
Gaskins retired from Microsoft in 1993 and moved to London. He returned to the States 10 years later, an expert in antique concertinas. By then, PowerPoint had become shorthand for the stupefying indignities of office life. A 2001 New Yorker profile summed it up as "software you impose on other people"; the statistician Edward Tufte, known for his elegant monographs about data visualization, famously blamed the 2003 Columbia shuttle disaster on a bum PowerPoint slide. Gaskins's software, Tufte argued, produces relentlessly sequential, hierarchical, sloganeering, over-managed presentations, rife with "chartjunk" and devoid of real meaning. No wonder software corporations loved it.
Robert Gaskins is remarkably sympathetic to these views, not least because Tufte's mother, the Renaissance scholar Virginia Tufte, mentored him as an undergraduate in the English department at the University of Southern California. In a reflection written on the 20th anniversary of PowerPoint's introduction, Gaskins acknowledged that "more business and academic talks look like poor attempts at sales presentations," a phenomenon he blamed as much on a "mass failure of taste" as on PowerPoint itself, a tool so powerful it collapsed all preexisting contexts. Not everything's a sales presentation; nor should it be. But PowerPoint made it easy to add multimedia effects to informal talks, empowering lay users to make stylistic decisions once reserved for professionals. To paraphrase an early PowerPoint print ad: now the person making the presentation made the presentation. That those people weren't always particularly good at it didn't seem to matter.
What did matter was that presentations were no longer reserved for year-end meetings and big ideas worthy of the effort and expense required to prepare color slides. "The scalability of information and audience that PowerPoint brought to the party was pretty incredible," says Beetner, whose company has survived as a ghost in the machine, in the form of PowerPoint templates and clip art. "It opened up the channels dramatically, and pretty quickly. There isn't a student alive, at any level, that hasn't seen a PowerPoint presentation." Indeed, PowerPoint is used in religious sermons; by schoolchildren preparing book reports; at funerals and weddings. In 2010, Microsoft announced that PowerPoint was installed on more than a billion computers worldwide. 
At this scale, PowerPoint's impact on how the world communicates has been immeasurable. But here's something that can be measured: Microsoft grew tenfold in the years that Robert Gaskins ran its Graphics Business Unit, and it has grown 15-fold since. Technology corporations, like PowerPoint itself, have exploded. And so have their big presentations, which are no longer held behind closed doors. They're now semi-public affairs, watched—willingly and enthusiastically—by consumers around the world. Nobody has to worry about slide carousels getting jammed anymore, but things still go haywire all the time, from buggy tech demos to poorly-thought-out theatrics. 
When everything works, a good presentation can drive markets and forge reputations. Of course, this particular evolution wasn't exclusively Microsoft's doing. Because perhaps the most memorable corporate presentation of all time—Steve Jobs's announcement of the iPhone at Macworld 2007— wasn't a PowerPoint at all. It was a Keynote . 
New approaches to the tech talent shortage
Early-career programs enable tech companies to invest in the future workforce via upskilling and education.
MIT Technology Review Insights archive page
Data analytics reveal real business value
Sophisticated analytics tools mine insights from data, optimizing operational processes across the enterprise.
How a tiny Pacific Island became the global capital of cybercrime
Despite having a population of just 1,400, until recently, Tokelau's .tk domain had more users than any other country. Here's why.
Europe's best-selling Chinese EV maker has a surprising name
Even an upper hand in EV technologies doesn't mean Chinese-made cars will succeed in Europe. But one brand has...
Stay connected
Get the latest updates from mit technology review.
Discover special offers, top stories, upcoming events, and more.
Thank you for submitting your email!
It looks like something went wrong.
We're having trouble saving your preferences. Try refreshing this page and updating them one more time. If you continue to get this message, reach out to us at [email protected] with a list of newsletters you'd like to receive.
Investor Overview Presentation
Investor Overview – Updated for Third Quarter 2023
Email Alerts
RSS News Feed

Deutsch (DE)
How Do I Design a Successful Company Presentation?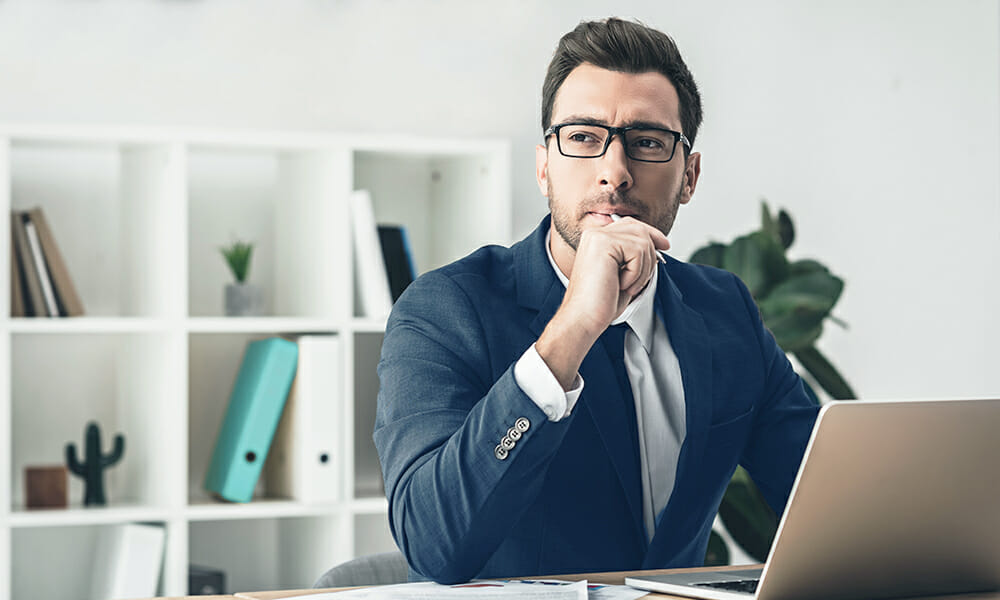 A company presentation is a great way to introduce your company to customers, partners or stakeholders in the context of a sales or marketing discussion. Making an effort to create the most professional PowerPoint presentation possible really pays off, as it reinforces your audience's impression of your company as professional and authentic.
Use of company presentations
Company presentations can be used in many situations:
on your own website
for training external employees, to explain company values and priorities
employee onboarding, to inform new colleagues about the company at a glance
celebrating a company anniversary
for welcoming customers and suppliers at an open day
to introduce the company on portals and network pages on the internet
on social media (e.g. Xing, LinkedIn, Twitter, Instagram, Facebook)
in sales talks during customer visits
at trade fairs and congresses
at universities, to inspire potential new employees
on video portals and platforms such as YouTube
However, there are a few things to consider when creating a company presentation, because it's alarmingly easy for your well-intentioned presentation to fail. This can happen if you design your presentation according to a set formula, boring your audience with acres of dry text. Our valuable tips can help you make a success of your company presentation.
1. Show what makes your company special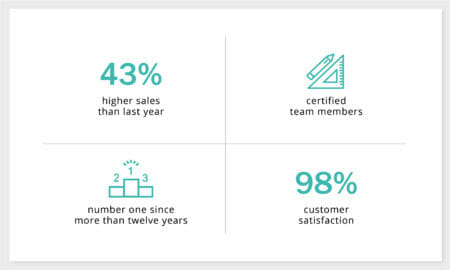 It is very tempting to simply present data, figures and facts in a company presentation, but too much information of this kind can overwhelm your audience, even turning them off completely. So instead of meticulously regurgitating your entire company history, limit the facts and figures to only the most important , and show your listeners what your company is all about.
It doesn't matter whether you are acting on behalf of your company or a freelancer presenting your services to a potential customer; it helps if you give your audience the subtle impression that you and your company are already successful. Avoid sentences like "We are the best" or "Our company is great" , though, because such boasts usually leave a bad impression.
2. Keep it simple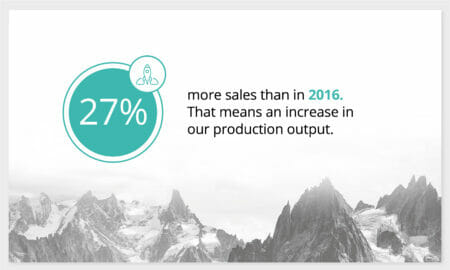 Although you need to include the important aspects of your company – locations, customers, company structure, products, competencies, portfolio and certifications – try not to overwhelm your audience with this information. Nobody can remember hundreds of facts about the company anyway, even if you use suitable visual aids (pictures, infographics, etc.). In company presentations, as in so much else, less is sometimes more.
3. Tailor your company presentation to each customer individually
One size definitely doesn't fit all. You're naturally going to present your company to potential employees in a very different way to presenting to external industries, for example. Each target group and industry has individual needs and makes different demands on a company presentation.
It simply won't work to create one company presentation and reuse it again and again. Of course it takes time and effort to adapt your presentation to each audience, but it is genuinely worth it, leading as it does to improved success rates.
4. Use pictures, but not necessarily from your brochure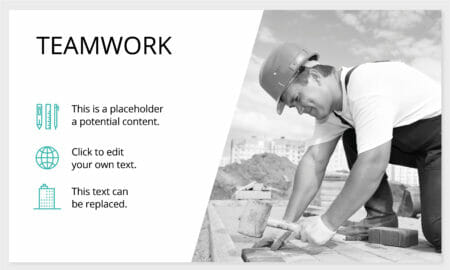 Including pictures or drawings in your presentation can help establish an emotional relationship with your audience. However, these don't necessarily have to be the high-quality pictures from your brochure; using images of colleagues at their everyday work can come across as more authentic and make you look approachable.
5. Storytelling WORKS – even in company presentations
Storytelling is a great way to capture an audience and hold their attention for as long as possible. If you're telling an interesting story, people will listen . Find something exciting to relate about your company. It doesn't have to be a heroic masterpiece; an anecdote involving the daily life of the company can be just as effective.
6. Check your grammar and spelling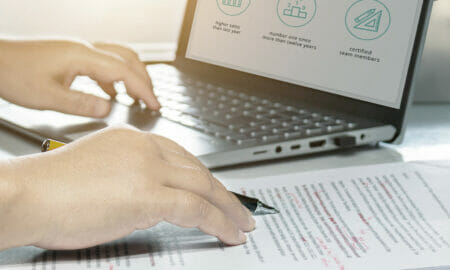 Another point that sounds obvious, but is unfortunately often overlooked. When you're presenting your company, errors in spelling and grammar make a negative impression, and can ruin all your hard work. Get your presentation proofread by an outside person; fresh eyes can spot the errors that are often accidentally overlooked by those familiar with the subject of your presentation.
7. Choose your words well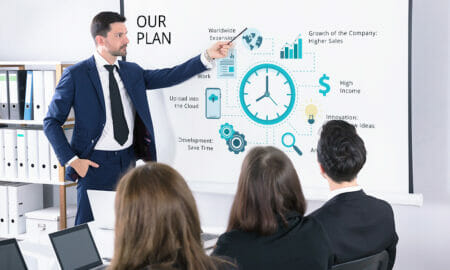 Sentences that induce curiosity or tension in the listener can be a great way to get your audience's attention . Starting a phrase with a word such as "Imagine…" involves your audience emotionally in what is happening. It is particularly potent when you sketch an example – for example around your service – and so make it clear to the audience how your company can help them.
8. Introduce your team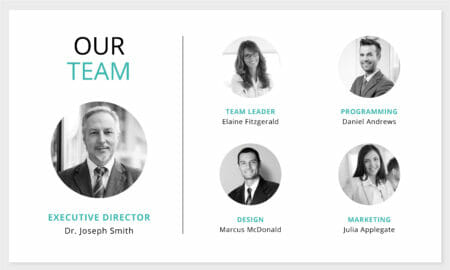 Even your products or services are exceptional, it is a good idea to introduce your employees as part of company presentation. Everyone knows that behind a good product or service there is a team of people who develop or produce these products or implement the services.
A team slide is a great way to present the human side of things, enhanced by an organigram or organizational chart.
9. Include testimonials
Testimonials can add a lot to a successful company presentation . Do you have customers who have something great to say about your work? Wonderful! Use this opportunity to ask the customer if you can use their opinion on your website or for your company presentation as a reference.
For some presentations it can also be worth letting employees have their say. Colleagues can be very effective as advertising ambassadors within a company presentation.
10. Need help? Let a service provider support you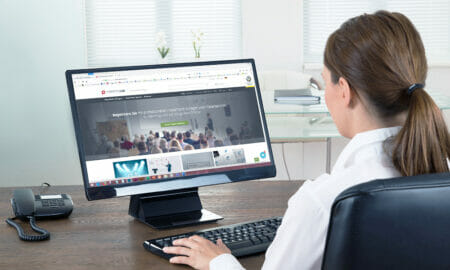 As you can see, creating a successful company presentation can take a lot of time and effort. If you or your employees don't have the time, then delegating the task to a competent service provider makes sense . We will be happy to create a professional presentation for you – one that meets your requirements in terms of content and optics. Please feel free to contact us for a non-binding quotation!
What should be covered in a company presentation?
These tips are certainly a good start to creating a professional company presentation. It can be a challenge, though, to determine what exactly to include in the presentation. How can you best present the company structure? How to frame your expertise?
– Set out the facts about your company
The most important facts about your company should appear in the first few slides of your presentation. Company name, type of legal entity, year of foundation, number of employees and product groups all need to appear here. In order not to overload the spectator with numbers, though, this is where it is useful to add striking visuals; for example, flat design icons or striking diagrams .
– Present your company structure with an organizational chart
Instead of presenting each employee on a separate slide, it can be very effective to use an organizational chart. It is a great way to present the hierarchy of a company and show its structure. Should your company be part of a group, you can also show the interrelationships between companies clearly in this way.
– Present your certification
This can be a rather dry topic, but certification is mandatory in many industries. If a company does not have the relevant certification (e.g. safety certification), cooperation is out of the question. Certifications are therefore extremely important, especially in the manufacturing industry. Naturally, the need for certification varies from industry to industry, and you'll have to assess whether this is relevant your company, but if it is, it is a vital part of your presentation.
– Present key facts and figures
Admittedly, this can also be a double-edged sword. A company naturally wants to present itself in the best light in a company presentation, so (for example) high potential expenses for further development may be best unstated. Some key figures relating to finance, however, help to create a solid and professional impression. There are no hard-and-fast rules, as each audience is different, but a lack of financial information could give a negative impression.
– Highlight your expertise
Although it is often included as part of a general introduction to a company, it can be extremely effective to present the particular expertise and competencies of your company as a separate section of your presentation. Highlighting your strengths as a company can be even more compelling with the addition of striking visuals – graphics, icons and images, for example, which give your audience a strong and clear impression of what you do best.
How do I hold a company presentation?
So, with the help of a few tips above, you've created your amazing company presentation. You also need to consider how you present it. The way you present needs to reflect the relationship between you and your audience.
In an informal, mostly internal meeting, for example, you don't need to stand and give a "classic" presentation , whereas remaining seated when presenting to a potential new customer would be highly inappropriate.
Giving your company presentation
It's vital to be 100% certain of your facts when presenting . If you're not used to public speaking or are unfamiliar with all the content, it pays to practice the presentation a few times. Being on top of the facts and figures really boosts the effectiveness of your presentation.
Practicing also helps you to inject a bit of passion and commitment into your delivery; even if your presentation is wonderful, just standing reading out the contents of your slides in a monotone can alienate your audience. A bit of practice and you'll be presenting your company in the best way possible!
Prepare a shorter version of the company presentation
Social media and company portals generally require short and snappy, and are not the place for a comprehensive, all-encompassing company presentation complete with all the facts and figures. It is therefore useful to create a shorter version of your company presentation to promote your company via digital channels or as a basis for your website.
This gives you an even wider range of options when it comes to tailoring your presentation to get it just right for your audience.
If you need further support in creating the company presentation, we can recommend our toolbox Company Presentation . The slides and graphics contained in this toolbox are completely editable, giving you a clear and efficient way to create a professional company presentation completely in line with your corporate design.
Share this post
Powerpoint-templates.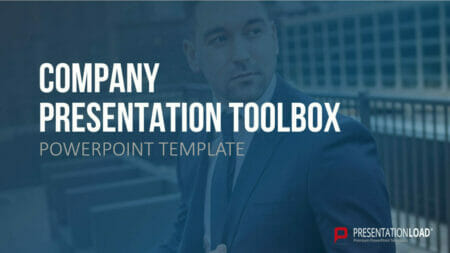 Latest posts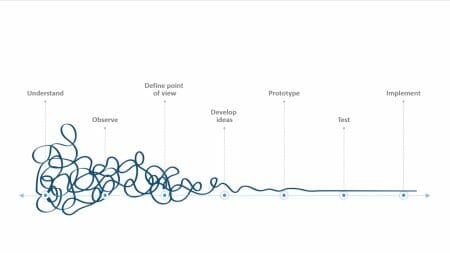 Design Thinking: Problem Solving with a Difference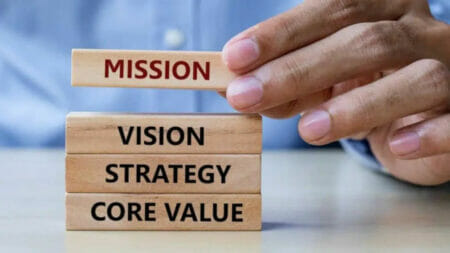 Why Corporate Mission Statements Are So Important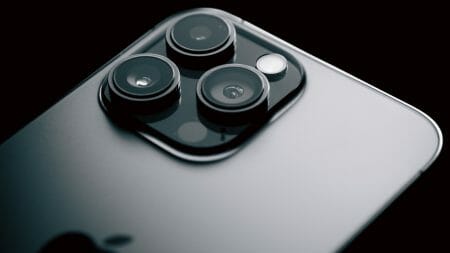 7 Tips & Learnings from the Apple Keynote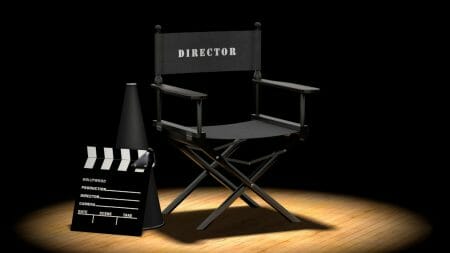 Deliver Captivating Presentations with the Hollywood Storytelling Method!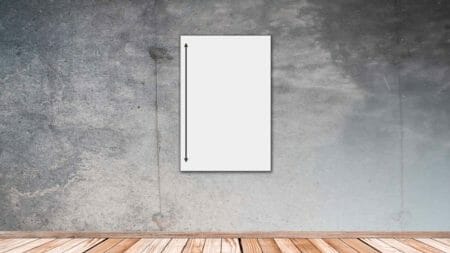 PowerPoint Portrait Format – How to Set Your Presentations on Edge!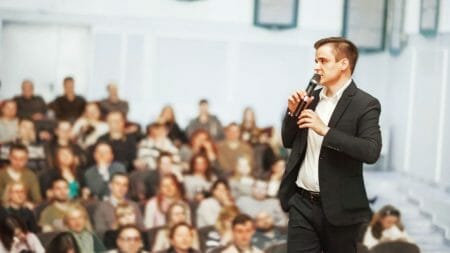 16 Ways to Kick-Start Your Presentation!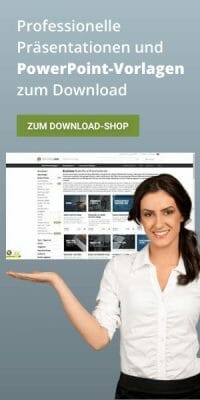 Storytelling Learning Journey
Crafting Strategic Visual Stories
Influencing with Visuals
Presenting Data Visually
Everyday Business Storytelling
In-Person Training
Virtual Training
On-Demand Training
Resource Center
Now Available
Corporate Storytelling Workshops
Become a strategic communicator, all workshops available virtually.
Business Storytelling
Create story-driven visual narratives that motivate your audience to act
EXPLORE WORKSHOP
Visual Messaging
Transform text-heavy slides into easy-to-interpret visuals
Data Visualization
Convert data into valuable insights that accelerate decision-making
of participants say our training is a worthwhile career investment
out of 5 overall learner satisfaction scores
of TPC's clients are repeat customers (or come back for more)
Boston Scientific was eager to strengthen its connection with their audiences. In 2017, TPC began training their teams to put customers at the center of their stories, humanize their content, and clarify their key messages. Today, TPC delivers workshops to 500+ employees and is part of their Manager Leadership Development Program.
Medtronic wanted to make storytelling simple and practical for their teams. Several successful pilots later, TPC joined Elevate; a global, professional development program targeting Directors and Managers, as well as Ignite, a VP training initiative. Today, TPC has trained 800+ employees with demand growing across Medtronic's five therapeutic areas of business.
In 2013, Facebook wanted to formally introduce storytelling into their Global Sales Learning organization. TPC designed a pilot class which today, has trained 1200+ employees worldwide. TPC is now the established storytelling and data visualization provider for Facebook's sales and marketing organizations and are currently piloting our digital learning solution to select teams.
Award-winning training
Best Advance in Competencies and Skill Development Brandon Hall Group Gold Medal 2023 with our client Colgate-Palmolive
Best Results of a Learning Progra m Brandon Hall Group, 2019 and 2016 With our clients Boston Scientific and Facebook
Best Advance in Senior Manager Development Brandon Hall Group, 2019 With our client Medtronic
Featured In
Sign up to receive news and info about TPC's services
Home Blog Business Business Presentation: The Ultimate Guide to Making Powerful Presentations (+ Examples)
Business Presentation: The Ultimate Guide to Making Powerful Presentations (+ Examples)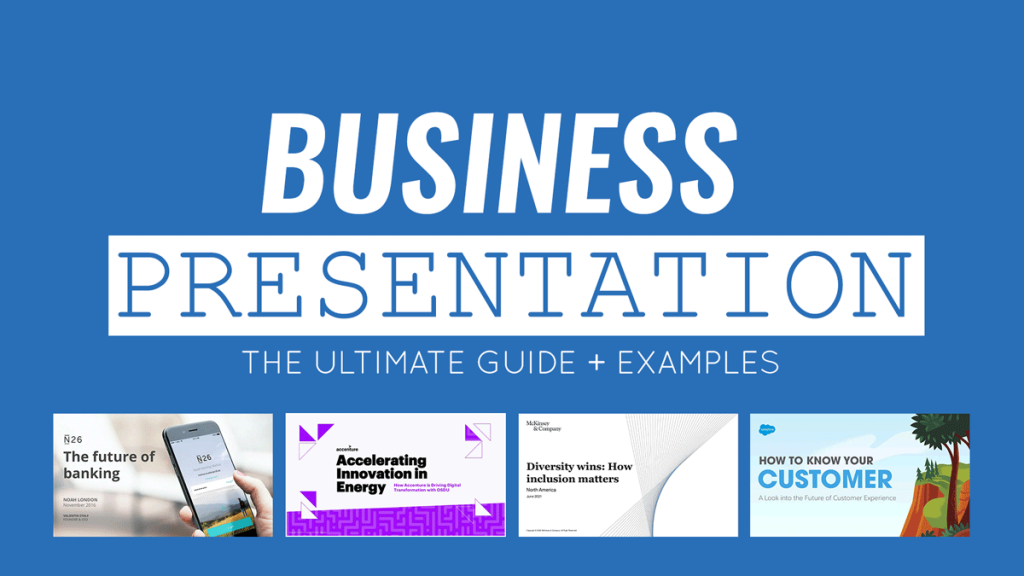 A business presentation is a purpose-led summary of key information about your company's plans, products, or practices, designed for either internal or external audiences. Project proposals, HR policy presentations, investors briefings are among the few common types of presentations.
Compelling business presentations are key to communicating important ideas, persuading others, and introducing new offerings to the world. Hence, why business presentation design is one of the most universal skills for any professional.
This guide teaches you how to design and deliver excellent business presentations. Plus, breaks down some best practices from business presentation examples by popular companies like Google, Pinterest, and Amazon among others!
3 General Types of Business Presentations
A business presentation can be given for a number of reasons. Respectively, they differ a lot in terms of content and purpose.
But overall, all types of business presentations can be classified as:
Informative
Persuasive
Supporting
Informative Business Presentation
As the name suggests, the purpose of an informative presentation is to discern the knowledge you have — explain what you know. It's the most common type of business presentation out there. So you have probably prepared such at least several times.
Examples of informative presentations:
Team briefings presentation
Annual stakeholder report
Quarterly business reviews
Business portfolio presentation
Business plan presentation
Project presentation
Helpful templates from SlideModel:
Business plan PowerPoint template
Business review PowerPoint template
Project proposal PowerPoint template
Corporate annual report template
Persuasive Business Presentation
The goal of this type of presentation is to persuade your audience of your point of view — convince them of what you believe is right. Developing business presentations of this caliber requires a bit more copywriting mastery, as well as expertise in public speaking . Unlike an informative business presentation, your goal here is to sway the audience's opinions and prompt them towards the desired action.
Examples of persuasive presentations:
Pitch deck/investor presentations
Sales presentation
Business case presentation
Free business proposal presentation
Business proposal PowerPoint template
Pitch deck PowerPoint template
Account Plan PowerPoint template
Supporting Business Presentation
This category of business PowerPoint presentations is meant to facilitate decision-making — explain how we can get something done. The underlying purpose here is to communicate the general "action plan". Then break down the necessary next steps for bringing it to life.
Examples of supporting presentations:
Roadmap presentation
Project vision presentation
After Action Review presentation
Standard operating procedure (SOP) PowerPoint template
Strategy map PowerPoint template
After action review (ARR) PowerPoint template
What Should Be Included in a Business Presentation?
Overall, the content of your business presentation will differ depending on its purpose and type. However, at the very minimum, all business presentations should include:
Introductory slide
Agenda/purpose slide
Main information or Content slides
Key Takeaways slides
Call-to-action/next steps slides
We further distill business presentation design and writing best practices in the next section (plus, provide several actionable business PowerPoint presentation examples!).
How to Make a Business Presentation: Actionable Tips
A business presentation consists of two parts — a slide deck and a verbal speech. In this section, we provide tips and strategies for nailing your deck design.
1. Get Your Presentation Opening Right
The first slides of your presentation make or break your success. Why? By failing to frame the narrative and set the scene for the audience from the very beginning, you will struggle to keep their interest throughout the presentation.
You have several ways of how to start a business presentation:
Use a general informative opening — a summative slide, sharing the agenda and main points of the discussion.
Go for a story opening — a more creative, personal opening, aimed at pulling the audience into your story.
Try a dramatic opening — a less apparent and attention-grabbing opening technique, meant to pique the audience's interest.
Standard Informative Opening
Most business presentation examples you see start with a general, informative slide such as an Agenda, Problem Statement, or Company Introduction. That's the "classic" approach.
To manage the audience's expectations and prepare them for what's coming next, you can open your presentation with one or two slides stating:
The topic of your presentation — a one-sentence overview is enough.
Persuasive hook, suggesting what's in it for the audience and why they should pay attention.
Your authority — the best technique to establish your credibility in a business presentation is to share your qualifications and experience upfront to highlight why you are worth listening to.
Opening best suited for: Formal business presentations such as annual reports and supporting presentations to your team/business stakeholders.
Story Opening
Did you ever notice that most TED talks start with a quick personal story? The benefit of this presenting technique is that it enables speakers to establish quick rapport and hold the listener's attention.
Here's how Nancy Duarte, author of "Slide:ology: The Art and Science of Creating Great Presentations" book and TED presenter, recommends opening a presentation:
You know, here's the status quo, here's what's going on. And then you need to compare that to what could be. You need to make that gap as big as possible, because there is this commonplace of the status quo, and you need to contrast that with the loftiness of your idea.
Storytelling , like no other tool, helps transpose the audience into the right mindset and get concentrated on the subject you are about to discuss. A story also elicits emotions, which can be a powerful ally when giving persuasive presentations. In the article how to start a presentation , we explore this in more detail.
Opening best suited for: Personal and business pitches, sales presentations, other types of persuasive presentations.
Dramatic Opening
Another common technique is opening your presentation with a major statement, sometimes of controversial nature. This can be a shocking statistic, complex rhetoric question, or even a provocative, contrarian statement, challenging the audience's beliefs.
Using a dramatic opening helps secure the people's attention and capture their interest. You can then use storytelling to further drill down your main ideas.
If you are an experienced public speaker, you can also strengthen your speech with some unexpected actions. That's what Bill Gates does when giving presentations. In a now-iconic 2009 TED talk about malaria, mid-presentation Gates suddenly reveals that he actually brought a bunch of mosquitoes with him. He cracks open a jar with non-malaria-infected critters to the audience's surprise. His dramatic actions, paired with a passionate speech made a mighty impression.
Opening best suited for: Marketing presentations, customer demos, training presentations, public speeches.
Further reading: How to start a presentation: tips and examples.
2. Get Your PowerPoint Design Right
Surely, using professional business PowerPoint templates already helps immensely with presentation deck design since you don't need to fuss over slide layout, font selection, or iconography.
Even so, you'll still need to customize your template(s) to make them on brand and better suited to the presentation you're about to deliver. Below are our best presentation design tips to give your deck an extra oomph.
Use Images, Instead of Bullet Points
If you have ever watched Steve Jobs's presentations, you may have noticed that he never used bullet-point lists. Weird right? Because using bullet points is the most universal advice in presentation design.

But there's a valid scientific reason why Jobs favored images over bullet-point texts. Researchers found that information delivered in visuals is better retained than words alone. This is called the " pictorial superiority effect ". As John Medina, a molecular biologist, further explains :
"Hear a piece of information, and three days later you'll remember 10% of it. Add a picture and you'll remember 65%."
So if your goal is to improve the memorability of your presentation, always replace texts with images and visualizations when it makes sense.
Fewer Slides is Better
No matter the value, a long PowerPoint presentation becomes tiring at some point. People lose focus and stop retaining the information. Thus, always take some extra time to trim the fluff and consolidate some repetitive ideas within your presentation.
For instance, at McKinsey new management consultants are trained to cut down the number of slides in client presentations. In fact, one senior partner insists on replacing every 20 slides with only two slides . Doing so prompts you to focus on the gist — the main business presentation ideas you need to communicate and drop filler statements.
Here are several quick tips to shorten your slides:
Use a three-arc structure featuring a clear beginning (setup), main narrative (confrontation), ending (resolution). Drop the ideas that don't fit into either of these.
Write as you tweet. Create short, on-point text blurbs of under 156 symbols, similar to what you'd share on Twitter.
Contextualize your numbers. Present any relevant statistics in a context, relevant to the listeners. Turn longer stats into data visualizations for easier cognition.
Consistency is Key
In a solid business presentation, each slide feels like part of the connecting story. To achieve such consistency apply the same visual style and retain the same underlying message throughout your entire presentation.
Use the same typography, color scheme, and visual styles across the deck. But when you need to accentuate a transition to a new topic (e.g. move from a setup to articulating the main ideas), add some new visual element to signify the slight change in the narrative.
Further reading: 23 PowerPoint Presentation Tips for Creating Engaging and Interactive Presentations
3. Make Your Closure Memorable
We best remember the information shared last. So make those business presentation takeaways stick in the audience's memory. We have three strategies for that.
Use the Rule of Three
The Rule of Three is a literary concept, suggesting that we best remember and like ideas and concepts when they are presented in threes.
Many famous authors and speakers use this technique:
"Duty – Honor – Country. Those three hallowed words reverently dictate what you ought to be, what you can be, and what you will be" . Gen. Douglas MacArthur.
"Life, Liberty, and the Pursuit of Happiness" are the unalienable rights of all humans that governments are meant to protect." Thomas Jefferson
The Rule of Three works because three is the maximum number of items most people can remember on their first attempt. Likewise, such pairings create a short, familiar structure that is easy to remember for our brains.
Try the Title Close Technique
Another popular presentation closing technique is "Title Close" — going back to the beginning of your narrative and reiterating your main idea (title) in a form of a takeaway. Doing so helps the audience better retain your core message since it's repeated at least two times. Plus, it brings a sense of closure — a feel-good state our brains love. Also, a brief one-line closure is more memorable than a lengthy summary and thus better retained.
Ask a Question
If you want to keep the conversation going once you are done presenting, you can conclude your presentation with a general question you'd like the audience to answer.
Alternatively, you can also encourage the members to pose questions to you. The latter is better suited for informational presentations where you'd like to further discuss some of the matters and secure immediate feedback.
Try adding an interactive element like a QR code closing your presentation with a QR code and having a clear CTA helps you leverage the power of sharing anything you would like to share with your clients. QR codes can be customized to look alike your brand. With the help of the best QR code generator , you can create a QR code that's secure and trackable.
12 Business Presentation Examples and What Makes Them Great
Now that we equipped you with the general knowledge on how to make a presentation for business, let's take a look at how other presenters are coping with this job and what lessons you can take away from them.
1. N26 Digital Bank Pitch Deck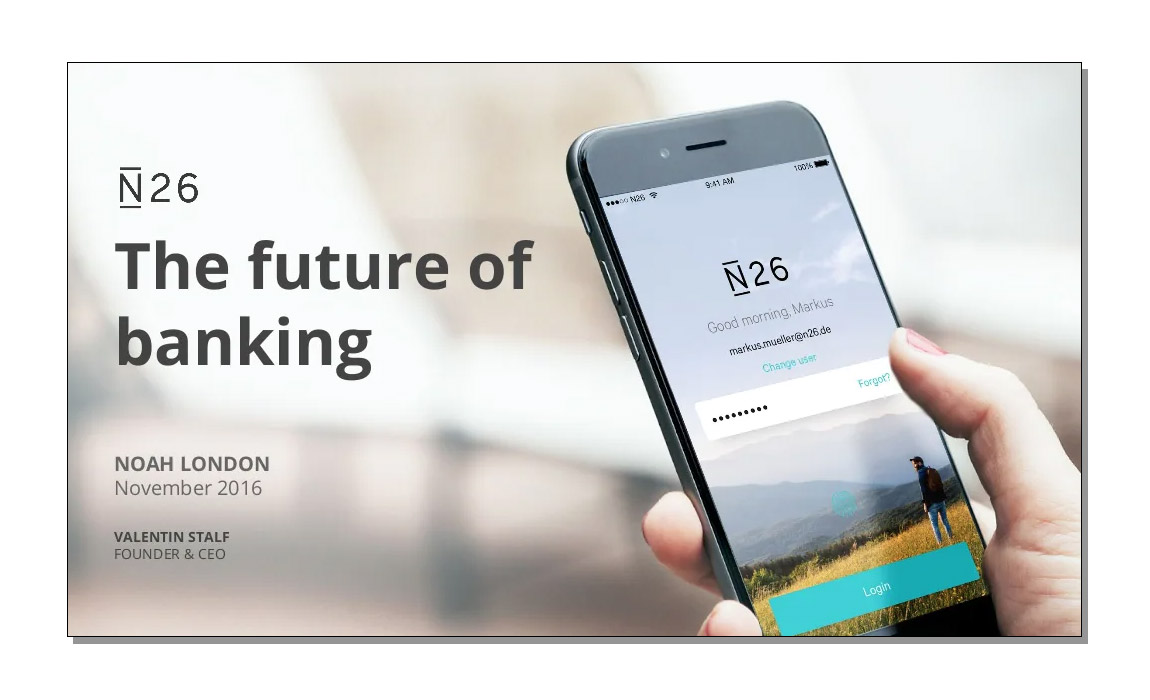 This is a fine business pitch presentation example, hitting all the best practices. The deck opens with a big shocking statement that most Millennials would rather go to the dentist than step into a bank branch.
Then it proceeds to discuss the company's solution to the above — a fully digital bank with a paperless account opening process, done in 8 minutes. After communicating the main product features and value proposition, the deck further conceptualizes what traction the product got so far using data visualizations. The only thing it lacks is a solid call-to-action for closing slides as the current ending feels a bit abrupt.
2. WeWork Pitch Deck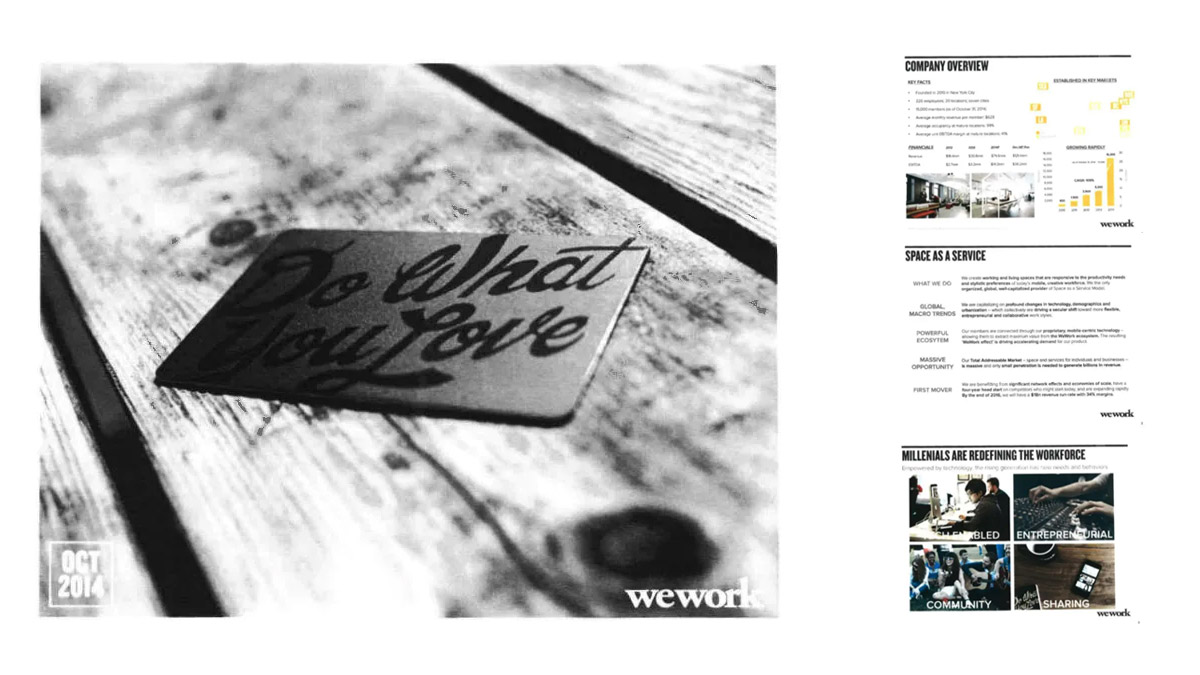 For a Series D round, WeWork went with a more formal business presentation. It starts with laying down the general company information and then transitions to explaining their business model, current market conditions, and the company's position on the market.
The good thing about this deck is that they quantify their business growth prospects and value proposition. The likely gains for investors are shown in concrete numbers. However, those charts go one after another in a row, so it gets a bit challenging to retain all data points.
The last part of their presentation is focused on a new offering, "We Live". It explains why the team seeks funds to bring it to life. Likewise, they back their reasoning with market size statistics, sample projects, and a five-year revenue forecast.
3. Redfin Investor Presentation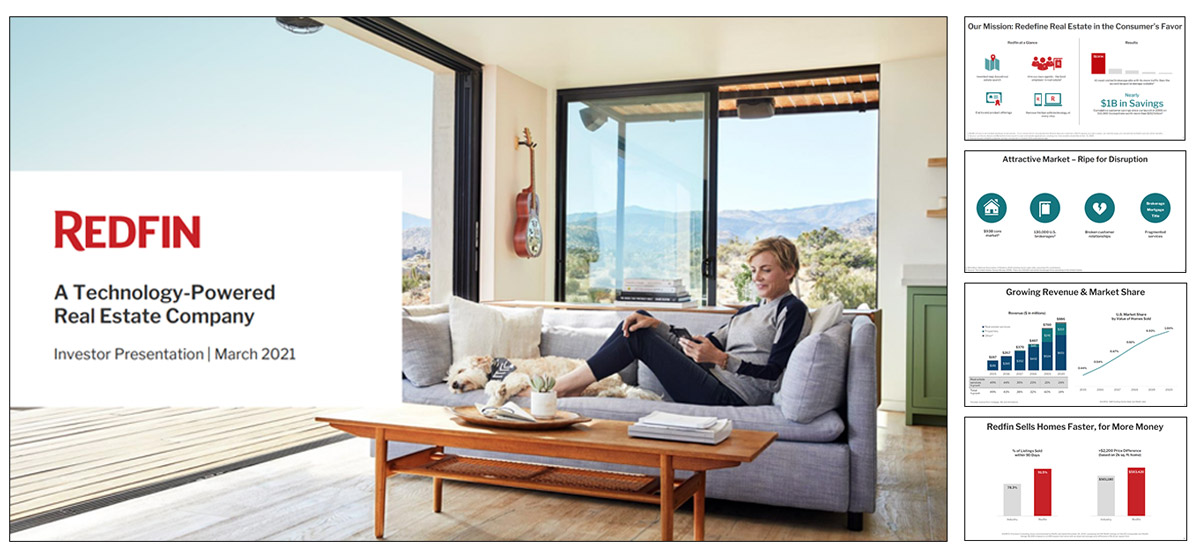 If you are looking for a "text-light" business presentation example, Redfin's investor deck is up to your alley. This simple deck expertly uses iconography, charts, and graphs to break down the company's business model, value proposition, market share, and competitive advantages over similar startups. For number-oriented investors, this is a great deck design to use.
4. Google Ready Together Presentation
This isn't quite the standard business presentation example per se. But rather an innovative way to create engaging, interactive presentations of customer case studies .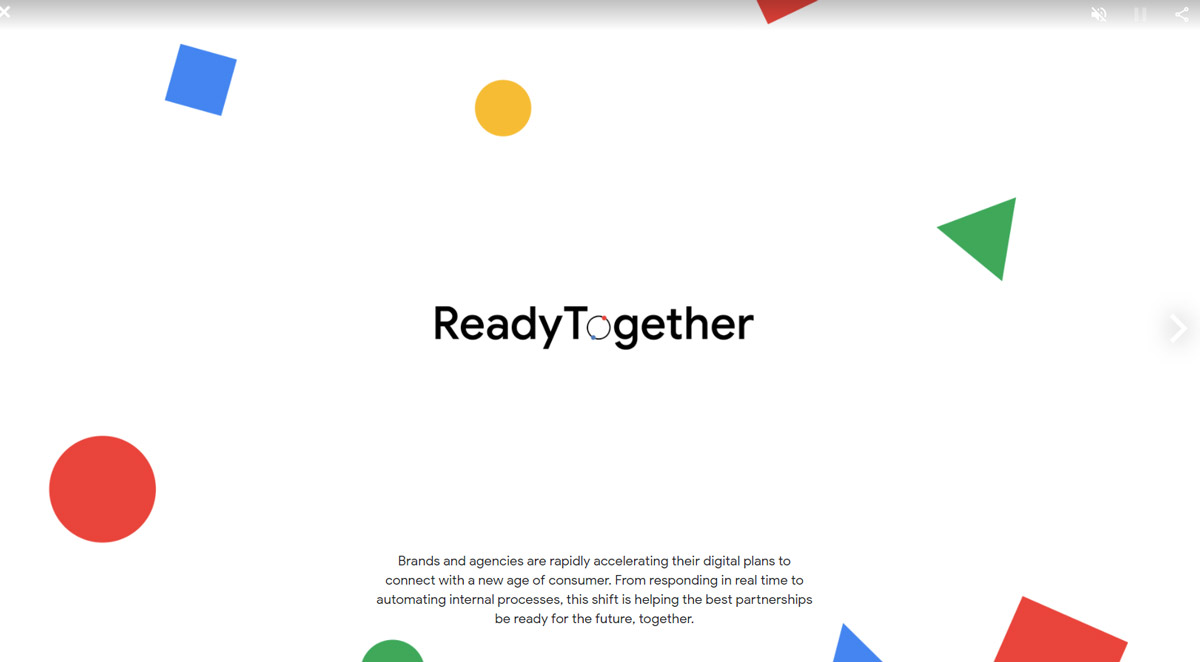 The short deck features a short video clip from a Google client, 7-11, explaining how they used the company's marketing technology to digitally transform their operations and introduce a greater degree of marketing automation . The narrated video parts are interrupted by slides featuring catchy stats, contextualizing issues other businesses are facing. Then transitions to explaining through the words of 7-11 CMO, how Google's technology is helping them overcome the stated shortcomings.
5. Salesforce Business Presentation Example
This is a great example of an informational presentation, made by the Salesforce team to share their research on customer experience (CX) with prospects and existing customers.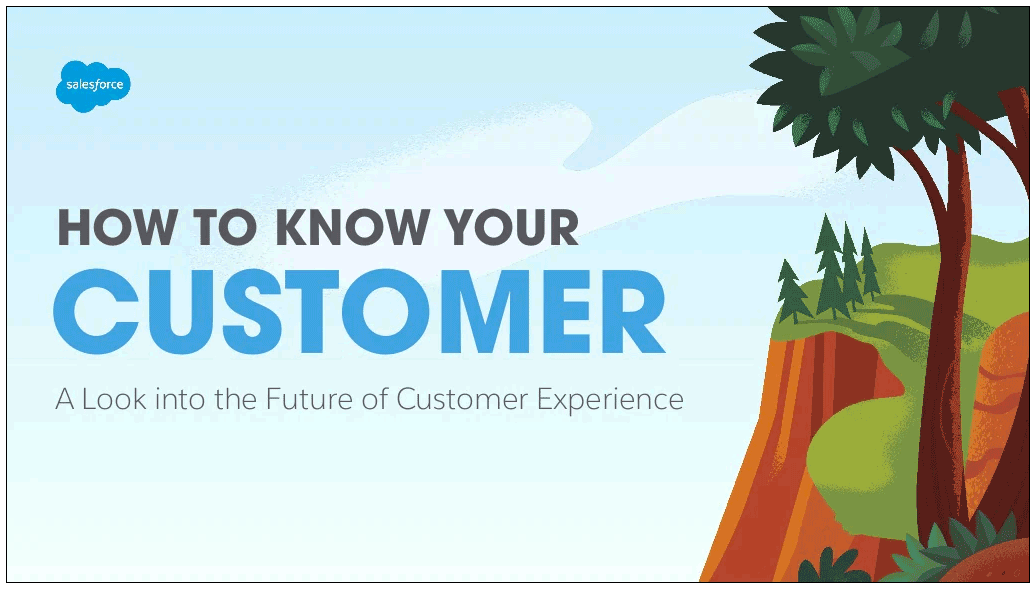 The slide deck errs on the lengthier side with 58 slides total. But bigger topics are broken down and reinforced through bite-sized statistics and quotes from the company leadership. They are also packaging the main tips into memorable formulas, itemized lists, and tables. Overall, this deck is a great example of how you can build a compelling narrative using different statistics.
6. Mastercard Business Presentation
This slide deck from Mastercard instantly captures the audience's attention with unusual background images and major data points on the growth of populations, POS systems, and payment methods used in the upcoming decade.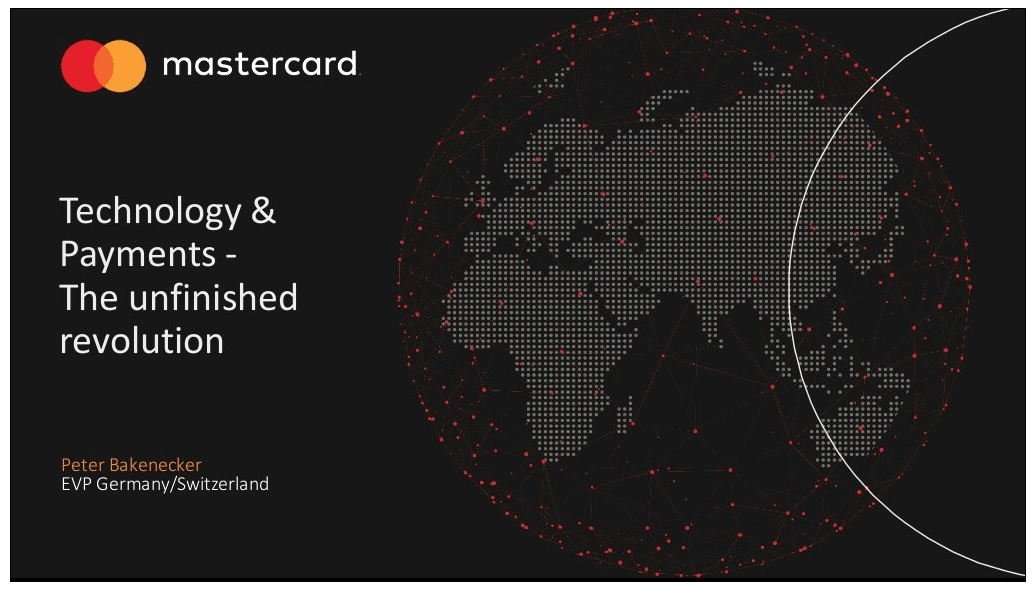 Perhaps to offset the complexity of the subject, Mastercard chose to sprinkle in some humor in presentation texts and used comic-style visuals to supplement that. However, all their animations are made in a similar style, creating a good sense of continuity in design. They are also using colors to signify the transition from one part of the presentation to another.
In the second part, the slide deck focuses on distilling the core message of what businesses need to do to remain competitive in the new payments landscape. The team presents what they have been working on to expand the payment ecosystem. Then concludes with a "title close" styled call-to-action, mirroring the presentation title.
7. McKinsey Diversity & Inclusion Presentation
This fresh business slide deck from McKinsey is a great reference point for making persuasive business presentations on complex topics such as D&I. First, it recaps the main definitions of the discussed concepts — diversity, equity, and inclusion — to ensure alignment with the audience members.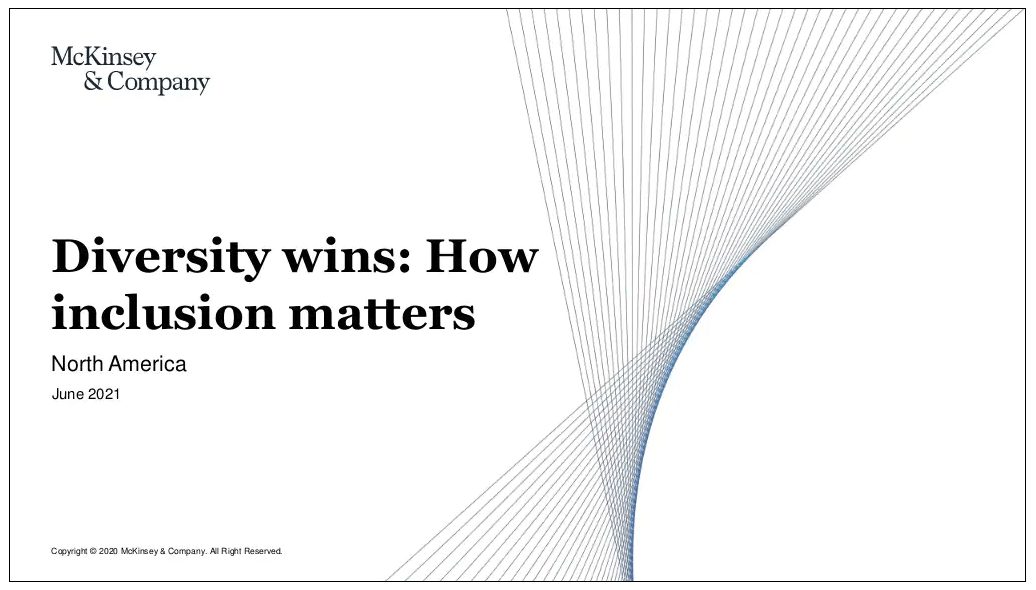 Next, the business presentation deck focuses on the severity and importance of the issue for businesses, represented through a series of graphs and charts. After articulating the "why", the narrative switches to "how" — how leaders can benefit from investment in D&I. The main points are further backed with data and illustrated via examples.
8. Accenture Presentation for the Energy Sector
Similar to McKinsey, Accenture keeps its slide deck on a short. Yet the team packs a punch within each slide through using a mix of fonts, graphical elements, and color for highlighting the core information. The presentation copy is on a longer side, prompting the audience to dwell on reading the slides. But perhaps this was meant by design as the presentation was also distributed online — via the company blog and social media.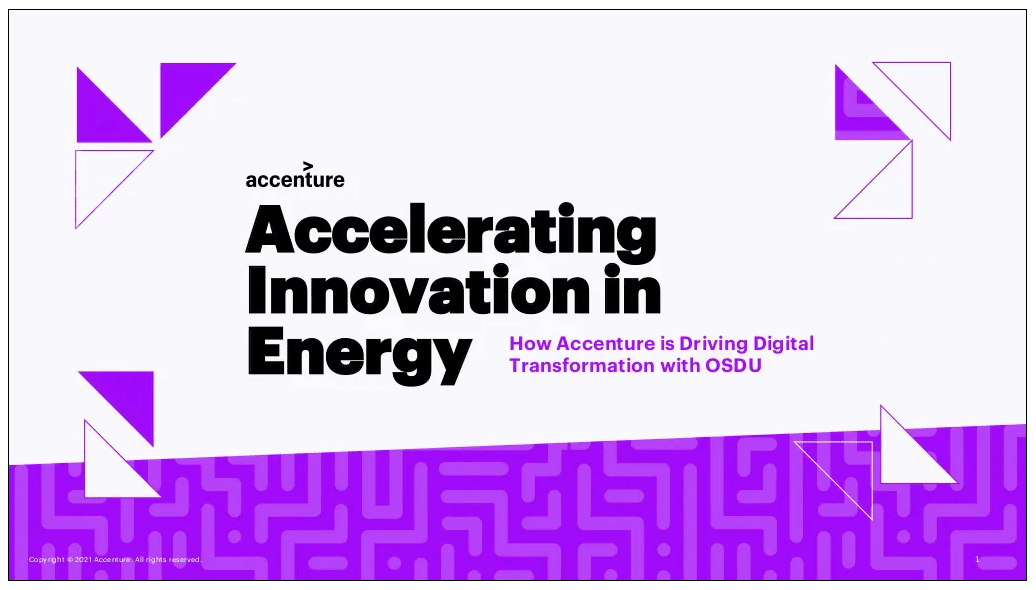 The last several slides of the presentation deck focus on articulating the value Accenture can deliver for their clients in the Energy sector. They expertly break down their main value proposition and key service lines, plus quantify the benefits.
9. Amazon Web Services (AWS) Technical Presentation
Giving an engaging technical presentation isn't an easy task. You have to balance the number of details you reveal on your slides to prevent overwhelm, while also making sure that you don't leave out any crucial deets. This technical presentation from AWS does great in both departments.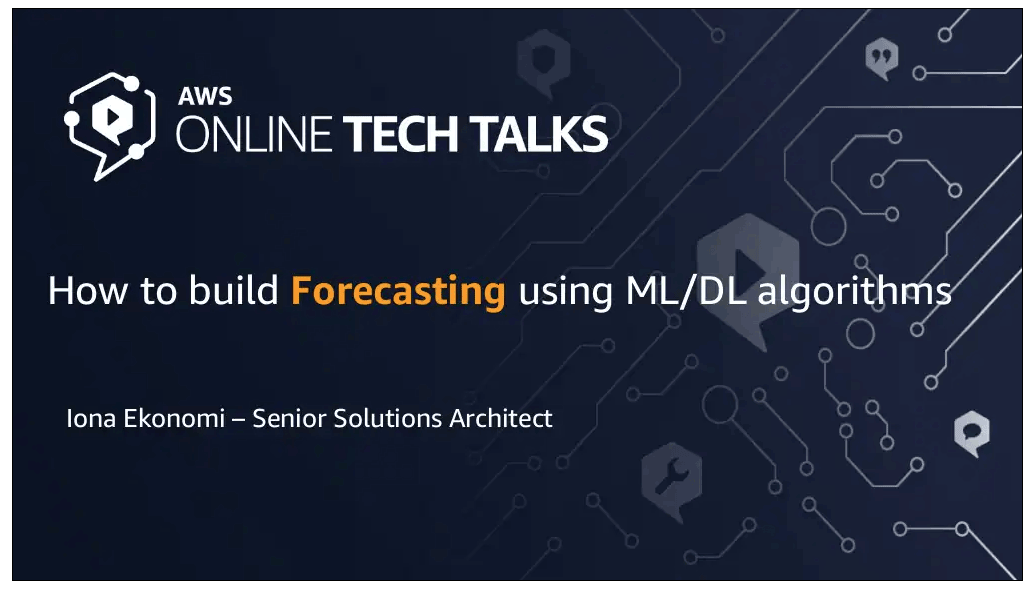 First, you get entertained with a quick overview of Amazon's progress in machine learning (ML) forecasting capabilities over the last decade. Then introduced to the main tech offering. The deck further explains what you need to get started with Amazon Forecast — e.g. dataset requirements, supported forecasting scenarios, available forecasting models, etc.
The second half of the presentation provides a quick training snippet on configuring Amazon SageMaker to start your first project. The step-by-step instructions are coherent and well-organized, making the reader excited to test-drive the product.
10. Snapchat Company Presentation
Snapchat's business model presentation is on a funkier, more casual side, reflective of the company's overall brand and positioning. After briefly recapping what they do, the slide deck switches to discussing the company's financials and revenue streams.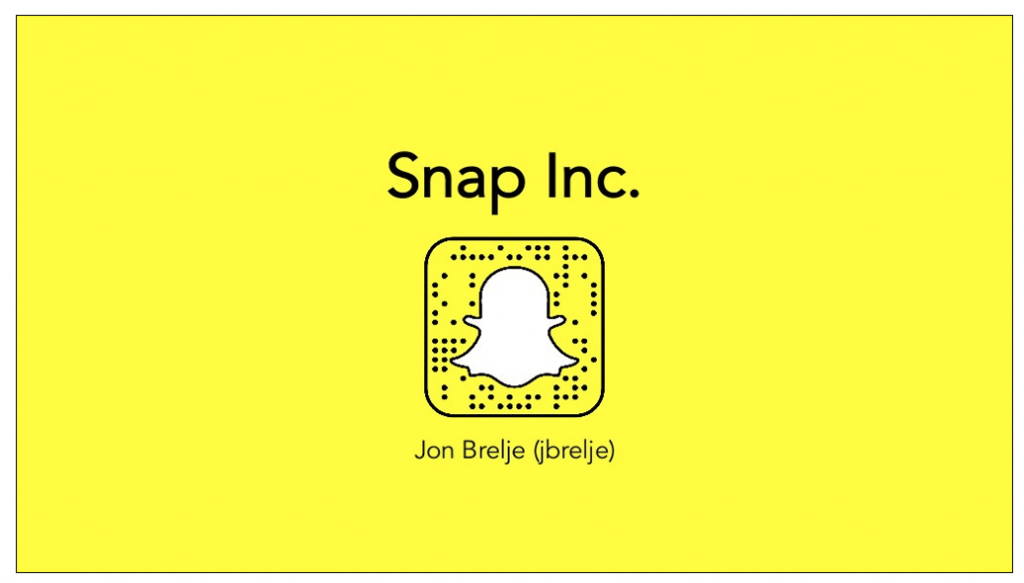 This business slide deck by Snap Inc. itself is rather simplistic and lacks fancy design elements. But it has a strong unified theme of showing the audience Snapchat's position on the market and projected vector of business development.
11. Visa Business Acquisition Presentation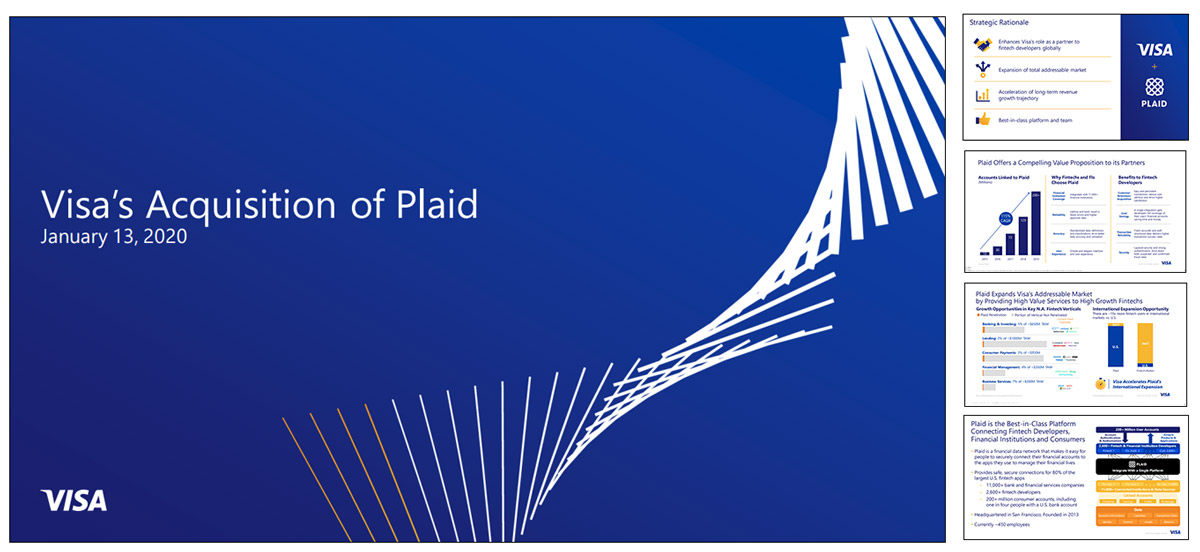 If you are working on a business plan or M&A presentation for stakeholders of your own, this example from Visa will be helpful. The presentation deck expertly breaks down the company's rationale for purchasing Plaid and subsequent plans for integrating the startup into their business ecosystem.
The business deck recaps why the Plaid acquisition is a solid strategic decision by highlighting the total addressable market they could dive into post-deal. Then it details Plaid's competitive strengths. The slide deck then sums up all the monetary and indirect gains Visa could reap as an acquirer.
12. Pinterest Earnings Report Presentation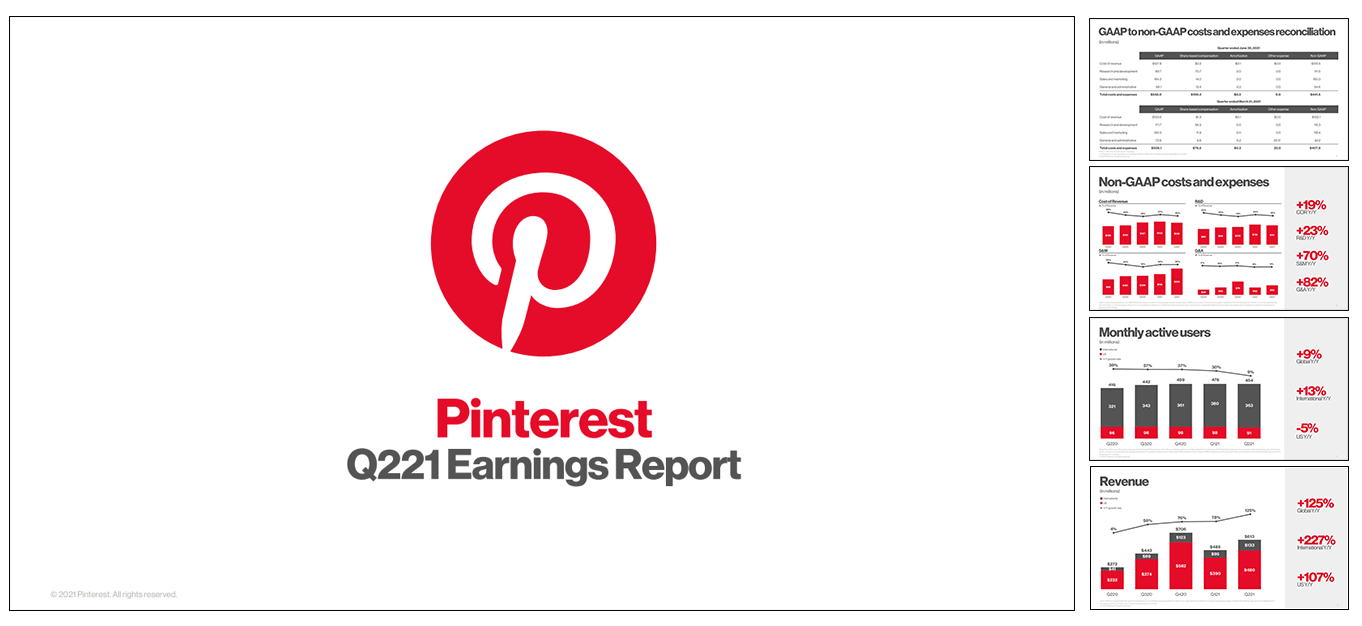 Annual reports and especially earnings presentations might not be the most exciting types of documents to work on, but they have immense strategic value. Hence, there's little room for ambiguities or mistakes.
In twelve slides, this business presentation from Pinterest clearly communicates the big picture of the company's finance in 2021. All the key numbers are represented as featured quotes in the sidebar with diagrams further showcasing the earning and spending dynamics. Overall, the data is easy to interpret even for non-finance folks.
To Conclude
With these business presentation design tips, presentation templates , and examples, you can go from overwhelmed to confident about your next presentation design in a matter of hours. Focus on creating a rough draft first using a template. Then work on nailing your opening slide sequence and shortening the texts in the main part of your presentation when needed. Make sure that each slide serves a clear purpose and communicates important details. To make your business presentation deck more concise, remove anything that does not pertain to the topic.
Finally, once you are done, share your business presentation with other team members to get their feedback and reiterate the final design.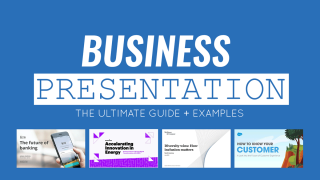 Like this article? Please share
Business Presentations, Corporate Presentations, Design, Design Inspiration, Examples, Executive Reports, Inspiration, Presentation Ideas Filed under Business
Related Articles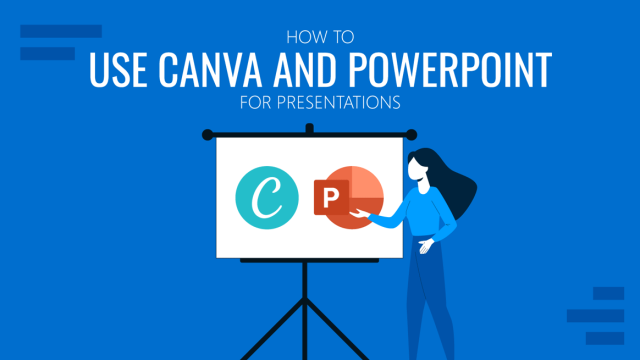 Filed under Design • November 10th, 2023
How to Use Canva and PowerPoint for Presentations
Discover how Canva and PowerPoint can forge a partnership to create jaw-dropping presentations.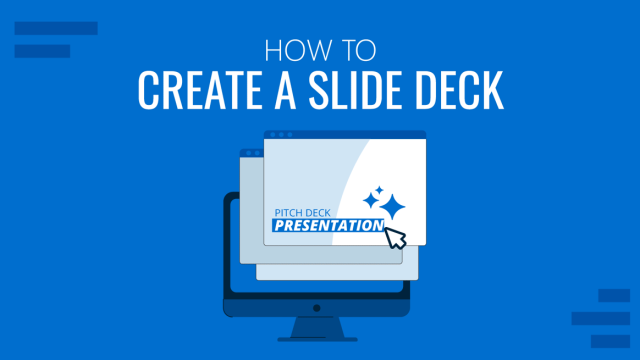 Filed under Design , PowerPoint Tutorials • October 24th, 2023
How to Create a Slide Deck in PowerPoint
Improve your presentation skills with our guide on how to create a slide deck in PowerPoint. Content to include, recommended templates, and more!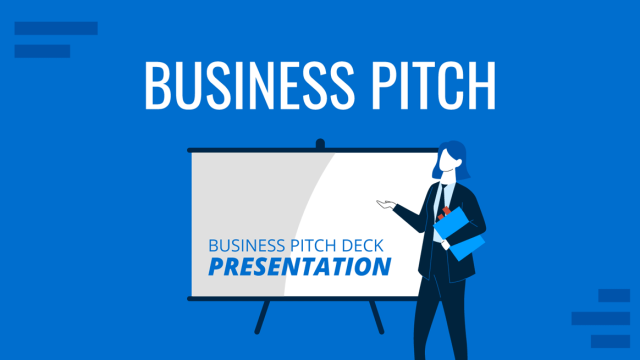 Filed under Business • October 19th, 2023
How to Create a Winning Business Pitch
A business pitch bridges innovative ideas and reality. Learn how to create a winning pitch that investors and customers can't resist.
Leave a Reply
Immuron CEO Steven Lydeamore Investor Webinar Presentation
Armadale, AUSTRALIA
MELBOURNE, Australia, Nov. 13, 2023 (GLOBE NEWSWIRE) -- Immuron Limited (ASX: IMC; NASDAQ: IMRN), an Australian based and globally integrated biopharmaceutical company is pleased to invite shareholders to attend an investor webinar on The Watchlist, to be held on Tuesday, 14th November, 2023, 1:00pm AEDT/10:00am AWST.
CEO Steven Lydeamore will provide an overview and update on the business and upcoming milestones.
Following the presentation, attendees will have the opportunity to ask questions directly to Mr Lydeamore during a moderated Q & A session.
This webinar can be viewed live via zoom & you register via the link below.
Zoom: https://share.hsforms.com/1ccfJimCATYqzCkvIKIC7VAd16zr
A recorded copy of the webinar and presentation will be available on the Company's website following the event.
Authorised for release by the Board of Immuron Limited.
About Immuron Immuron Limited (ASX: IMC, NASDAQ: IMRN) is an Australian biopharmaceutical company focused on developing and commercialising orally delivered targeted polyclonal antibodies for the treatment of infectious diseases.
For more information visit: http://www.immuron.com

Related Links
SUGGESTED TOPICS
The Magazine
Newsletters
Managing Yourself
Managing Teams
Work-life Balance
The Big Idea
Data & Visuals
Reading Lists
Case Selections
HBR Learning
Topic Feeds
Account Settings
Email Preferences
What It Takes to Give a Great Presentation
Five tips to set yourself apart.
Never underestimate the power of great communication. It can help you land the job of your dreams, attract investors to back your idea, or elevate your stature within your organization. But while there are plenty of good speakers in the world, you can set yourself apart out by being the person who can deliver something great over and over. Here are a few tips for business professionals who want to move from being good speakers to great ones: be concise (the fewer words, the better); never use bullet points (photos and images paired together are more memorable); don't underestimate the power of your voice (raise and lower it for emphasis); give your audience something extra (unexpected moments will grab their attention); rehearse (the best speakers are the best because they practice — a lot).
I was sitting across the table from a Silicon Valley CEO who had pioneered a technology that touches many of our lives — the flash memory that stores data on smartphones, digital cameras, and computers. He was a frequent guest on CNBC and had been delivering business presentations for at least 20 years before we met. And yet, the CEO wanted to sharpen his public speaking skills.
Carmine Gallo is a Harvard University instructor, keynote speaker, and author of 10 books translated into 40 languages. Gallo is the author of The Bezos Blueprint: Communication Secrets of the World's Greatest Salesman  (St. Martin's Press).
Partner Center
SoftBank's WeWork, once most valuable US startup, succumbs to bankruptcy
Nov 6 (Reuters) - WeWork, the SoftBank Group-backed startup whose meteoric rise and fall reshaped the office sector globally, sought U.S. bankruptcy protection on Monday after its bets on companies using more of its office-sharing space soured.
The move represents an admission by SoftBank (9984.T) , the Japanese technology group that owns about 70% of WeWork (WE.N) and has invested billions of dollars in its turnaround, that the company cannot survive unless it renegotiates its pricey leases in bankruptcy.
A WeWork spokesperson said about 92% of the company's lenders had agreed to convert their secured debt into equity under a restructuring support agreement, wiping out about $3 billion of debt. SoftBank would retain an equity stake under the proposed restructuring, according to court documents.
The company, which also intends to file recognition proceedings in Canada, said it expected to have the financial liquidity to continue business normally and that its locations outside of the U.S. and Canada, as well as its franchisees around the world, were not affected by these proceedings.
WeWork had office space available at 777 locations worldwide as of the end of June.
SoftBank said it believed WeWork's restructuring support agreement was the appropriate action for the company to reorganize its business and emerge from Chapter 11 proceedings.
"SoftBank will continue to act in the best long-term interests of our investors," the Japanese company said in a statement.
WeWork shares have fallen about 98.5% so far this year.
Profitability has remained elusive, as WeWork grapples with expensive leases and corporate clients cancelling because of a trend toward employees working from home. Paying for space consumed 74% of WeWork's revenue in the second quarter of 2023, the last time it reported financial results.
In a filing with the New Jersey bankruptcy court, WeWork listed assets of $15.06 billion and liabilities of $18.66 billion as of June 30.
"WeWork could use provisions of the U.S. bankruptcy code to rid itself of onerous leases," law firm Cadwalader, Wickersham & Taft LLP said in a note to landlords on its website in August. Some landlords are bracing for a significant impact .
"As part of today's filing, WeWork is requesting the ability to reject the leases of certain locations, which are largely nonoperational, and all affected members have received advanced notice," the company said in a statement.
[1/2] A WeWork logo is seen outside its offices in the Queens borough of New York City, U.S., November 7, 2023. REUTERS/Shannon Stapleton/ File Photo Acquire Licensing Rights
WeWork's bankruptcy court filings list 69 leases that the company intends to reject immediately, and the company said it is working to renegotiate leases with 400 landlords.
Under its founder Adam Neumann, WeWork grew to be the most valuable U.S. startup worth $47 billion. It attracted investments from blue-chip investors, including SoftBank and venture capital firm Benchmark, as well as the backing of major Wall Street Banks, including JPMorgan Chase (JPM.N) .
Neumann's pursuit of breakneck growth at the expense of profit, and revelations about his eccentric behavior, led to his ouster and the derailment of an initial public offering in 2019.
SoftBank doubled down on its investment in WeWork, and tapped real estate veteran Sandeep Mathrani as its CEO. In 2021, SoftBank cut a deal to take WeWork public through a merger with a blank-check acquisition company at an $8 billion valuation.
WeWork managed to amend 590 leases, saving about $12.7 billion in fixed lease payments. But this was not enough to compensate for the fallout from the COVID-19 pandemic, which kept office workers at home.
Many of its landlords, who were also feeling the squeeze, had little incentive to give WeWork a break on the terms of their leases.
While WeWork had some success in signing up large conglomerates as clients, many of its customers were startups and smaller businesses, which cut their spending as inflation soared and economic prospects soured.
Adding to WeWork's woes was competition from its own landlords. Commercial property companies that traditionally only entered into long-term rent agreements started offering short and flexible leases to cope with the downturn in the office sector.
Mathrani was succeeded as WeWork CEO this year by former investment banker and private equity executive David Tolley, who as chief executive of Intelsat helped the debt-stricken satellite communications provider emerge from bankruptcy in 2022.
WeWork engaged in debt restructurings, yet this was not enough to stave off its bankruptcy. The company last week secured a seven-day extension from its creditors on an interest payment to win more time to negotiate with them.
Shortly before WeWork filed for bankruptcy, Neumann said in a statement, "I believe that, with the right strategy and team, a reorganization will enable WeWork to emerge successfully."
Shares in SoftBank, which has largely written down its investment in WeWork over the years, closed up 0.3% on Tuesday in Tokyo, outperforming a 1.3% fall in the broader market (.N225) .
Reporting by Greg Roumeliotis and Dietrich Knauth in New York and Mrinmay Dey in Bengaluru; Editing by Aurora Ellis and Stephen Coates
Our Standards: The Thomson Reuters Trust Principles.
Focus: Automakers' drive to avoid China's EV rare earth dominance gathers speed
Global EV sales stay strong, China hits record despite end of subsidies
United Airlines will not resume flights to Israel
Workers United calls for walkouts at hundreds of Starbucks stores on Red Cup day
More from Reuters
The automakers and suppliers pushing to cut rare earths from EVs
A growing number of automakers and suppliers are working on electric vehicle (EV) motors that either do not contain rare earths or dramatically reduce the use of materials that are dominated by China.
Novo Nordisk shares rise as Wegovy shows heart benefits beyond weight loss
Continental plans thousands of job cuts in auto division
'Can't buy new jeans': Argentina inflation hits 143% as shoppers tighten belts
Explainer: Why oil flows through the Iraq-Turkey pipeline have been halted
More From Forbes
3 rules for creating an impactful business presentation.
Share to Facebook
Share to Twitter
Share to Linkedin
Olga Lykova, Head of Partnerships, North America at monday.com .
How many times have you sat through a presentation where the speaker said, "Let's talk through this; it won't be a death by a PowerPoint," and for the next 30 minutes to an hour, it's exactly what they promised it wouldn't be?
For the last decade, I've worked at four different startup organizations, building a partner program, creating internal and external champions, and inspiring innovation with prospects, customers and partners. To do my job, I've had to inspire and motivate through discussions and presentations. One thing I learned that holds true across all industries, products and services is that people love and get inspired by stories they can relate to.
Inspired by Carmine Gallo's book, "Talk Like Ted," and based on many presentations I've given throughout my career, in this article, I'll explore the power of storytelling with tips and tricks you can use today to build a compelling story that can be shared in 15-18 minutes (the time limit for a TedTalk).
Rule #1: Do something unique to capture your audience's attention.
Most of the time, when someone attends a presentation, it's because they want to learn or solve a business challenge—or, let's be honest, because their boss told them to. But for most, the underlying intent is to feel inspired.
Amazon Unveils Black Friday Deals That Start November 17, 2023
2 relationship tests all couples should pass with flying colors, billionaire quek leng chan's hong leong, tpg to buy ramsay sime darby healthcare for $1.2 billion.
During the opening keynote at Apttus's annual conference, the CEO welcomed a customer to the stage who recently bought the solution but had yet to deploy it. The way we captured our audience was by announcing, on stage, that by the end of Day 2 at the event, we would complete the architecture and "go live" experience. In the enterprise space, a go-live in a few days is unheard of. After the keynote wrapped up, everyone went on their way to other sessions, and the delivery team went to work on the deployment upstairs in a designated hotel room. By Day 2, you could feel the steam coming out of that room with the amount of effort being put into breaking the deployment record.
During the closing keynote, we wanted to showcase the authentic experience and brought cameras into the room. The audience was captivated by the effort and collaboration. They saw the errors, they saw the fixes, and they saw the moment we clicked "Go Live." Everyone cheered, champagne was opened and the audience was captivated and inspired.
The power of storytelling means captivating your audience, exposing them to what the experience with your brand will be before they even engage and making the experience as authentic as possible.
Rule #2: Share your personal stories to be more relatable.
We tend to remember and resonate with personal stories that make us feel something.
When I joined Workspot, I took a pay cut. It wasn't for a $100 billion VDI market cap or due to the fact that legacy VDI providers were undergoing turmoil. And it wasn't because I was interested in learning about networking, security or VM sizing. It was because I was inspired by a story our CEO told me in a span of a 20-minute conversation. He shared that he worked for an incredibly inspiring leader who taught him so much about business, product and creating a vision. When my CEO approached his boss with the vision to rebuild the product with cloud readiness, he didn't get the support he wanted, so he took his vision and built what is now a future of end-user computing designed for hybrid work.
When we went on the road showcasing the power of the solution to potential customers, I understood that the story that inspired me would inspire the audience. When I asked how many people worked for an organization with incredible people but wished the product was built for innovation, many raised their hands. Then I went on to tell them the story that inspired me, with many folks in the audience captivated and fully bought in.
Rule #3: Prioritize duration and data.
Keeping a presentation short has scientific benefits behind it. Research has shown that the brain uses a lot of glucose as it absorbs information. If you talk for too long, you risk depleting your audience's glucose levels to the extent that they simply don't have the energy to keep listening.
Using unusual metrics in your presentation can also be very captivating. One of the customers I recently interviewed mentioned a few metrics, and I am curious if you could guess which one of them I remembered the most. The customer said that less than half of their workforce was able to work from home when the pandemic started, and after a year post-pandemic, the divorce rates went up by 50%. When we tell a story, statistics help us make it real. Make sure to incorporate key data in your presentation to add credibility to your overall statements.
In "Talk Like Ted," Gallo shares some tips I've found to be really useful that I'd like to include here. First, speak slowly and pretend you're having a conversation with your audience. He says the ideal rate of speech when giving a presentation is slightly faster than an audiobook narration—so, about 190 words per minute.
At the end of the day, to truly resonate with your audience, it's critical to be authentic and allow yourself to be vulnerable. Show your true emotions—because passion can be felt.
Last but not least, I'd recommend making it a habit to watch one TedTalk a week. Ted celebrates the gift of human imagination, and you never know what an 18-minute (or less) talk could inspire in you.
Forbes Business Development Council is an invitation-only community for sales and biz dev executives. Do I qualify?
Editorial Standards
Reprints & Permissions