Awards Season
Big Stories
Pop Culture
Video Games
Celebrities
Where to Find the Best Prices for Apple iPad
When it comes to buying an Apple iPad, you want to make sure you get the best deal possible. With so many retailers offering iPads at different prices, it can be hard to know where to look for the best deals. Here are some tips on where to find the best prices for an Apple iPad.
Shop Online
Online shopping is a great way to find the best prices for an Apple iPad. Sites like Amazon and eBay often have competitive prices, and they often offer free shipping as well. You can also check out websites like Best Buy and Walmart, which often have sales on iPads. Be sure to compare prices between different retailers before making a purchase, as they may offer different deals depending on where you shop.
Take Advantage of Discounts
Many retailers offer discounts on iPads from time to time, so be sure to take advantage of these offers when they come up. You can also look for coupon codes or special promotions that may be available online or in stores. Additionally, if you're a student or educator, you may be eligible for discounts through Apple's Education Store.
Check Out Refurbished Models
If you're looking for a more affordable option, consider buying a refurbished model of an Apple iPad. Refurbished models are typically cheaper than new models and they come with a warranty in case anything goes wrong with your purchase. You can find refurbished iPads at sites like Amazon or eBay, as well as at stores like Best Buy and Walmart.
Finding the best price for an Apple iPad doesn't have to be difficult if you know where to look. Shopping online is often the best way to get the most bang for your buck, but don't forget about discounts and refurbished models as well. With a little bit of research, you should be able to find the perfect iPad at a price that fits your budget.
This text was generated using a large language model, and select text has been reviewed and moderated for purposes such as readability.
MORE FROM ASK.COM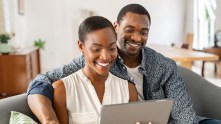 Apple Watch
Accessories
Digital Magazine – Subscribe
Digital Magazine – Log In
'Scary Fast' Mac event
M3 MacBook Pro
Smart Answers
iPad mini 7
Best Mac antivirus
Best Mac VPN
When you purchase through links in our articles, we may earn a small commission. This doesn't affect our editorial independence .
PowerPoint for iPad review: Close but not quite there
Our verdict.
Microsoft's PowerPoint for iPad finally makes it possible to open, edit, create, and present native PowerPoint files on your iPad, no file conversion required. This is a huge benefit for anyone who frequently uses PowerPoint on a Mac or PC but likes the iPad's portability. But comparisons with PowerPoint for OS X 2011 (4.5 mice, $119) on the one hand, and Apple's Keynote 2.0 for iOS (4.0 mice, free) on the other make it clear that, though PowerPoint for iPad is very nice as far as it goes, it doesn't go far enough.
Like the other Office for iPad apps, PowerPoint requires you to have an Office 365 subscription—either Office 365 Home Premium ($9.99 per month), the upcoming Office 365 Personal ($6.99 per month), or one of several business options—if you want to create or edit presentations on your iPad. Each such subscription includes access to OneDrive, Microsoft's cloud-storage solution, which you'll need to transfer files to and from your iPad. (You can also add a SharePoint location.) Alternatively, if another app contains a PowerPoint file, you can use the Open In command to send it to PowerPoint. There's no support for other cloud storage services, such as Dropbox.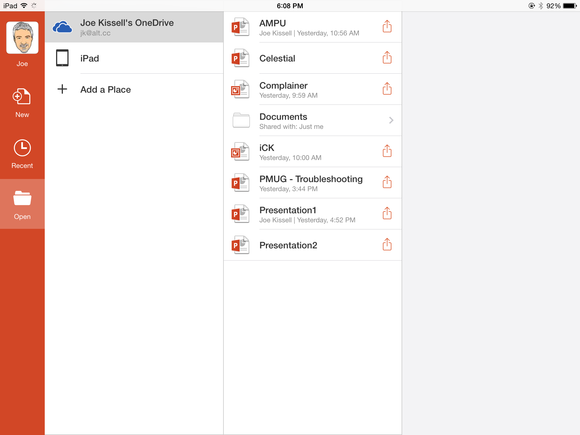 You can use any cloud storage service for your documents, as long as it's OneDrive, OneDrive for Business, or a SharePoint folder.
PowerPoint can read .ppt files but prompts you to tap a link that converts them to the newer .pptx format before they can be edited. All the PowerPoint files I imported from my Mac opened without incident.
Whatever else you might say about PowerPoint for iPad, Microsoft got the touch interface right. This is a real iPad app, with evident care given to easy fingertip operation. The controls are all where you expect them to be, and every operation from applying boldface to rotating a graphic is intuitive and obvious. Anyone who has used PowerPoint on a Mac, or pretty much any iOS app, should be able to pick up PowerPoint for iPad in moments.
When creating a new slideshow, you can choose from among 20 themes, each in your choice of widescreen (16:9) or standard (4:3) aspect ratios. Oddly, there is zero overlap between the themes in the iPad version of PowerPoint and those in the Mac version—and no facility to create new ones. The iPad version also lacks templates (which supplement themes with sample content you can customize quickly).
Styles and layers
PowerPoint for iPad includes a reasonable array of text editing controls—you can adjust font, size, style, color, alignment, and indentation; apply bulleted or numbered lists in a variety of styles; and use any of 20 predefined text styles. You can also add and format tables, a number of shapes and lines, and graphics from elsewhere on your iPad. Although you can apply picture styles (that is, frames), shadows, and reflections to imported images—and resize or rotate them to taste—you can't crop them. PowerPoint for iPad includes no built-in chart capability, but you can copy a chart from Excel for iPad and paste it into a slideshow.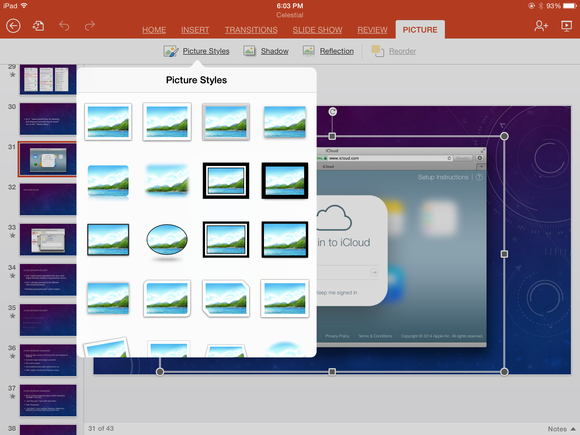 You can choose from several predefined Picture Styles, which include frames and other visual elements.
You can adjust the front-to-back layering of each element on a slide, and you can apply any of 36 slide transitions, including 11 that don't appear in PowerPoint for OS X. Control over transitions is limited, however—for example, you can choose a direction for a wipe or dissolve effect, but not its duration, sound effects, or delays.
Unfortunately, that's pretty much the extent of what you can change on a slide. You can neither add animations nor edit animations already present in imported slideshows. (Although existing animations do appear when you play a slideshow.) There's no SmartArt and no support for audio. Any videos in a slideshow appear as static thumbnails. You can reorder slides but there's no Outline view. And although you can see comments added in the desktop version of PowerPoint, you can't edit or delete them, nor add new comments. I kept expecting to see another few tabs with more of PowerPoint's features, but they simply aren't there.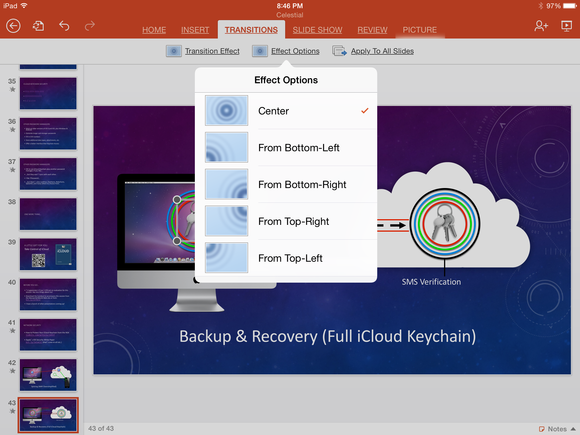 PowerPoint for iPad lets you apply transitions to slides and adjust major attributes but not detailed settings such as duration or sound effects.
When it comes to playing a slideshow, PowerPoint is also a bit disappointing. On the plus side, as in Keynote for iOS, you can touch and hold for a simulated laser pointer, and you can write on the screen with a pen or highlighter. There's also a black-screen button, which Keynote lacks. But there's no presenter view—your slideshow always displays full screen. It's especially weird that you can add and edit speaker notes, but you can't see them during your slideshow. There's also no on-screen timer or thumbnail view while presenting, even when using AirPlay or a video adapter connected to an external display; Keynote offers both.
Microsoft declined to comment specifically on if or when any of these missing features would be added, but did point out that the company has made quite a few updates to Office 365 in the last year, and noted that it is listening to customers' feedback.
Bottom line
I was pleased to see that what's in PowerPoint for iPad works well, but there's just not enough of it yet. Keynote for iOS is, on the whole, considerably more powerful (and works even on an iPhone, which PowerPoint does not). If you're accustomed to PowerPoint 2011 on OS X, you'll almost certainly be frustrated by missing features, especially when playing a slideshow on an external display. But for all that, PowerPoint 1.0 is a good starting point, and shows considerable promise for the future.
Top Contributors in PowerPoint: John Korchok - Steve Rindsberg - Jim_ Gordon 👏 👏
October 9, 2023
Top Contributors in PowerPoint:
John Korchok - Steve Rindsberg - Jim_ Gordon 👏 👏
Search the community and support articles
Microsoft 365 and Office
Search Community member
Ask a new question
PowerPoint on IPAD
I created a powerpoint deck with slides and transitions on my IPAD Pro.
I cannot figure out how to set it to run the slideshow continuously. I read you cannot set slide timing using PowerPoint on an iPad. Is this also true?
Report abuse
Replies (1) .
Hello Diane L, Welcome to Microsoft Community and hope you are doing great today! I'm Chris Jordan and I'd be glad to assist you with the questions. Apologies for the inconvenience caused to you by this behavior. Unfortunately, no. as per checking and review from our support help site the PowerPoint slide timer on iPad doesn't work even on other mobile devices. Please see the link below for more information for your reference. https://support.microsoft.com/en-us/article/40f44b69-6a21-4226-b686-26928ae08427 Best regards, Chris Jordan
Was this reply helpful? Yes No
Sorry this didn't help.
Great! Thanks for your feedback.
How satisfied are you with this reply?
Thanks for your feedback, it helps us improve the site.
Thanks for your feedback.
Question Info
Norsk Bokmål
Ελληνικά
Русский
עברית
العربية
ไทย
한국어
中文(简体)
中文(繁體)
日本語
Your Benefits
IT Services
GET SUPPORT
BOOK MEETING
Microsoft PowerPoint on the iPad: Sketching Your Thoughts
One of the newest and most creative features of Microsoft  Powerpoint on the iPad  (This feature is available to Microsoft Office 365 subscribers on Windows and iOS) is the  Ink Feature . This convenient and easy to use tool allows users to actually write, draw, scribble and sketch right on the screen with a finger, digital pen, or mouse. Shape recognition is part of the PowerPoint for iPad program and makes it easy to convert what is handwritten in free-form ink to Microsoft Office shapes, graphics and professional fonts. For example, if you need to create an Infographic presentation slide that combines text, graphics, and shapes, simply design it free-form on the iPad screen and then after a few clicks, it will automatically transform into a visually stunning slide. Here's how:
1. From the toolbar, select Draw.
2. Select a pen. There are a variety of sizes and colors including the standard black, red, blue, or green, or for something more custom, select the available color wheel.
3. Create a sketch with a finger, digital pencil or mouse.
When ready to convert sketches, there is a Lasso Select tool so users can highlight everything on the slide or portions of the slide they want professionally converted. Here's how:
1. Go to the Draw tab on the top toolbar and select Ink to Shape.
2. Drag a digital pen or finger around what content you'd like to be converted. A faded and dashed area will appear while dragging.
3. As each conversion option is clicked, a preview of how it will look appears. Tap on the one preferred. When completed, users can edit the text and other images as needed.
4. Select the Ink to Shape again to stop converting shapes.
Erasing images is as easy as drawing them. Here's how:
1. Select the Draw tab from the toolbar.
2. Select the Eraser tool.
3. Using the digital pencil, draw over the top of any drawn image or mark. Note: Tapping a single line will erase an entire line.
View this  informational video  showing some of the features of Microsoft PowerPoint for iPad.
Book your initial review with our team first.
Fill in your information below..
Your Information Is Safe With Us. GO Concepts Inc. will never sell, rent, share or distribute your personal details with anyone. In addition, we will never spam you.
Not Ready To Talk With Us
Check our technology insights below.
What Did You Learn During Cybersecurity Awareness Month 2023?
Need A New Professional Photo For Your Business?
What Is An Intrusion Detection System?
PowerPoint Presentations on iPad: A review of SlideShark
As the owner of a small business, I regularly present to clients and potential clients. As more and more business meetings take place away from office settings, I find myself delivering presentations in coffee shops and cafés. While I love my MacBook Pro, it can be cumbersome when talking through my slides, while trying to avoid knocking a latte or cappuccino off the small sized tables at my local coffee shop.
Last week I decided to start using my iPad for presentations. Inspired by this choice, I was blazing through the creation of a new PowerPoint presentation about lbdesign , when I suddenly realized a flaw in my plan: how was I going to get my PPT files to display on the iPad?
A quick internet search and I had my answer: SlideShark .
Moving PPT files to the iPad
Racing to complete my presentation on time, I could spare only scant attention to the process of downloading and configuring SlideShark. It could not have been easier. I hit the App Store on the iPad, searched for SlideShark and then tapped the install button. As the install progressed, I returned my focus to my PPT file.
My presentation completed and saved locally, I returned to the iPad. Registering an account was an easy and straightforward process. The app configured, I switched back to my MacBook Pro to upload the presentation to SlideShark via its website. My presentation was bigger than I normally create – 5.6MB. Still, Slideshark crunched through the conversion process in only a few moments. Then all I had to do was sync the Slideshark app on the iPad with my online account and — Whammo! — my presentation was on the iPad.
The beauty of SlideShark is its simplicity. Never once did I need to review the demo or surf to the help section on the SlideShark website. The process of uploading, converting and transferring my PowerPoint presentation to the iPad was seemless and quick.
My Slideshark Wishlist
Slideshark is a new app and I accept that it may not have all the features that the smart people at BrainShark might eventually include. If I could one add one feature to the existing app, it would be more advanced slide transitions; Slideshark currently only offers a basic right-to-left slide transition. The beauty and style of the iPad certainly calls for more exciting changes between slides. Still early days for this powerful new app, but that's one feature that would make Slideshark even more impressive.
28 thoughts on "PowerPoint Presentations on iPad: A review of SlideShark"
Thank you Liam for the compliments on our newly launched app. We appreciate your review and the review of your readership – and we're excited to see the great press it's getting!
Of course we love getting product suggestions and enabling additional transitions is a great one. Our intention is to keep the integrity of the PowerPoint, and not necessarily move away from the author/designer's original intent. That way you're not managing two differing versions. So if we were to approach this, we'd start with what PowerPoint offers, and then, who knows…maybe we do come up with a few fun ones as well.
Thanks for installing SlideShark. I hope it helps you land that next client.
David Klein Product Director, Brainshark t. @slidesharkapp
Thanks for visiting my lowly site and for your insightful comment. You raise an excellent point about not mixing versions. Very clear why you are the product director and I am just the user.
I've no doubt that SlideShark will be of use in landing that next big project.
Thanks again for the great product!
It's great to see someone out there putting their head(s) to the problem and getting a solution available.
It's a shame (but not for Brainshark) the folks at Microsoft haven't gotten their game face on.
You should also try SlideGo. Also converting to iPad format though not directly comparable to SlideShark. The site focuses on content authoring rather than presentation. But since it outputs pure HTML5, you may find some other uses (when you need interactivities, or need publish your design to web…).
This is a great little app. Works perfect for viewing all my transitions and custom animation for teaching props. The one thing I wish is that you could copy the ppt directly to the Slide Shark to view the app in case you don't have internet access; instead of uploading to the website and then downloading back down to your ipad. It is a good feature for sharing with teams, but it would be great to do both. I assume there is no way to do this currently? Thanks for the great app!
Are you asking if it's possible to use Bluetooth to transfer a PPT file from your computer directly to your iPad, using the Slideshark app?
As it stands, Slideshark relies on its web servers to convert the PPT file into something that will display nicely on the iPad. Skipping the online process, while understandable from a usability standpoint, presents issues to the way that Slideshark currently works. I suppose the conversion process could happen on the iPad (rather than via the Slideshark server), but that really would fundamentally change the way that the app functions.
Dropbox to Slideshark, all on the iPad Just yesterday, I was asked if it was possible to transition a PPT file from Dropbox on an iPad into Slideshark. I tried to do so via Safari on the iPad, but the Slideshark website does not allow for PPT uploads from an iPad … or at least so I think it does not. Certainly the upload functionality is not readily visible from the Safari browser. (That may be a limitation of the iPad OS more than anything else.) I'll look into this and post an update when I have an answer.
Within iPad apps, there is typically an "Open In" button that allows you to open that file in one of your installed apps. With the Dropbox app, you'll find that button on the top right. Once you choose SlideShark from your list (again, it has to already be installed on the iPad), it will open the app and send the PowerPoint file into your account. The content will then appear in your catalog.
With Box, we have created a cloud-to-cloud transfer of the PPTX using their own ecosystem. You can find the "SlideShark for Box" app on their site (www.box.com/services/slideshark).
You're right with regards to uploading from Safari on an iPad. There is no concept of grabbing files from a hard drive on iOS devices. Each app "owns" a file until it's shared to another app like in the scenario I listed above. So if you access http://www.slideshark.com from your iPad, you won't see an upload button. If you're in an app with the actual file, you'll want to look for that "Open In" button instead.
Thanks for keeping the conversation going and for continuing to review SlideShark.
David Senior Product Director @slideshark
Wow! Thanks David, and Liam! Within days I got an easy anwer to my question about using Dropbox to open files in slideshark right from the iPad. Very cool trick to know. Much appreciated.
Btw, should we be congratulating you on a promo David? Did you move from Product Director to Senior Product Director?
Thank you for noticing! I'm happy to say that Brainshark continues to be a very successful, innovative, stable and growing company. I am enjoying my new role within the organization.
We're here if anyone has any other questions (support at slideshark dot com)
I've just downloaded this and tested for the first time. This is the perfect solution for me! I've been using my iPad2 for presentation since a year ago. Bought other software that is so expensive but couldn't even display a pie chart (but I've got my refund). Finally bought Keynote, which has been tough too – every ppt I have to spend 3-4 hours adjusting the size (yes, it changes all of my charts' sizes) and have to check whether there are missing bars (yes, somehow it likes to swallow up some of the bars).
Although Keynote has so many nice slide transitions that can give the hoo-hah effect to the clients, I still prefer this as it saves me a lot of time and no-stress!
I like what David says that they want to keep the integrity of PPT, this way we have the most compatible format. This is just what I need. Regret I didn't find this out earlier – you need to do better publicity on this!
I will definitely recommend this apps to all my friends in the same dilemma.
BTW, if you can allow us to edit the transition/animation in the App would be great. Sometimes, after downloading, while on the way to the prez, we realized we forgot to build this in the ppt. It would be a pain to go over the upload/download process again. Some animations are important to tell the story (charts can be too crowded).
I liked SlideShark on my Iphone 4 but when I upgraded to IOS v 6.0.1 it stopped working. When I select my slideshow or the default help slideshow it just displays black screens. I can tap the black screens till it gets to "end-of-slideshow" but that is a serious problem. Does anyone have any ideas? Roger
Sorry to hear about the problems. I've not experienced that issue. Have you raised it directly with Slideshark via email or Twitter ?
I haven't heard of that problem occurring. The iPhones here in the office are all running the latest OS. I'd like to echo Liam's recommendation. Get in touch with our Support team (support at slideshark dot com). They might have you delete the app and re-install to see if that helps – so you could preempt their recommendation prior to your call.
@Suzette Thanks for the compliments! We've been prioritizing accuracy, security and "presenter's-best-friend" tools over slide production tools. Changing elements in the PPT after it gets uploaded to us falls into that latter category.
Enjoy the holiday season and the new year everyone.
Thanks Liam and David. I followed the advice given by Slideshark tech support. Deleted the APP from my iPhone and then re-installed it. It works fine now.
Excellent news!
Thanks for the great advice and continued support for your fine product. Much appreciated.
Best wishes to you both for the new year!
This website and the comments convinced me that I needed SlideShark to make my PowerPoint presentations from my iPad. But I did not understand the upload part…I thought I could upload my PP files from my PC to SlideShark. After installing SlideShark, I now see I need another method to get my files from my PC to my iPad. So how do I make that transfer? And what effect will that have on the file format?
Thanks for the help. I have also recently started using i-pad in trainings but did not know how to save PPTs in it. Thanks for telling the process.
David — I hope you are still monitoring this forum.
I just tried SlideShark and like it except for one MAJOR gripe that could make it a no-go.
I can find no option to delete a presentation from the SlideShark account and LEAVE it on the device.
This is a CRITICAL functionality for people with a lot of standard presentations. I can easily load up 10-15Gb worth of presentations (and have more than enough memory to do so on my ipad).
SlideShark would require that I somhow get my account upgraded to 10-15Gb of storage, an option I don't even see…and that would certainly be prohebitavely expensive based on your 500Mb pricing.
Is there a reason the app has been designed to automatically delete presentations from the device when removed from the account? You gave us the option of deleting from the device (lots of space) but leaving on the account (little space). Totally backward from a logical perspective.
Alan — all you need to do is log into SlideShark on your PC. You can also use a cloud service like Dropbox, Skydrive, etc, which SlideShark will link to.
It really is a great app, if only they had provided the option of deleting presentations from the SkyShark account but still keeping on the device.
Thanks for trying out SlideShark. I'm glad to see that you like it.
Our model allows you to manage your content via a cloud-based account. In this manner, you can upload once (via computer or mobile device) and then download to your iPad and/or iPhone – even iPod Touch in some cases. We have made it so that people can delete files from the cloud and it will automatically delete from each device. This is primarily used in multi-user situations where you have a Marketing team managing and removing content so that the Sales people in the same account don't use outdated material. So there is no option to delete just from the cloud without deleting from all devices.
Most of our community have stayed under the 100MB limit; many have referred friends or upgraded or get to 1GB, which also gets them more functionality (and a lot more to come); and the business users have purchased Team Edition, that multi-user option that I mentioned, which gives the account 5GB. We've adjusted that allowance in some cases.
We haven't come across many people like yourself asking for much more storage.
Thank you @George for answering Alan on this. Yes, there are a variety of ways to get your PPTs into your SlideShark account and optimized for any iOS device: – Desktop: log into your account at http://www.slideshark.com and upload from any computer – Cloud Storage Provider: import your file by securely linking SlideShark to your Cloud Storage account. We just recently added new providers, so we now include Box, Dropbox, EMC's Syncplicity, Google Drive and Microsoft's SkyDrive. We'll be adding more too! – Attachment: use the "Open In" function of the device if you receive the PPT via email or some other app.
Once it's been optimized, you download it and view or present it to an audience with full support of animations, fonts, design, links, etc.
Hope that sorts it out for you, Alan. Enjoy!
David Senior Product Director @SlideShark
Why not just provide the option to not delete from the device? It would be an easy option to add (every bit as simple as the current option to delete from device only…you simply need delete from cloud only).
I do understand your model, but please understand that many people who use powerpoint presentations are looking for a great presentation app, not a great cloud model. 500Mb – 1Gb is great for the more dynamic presentations we use and change out all the time. But for our library of more static presentations we need to be able to carry around on the iPad without cluttering up limited cloud storage.
PS…you may be having some difficulty translating to real-world need. So let me give you a specific example. I head out to do a 1 or 2 week training seminar with various sales presentations on the side. Training presentations are relatively static and fairly large. I need to have these on the iPad only.
Some of the sales presentations are customized to people I'm meeting with, and may be tweaked by support in the home office while I'm delivering training — so these live on the cloud until I'm done with them.
As you can see, there is clear need for ability to store only locally, only cloud, or both. It is a key feature that I'm quite sure other people want as well.
I downloaded SlideShark and found it very convenient to use on the ipad mini.
However, I use PC to make the pptx presentations and it doesn't come out well on SlideShark in terms of: 1) some fonts don't come out (e.g., copperplate gothic, Berlin sans Demi) 2) some graphics don't come out- standard shapes from PC (e.g., block arrows, "doughnuts," etc) 3) formats don't come out right (e.g., spacings, centering, indents, bullets, etc).
I would like to very much use SlideShark but still can't. Help please.
I love this app as a real estate agent. But, I was disappointed the slide transitions did not transfer over as it would allow me to give a PREZIO appears but with the comfortable use of PowerPoint that I am used to. I see in 2011 this was considered. Hope the transition slides as in PowerPoint can be included soon! Great app. I had Office App, but slides did not have animations. Thanks for that part!
Hi. I was wondering if it was possible to make my slides full screen size on the iPad. Currently it comes up with gaps at the top and bottom.
@ David Thomas
I'm figuring that your content is 16:9 – which SlideShark supports – but the iPad is 4:3. So, it simply appears in an envelope format. You will notice that an iPhone's format is more optimized to the 16:9 sizing.
If I'm wrong on that, please get in touch with our support team through the app and they should be able to investigate any issues.
David VP, Product Management @SlideShark
Hi Liam, is there any way to move contens of my slideshark to dropbox? Thank you Best regards
Comments are closed.
Liam Dempsey is a marketing and design consultant. Through his business, LBDesign, he works with businesses and non-profits in the US, UK, and beyond. He loves pizza, craft beers, and time with family and good friends.
A work in progress. Made with Elementor , a powerful page builder tool.
Managed WordPress hosting by the highly capable WP Engine .