All Getting Started
New Book Maker Guide
Bookbinding Tools & Supplies Quick Start Guide
Bookbinding Methods
Inspiration
Select Page
Overview | How to Create a Book Using the Perfect Binding method
Bookbinding Methods , Perfect Binding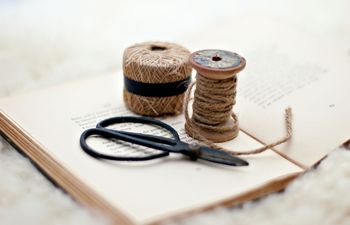 The  Perfect Binding   method is an extremely beginner-friendly technique that binds paper using a flexible adhesive at the spine. It was invented in 1895, but wasn't used in book manufacturing until the 1930's to enable the mass production of paperback (also known as softcover) books.
This method is well-known for several reasons:
The simplicity is perfect for beginner-level bookbinders
It's a great option for binding single sheets of paper
It doesn't require a hardcover
It's still the #1 publishing method in the industry
As you can see, there is more to the Perfect Binding than meets the eye. Now, let's jump into the details.
What is a Perfect binding?
Bookbinding Method or Technique : Perfect Binding
Minimum Skill Level: Beginner
Characteristics: Flexible, softcovers, closed spine, will not lay flat, adhesive type is important
Great for : Single sheet bindings, newer book makers, magazines, authors, notepads
Bad for : hardcover books, scrapbooks, photo albums and any books that need to lay perfectly flat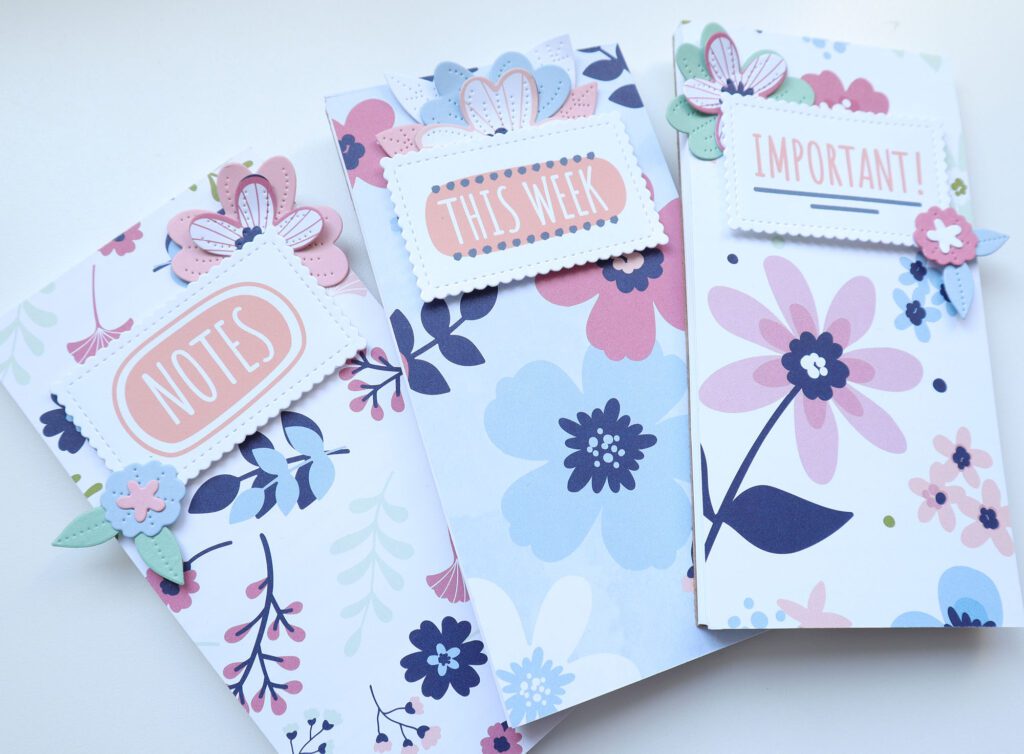 Perfect bindings are characterized by flexibility, softcovers and rectangular spines. The book block is historically square at the spine, top and bottom edges and does not feature an overhang on the fore edge. If the book has folded sheets, the folds are removed before glue is applied.
As you may have guessed, adhesives play a very important role in the perfect binding. It should be strong, dry clear and remain flexible over time.
Benefits and drawbacks of the perfect binding
Here is a short list of pros and cons for this method (as I've experienced them in my own bindery).
Easy to create with very few raw materials
Affordable option for mass production
Doesn't require any sewing
Can be used to create tons of different book ideas and gifts
Using the wrong glue (or too much) can lead to a brittle, cracked spine
Softcover books may lose shape over time or after frequent use
Will not lay 100% flat
Are perfect bindings inferior to other binding methods?
I get this question a lot, and the short answer is this: No .
While perfect bindings do have some drawbacks, they're stronger than you may think. Original edition comic books, music magazines (think Billboard and Cashbox) and dictionaries have held up for decades even though they're bound using this method and handled frequently.
Perfect bindings also offer something no other binding style can: an option that isn't necessarily intended to last a lifetime . This may sound counterintuitive, but hear me out.
Not all books are created to outlast us. Workbooks, notepads and even some notebooks are intended to serve, not last. When we need a quick, affordable option, the perfect binding is an obvious choice.
Perfect binding technique steps
While I'll be covering some steps of book assembly, this is not an in-depth tutorial ( here are some of my own tutorials using this method ). This article is intended as an overview of a book's creation under this technique and recommendations for how you can use this method in your art.
Creating the book block,
Applying adhesive,
Adding the cover
Step 1: Creating the book block
To create the book block, gather all pages flush at the spine and secure using a clamp. Cut the spine edge square using a guillotine or manual knife. The book block is now ready for adhesive.
Quick tip : Use a ream cutter or guillotine to square up book blocks with a thicker spine.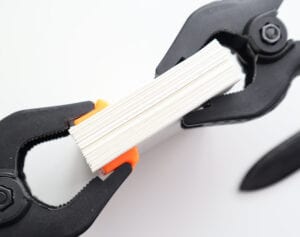 Step 2: Applying adhesive
PVA (polyvinyl acetate) is an adhesive in the bookbinding space known for its strength and durability while drying clear and flexible. PVA is the best option for DIY and hobby book makers, but if you don't have PVA, it's safe to use Elmer's glue instead.
With the book block still clamped at the spine, begin applying adhesive using a paste brush. Move from the middle to each outer edge, using care to spread the glue evenly. After the first application, let it dry for 5-10 minutes. Apply at least 2-3 more coats for spine thicknesses up to 25mm (1 inch). Apply 4-5 additional coats for spines from 25mm to 50mm in thickness. If the spine of the book is wider than 50mm, consider using more layers and a stronger adhesive.
Remember, glue used at the spine requires us to respect grain direction . This is true for the perfect binding as well as many other methods (like the case binding , for example). If grain direction is not respected, the perfect binding will buckle at the spine and its lifetime will be greatly reduced.
Quick tips:
Vice grips and metal clamps are great for holding the book block in place while applying adhesive
Each layer of adhesive requires a longer dry time, so having a small fan nearby can be helpful
Wood glue is another great option if PVA and/or Elmer's glue are not available
Thermal glue is often used in the commercial space, but can also be used at home
Step 3: Adding the cover
Once the final layer of glue has been applied, it's time to add the cover. The perfect binding cover is usually made of heavier card stock or paper and can sometimes have a satin, glossy or textured finish on one side. Lines are scored on either side of the spine, making it easy to bend the covers into position.
To apply the cover, press the untreated spine of the card stock evenly against the still-wet glue of the book block. After 1-2 minutes, remove the clamps. Fold at the pre-scored lines to allow the front and back covers to fall in place.
With the cover in position, apply even pressure across the entire surface using weight or a book press. This will make sure the covers dry flat in position. If there isn't enough pressure, the covers may flap open like bird wings.
Choose a heavy paper between 80 and 100lb (Kraft stock is also an excellent option)
Textured cover stocks (like linen) are nice to the touch and add character
Add glossy UV or other laminate to your cover for strength and durability
Use several books slightly larger than the one you're making in place of a book press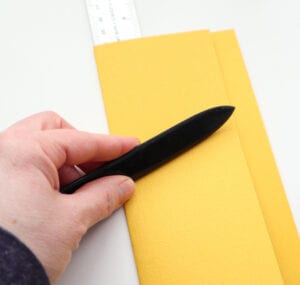 Fun tutorials & ideas for Perfect bound books
The perfect binding is an awesome choice for kids' activities and quickie craft projects that are purposeful (yet beautiful). Here are some of my favorite ideas:
Use up those craft room scraps with a handy 15-minute notepad
Make a reusable cover with pockets to hold your to-do lists
Create a set of tearaway notepads as gifts or for yourself
Bind a manual, thesis, magazine or other self-published works
Learn about bookbinding adhesives , including PVA, and where to buy
Need more binding ideas? Learn more about How to Bind Single Pages or Sheets of Paper
Looking for tools like clamps or paste brushes? Check out my free Bookbinding Tools & Supplies Quick Start Guide
New to the art of making books? Check out my New Bookbinder Guide for helpful information.
Pop over to Instagram or Facebook and let me know if you have any questions!
ALL my best,
About The Author
I created papercraftpanda to be an outlet for my bookbinding obsession and technical point of view. I designed the site to be a judgment-free zone where aspiring book makers of all levels can find helpful info, ask questions, share and inspire one another. Whether you're making books for yourself, for others or even for sale, you'll find support here. In this community, there are no silly questions!
Related Posts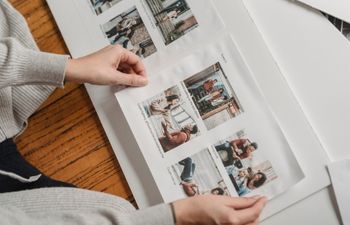 3 Fantastic Ways to Mount Photos in an Album
June 15, 2022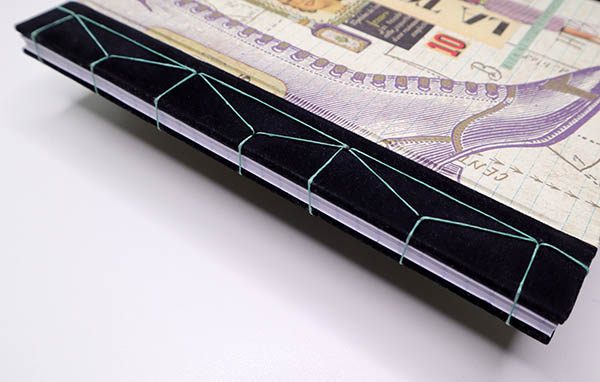 Overview | How to Create a Book using the Japanese Stab Binding Method
November 30, 2021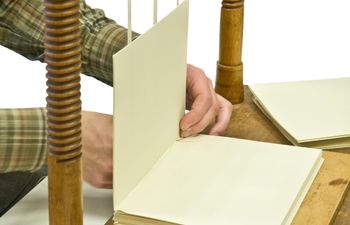 How to Setup and Use a Sewing Frame for Bookbinding
April 13, 2022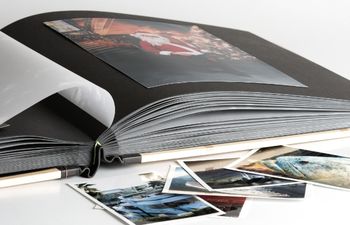 Glassine Sheets are the Best Interleaving Material for Photo Albums
June 8, 2022
Popular Posts
love what you're reading?
Creative Services
Brand Strategy & Consulting
Creative Strategy
Graphic Design Services
Copywriting & Photography
Event Design
Web Development
Website Design
Responsive Websites
Custom CMS Solutions
E-commerce & Fulfillment
Database & CRM Integration
Hosting & Maintenance
Digital Marketing
Inbound Marketing
Content Marketing
Social Media Marketing
Search Engine Optimization (SEO)
PPC Ad Management
Analytics and Reporting
Print Services
Digital Printing Services
Offset Printing
Large Format Printing
Promotional Products & Apparel
Mailing Services
Warehousing
Fulfillment
Web-to-Print
Sign Installation
Event Management
Resource Library
Healthcare and Medical
Manufacturing
Multi-Unit Franchise
in Print Marketing
Book Binding for Beginners: Perfect Binding
What does it mean when a book is perfect bound?
Perfect binding is a commonly used form of book binding that uses glue to hold the pages and cover of the book together. The three sides of the book are then trimmed to give them clean, or "perfect" edges, hence the name: perfect binding.
Often books that use perfect binding feature a clear coated cover which helps to enhance the book's appearance and provide extra durability. Perfect binding is not only used to bind books. Oftentimes, when a marketing brochure has more than 24 pages, the decision to perfect bind the brochure is made to enhance the look and feel of the piece, rather than saddle stitch.
The Perfect Binding Process
To better understand the perfect binding process, here is an account of how a perfect bound book is constructed.
The perfect binding process begins with pages being arranged in proper order, then stacked into a block. Abrasives are then used on the edge of the block to roughen it up, exposing paper fibers that will allow the glue to adhere more easily.
The glue is then applied to this edge and the cover is wrapped around the block of pages. Once the glue dries, the open edges of the book are trimmed leaving them nice and clean.
Related: What Book Binding Method is Right for Your Print Job?
Perfect binding use cases.
Perfect binding is a great solution for many books, but is not recommended for those that are less than 1/8" thick. This is because the narrow edges of these books do not provide enough surface area for the glue to bind the pages securely. For thinner books, saddle stitching or spiral coil binding may be recommended.
Perfect binding is also a great option because it is durable, economical and gives books a professional appearance. This method has the added benefit of allowing a surface large enough so that the title can be printed on the spine, making the book easier to identify. This convenience is not an option available with saddle stitch and spiral binding methods.
RELATED: WHAT's in a Bind? 4 Types of Book Binding – Pros and Cons
When to not use perfect binding.
Although the perfect binding method might seem ideal, it comes with a variety of drawbacks, as well. Perfect bound books do not lay flat and, therefore, are not recommended for books that require hands-free reading.
The method is also limited to books that fall between the measurements of 1.25 inches and 2.25 inches. The turnaround time can be a bit longer for the process as well as perfect bound books may take a day longer to produce as compared to other methods.
Weigh your Binding Options
Those who are considering perfect binding may weigh their options carefully, but it remains a popular method for catalogs, directories and paperbacks that have a higher page count. There are many forms of book binding from which to choose. Research carefully to determine if perfect binding is the best option for you.
If you need help, feel free to contact our print experts for a consultation – we'll set you on the right track with your brochures or books!
Written by Matt Marzullo
Subscribe have smart marketing insights delivered right to your inbox., similar articles.
Copyright ©2023 Ironmark. All Rights Reserved.
Prepressure
Prepress, printing, PDF, PostScript, fonts and stuff…
Home » Finishing » Perfect binding
Perfect binding
Perfect binding is a method of holding the pages of a publication together by applying a glue to the spine of the gathered pages. It is also known as adhesive binding and is used for paperback books, telephone guides, catalogs, magazines and other types of multipage publications. According to PrintWiki around 40% of all US magazines are perfect bound.
For thicker publications such as books, a soft paper or paperboard cover (a 'paperback') is attached over the binding adhesive. Perfect bound publications have rectangular backbones.
To make sure that the glue firmly holds all the pages together, the spine of all the signature is grinded. This creates a roughened texture to improve the application of the adhesive.
The animation below shows a Muller Martini Vareo perfect binding machine, meant for short run jobs, in action. You see the inner pages or body of a book or magazine being inserted into the machine (The operator doing this is not shown). Glue is then applied to the spine. The body is pushed onto the cover and the entire publication is ready to be sent to an external trimmer. There are of course fully automated systems as well for binding bigger runs.
The image below shows a full production line. At the top left a roll of printed pages coming of a digital press is unwound. A Hunkeler machine cuts and folds book blocks. These are transferred to the Vareo binder at the bottom right using a robotic arm. The Vareo binder also needs cover pages, visible on the pallet next to the machine. The bound books come out of the machine at the back, underneath the book block intake. The transport belt feeds them into a trimmer and then the finished publications end up in a stack at the left. The operator stacking them on a pallet has apparently gone missing.
Guidelines for designing perfect bound publications
Crossovers (images extending from the left-hand page onto the right-hand one) require extra care. Avoid putting critical image parts, such as faces, on the spine.
Set up the document to the final trim size and make sure there is a bleed of at least 4 millimeters or 0.125″.
If you supply the document as PDF files to the printer, supply as single pages – not spreads. There shouldn't be a need to include crop marks on the PDF pages. If you do include them then make sure they are offset by an amount that is greater than the bleed amount so that the crop marks don't print in the bleed area.
Guidelines for imposing perfect bound publications
Check with the bindery how much grind is needed. Typically around 4 millimeters or .125 inch is sufficient but some prefer more, up to 8 millimeters or .25″. Often binders prefer not to have any ink in the grindoff area because ink mud builds up on the grinding tool and has a negative impact on its efficiency. A very small bleed into the grind area of 1 millimeter or 0.025 inch makes sure small folding inaccuracies are compensated for.
Creep is generally not an issue with perfect binding since each flat typically contains just 8 pages. This depends on the job, however.
Partial signatures should be placed in between full ones so they are protected. This is different from saddle-stitching where the partial signature is often placed on the outside.
One thought on " Perfect binding "
what type of hot glue is used for digitally printed offset paper on these machines
Leave a Reply Cancel reply
Your email address will not be published. Required fields are marked *
DIY Perfect Binding — No Book Clamps Needed
Make full-size books and zines at home.
Perfect binding is a method of fastening pages without folding paper, staples, stitches, or coils. Paperbacks, photobooks, and most well-made magazines are perfect-bound.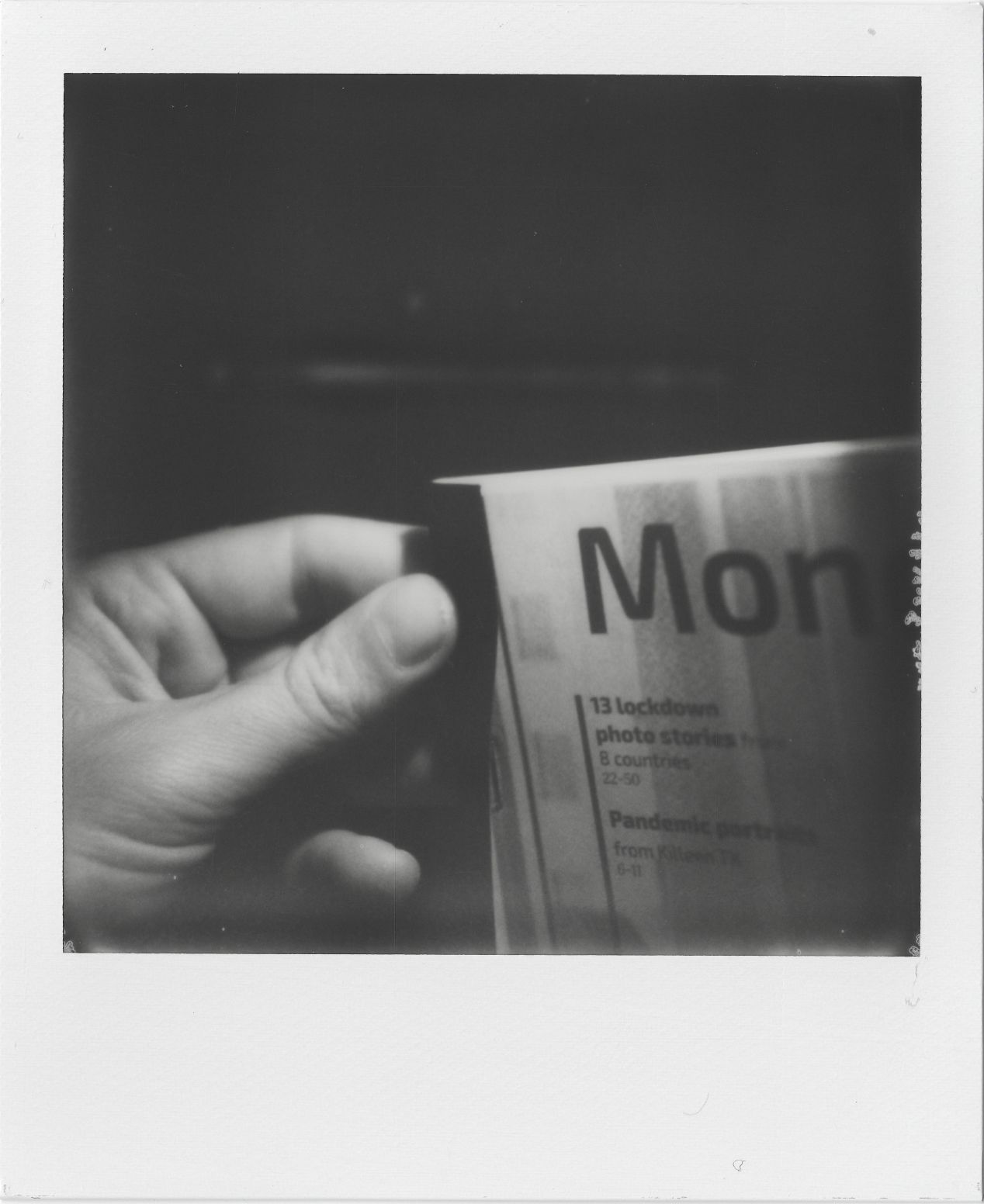 Early in 2020, I set out to print a community magazine with the high-quality construction of a professionally printed publication but with a one-of-a-kind hand-made feel.
It just so happened that this was during the early onset of the pandemic when many shops closed. And even if I could get the book clamps , the process of using these tools would require a lot of space and time — a luxury I did not have in a small apartment and over sixty copies on back-order.
So I devised a new method that requires no book clamps, works with full-size pages (US Letter or A4), and is relatively quick to finish .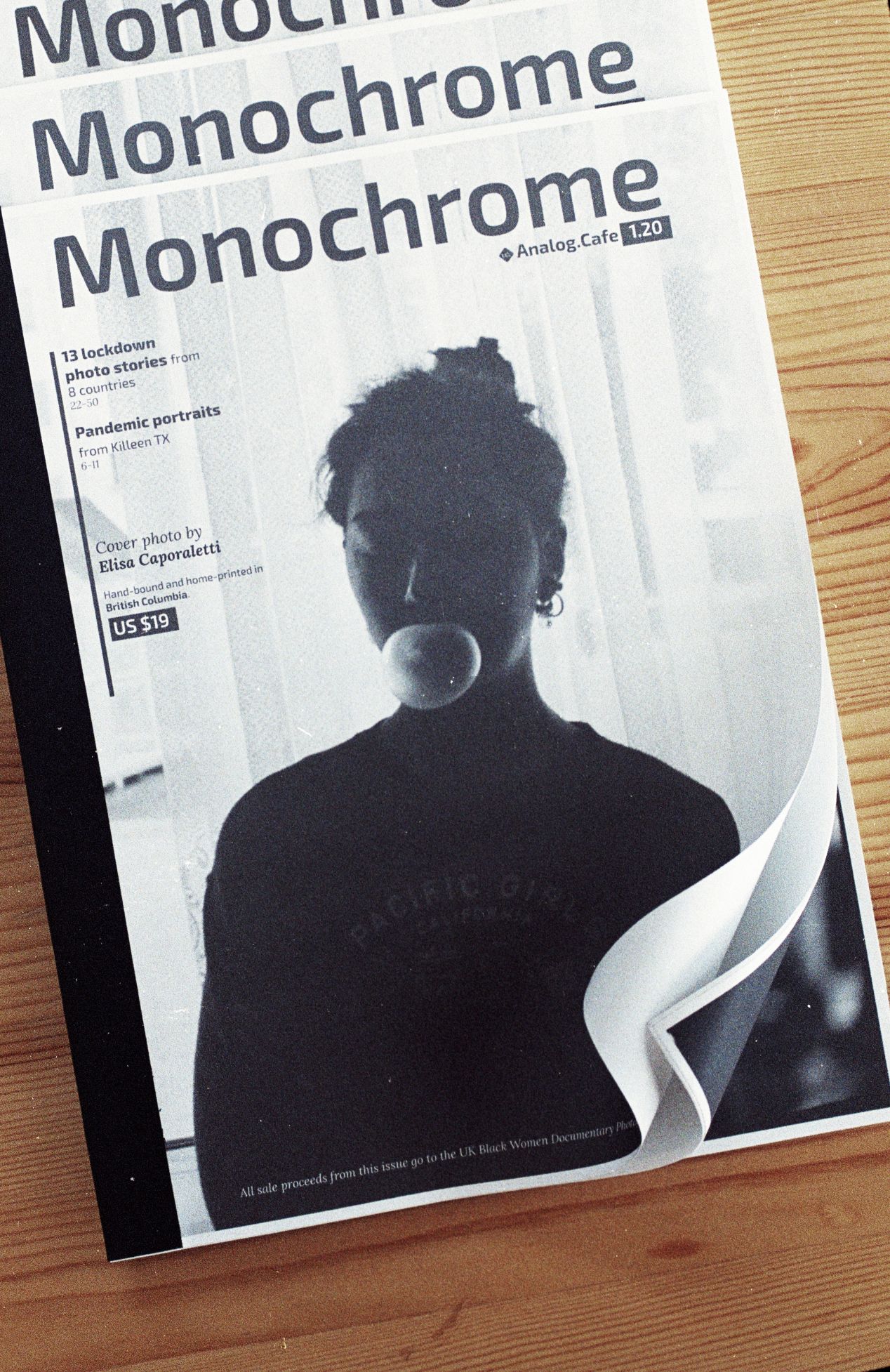 Above: Monochrome magazine vol. 1.20, made using methods described in this guide. A few copies may still be available at the Etsy shop.
Paper experiments.
It's no surprise that I had to make a few mistakes before getting everything right, considering that I've settled on rather demanding requirements.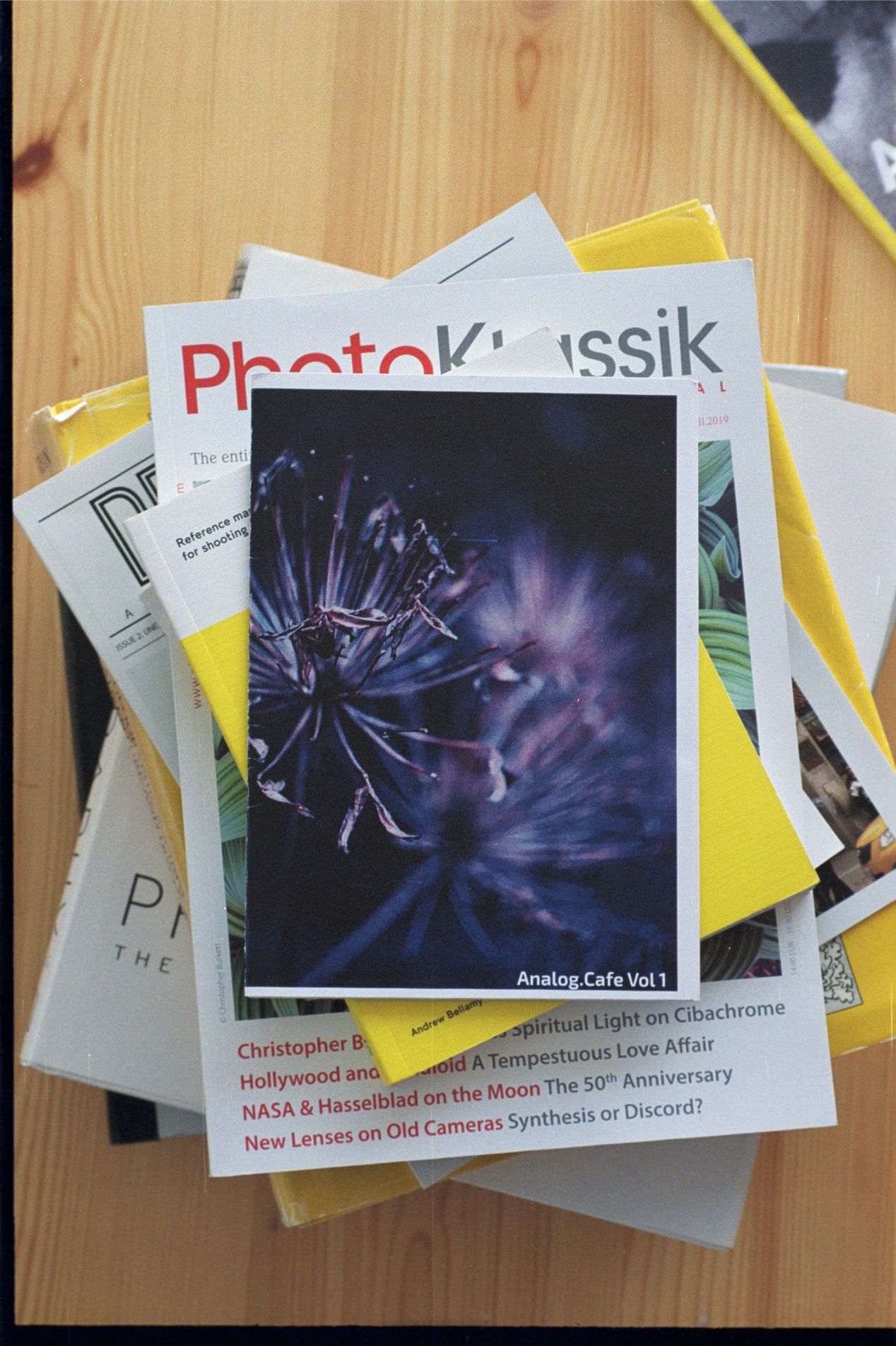 Most of the 'zines I've seen, made, and bought thus far are relatively small. They typically comprise either a stack of paper folded in half, stapled in the middle or petite perfect-bound booklets made to order at a pro shop.
I wanted to maintain control over the entire process while producing a full-sized magazine with a nice finish that could have a 16x11" (40cm x 28cm) spread and wouldn't take an hour to assemble.
It took over a hundred sheets and dozens of test copies to get it looking right. Eventually, I settled on stapling the sheets as close to the edge as possible and covering the staples with custom-sliced cardstock paper to precisely fit the magazine's width . This method may not fit the perfect-bound description exactly, but it looks and feels just as good.
1. Preparation.
Here's what you'll need to get started:
A heavy-duty stapler that can penetrate all of your pages at once. I used Novus B 40 to fasten 25 sheets of 36lb sustainably sourced paper. You will need a set of staples for it as well; note that there are different sizes and widths of staples out there, so I recommend you take some time to pick the right ones for you.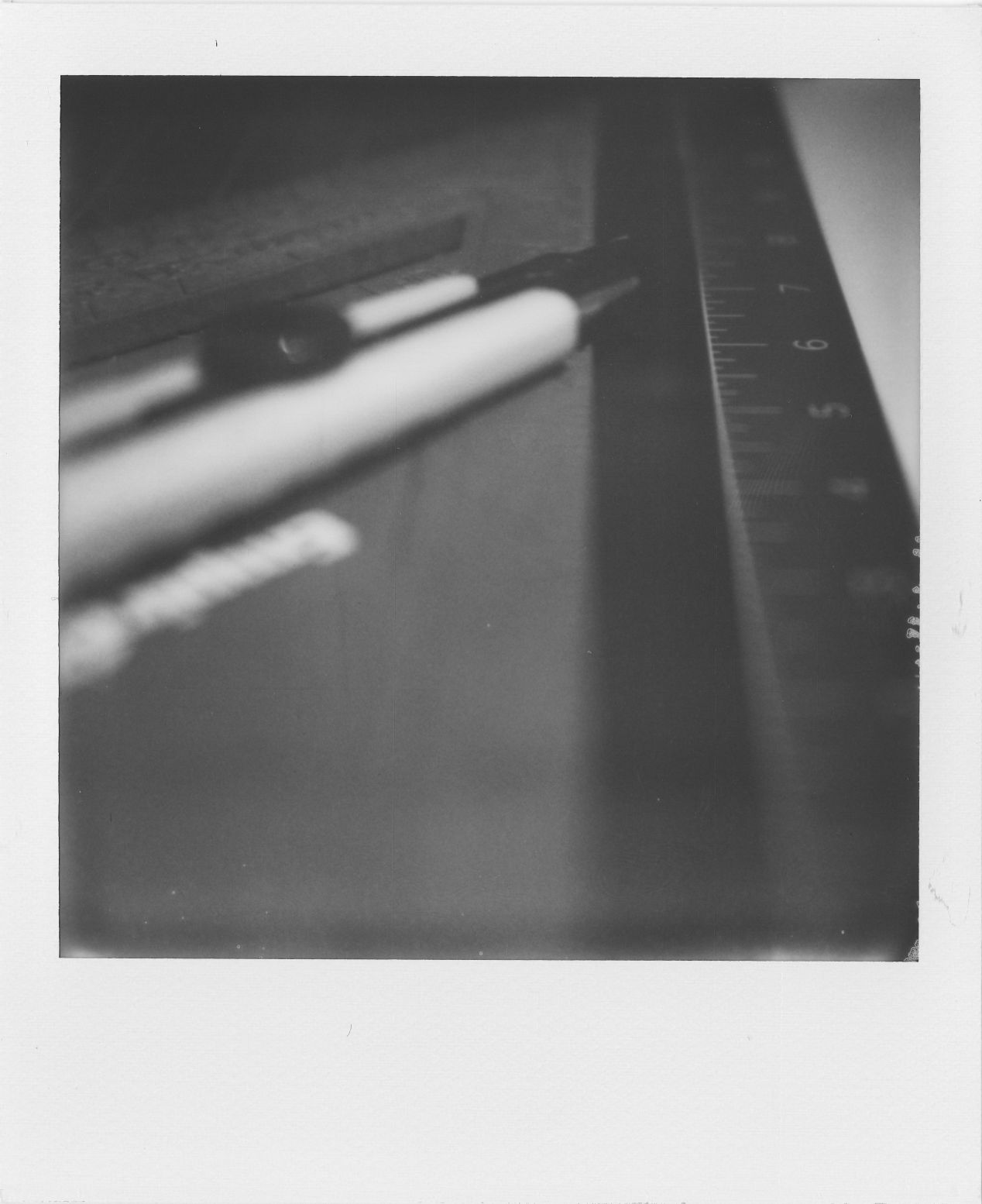 An X-Acto knife/box cutter. I used an Olfa knife with a set of blades that can be snapped off. The choice is yours here, as long as it's something that makes slicing paper really easy — it has to be sharp.
A self-healing cutting mat/board. I used a Circut mat that's 12x12" with conveniently lined measurements. You may choose to use a wooden table or whatever else you're comfortable slicing on top of. The marks for inches/cm on the cutting surface can be helpful.
A rafter square or a ruler that's at least 12" long, preferable in the form of a triangle so that you can easily ensure 90° angles.
I used Empire 12" Polycast™ rafter square.
One more light plastic or wood ruler. This one isn't for measuring but rather to help you ensure the paper is perfectly aligned — it needs to be as light as possible so that you don't damage your work. I will explain how that works below.
Printer & paper. This is obvious though I would recommend you make your choices based on environmental considerations — look for Forest Stewardship Council certifications or similar. I used Epson ET-M2170 to print my magazine in monochrome, duplexed, for the best-in-class ink economy.
Cardstock for the spines. Spend some time selecting the right colour and texture for the spine that'll wrap around your book and cover the staples. For my print, I chose Recollections black heavyweight cardstock.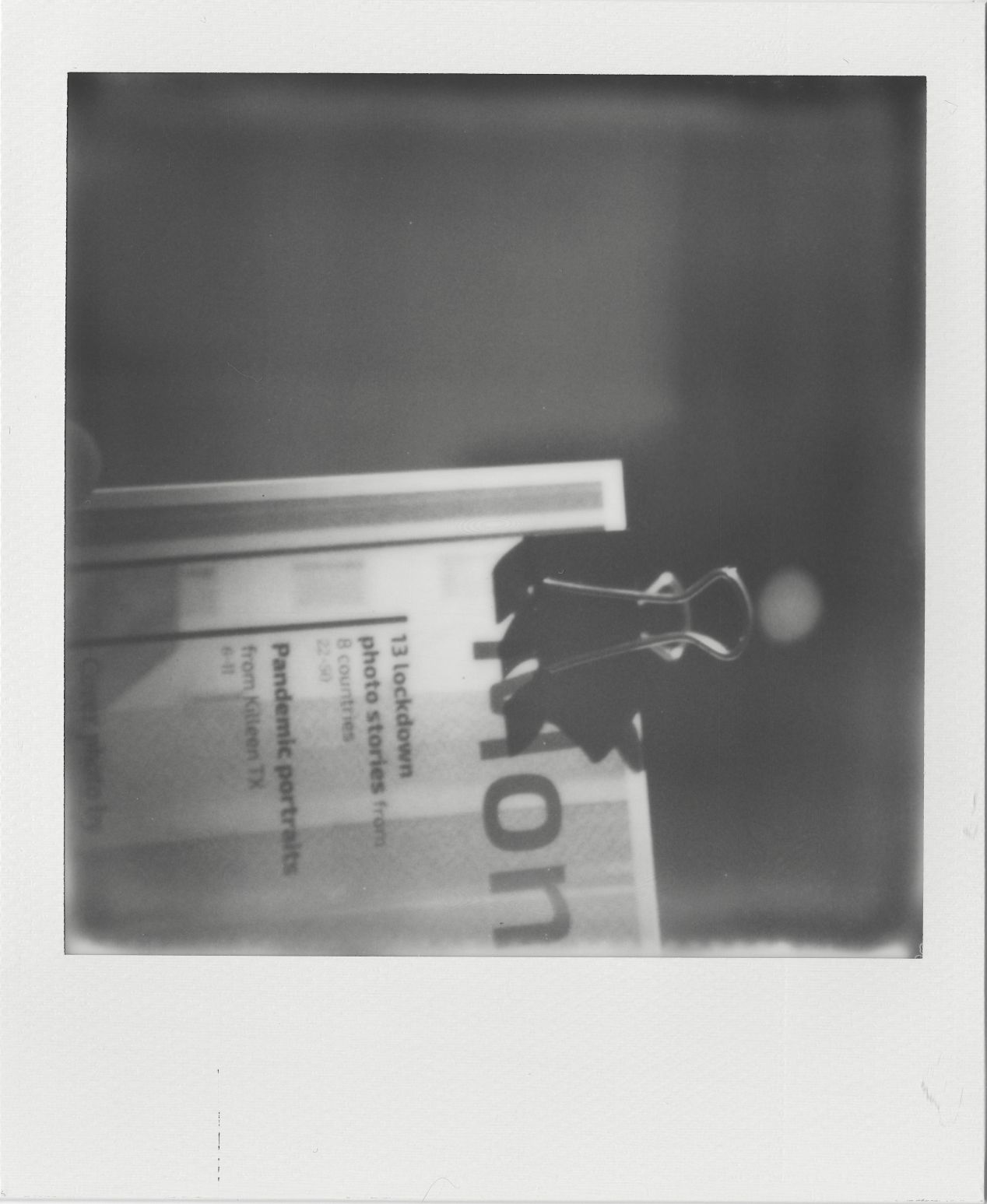 A pencil. To mark your cuts.
Paper or wood glue and a brush. You will also need a small jar of water to moisten your brush (which should be about a pinky finger in width). I used Gorilla wood glue. You should also have some scrap paper and a moist towel to control your spills.
Pliers , I used Mastercraft. They will need to be something that's comfortable to hold in hand as you'll need to exert a fair amount of pressure to flatten your staples.
Paper clamps. You will be using paper clamps to keep the paper stacked perfectly together. Paper clips may not work as well.
Workspace. Any table will do, but make sure it is also a well-lit area.
2. Staple your booklet (2 min).
Essentially, the book is going to be stapled first and then those staples will be covered up by a spine. I will explain, below, how to make sure that the staples never show and your book looks and feels perfect-bound.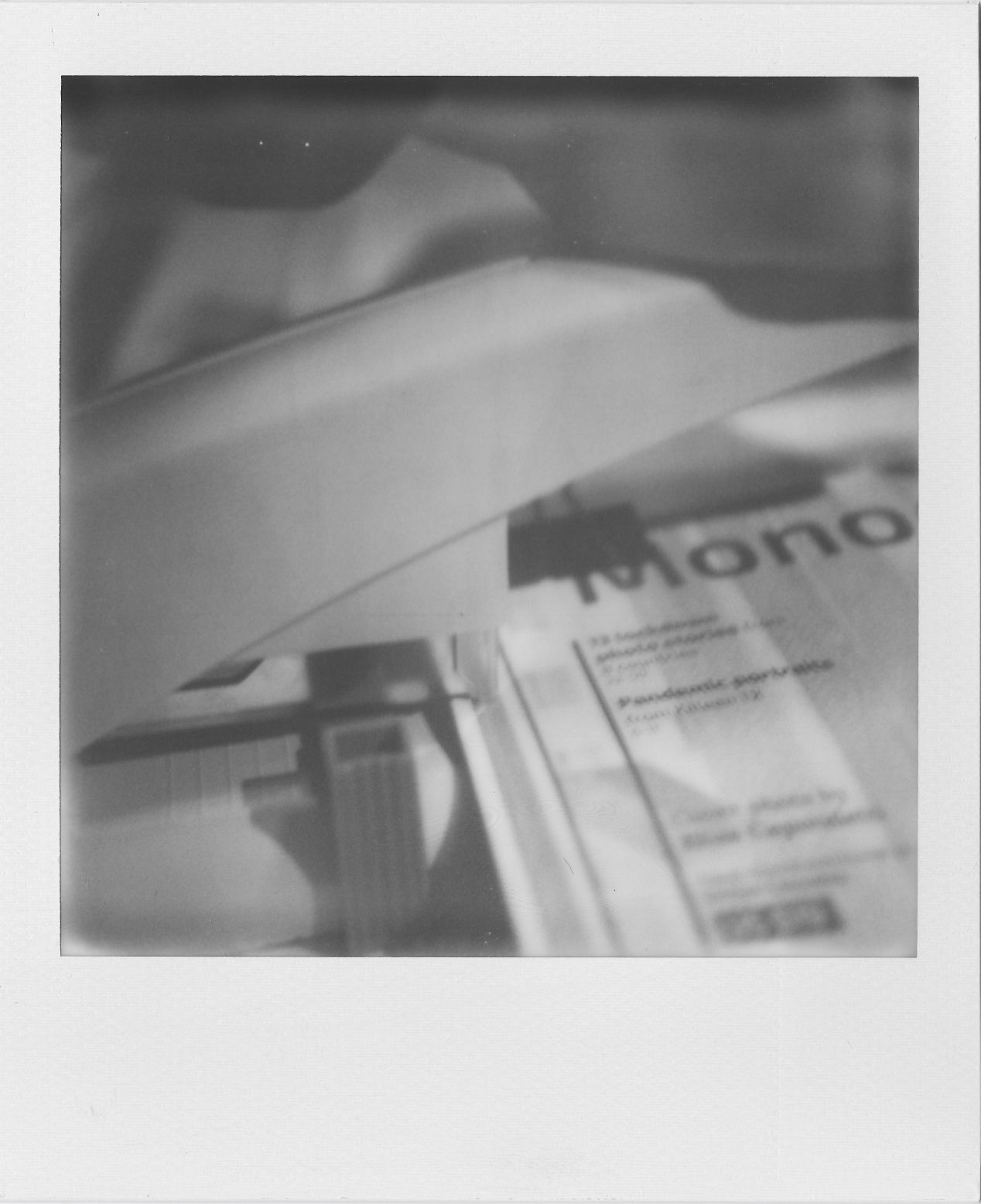 Stapling your paper together is an important step as it will dictate how your package's rims will look in the end. The idea is to make sure that the pages are perfectly aligned, forming nice, flush edges. No papers should stick out or dip.
To accomplish that, you will need to first stack your paper on the table, as you usually would (i.e. standing up). Then, use the light ruler to lightly tap on the top of the paper stack as you hold it firmly in your left hand, assuming you're right-handed. You will notice that the pages will gradually align to form a nice, flat edge — be careful not to dent them with the ruler's edge. Now turn the pages on to their side and repeat the procedure at the long edge. Do this until you're satisfied with how your pages are stacked — the goal being an edge that's flat like that of a well-bound book.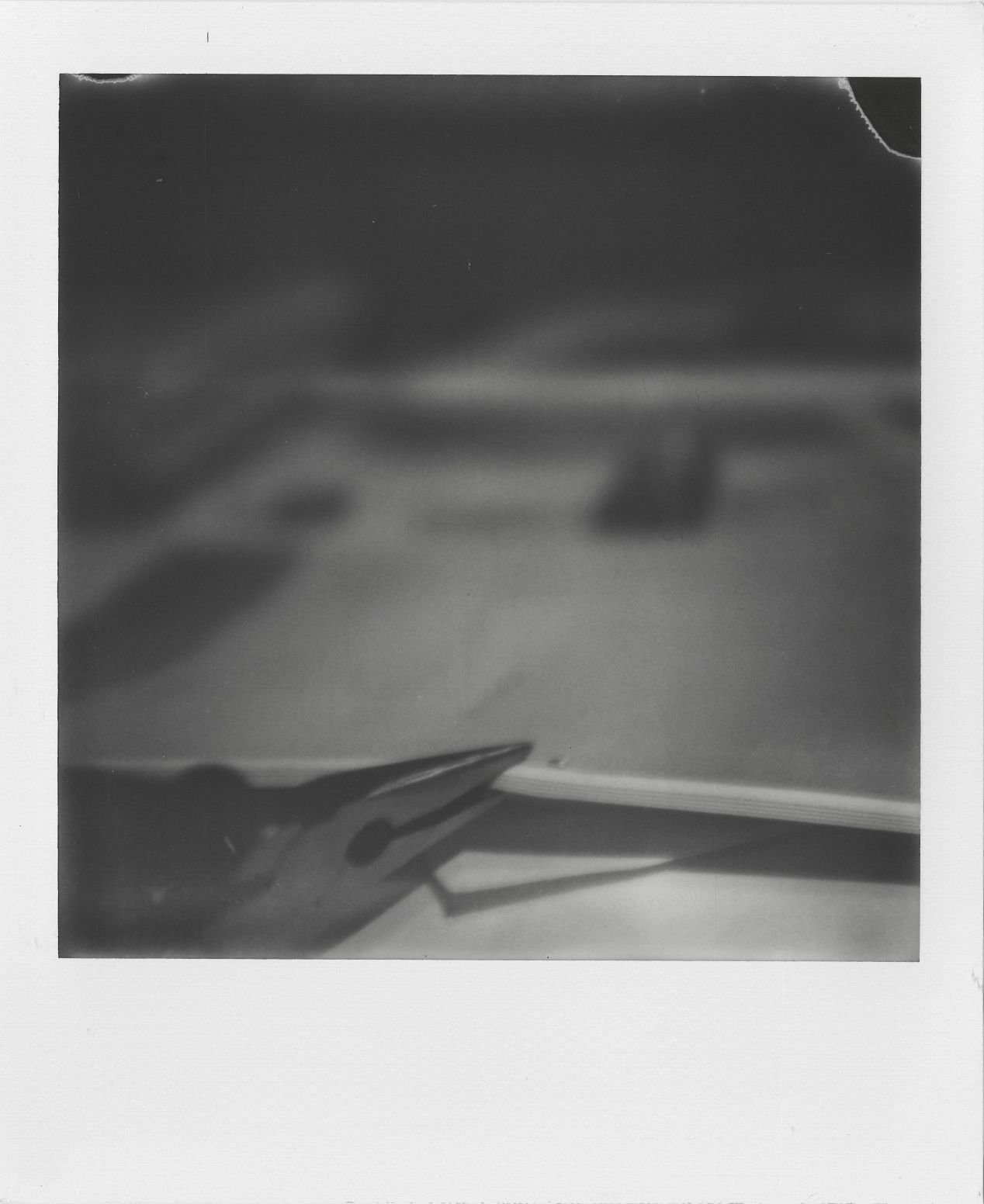 Next, apply paper clamps near your stacked paper spine's edge, as shown in Figure 2 above. It's now safe to let go of your stack as the clamps should hold it nicely together with the pages perfectly aligned.
Now that the stack is secure, you can apply staples to the spine edge. I used three, about a quarter-inch (~6mm) away from the edge. Try to ensure that the pages are relatively flat as you staple so that your booklet isn't fixed in a bent position with your staples.
Your next step is to ensure that the stapes do not bulge under the cardboard spine we will be applying next. The best way to do that is to squeeze them hard with your pliers. Do not worry about damaging the paper on the edge, as it's all going to be covered up.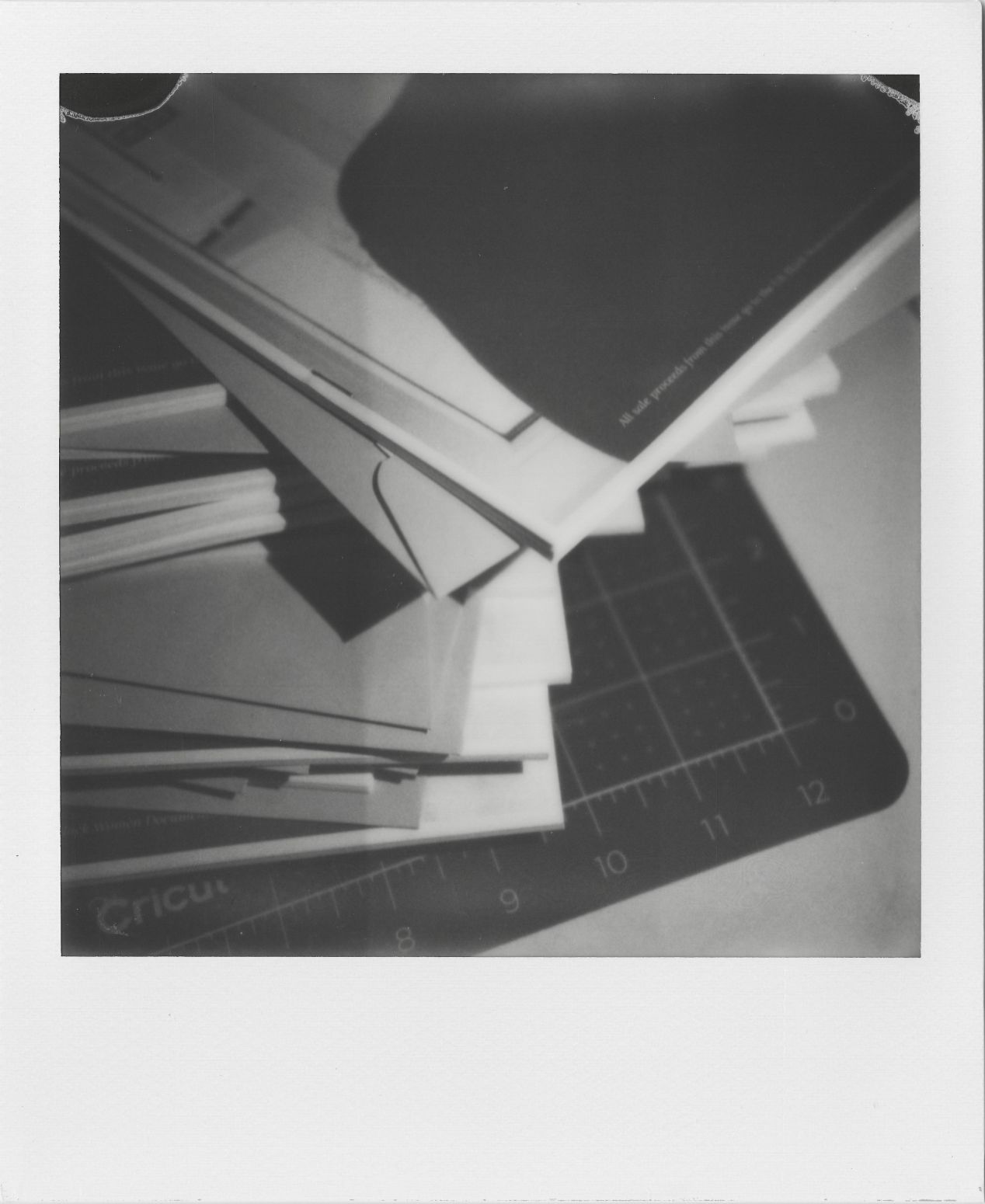 3. Make the cardstock spine (5min).
This may be the trickiest piece of the puzzle, though most of the work is just ensuring that the cuts are well-measured and are straight.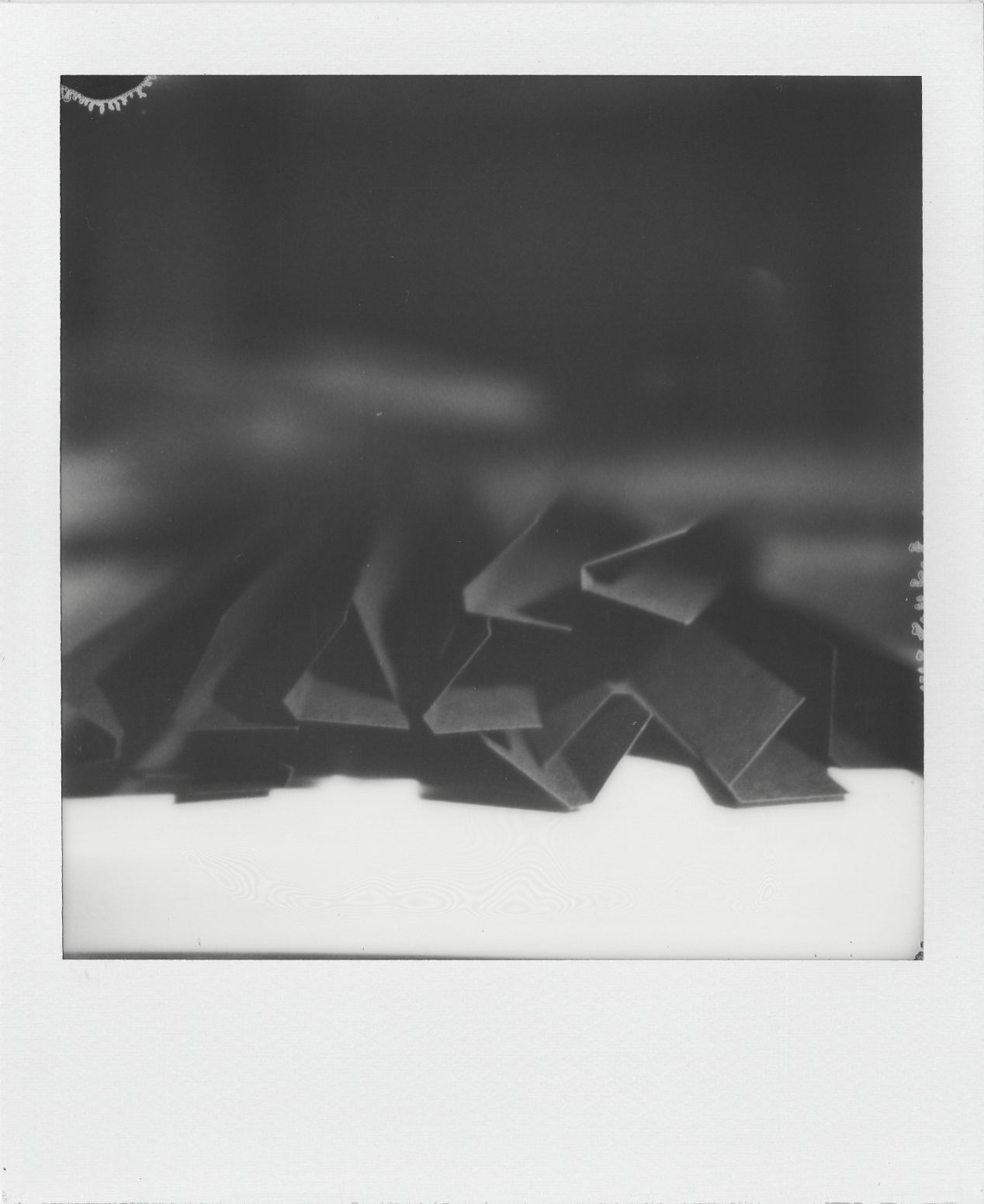 Cut the cardstock so that its width matches the long side of the papers as closely as possible (you may not need to do this if your card stock comes in the same size as your paper).
Measure the thickness of your stacked papers — mine was ⅛" or about 3mm. Now measure and mark about ¾" from the side of your cardstock, then ⅛" (or whatever the thickness of your paper stack is), then ¾" again. You are looking to create a U-shaped spine for your book; see Figure 5 .
Before you slice 1⅝" spine strip from the cardstock, drag your knife lightly over the ¾" and ⅞" marks so that it will be easy to fold it at those marks neatly.
These ratios are a little hard, so here's a metric version: 2cm + 3mm (the thickness of your paper stack — you will need to measure this yourself) + 2cm. The total width of the spine, in this case, is 43mm — but before you cut it, you are dragging your knife at the 2cm and 23mm marks so that it's easier to fold.
Your rafter square should make cutting at a right angle relatively easy. The cutting mat will ideally provide the grip for your cardstock as well.
Here's something to consider: when making the design for your front and back covers, keep in mind the spine and how it will interact with them.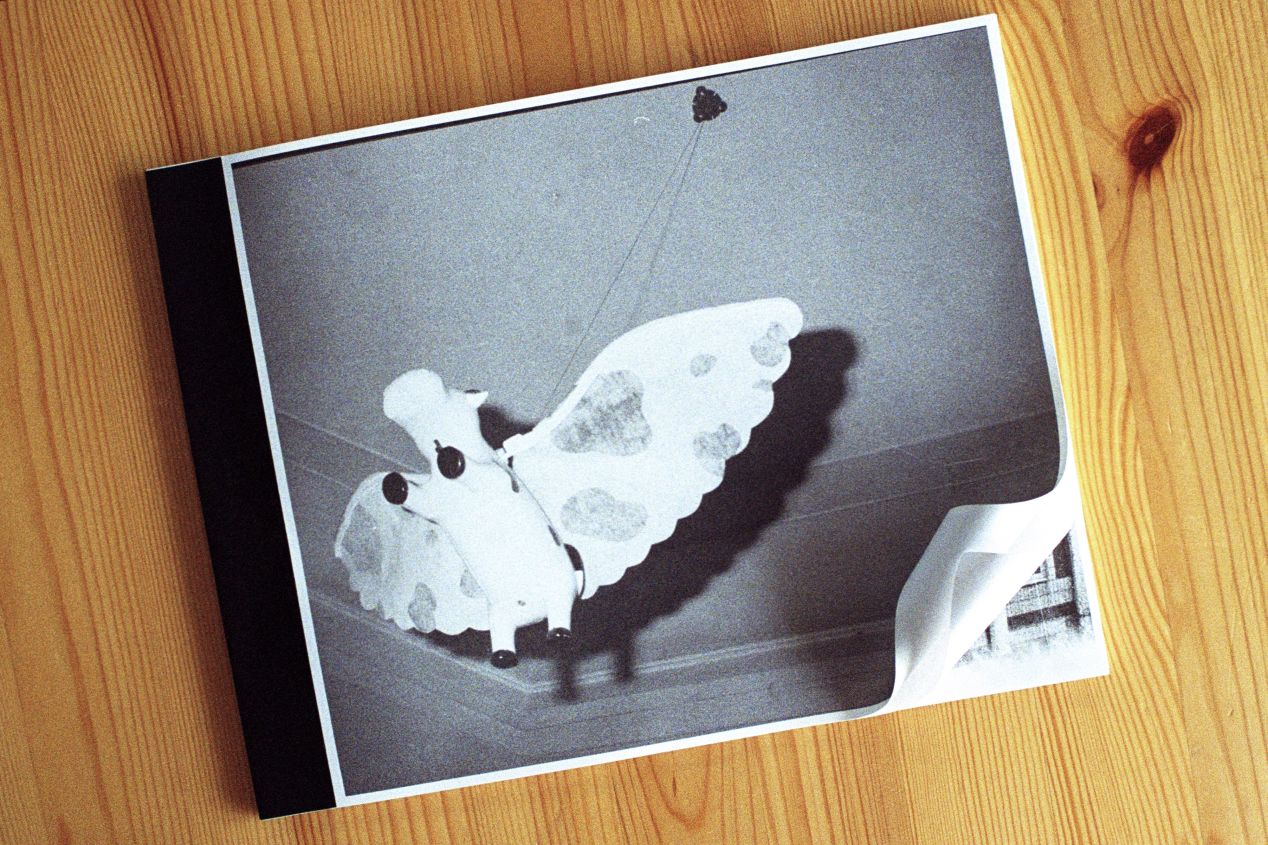 4. Glue the spine.
This is the final step. You've ensured your pages align perfectly. You stapled them and flattened the stapes so that they don't bulge. You've cut your spine. Now, carefully place your spine on a sheet of paper you don't mind getting glue on face down.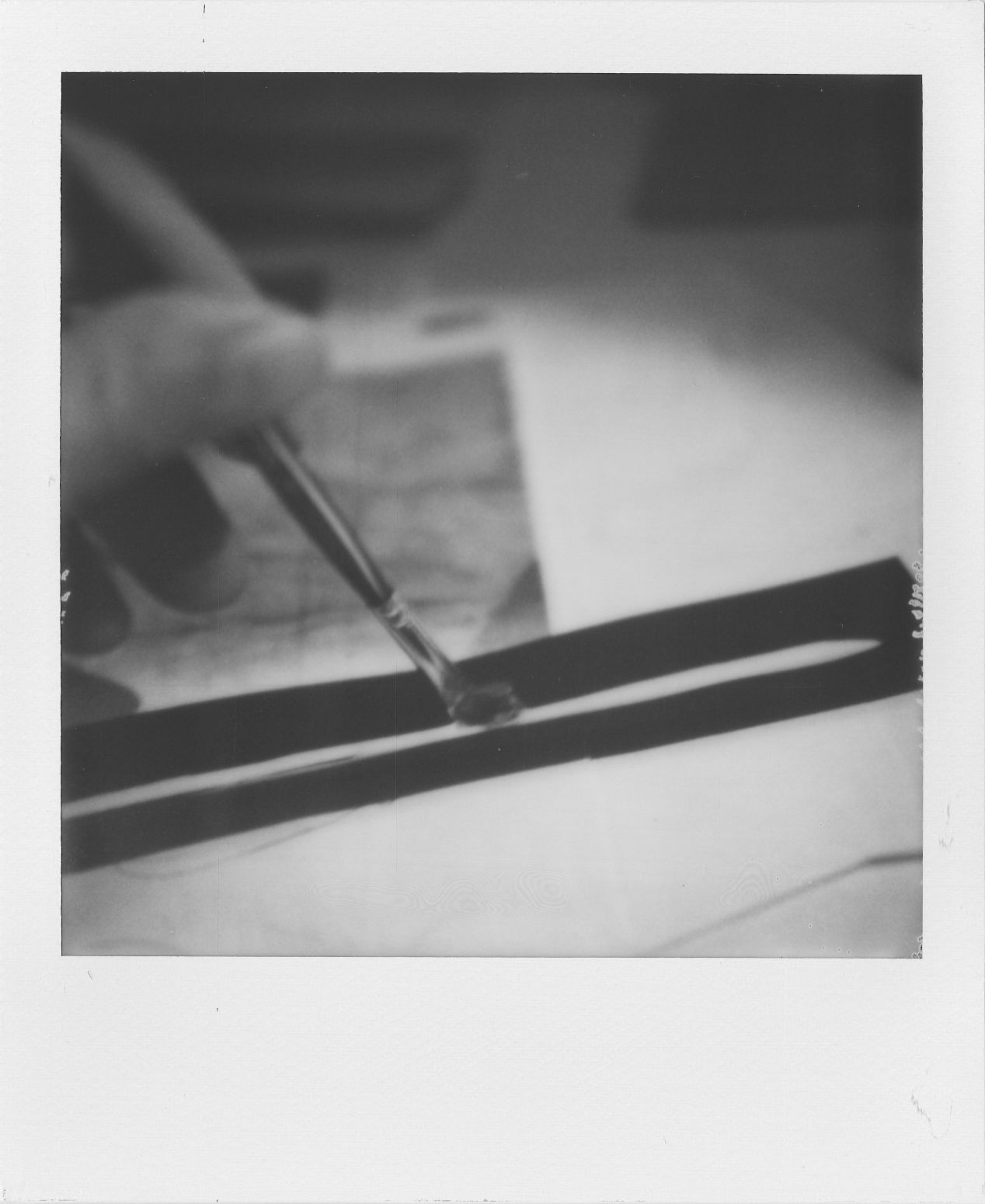 Apply your glue with a brush and a little bit of water to give yourself a bit extra time before it dries. Do your best not to get any glue on the facing side of your spine.
Once done, place the spine so that the bottom part of the U-shape touches the paper edges first and then carefully "close" it over your book, as shown in Figure 1 above .
Remember, the reason you're doing all this work instead of using something like a book tape is quality and appearance. Book tape is a janky solution that will never hold up to an all-paper construction we've got here.
If you aren't sure if this method is right for you, consider buying a copy of a book or a magazine bound using this very technique at the Analog.Cafe shop . And if you're having trouble with any of the steps above or would like to provide some feedback, feel free to contact me .
Good luck with your bookbinding!
About this article :
It can take five hours of work (or more) to write and proof a quality five-minute read with high-res illustrations. Below are the people who made this one possible. All content is reviewed, styled and edited by Dmitri .
Bookbinding Workshop Singapore
Perfect Binding Tutorial
Perfect binding is a common bookbinding technique used for commercially produced books as it is a fast method of binding books that can be easily scaled up to meet the production volume required by commercial book publishers.
What is 'Perfect Bind'?
In Perfect Binding, sewing of book signatures are not required.
Instead, strong, hot melt adhesive are used to bind book pages together. By removing the process of sewing, commercial bookbinders have been able to speed up bookbinding and production times.
However, if you were to compare the strength of a sewn book and a book held together with adhesive, perfect bound books are generally less durable.
There are many variations of Perfect Binding available commercially;
Notch Perfect Binding (uses folded book signatures),
Lay Flat binding (allows the final book to be able to be laid flat),
Burst Bookbinding and
Do-It-Yourself Guide To Perfect Binding
Being the easiest bookbinding technique, Perfect binding is a great way for new and aspiring bookbinders to experience the thrill of creating your very first book.
Here's how you can do your own Perfect Bound book project at home.
This tutorial shows you how you can make a perfect bound, hard cover notebook .
Instructions are broken down into 3 easy segments. Let's get started:
Expected Duration
2 hours for the entire project + another 1 hour for the completed book to dry and set.
Materials and Tools
20 pieces of A4 Paper (these will become the pages in your book) – the actual number of pages used can be varied.
2 extra pieces of A4 papers (these will be the endpapers that hold your text block and book cover together)
Bone Scorer
Ruler (metal rulers are preferred)
Cutting Mat (find long lasting ones on Amazon )
Pencil and Eraser
A3 Art Paper (as book cover)
A3 Card Stock (as book cover backing)
2 clips or 2 clamps or 2 thick / heavy books
Explore your bookbinding options with our Bookbinding Essential Kits .
Perfect Bound Book Tutorial
I. preparing the book pages.
1. Fold your A4 paper into 2 equal half with your bone scorer and cut along the folded line.
2. Repeat this for all 20 pieces of A4 paper. (Size and thickness of book are flexible, you can vary the paper sizes and quantity to your desire.)
(Optional) You might want to clean up the spine if your cuts were not straight.
3. Assemble your text block: Line up the paper, ensuring a straight spine.
II. Binding Your Perfect Bound Book
1. Clip your paper block and hold it in place.
Alternatively, if you are using books to hold your text block. Make sure the spine area juts out, facing you. This will allow you to glue down the area easily.
[Optional] For a stronger binding process, make cuts along your book spine using your penknife. (This allows the glue to seep deeper into the spine)
2. Spread an even layer of glue along the book spine.
3. Wait for glue to dry.
4. You might want to spread at least 2 layers of glue over the spine. Just repeat steps 2 -3 again and let your book spine dry.
You don't have to be bored while the glue dries. Let's move on to preparing your book cover~
III. Completing Your Perfect Bound Book
1. Measure the dimensions of your text block: Height, Length, Thickness.
2. Using the dimensions you have, prepare the backing for the book cover by cutting out 3 segments using the card stock.
You should have 2 large rectangular segments that will be the backing for the front and back covers of your notebook. As well as a narrow rectangular segment that fits the spine of your book.
3. Layout the book cover segments on the A3 art paper. Leave a 0.3cm space between each segment.
4. Glue the book cover segments to the art paper.
You should have 2 extra A4 paper at this point.
5. Fold 2 new A4 paper into half. Place 1 on the top and 1 on bottom book cover segments.
You do NOT need to cut these into halves.They will help hold your book cover to your text block.
6. Glue the end papers to the book cover segment. Leave these to dry under some heavy weight (like a thick dictionary or something similar) to prevent the covers from warping.
7. Once dried, use your pencil to mark out the following on your A3 art paper:
8 . Cut along the dotted lines.
9. Fold in the excess art paper. Use the bone scorer if you want to ensure tight folds.
10. Glue the excess art paper onto 1 side of your endpaper.
11. Glue your text block to the inner side of the book cover card stocks.
11. Leave the entire book under a heavy weight to dry
12. YOU'RE DONE~~
This perfect binding tutorial is ( in my opinion ) the easiest way to start experimenting with bookbinding.
Of course, the fun part of bookbinding tends to be the sewing.
But with this tutorial, you get to hold your very own book in your hands within just hours.
Plus, this has to be the safest, kid-friendly bookbinding method ever.
If you are thinking of ideas to keep a child entertained, this might be it.
All you need is glue, some pre-cut paper and you are good to go.
Remember to include markers or stickers for your child to personalize their own perfect bind notebook 🙂
Itching for a new project? Here's our list of bookbinding tutorials !
Bookbinding
Do It Yourself Book Binding Tutorial – Part 1
A simple little origami paper trick started a new interest for me in bookbinding – and eventually this handmade bookbinding tutorial. I found a blog article with a link to a PDF file that, when printed out and folded, created a very useful little 8 page expense tracking booklet that would slip in your pocket. I have found a number of other websites recently that offer various printable templates for customized notebook and day planner pages that can be printed out on your desktop. Now I want to bind a proper notebook with my own templated pages inside. There are several ways to go about making a book. The cheapest and easiest is to saddle-stitch the book. For this method you lay a small stack of pages together with a cover made of card stock, put two staples along the spine to hold it together (there are special ' saddle stitch staplers ' for this task), and then fold it in half. Alternately, you can sew the pages together with a heavy thread instead of stapling.
Our homeschool group shells out $4,000 a YEAR to a local printing company for expensive hardback color yearbooks (125 pgs). They look okay but the pages fall out every time. So I invested $49 to download Nathan DeStephano's materials, which I discovered here on your site. We may start a printing / bookmaking shop along with scrapbooking, woodburning, digital & textile arts, etc. And, of course, printing & binding our own yearbooks! Love all the info you have here! J.B.
The edges of the paper opposite the spine will not line up perfectly (a problem that becomes more pronounced as the number of pages increases.) You can trim the edges with a paper trimmer to even them up. Many large hardcover books are made by gluing together several small stacks of pages bound in this way.
Another very common method of binding is the ' perfect binding .' This is the binding method used for the paperback and trade paperback books that make up the majority of what is sold at your local bookstore.
To create a perfect-bound book you stack together your pages and then glue them along the spine edge with a very strong and flexible glue. After the pages have dried, a heavier stock paper is glued to the spine as a cover. Look on your bookshelf, you will find that all of your paperbacks are bound this way. Since there is no folding – except the cover – the pages are easy to line up and the edges of the finished book are very clean.
I would not have thought I could make a perfect-bound book myself until I read a tutorial over at Brad Isaac's blog showing how it could be done with a simple jig and some Gorilla Glue (He's since turned this tutorial into an excellent inexpensive report called The Fun and Easy Guide to Binding Your Own Paperback Books at Home… Fast!)
Because of its simplicity, I have chosen a perfect binding for my book. So, now it's time to move on to the next part of this tutorial and make the book!
Related Posts
Bookbinding /
Hardcover Chapbook 1.0
Binding sheet music booklets [video], saddle stitched chapbook: mister mottley and the key of d.
JavaScript seems to be disabled in your browser. For the best experience on our site, be sure to turn on Javascript in your browser.
Government Sales Contract # GS-03F-053AA -->
Promotions & Deals
Perfect Binding
What is perfect binding, mybinding knowledge base.
Binding (246 Article)
General Binding (42)
Plastic Comb Binding (57)
Fastback Binding (59)
Perfect Binding (1)
Modular Punching (8)
Zipbind (3)
Twin Loop Wire (13)
Coil Binding (22)
Thermal Binding (14)
Strip Binding (1)
VeloBind (4)
Binding Covers (14)
Proclick Binding (10)
SureBind (4)
Screw Post (2)
Hole Punches (2)
Staplers (4)
Komtrak Insprial Binding (2)
Rhin-O-Tuff (4)
Binding Machines Comparison (17)
Laminating (109 Article)
General Laminating (26)
Roll Lamination (16)
Pouch Lamination (36)
Pouch Board Laminator (3)
School Laminator (3)
Foil Laminating (3)
Royal Sovereign Laminators (10)
Laminators Comparison (3)
Boards (11 Article)
Bulletin Boards (3)
Whiteboards (5)
Chalkboards (1)
Paper Shredders (44 Article)
General Shredding (35)
Industrial Shredders (1)
Cross-Cut Shredders (2)
Cardboard Shredders (1)
Multimedia Shredders (1)
Personal Shredders (1)
High Security Shredders (2)
Ring Binders (9 Article)
Specialty Binders (2)
Reinforced Paper (1)
Health Care Punched Paper (1)
Perforated Paper (2)
View Binders (1)
Index Tabs (9 Article)
Index Tab Dividers (2)
Copier Tabs (4)
Pocket Folders (1)
Custom Index Tabs (1)
Pre-Printed Index Tabs (1)
Paper Handling (37 Article)
Paper Folders (9)
Paper Joggers (2)
Guillotine Cutters (4)
Rotary Trimmer (3)
Electronic Paper Cutters (1)
Corner Rounders (2)
Paper Scoring (2)
Paper Drill (2)
Booklet Makers (3)
Stack Cutters (1)
Paper Handling Equipment Comparison (5)
ID Accessories (12 Article)
Badge Holder (1)
Lanyards (8)
Badge Reels (1)
*On order $25 or more.

In this article we will discuss: • What does perfect binding look like? • How does perfect binding work? • Other names for perfect binding • Benefits of perfect binding • Cons of perfect binding • Who uses perfect binding • Top perfect binding brands • Perfect binding machine comparison • Perfect binding videos
What Does Perfect Binding Look Like?
You have used a "perfect" bound book if you've ever picked up a commercial paperback. Ironically, the term "perfect" doesn't really have anything to do with the binding at all. Perfect binding refers to the flat binding of a page's numerous folds using a strong, yet flexible, thermal glue. The pages are all consistently trimmed to size once they have been glued. This three-sided uniform cut results in an exceptionally well-organized, "perfect" set of edges that's not usually present in hardcover books. Books with perfect binding have a professional appearance, stack easily, and look wonderful on shelves or displays.
Because of its polished appearance and affordable price, businesses and organizations, writers, and publishing companies use the perfect binding process on a variety of printing projects.
How Does Perfect Binding Work?
Perfect binding, often referred to as soft cover novel binding, is a method of binding in which the interior pages of a book are clamped and glued at the spine before wrapping it in a soft cover. After that, the cover and pages are cut on the sides opposite the spine to create a book with a crisp, "perfect" edge.
Although the industrial design of a perfect bound book varies depending on the machinery the fundamental steps in a perfect binding system are similar. Let's look at the steps in detail.
A book block is made by arranging the inner pages of a book after they have been printed and folded into signatures. The book block is then carried spine-side down through the binder. The clamp moves the book block across a knife, which grinds the spine and removes the folds. Brushes or sandpaper are used to grind, notch, and roughen the spine. This exposes the paper fibers and raises the spine's surface area, which helps the side adhesive stick more securely.
The book block is brought through the glue station while it is still spine-side down. Polyurethane reactive, or PUR glue, is a kind of hot-melt adhesive that is frequently used for the spine glue in perfect binders. PUR glue from hot glue pots is applied to the book's spine using applicator wheels.
As a mix of hot-melt glue with different volumes is used for perfect binding, side glue is applied after the spine glue. For the side of the spine that will be glued to the cover, a separate hot-melt adhesive is applied after the PUR glue that was used for the spine. When heated, a mixture of resins and polymers bonds and, when cooled, solidifies to form hot melts. During the bonding procedure, a metering roller is utilized to remove extra glue and make sure the adhesive completely and evenly covers the backbone.
The inside spine of the book block is scored after the glue has been applied, allowing the cover to fold neatly around the book block.
The track containing the notched cover lifts to meet the spine of the clamped book block following the application of hot-melt adhesive. The cover is pressed into the spine of the book block while the front, back, and sides are kept firmly in place. The nipping station clamps the spine on the hinge scores and holds it so the glue fully penetrates the spine.
The book is then put on a conveyor belt and sent to the trimmer. The conveyor belt's length and speed are calculated to last the precise amount of time needed for the glue to dry sufficiently for trimming. This first dry time only lasts 45 seconds for conventional hot-melt adhesives, but the adhesive takes around eight hours to completely dry.
In a perfect binding system, the trimming unit consumes the most time, hence some binding systems deliver the excess product to a stacker for off-line trimming. The head, foot, and thumb edges of the book are cut by three big blades that are lowered into the trimmer. With the remaining folds and cover edges removed, the finished product is clean-cut and you get a perfectly bound book.
Can you believe that there are perfect binding machines that can do this 360 times an hour?
Other Names for Perfect Binding
Perfect binding is also referred to as soft cover binding and adhesive binding.
Benefits of Perfect Binding
There are several convincing benefits to perfect binding that make it worth it for many different reasons.
Its affordability is first and foremost a major selling point for many. In addition to being more affordable than hardcover binding techniques, perfect binding can also be used on smaller print runs, giving customers the opportunity to produce high-quality printed goods on a budget. While the initial price tag for a perfect binding system is a pretty penny but it ends up paying for itself in the long run.
Faster than traditional sewing, soft-cover novel binding speeds up bookbinding and production times. This means that you get to spend more time on important things, like taking care of your customers or responding to emails with downtime. Even for manual binding systems, the slowest it will bind is one book every 20 seconds. If you have a higher demand, you can check out the industrial-size binders that can crank up to 360 books an hour .
Perfect-bound books stack nicely and have a professional appearance and aesthetic appeal. This is visually appealing because it allows for all the books to look the same and look neat on the shelves and on displays.
Additionally, the perfect binding technique creates a square spinal edge that makes it possible to print the book's title or other information on the spine. This is great because it allows for customization of the book's cover without needing any additional equipment or people.
Cons of Perfect Binding
While perfect binding is used by many paperback books, it's not perfect for everything. There are a few disadvantages to perfect binding despite all its benefits.
First off, the covers of most perfect-bound books are more flexible and allow for bending. However, they come thinner than the hardcover options. The cover could lose its form over time due to the paper's design.
The main con of the perfect binding system is that it doesn't lie flat and it's harder to have hands-free reading. When someone tries to lay a page flat, there isn't much give in the spine like there is with a saddle-stitched book. The adhesive on the spine may come apart after repeated readings or attempts to flatten the book.
There's some design space that will be "lost" and extra attention should be given to pictures placed in these softcover books. This space is located on the inner margins of the books and is sometimes referred to as the "gutter" space. End-products like recipe books, instruction manuals, and calendars are not ideal for perfect binding. The minimum thickness is .125 inches and the maximum of 2.25 inches.
Who Uses Perfect Binding?
Since perfect binding is affordable , it's popular a mong print and finishing shops , small and big alike . The perfect binding machinery might be anything from inexpensive tabletop devices to large, expensive systems. The popularity of on-demand bookbinding has led to the creation of hundreds of low-cost machines that include many of the capabilities that were previously exclusive to high-production machines. Perfect binding is a wonderful way for a wide range of publications , including catalog s, paperback books, and magazine s .
Top Perfect Binding Brands
Perfect binding machine comparison.
Your purchase of a perfect binding machine will depend on how much you bind. If you're a small school, church, office, or print shop the Fastback 20 would be ideal. You're capable of perfect binding by hand. However, if you're a large university, company, or print-on-demand company, you'll need an industrial-sized machine.
Check out the below for some comparisons.
Top Perfect Binding Brands
The Powis Parker Fastback 20 is a perfect binding device that can be used in copier shops, banks, governments, or educational settings. Whether binding presentations, yearbooks, or crucial documents, it will yield outstanding results at a very low cost. The FB20's user-friendly, one-touch LCD display makes it incredibly simple to use and almost maintenance-free. It was created with simplicity and performance in mind. The versatile machine can bind hardcover books and tape-bound books, instantly identifying the type of binding strip you are using. Additionally, the Powis Parker system is environmentally friendly, continuing the business's focus on more eco-friendly production processes and materials.
The Fastback 20 is great for binding one book at a time by hand. Anyone can use it with little training and start binding up to 350 sheets every 20 seconds.
However, if you have a higher output, the Coverbind CPB1 Tabletop Perfect Binding is a great next consideration. This tabletop printer may be used in almost any in-house print shop because it is conveniently small, extremely quick, and reasonably priced. It provides a practical and affordable method for producing softback bound volumes.
Use the CPB1 on any existing worksurface or pair it with the optional stand to raise it to the ideal working height without taking up more space on the floor. Easy setup and operation are made possible by the LCD display and basic controls. The Coverbind CPB1 perfect binder system gives the operator total control over the device and can process up to 360 books per hour.
Perfect Binding Videos
Those who are thinking about perfect binding may carefully evaluate their options, though it is still a common technique for catalogs, directories, and paperbacks with a greater page count. There are numerous book binding styles to pick from. Do your homework to see if perfect binding is the right choice for you.
Contact our print professionals for a consultation if you need assistance; we'll get your books or brochures off to a good start!
Ready to buy a perfect binding machine online or learn more? Shop perfect binding machines here or contact us for help .
(Read More)
Print Products
Paper And Substrates
Coatings, Bindings, and More!
The Print Dictionary
Are Your Files Print Ready?
Design Tips And Tutorials
Design Inspiration!
Print Templates
Print Marketing Strategies
Running A Small Business
Marketing 101
Go To Printivity.com
Color Copies
Black and White Copies
Saddle Stitch Booklets
Perfect Bound Books
Spiral Bound Booklets
Wire-O Booklets
Business Cards
Shipping Boxes
About Printivity Insights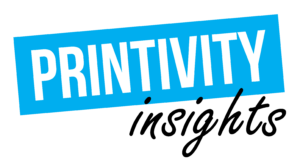 Growing Your Business
Marketing Strategies
How to Instantly Make Your Perfect Bound Book Stand Out!
With a binding style that has been around for over a century, perfect bound books have become one of the most common types of binding among amateur and professional publishers. So, what can you do to make your book appear more valuable than your competitors?
Last updated on May 16th, 2023 at 02:57 pm
Perfect bound books have cardstock covers and are bound with glue along a squared spine. This type of binding is known for giving off a clean, professional look; which is why it has received its bold name.
The quickest way to catch a viewer's attention is add an extra coating to the covers!
There are not one, but two different ways that you can make your covers shine and the colors pop! UV Gloss Coating and Lamination are the two most popular coatings that can improve the look of the covers.
UV Gloss Coating is a liquid that is added to the paper after it has been printed on and cures under a UV light. Once the UV Gloss Coating has cured, your prints are left with a high gloss look that can make any book stand out!
Most of the published books that you see on the bookshelves at bookstores typically have laminated covers. Lamination comes in two finishes, gloss and matte. Perfect bound books use a thin 1.3 mil laminate, which is perfect for protecting the book covers while still having flexible properties.
So which coating should you choose?
Both UV Gloss Coating and Lamination will protect your book from scratching, sun damage, and give the covers a smooth, sleek feel. However, Lamination is a stronger, more durable material. So if you want your book to last throughout years of wear and tear, lamination would be the recommended coating. UV Gloss Coating is great for helping your covers stand out and making the colors pop, while on a budget.
Don't stop with the covers, you can change the shape of the book!
Rounded Corners are a customization that requires a die-cutter to cut the corners in a 1/8", ¼", or ½" radius. Besides being an aesthetic choice, rounding the corners of your book can also have a practical advantage as well. Rounding the corners of a children's book will help prevent the risk of injury and cuts due to the sharp corners. It will also reduce the possibility of the corners becoming bent or frayed like they would with square corners.
Once your covers customization has brought in a new reader, keep them engaged with the feel of your book!
One thing that you will want to budget for in your perfect bound book is quality paper! A thin paper type can instantly make your well-designed book feel cheap and poor quality. Spending a little extra on a 100 lb Gloss paper will make your book feel more luxurious!
70 lb Text Uncoated paper is the thickest of the uncoated text weights. The sturdiness and durability of this paper weight is great for workbooks, journals, and other books that are primarily meant to be written in.
Coated paper is the ideal paper finishing for marketing products or other professional perfect bound books that will be distributed. Coated paper usually comes in two options: gloss or matte. If there is color printed throughout the book, either option will make the colors appear more vibrant and brighter!
Gloss coated paper gives off a high shine and a smooth feel that works perfectly for any high-quality perfect bound book! Matte coated paper is the perfect choice when you want your book to have the professional look without being concerned about the glare that can occur with gloss coated paper.
Make your design your own!
You've worked so hard to make your book one of a kind, but you don't need to stop at the design. UV Gloss Coating and Lamination will enrich the colors and add shine to your covers. Changing the shape of the book by adding rounded corners will improve the appearance and practicality of the book. The paper that you choose for your perfect bound book can be more than just what your content is printed on. It can also improve the look of the colors and make the book feel more substantial.
Adding even just one of these customizations to your perfect bound book will make any viewer stop in their tracks!
RELATED ARTICLES MORE FROM AUTHOR
Sports program printing tips, fall retail print ideas to help boost business, a guide to publishing books, leave a reply cancel reply.
Save my name, email, and website in this browser for the next time I comment.
Most Popular Print Articles
Why you should consider a hardcover book for your next printing..., everything you need to know about designing a hardcover book, design tips for annual report templates.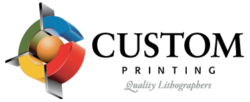 What is the Perfect-Bound Book in Printing?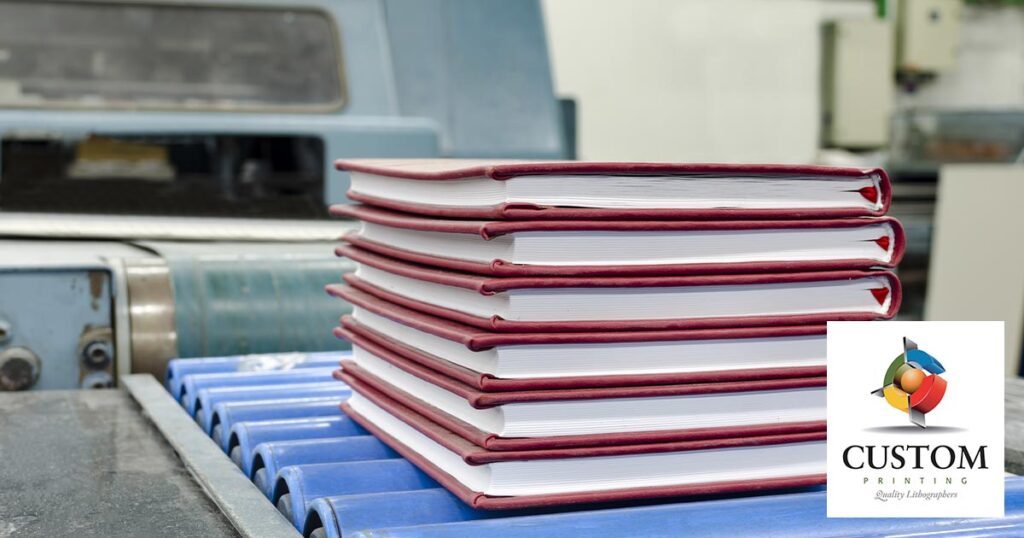 If you're wondering what a perfect-bound book is, you're not alone, even though you've probably seen hundreds of perfect-bound books. The overwhelming majority of softcover books being sold today are perfect-bound , making them the most popular kind of paperback binding method. But what is it, and is it right for your book?
Why is it Called Perfect Binding?
The term is a reference to the actual method: previous methods such as sewn and saddle stitch can create slight irregularities that are fixed in the final stages of production. By contrast, perfect binding uses a standard paper size, after which glue is applied to the spine, and the other three sides of the glued book are cut down evenly to size. The one-piece cover that wraps around the book is also glued to the spine.
What are the Benefits to Perfect Binding?
Perfect binding has advantages over virtually every other kind when it comes to the mass-production of books that are larger than magazines. Other kinds have their advantages in certain niches, however. Perfect binding is low-cost, consistent, and produces a high-quality result that, combined with a decent quality of paper, will produce a product that will last for years to come.

How Many Pages do you Need for Perfect Binding?
In general, publications that are less than 32 pages should not be bound this way. For such works, staple or coil binding would be far superior to use. For a normal size of 100-300 pages, this binding works wonderfully.
Do Covers Count as Pages with Perfect Binding?
Although covers are glued with the rest of the piece during the process, this variety of cover is actually a large page that covers the rest of the book.
What are the Limitations of Perfect Binding?
As mentioned earlier, publications that are less than 32 pages should not be bound this way. Books that have been designed for heavy-duty use, such as a hardcover book, don't work as well with this binding alone; these hardcovers usually use a combination of perfect and traditional saddle-stitch to ensure that the pages remain kept together. Because each page is printed individually in a perfect-bound example, illustrations that spill over pages must be cut in half.

Perfect Binding: Is it Right For Your Book?
Due to the cost-effectiveness of this binding, people often ask whether it's right for business presentations and other items that don't fit into the traditional category of "books". At Custom Printing Inc , we say: why not? After all, if we want our presentations to look the best, and the size categories fit, why doesn't it deserve to be a book, even if only for a small audience? Other questions authors often ask is whether they should first make a hardcover edition. It's worth noting that there are virtually no hardcover texts today that don't see softcover editions, and those softcovers are perfect-bound.
If you're still undecided about whether perfect binding is right for your book, contact us so that we can help you explore your publishing options!
Perfect Bound Paperback Notebook
Introduction: Perfect Bound Paperback Notebook
THIS PROJECT IS ENTERED INTO THE 'PAPER' CONTEST. IF YOU ENJOYED IT PLEASE CONSIDERING GIVING ME A VOTE! JUST CLICK 'VOTE' ABOVE ↑
In this Instructables, I show how to make a perfect bound notebook. I wanted a small paperback notebook and using my bookbinding press, I used an old classic car manual as a custom DIY notebook cover and the perfect binding method using PVA Glue for the spine of the book.
For this project you will need;
A5 Copier Paper (USA)
PVA Glue (USA)
Spray Glue (USA)
Black A4 Card (USA)
Black Acrylic Paint (USA)
Foldback Clips (USA)
Step 1: Paper Block
I started with some standard copier or printer paper. I didn't want this notebook to be too big and decided that A5 would be perfect for me. I never wanted to carry around in my pocket (in which case I would make it A6 or similar), but instead, it would live in my backpack which comes everywhere with me anyway.
My first thought was, why by A5 paper when you can just cut it down using a paper guillotine. I tried this. And failed. None of the paper lined up nicely, it just didn't work out well for me. If you have a better guillotine than me it might be fine!
So I hunted around and ordered some A5 copier paper from Amazon. At some point, I really want to make my own paper, but for this project, I wanted to keep it simple. I got out about 50 sheets of paper. I found this gave a good thickness of the book, without being over thick. If this was to live on a desk or something I would probably go much thicker, but as I carry it around didn't want it too thick! I tamped the pieces down on all sides to make sure the block was perfectly even. And use some binding clips to temporarily hold it together.
Step 2: Bind + Glue
Next up I put the block of paper in my binding press with the clips still attached. If you want to make your own bookbinding press, I have a full Instructables about it here . Once the block was in, I tightened all the screws so the book was held firmly and removed the clips.
I took some PVA glue and a hard bristle paintbrush and painted a thin layer of PVA glue down the spine. I did a very fine, but made sure it was even and the whole thing was coated. I let this dry for around 20mins and recoated, I think I did 4 layers in total. I made sure between layers to run my fingers down the edges to make sure excess glue didn't run down the sides of the paper.
Step 3: Cover Up
I had an old classic car manual from one of my dad's old cars (he has quite a few of these don't worry!) I leafed through until I found I page I liked with some interesting drawings on. I think it's a break down of how the radiator works? Either way, it looks cool.
I wanted to use black card as it would blend in with the gilding I would do later, so I took a sheet of A4 card and sprayed some spray glue on it. The first version I tried (and many tutorials say) use more PVA glue here. But I found that no matter how thin I spread the glue, it made the cover sheet go all wrinkly, or didn't glue it down at all. In the end I decided to use some spray glue, this worked so much better and didn't effect the cover paper at all!
Step 4: Gilding
I wanted this book to stand out a little, so I watched a few videos on 'gilding', the edges of the book. Traditionally this is gold but I wanted to add a bit of a modern twist so decided to go with black. I used some black acrylic paint and brushed it on in very thin coats again. Basically the whole process of making this book you are trying to avoid damaging the paper of the book itself. If you are too heavy handed with the glue or the paint you will end up damaging the paper!
I made sure to put the paper block back into the press to hold all the pages together and stop any paint running down onto the pages. I went around all 3 sides and added paint to them.
Once that paint was dry it was time to get the final assembly done. I laid the block of paper onto the inside of the cover and folded the cover around the spine. You can measure it out, the width and thickness of your book and transfer those across, you would get a slightly better fold. But in the end, I just decided to go the straightforward route and fold the cover around the block.
Take some more spray glue, I coated the inside of the cover and glued the paper inside the cover.
Step 5: Final Images
That's it. I think it's cool you can make these look however you want. I'm excited to learn the different types of bookbinding. This one looked quite easy to start with, and what I like about perfect binding is how easy it is to take pages out. This paperback notebook is for jotting down ideas, and sometimes I go off an idea and can just take the page out!
If you make your own make sure to come back here and share a photo with me!
Runner Up in the Paper Contest 2018
Be the First to Share
Did you make this project? Share it with us!
Recommendations
Jewelry Contest
Robotics Contest
CNC Student Design Challenge
42 Comments
2 years ago
Why do you paint the edges of the paper (other than for looks)? Also does the painting stick the pages together or is that why you use a thin coat?
5 years ago
I don't understand the sizes of the paper. What is A4 and A5?
Reply 5 years ago
http://www.papersizes.org/a-paper-sizes.htm
'A' paper sizes are an international standard, USA and the Americas use 'A' sizes and sizes like letter and legal. 'A' sizes are pretty easy to learn, they are basically half-sheets of the previous size, as if you folded the sheet across the width. A1 is half an A0, A2 is half an A1, etc.
Reply 4 years ago
We Americans tend to be just a tad arrogant about "standard international" things. I have never seen paper in any "A" size here. The most common size, known as "letter," is 8.5" x 11" (not a clue in metric since we don't use it). "Legal" paper is 8.5" x 14" but, as hinted by the name, is mostly limited to use in the legal field. Art sketchbooks, day books, comp books, and other specialty sizes come in a wide variety of what I would refer to as "odd sizes" because they are, well, odd. Still, if one can't find a size to suit, one can always cut to fit! Love the finished product!
Ah thanks! Managed to reply before me. Yes in UK & most other places we have A4 as a standard paper size that all printers use etc. But you can just use any paper you like. Thanks
Question 5 years ago on Step 5
Can you use spray glue to bind the pages toghether also?
This looks really great. Love the use of the car manual. Got loads of them collected over the years think its a great idea to get some use out of the ones not in great coniditon!
I love this type of diagram that you used for the cover! I've always liked that look. Great job!
Thanks brother :)
Tip 5 years ago
You got my vote. One thing you can do if the free edges of your notebook (the edges that are not glued) aren't even, is that you can take a steel straight edge and a utility knife and trim off the edges so that they are even. Two points though, the blade needs to be very sharp, and when you cut the paper, use light even pressure, several light cuts are better than a few heavy cuts which can tear and rip the edges. This works especially well with several sheets of paper that are folded to form the notebook. Love your process, love your book binding press. Well done.
5 years ago on Step 5
I just have some notes regarding perfect binding. I used to work in a bindery, and the glue used is basically hot glue. Basic steps for perfect binding are pretty simple: collate the pages, clamp pages together, score the spine across the width of the spine (makes a series of grooves that hold glue across the spine), , dip spine in hot glue, fold the cover on, clamp again and do final trim.
Of course this was primarily automated, and loading and unloading the various machines was mind-numbing repetition, but I learned a lot of interesting things about book binding, from printing the pages to packing and shipping.
Yes, I think the next one I will make a few scores in the spine to give the glue some extra places to grab! thanks :)
Nice job! You have my vote as well
Thanks so much :D Fingers crossed!
Great notebook! That's really neat!
Thanks so much for the :) glad you enjoyed it! If you did, it would be amazing if you could drop me a quick Vote in the Paper contest that would be amazing :D
Sure, you already have my vote! And I'll probably try to make my own notebook with this method.
If you do, make sure to come back and share a photo with me :)
Great! I like DIY notebooks.
This one is super useful. I keep it either by my bedside table or in my backpack at all times to jot down build ideas! One last thing, I have entered this into the Instructables Paper Contest. If you could vote for me that would be super useful!