How to Place Cover Order in Zerodha?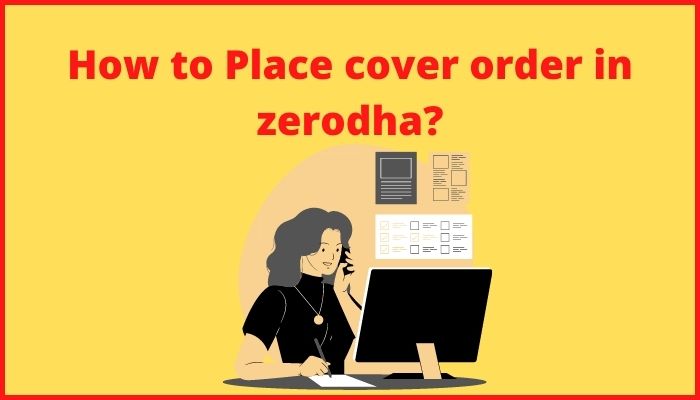 Intraday trading is based on many things starting from leverage to trading strategies you use. The type of order also plays an important role in Intraday trading. Do you know How to Place cover order in zerodha? If your answer is no, let's discuss this topic in detail.
Table of Contents
What is Cover Order?
A Cover Order (CO) is a type of order in trading that comes with a risk management technique integrated. In simple words a cover order is a market or limit order combined with a Stop Loss order.
Since a Stop Loss order is imposed you know how much money you'll lose if the trade goes against you. The goal of cover orders is to minimize exposure for both the broker and the trader while also allowing the trader to use more credit.
Conditions of Cover order
A Cover Order consists of a market or limit order combined with a mandatory Stop Loss order in a specific range. This Stop Loss Order is indefinite.
So the Stop Loss Order is placed immediately with the entry into the contract, the risk is automatically reduced; as the risk lowers, so does the margin required. As a result, more leverage is available.
On the BSE exchange, stock options, and currency options, COs are not permitted.
you use CO only in Intraday, the platform will automatically square off any open intraday positions if you do not square them off within the specified timings.
Consult with your brokerage firm for the current up-to-date CO leverage and The timings for intraday position automatically square off  is 3:20 PM.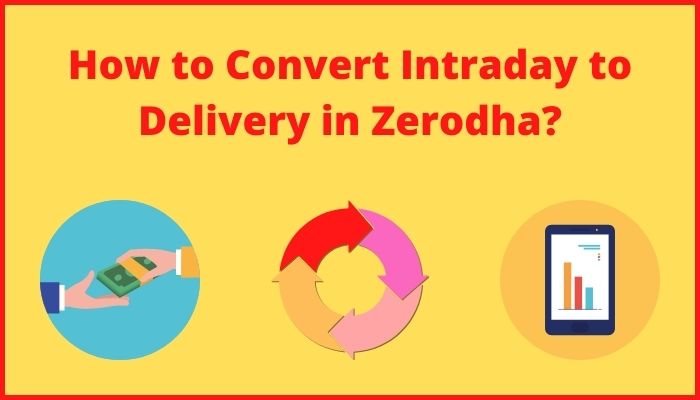 How to Place cover order in Zerodha?
Your limit price must be greater than your stop-loss trigger price when putting a buying Cover order, and your limit price must be lesser than your stop-loss trigger price when executing a selling Cover order. While executing a Cover Order, the stop loss trigger price is permitted to be within a 10% zone. To see how to place a Cover order, look at the below video.
Example of Cover Order
Let's assume someone wants to buy Bajaj finance future with a lot size of 125 for at current market price of Rs 5616. Along with the buy order to buy the future at Rs 5616, and placed stop loss at Rs 5550 which must also be included in a cover order. The stop loss price should be within the order window's predetermined range.
If it goes up to 5700 within a day and you squared off the position at 5700. You will earn a profit of  Rs. 10500.
if it goes down to 5550 within market hours then your stop-loss will be triggered and you will book a loss of 8250.
If It remains range bound and doesn't move on either side much, then you need to square off the position before 3:20 or Zerodha will automatically square off your position and charge you a penalty of INR 50 per order.
Modification in cover Order
Yes, Modification is allowed in cover order as per below conditions
The limit value and the stop loss can both be revised if the first order is not executed.
Just the stop loss rate can be revised if the initial order is executed.
Difference Between Cover Order and Bracket Order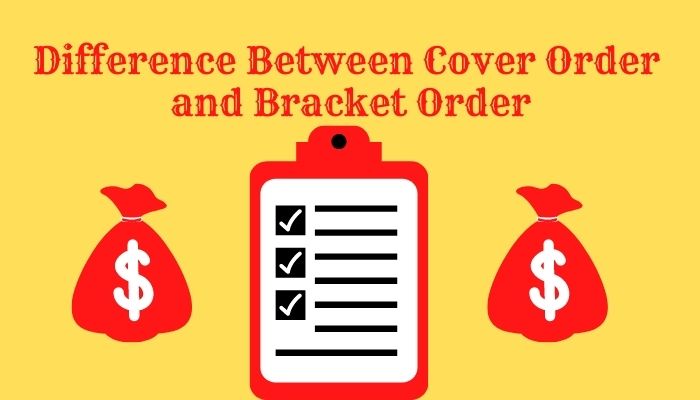 Cover Order is a simple order with stop-loss to offer extra leverage from the brokerage firm to the customer as risk is less than the regular order.
This is all from our side regarding How to Place cover order in zerodha ? Let us know your views about what is cover in zerodha in the comment section.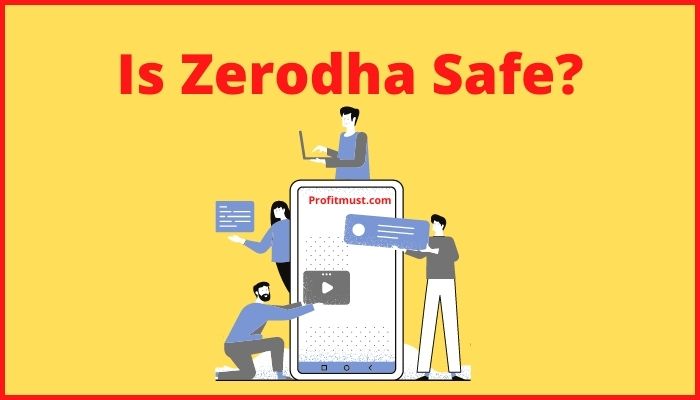 Other Interesting blogs related to How to Place cover order in zerodha?
How to Pledge Shares in Zerodha?
What is Convert Position in Zerodha?
What is Bracket Order?
FAQ About cover order zerodha
How to place cover order in zerodha mobile app.
You can click on the stock name in the watch list on buy or sell to place a cover order.
Cover order charges in Zerodha?
Cover Order changes are the same as Intraday charges INR 20 per order.
How to exit cover order in zerodha?
You can simply click on three dots which are next to your positions to exit the open orders.
How to modify cover order in Zerodha?
You can click on the order and modify the stop loss within a range.
Zerodha Cover order not working?
This might happen due to market volatility or technical error.
Profit Must
Profit Must is being built by a passionate team with in-depth understanding of the IPO sector and stock market. The team does their own research and publishes articles on Profitmust.com based on their findings.
Leave a Comment

What is Zerodha Cover Order?
Short answer.
Zerodha offers a wide range of services and tools for traders and investors to make their trading experience as seamless as possible. For those wanting to know, What is Zerodha cover order? It's then a unique way to minimize the risk in intraday trading and maximize the profit that one might avail.
Detailed Answer
What is zerodha cover order (co) meaning.
Zerodha's cover order for a buy or sell order refers to the order placed is accompanied by a compulsory stop-loss order. It might be specified to a particular range. The cancellation of the stop-loss order isn't feasible.
The risk automatically reduces due to the automatic submission of stop-loss order along with the main contract. Due to the reduction of risk, there is much greater leverage provided; in turn, the margin requirement reduces simultaneously.
The time for squaring off these orders takes place at 3:20 PM. Both CO and BO are intraday products. If the volatility of the markets increases, then these orders can be squared off earlier with a notification sent to you.
Zerodha Cover Orders
A very important point to remember is, Zerodha Trader allows to place Cover orders for NSE in Equity, F&O & Currency segments and MCX (commodity) only.
But, CO's are not allowed on the BSE stock, currency options, and stock options.
Cover Orders: Important Pointers to Note
1.CO's can be carried out under currency & commodity options, F&O, and equity.
2.They are not allowed on the BSE stocks, currency options, and stock options.
3.Once the stop-loss order is placed, it cannot be cancelled.
4.CO is strictly an intraday product.
Zerodha Cover Order: Benefits
Few benefits of placing acover order are:
1. Low association with risk
When a cover order is placed, the overall risk associated with the order goes down dramatically. The primary reason for this is the stop-loss order placed along with it. Traders know the maximum amount of loss they would incur before placing the order. Additionally, keeping an eye on the prices of the stick isn't required as the order would be executed once the primary range of the order is met.
2. Higher leverage
Higher leverage can be availed by traders as there is the addition of a stop-loss order. Through this format, the risks are reduced in comparison to normal order and gains higher leverage.
Types of cover order
1. long cover order.
What this means to say is that when an investor purchases the stocks of a company through cover order, it's called a long cover order. It's for the long term investment where they buy it for a lesser price and sell it for a higher price later on.
2. Short Cover Order
Under short cover order, if an investor decides to sell the shares of a company, then it's said to be a short cover order. Through this format of cover order, the shares are sold for a higher price compared to what he/she might have bought it for. Also, the value of stop loss is set at a higher price than its sold.
How to Place Cover Orders?
For placing a Cover Order, you have to follow few simple steps and done. Simply click on the Contract and press \Shift + F1\ (to place a buy CO) or \Shift + F2\ (to place a sell CO).
There is an \Orders and Trades\ menu on Zerodha Trader where you can view your Cover Order easily. In case, you aren't able to see the said option, this means that the Cover Order facility may not have been enabled for you. So, you can contact Zerodha Support team or email your query to them to have it enabled for you. 
Thus, Cover orders are quite convenient in ways to provide definitive profits based on the order and volatility of the market. What do you think? Are you a stock trader? Do share your tips and tricks to guide others.
Ask Your Query for FREE, Get quick answers from our FINTRAKK community!
Discussion ( 0 ).
Zerodha Kite allows you to sell shares either at market order or by placing stop loss. The order will be executed at the best available price.
Yes, the Indian discount broker is backed by Mr. Ratan Naval Tata. He held a 1.33% stake in RKSV Securities (popularly knows as Upstox) at the beginning of the year 2019. RKSV in RKVS Securities stands for the initials of the names of founders (RK for Ravi and Raghu Kumar, and SV for Shrinivas Viswanath).
Putting Stop losses for any position is an essential step to ensure that no major losses occur if the view on the underlying goes wrong. You should always place a Stop Loss when trading Intraday or positional. You can use a stop loss in Zerodha by following some easy steps.
When talking about the best stock broker in India, we cannot rule out Zerodha. It is the market leader in bargain stockbroking, is premised in Bengaluru, and accounts for more than 15% of total retail trading activity in the country. Mr. Nitin Kamath formed the leading brokerage firm in 2010 Kamath, and it now has a customer base of over 6 million.
Intraday trading on Zerodha can be executed with ease by choosing the type of trades you want to engage in. These could be NIFTY, BANK NIFTY, or future options of companies. Once you choose the respective lot, then choose the type of orders and then buy the shares. Trade them when you see a profit or wait till a specific point till you recover your investment.
Zerodha is the best broker for options trading in India because of the minimal per-order charges, advanced tools for technical analysis, features for placing a stop loss, bracket orders, and many more.
Although everything the Stock broker offers is fantastic, there are a few downfalls of using Groww. These include the exception of trading in the commodity segment, doesn't have a savings account in 2-in1 accounts that it offers, popular financial tools such as cover orders bracket order aren't available, and more.
While looking for a discount brokerage firm for my requirements(Long term investments, intraday investments, F&O investments), I came across Wisdom Capital Discount Broker in India.
Yes, Upstox is safe, good and a very reliable stock broker for trading and long term investing. Being registered with SEBI, NSE, BSE, MCX and CDSL the stock broker has built a good reputation and a decent customer base over the years.
GTT in Zerodha is an acronym for the Good Till Trigger feature offered by Zerodha that lets the investor select a trigger price and a set of predetermined conditions that as and when are met, an order is placed automatically.
Select Country

GarvThakur.com
+91-9738000707
What is cover order in Zerodha
Zerodha is a popular discount broker in India that provides trading and investment services across various segments such as equity, commodity, currency, and derivatives. One of the features offered by Zerodha is the cover order, which allows traders to place a market order with a stop loss limit in a single order.
A cover order is a type of order that combines two orders: a market order and a stop loss order. The market order is used to initiate the trade, while the stop loss order is used to limit the potential loss. The stop-loss order is triggered when the market moves in the opposite direction of the trade, and it is designed to limit the trader's loss by automatically selling the position at a predetermined price.
In Zerodha, cover orders are available for trading in equity, commodity, and currency derivatives segments. The cover order feature is available on the Kite web and mobile trading platforms. To place a cover order, the trader needs to follow the steps below:
• Select the desired segment and click on the "buy" or "sell" button.
• From the order window, select the "Cover Order" option.
• Enter the quantity and price at which the trader wishes to buy or sell the stock.
• Set the stop loss limit price, which will trigger the stop loss order when the market price reaches that level.
• Review and confirm the order.
Benefits of Cover Order
The benefits of cover order are given below:
• Cover orders allow traders to place a stop loss and target order along with the buy/sell order in a single click.
• It helps to minimize losses by placing a stop loss order simultaneously with the buy/sell order.
• Cover orders are margin efficient, as they require lower margins than regular orders.
• Traders can use cover orders to take advantage of market volatility and protect their position.
• It allows traders to execute orders quickly and efficiently without constantly monitoring the market.
• Cover orders also help in avoiding slippages and ensure better execution of trades.
• It is especially useful for beginner traders not yet comfortable placing separate stop-loss orders.
• Cover orders in Zerodha come with a built-in trailing stop loss feature, which can help to maximize profits while limiting losses.
• Traders can also use cover orders to take advantage of intraday trading opportunities while maintaining risk management.
• It is a user-friendly feature that can help traders to manage their trades effectively and efficiently.
However, it is important to note that cover orders also have some limitations. For example, in highly volatile markets, the stop-loss order may not get executed at the desired price, leading to a larger loss than expected. In addition, if the market gaps down or up, the stop loss order may not get executed at all, leading to a potential loss that is greater than the maximum loss anticipated.
Related Articles
Supported Order in Combiz Services Copy Trading Software
Alice blue API || Alice Ant API
Types of Order in Zerodha
What is Cover Order (CO) and Bracket Order (BO) in Indian Stock market
Bo Id means in Zerodha
Copy trading software Zerodha
Who Sets the Price of Commodities
What is the trading terminal || Zerodha Trading Terminal
What is Iceberg order in Zerodha
What is Dematerialization of Securities
Zerodha is CDSL or NSDL
Zerodha API cost and Zerodha algo trading API
What is Arbitrage Trading
What is Power of Attorney in Zerodha
What is a CMR in Zerodha
What are large-Cap Stocks
Which discount brokerage is best in India
Is Zerodha best stock broker in India
Zerodha GTT Order Explained
What is a Zerodha HUF account
What is NRML in Zerodha
How to invest in Gold Exchange Traded funds
What is ETF
How to download holding statement from Zerodha
Zerodha Copy Trade with Combiz Copy Trading Software
What is value Investing
Lowest brokerage charges for intraday trading in India
How to choose a stock broker Guide for Beginners
Copy Trading in Bank Nifty
Is PMS a Good Investment
Intraday Option Trading in Zerodha
Zerodha sub broker franchise cost
How to Get Support Code in Zerodha
Best Stock Brokers for Intraday Trading
What is Zerodha Coin Cut Off Time
What is Value Stock
How to put basket order in Zerodha
Is POA Necessary for Demat Account
What are Multibagger Stocks
Forex Trading in India
Pros and Cons of Zerodha
Webcam Verification Zerodha
Mutual Fund on Zerodha
Best Trading Apps in India for Online Trading and Investing
Demat Account Fees and Charges
What is Spot Price and Strike Price
How To Refer a friend to Zerodha
Overview of Master Child Auto Copy
What is NCDEX
Open High Low Scanner Strategy || Open High Low Scanner in Zerodha
What exactly is the Zerodha Smallcase || Zerodha small case charges
How to activate PoA in Zerodha
Zerodha minor account
Difference Between Primary and Secondary Market
What is Algo Trading
What is initial investment in SIP Zerodha
What is Stock Split
Can We Trade Forex in Zerodha
Is copy trading a good investment
Zerodha IPV Process And Meaning
Unraveling the Dynamics of Stock Trading in India: A Comprehensive Guide
How to connect MT4 to Zerodha
BTST charges in Zerodha
Power of Attorney in Stock Market
How to Convert position in Zerodha
What is day and IOC in Zerodha
Zerodha referral program and Zerodha reward points
Zerodha Golden Pi
How to buy Unlisted Stocks
Strap option strategy
What is CMR (client master report) or CML client master list Zerodha and how to get it
What are Small Cap Stocks
What is Algo Trading in Zerodha
Zerodha vs Angel Broking Which is Best
What are T bills and their benefits || How to buy T bills in Zerodha
Forex trading in Zerodha
What is AMO Order timing in Zerodha
What are Blue Chip Stocks
Is Groww better than Zerodha
What are Mid-Cap Stocks
Best Demat and Trading Account by Indian Stock Brokers in 2022
How to open account with Zerodha
Best SIP plan in Zerodha
Understanding Zerodha CDSL TPIN
20 Reasons that Zerodha is a Leading Stock Broker
What is validity in Zerodha
Stock Lending and Borrowing Zerodha
Best 5 online brokers in India
Zerodha hidden charges
Zerodha Console Login
Why Delivery Margin in Zerodha
Copy Trading for Beginners Complete Guide
Zerodha Varsity Review
Iceberg Orders: Definition, how it Works and Example
Zerodha Account Closure
Insider Trading Types
Stock Market Indices - Details and Importance
How to connect Zerodha Kite to Amibroker
Zerodha client ID and DP ID
Zerodha Copy Trading with API
Best Trading App in India with Low Brokerage
Zerodha Telephone Code (ZPIN)
Best Algo trading platform in India
Which is better groww or upstox or zerodha
Understanding TPIN in Zerodha A Comprehensive Guide
How do I exit my Cover Order(CO) position at my desired price?
I'm unable to capitalise on my entire profit at my desired price due to the whole process involved with exiting my CO. Can I not square off my CO position from Admin position or charts? Is there any other order which allows me to control my target?
A cover order is a market order which requires a compulsory stoploss. It does not have a target order with it. A cover order is placed at market price and an SLM order will stay open in the order book. When you wish to exit your position, you have to exit the open SLM order from the order book at which time another market order of the opposite kind of your position is sent to the exchange and your CO is squared off. You cannot square off your CO position from the Admin panel or chart as the SLM order would still remain as an open order after this which could trigger and lead to another position.
To place orders along with a target and stoploss, one must place a bracket order. Here you can place a target at your desired price and when this target is reached, your SLM order is cancelled and your BO position is squared off.
Here is a tutorial on how to place a BO: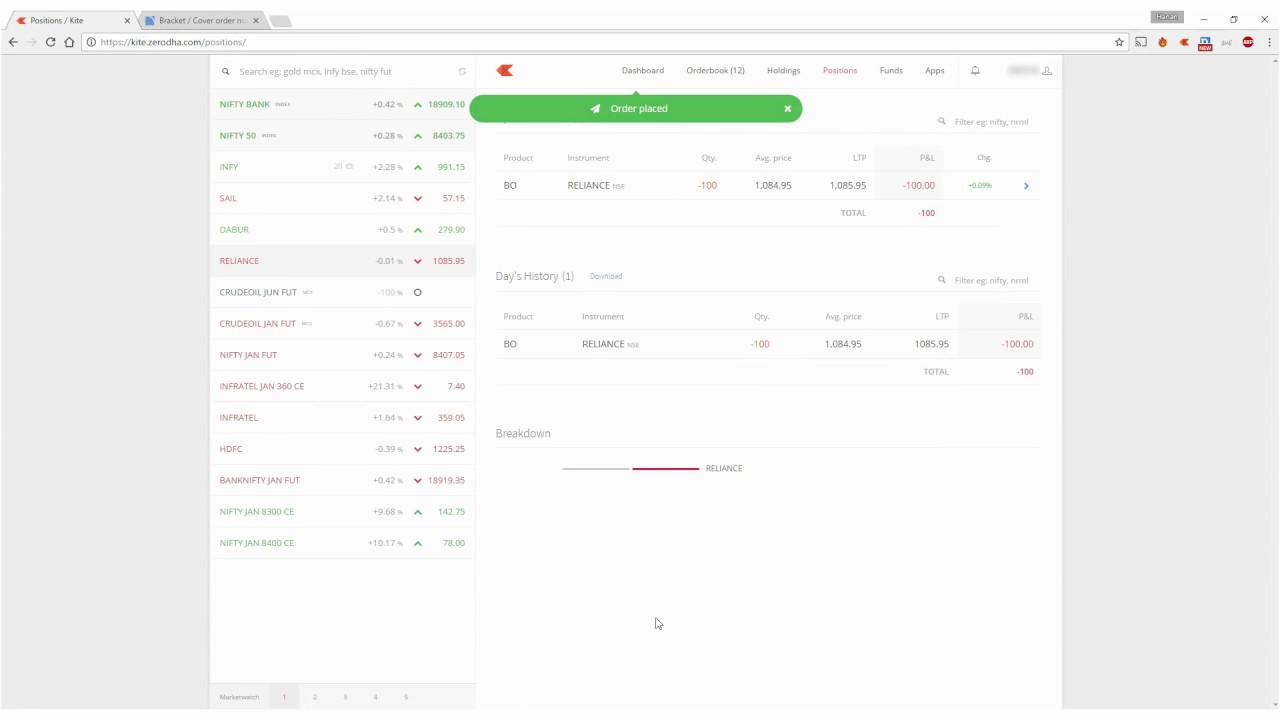 There is no bracket order facility in commodities. When can we expect the same.
Any update on this?
BO are blocked due to market volatility. What exactly does zeodha expect us to do? SIt and wait for the price to reach the desired and immidiately exit hoping the system will not exit me 20 secs later when the ltp has moved a lot of points?
The is a Major Problem with Zerodha. I don't know when will they enable Bracket Order
@siva please respond on BO. It's a suffer for Blocking BO
You have seen yesterday also, how volatile the stocks are , moving in large gaps within quick time, at these times we have seen both target and sl order getting executed and resulting in new counter order. Both client and broker is at risk in these cases, many times we have seen client loosing his entire capital and beyond that, broker has to pay from his pocket, imagine a worst event day then broker is at risk and he is keeping all his clients money at risk. So, we have no plans to introduce BO any time soon till our RMS decides otherwise.
@siva \ Got it! How come all other brokers still offer? And I'm pretty sure about one thing! Allow Nifty 100 stocks! Any counter order wont hit. I never seen since last 3 years. there is a possibility too but allowing nifty 100 stocks? Come on! So BO as product itself sucks? and In recent times i don't see that counter order issues when dealing with good volume stocks. Just block all other stocks! Just provide limited stocks!
Upstox, fyers, samco, sas, 5 paisa I'm trading with everyone! and trust me their platform sucks and i request you to allow the BO for nifty 50 at least and many request too but I see ignorance! as usual
Considering market is never rationale, hope people will understand the omissions of smaller things for the greater good. If others brokers do it, that's the way they run. Z sees something else,which is good.
Maybe that's what @siva would like to say.
@Celina @siva I really don't see any valid point. If its really serious issue, other brokers wouldn't allow too if you think counter order will hit that easily! Only one ZERODHA is blocking & giving really invalid reasons. 2nd thing, BO What is BO? Target & stop loss has to hit! Right? That's what this is all about? About counter order? Lets consider this, So what's the purpose of releasing glitchy product again? Why this won't happens with other brokers? I really haven't faced this issue except zerodha kite. 3rd Point, Why the hell cover order exists? Once order placed, you guys charge brokerage, trade goes positive and user can't close for desired price! Large quantity to close for market price is not advisable! and then order goes negative to stop loss! Can you see the suffer of clients? Your loved clients!
I really cant complain. Just got to use for what kite provides! Hell! sometimes
We are the only one who nudge clients when entering illiquid contracts, block sms circulated scripts, nudge about lot other things and loosing revenue. Also BO generates lot of brokerage for us at it can trade in multiple legs and we can charge each leg unlike CO even then we are blocking it to contain risk and loosing revenue.
@siva at least you can allow the BO facility for the Nifty and Bank nifty rt?
@siva Your explanation sounds fair. But There wouldn't be any problem for nifty stocks as far as i know. Don't you think so?
I Lost 50 Rupees of profit because of CO, I couldnt exit well… with that profit i could plan 2 more trades without worried about broker charge…
I Tried to trick CO by modifying my SL at my desired target ( I fill the modification terminal and hold button until market hit target. ) even with this I have to place my SL little below my target which has to happen in seconds LOL, not sure It works all the time.
How To Exit Cover Order in Zerodha
Zerodha and many other brokers provide Cover Order (CO) features in their trading platform. It's an order placed on market price or limit price along with stop loss.
In cover orders (CO), traders set their stop loss at the time of order placement. So, they know their risk appetite when the trade goes against them.
However, sometimes we need to exit the position before decided stop loss. When you try to exit the trade from the positions tab, you can not do it.
You need to go to your order book and select the trade to exit the Cover Order (CO) positions.
If you want to close the Cover Order (CO), you can do it easily in the Zerodha order book. In this guide, I'll teach you – how to close or modify cover orders in Zerodha.
How To Exit Cover Order in Zerodha?
Follow these steps to exit the cover order (CO) position in the Zerodha Kite trading platform-
Step 1- Go to kite.zerodha.com
Step 2- Enter your Client ID and Password
Step 3- Go to the Order list
Step 4- Click on the 'three dots' beside the order name
Step 5- Click on Exit
Step 6- Confirm Exit
Why I Can't Exit Cover Order in Zerodha From the Position Window?
Cover Order (CO) mitigates the risks of bigger loss because it places a sell order along with a buy order.
So, a sell order is also placed in the stock exchange whenever you place a cover order (CO) with stop loss.
So, you can not directly exit your positions tab because a pending order is already placed in your order book.
Hence, you first need to open your Zerodha order book and cancel the pending stop loss order to exit your position.
Is Cover Order Only For Intraday?
Cover Order is a great feature many stock brokers provide in their trading platform.
A stop-loss order will also be placed, which cuts your position as per your decided loss when the trade goes against your analysis.
Cover Order is only for intraday because the stock exchange cancels all pending orders after closing hours.
All positions will be automatically squared off after closing hours.
Is Cover Order Available For Futures and Options in Zerodha?
Cover Order (CO) is only available for equity stock trading; all positions will automatically square off intraday.
Zerodha or any other discount brokers doesn't provide Cover Order for Future and Options trading.
You can place a stop-loss order after buying/selling Futures and Options.
Also Read : How To Close Future and Options in Zerodha
Cover Order (CO) comes with a built-in risk management mechanism because it allows traders to place stop loss orders along with buy/sell orders.
You can close your cover order from the order book list. Just head over to the order book and check pending orders.
Hey, I'm Bablu Yadav! I've been learning investment and stock trading for the past 3 years. I started Invest Yojana to create financial awareness among people.
Similar Posts
How To Add Money From Credit Card To Zerodha?
Credit Cards provide over 45 days of interest-free loans. So, many people use this interest-free period to earn returns by trading or investing that money. But that's not a good practice unless you're highly experienced in stock market trading. It…
How To Close Commodity Account in Zerodha
Did you accidentally select the commodity option while opening the Zerodha account? Don't worry; you can close your Zerodha commodity account without closing your Demat account. In this article, I'll guide you through the step-by-step process to close Zerodha's commodity…
How To Close Zerodha Account Permanently?
Zerodha is one of the most popular and trustworthy stock brokers in India. Although they provide a clean user interface, but not everyone is happy with it. So, if you're unsatisfied with Zerodha services and switching to another broker, you…
How To Disable TOTP In Zerodha Kite
Zerodha provides multi-layer security to prevent internet scams and stock fraud. Time-based OTP (TOTP) is a security feature for logging in to the Kite dashboard. It's a 6-digit 2FA security code that you can set up with Google Authenticator, Authy,…
How To Add Another Bank account in Zerodha
Zerodha allows adding multiple bank accounts to deposit funds in your Demat account for investment and trading. If you want another bank account in Zerodha to add and withdraw money, you can simply do it online. Zerodha facilitates two secondary…
How To Close Futures and Options in Zerodha
Futures and Options are derivates in the stock market, and many traders prefer to trade in FNO. All major discount brokers allow F&O trading, including Zerodha. If you don't want to trade Futures & Options, you can temporarily disable it…
Leave a Reply Cancel reply
Your email address will not be published. Required fields are marked *
Save my name, email, and website in this browser for the next time I comment.
FREE Equity Delivery and MF Flat ₹20/trade Intra-day/F&O
What is Zerodha cover order?
Zerodha Account Opening
Invest without brokerage fees in Equity Delivery and Direct Mutual Funds . Pay a flat Rs 20 per trade for Intra-day and F&O. Open an instant account with Zerodha and start trading today.
A Zerodha Cover Order (CO) is a type of order used to minimize the risk in a position in intra-day trading. In the case of CO, two orders are placed together as one order. The buy/sell order is placed with a compulsory Stop Loss order in a specified range.
CO is an intraday product.
CO is available in Equity, F&O, Currency & Commodity.
COs aren't allowed on BSE stocks, stock options and currency options.
The Stop Loss order cannot be cancelled.
Topic : Zerodha Trading Software Review
Add a public comment...
Find more questions on this topic
Is Zerodha Kite free?
What is LMT in Zerodha?
Does Zerodha allow BTST?
What is GTT in Zerodha kite?
Does Zerodha allow short selling?
What is T1 in Zerodha holdings?
What is Zerodha Kite Connect?
What is validity in Zerodha Kite?
What is Payin in Zerodha Kite?
What is the withdrawable balance in Zerodha?
What is Zerodha free cash?
What is LTT in Zerodha?
What is disclosed quantity Zerodha?
What is P&L Zerodha?
What is Zerodha retention statement?
What is RMS in Zerodha?
How to short sell in Zerodha?
How to buy shares on Zerodha?
Free Eq Delivery & MF Flat ₹20 Per Trade in F&O
Open Instant Account
Open FREE Demat Account
30 days brokerage free trading Free - Personal Trading Advisor
Open Account
FREE Account Opening ( ₹0 ) FREE Intraday Trading (Eq, F&O)
GET FREE Demat Account
FREE Account Opening Flat ₹20 Per Trade
Enquire Now
Unlimited @ ₹899/month Rs 0 Demat AMC
Open FREE Account
Free Eq Delivery Trades Flat ₹20 Per Trade in F&O
Pay ₹0 brokerage for first 10 days
Flat ₹20 Per Trade
Open Instant Account Now!