Call us at 917-594-1556
Letter Headings, or How to Head a Letter 
Mar 20, 2019 in Writing
In these fast-paced days of emailing and texting, most people may feel that the practice of writing letters (whether formal or personal) has gone by the wayside. However, it's still important to know how to write a letter, as well as how to format one. One of the most important parts of showing people you understand how to create a formal letter is knowing how to head a letter.  
A letter heading is the part of the letter that introduces you to your recipient as well as gives them some important information about you, such as your address. The art of writing the heading of a letter is specific to different types of letters, but more than simply being protocol, knowing how to write the heading of a letter also  
conveys professionalism to your reader;  
makes it easy to reply to your message, as there is no need to keep the envelope when all the information is on one piece of paper; and  
often ensures you will get a prompt reply, which is very important in today's world of instant communication.  
So now that you understand why it is necessary, it's time to learn how to write the heading for a letter.   
Business Letters
Writing a business letter heading is not the same as writing the heading for a personal letter. Business letters are usually very formal, and you'll want yours to be as well, especially since you're choosing to send a letter rather than an email. The business letter heading format, like the format of a business letter itself, is specific and must get across certain information to be considered formal.   
1. If you have letterhead, use it!
Some businesses—big or small—already have paper with letter heading formats built in. As a formal letter heading example, this can't be beat! It's also done the work of introducing you and giving your reader all the pertinent information, including the name of the company and its address. Sometimes, the letterhead will contain your name as well. Usually, before you start writing the letter itself, the only piece of information you will need to add is the date.  
Unfortunately, though, not everyone has letterheads already created for their needs, especially today—when writing formal letters isn't quite as common. If you don't have letterhead, it's still easy to create the proper letter heading format.  
2. If you don't have letterhead, include your address.
The first thing you'll include when writing a business letter heading is your address. This means your formal address with your street number, name, city, state, and zip code.   
If you have a PO (short for "post office") box number, skip writing your street number and name and simply write "PO Box" followed by the number. Then, follow the number with your city, state, and zip.   
If you live in an apartment, make sure to include your apartment number under the first line of your address.   
After the full address, many people include a phone number or email address, although this isn't mandatory. After all, you've written a letter to this person, so don't you expect a letter in return?  
Make sure that when you write the address and any additional information that you block all the text to the right side of your letter. This is the expected way to format your own address when writing the heading of a letter.  
3. Write the date.
Next, professional letter heading format dictates that you include the date. You don't want people to forget when they received your letter, so make sure to remind them. Leave a line between the address and the date. You'll find that leaving this space makes the letter look cleaner and more formal—plus it makes the date easier to pick out.  

4. Write the recipient's address.
Always include the recipient's address when you're writing a formal or business letter heading. You'll need to include all the same information you included when you wrote your own address. Here are some rules for what to include and how to format the recipient's address:  
Do not indent the recipient's address, but do leave two spaces below the date.  
Block this address to the left instead of the right.   
Always address the letter to someone specific within the company if possible.   
If applicable, include the name of the company beneath the name of the individual but before the address.   
5. Leave a space before writing the salutation.
You're almost done! Leave a space before the salutation to finish your heading. Then, write the salutation. Of course, you'll want to use a formal salutation rather than a casual one, but that's a completely separate issue. In fact, it's one we discuss at length in another post.  
Personal Letters
As you may have already guessed, how to write the heading of a letter changes when you're writing a personal letter. For one thing, you're bound to be much closer to the recipient, so some information may not be necessary. And for another, you already know how to write the heading for a letter for business, and this is a much more casual, laid-back alternative.   
Finally, personal letters tend to be handwritten. This means your heading might be handwritten too, which can affect letter heading spacing, letter heading format, as well as simply how to write the heading for a letter.  
1. Begin with your address unless you're certain the recipient knows it.
You may not need to include your address the way you did in a formal letter heading example. In fact, your recipient may already know your address well. You may even swap letters with them often. If this is the case, you won't need to include an address like you would in a formal letter heading format.  
However, you may not be sure if your recipient knows your address. If you're not positive they do, include it in the upper right-hand corner like you would when writing a business letter heading. Furthermore, if you have stationery with this already printed on it, great! If not, write it out yourself, either typed or handwritten.   
2. Add the date.
Letter heading spacing is still important in a personal letter, but it's a bit different. Leave two spaces between your address and the date. If you didn't include your address, include just the full date in the upper right-hand corner of the letter.   
3. Go directly to the salutation.
Unlike when you were learning how to head a letter for formal or business correspondence, you won't need to include the recipient's address. Instead, you can skip forward to the salutation. This can be gentler and more familiar than one you would use when writing a business letter heading. And for this one, you'll also need to leave two spaces between the date and the salutation.   
Hybrid Letters
Of course, not all types of letters fall into one of these categories. These can include formal letters that are handwritten, such as fan mail to movie stars or letters of complaint to a company. You'll still want to include the recipient's address in this case.   
Other times, you may be writing your first personal letter to someone, so you don't want to seem too familiar right off the bat. In this situation, a formal letter heading example may be better. However, you still won't necessarily need to include the recipient's address.  
Why Write Letters in the Age of Email
If you've come here hoping to learn more about how to head a letter or letter heading spacing or to see some formal letter heading examples, we hope we've been able to assist. However, some people may still be wondering why they might ever need to write letters when emails are so much easier—not to mention instant.  
The art of letter writing has been around a long time. Knowing how to write a proper letter allows you to communicate with people in a number of ways. Those who know how to write the heading for a letter can correspond with people properly, based on the situation and their relationship. There will always be times when writing a letter is more efficient, effective, or appropriate to the situation than sending an email. Thus, it's important to know how to do so when these times come.
Like this post? Check out some more about writing letters:
How to Write an Official Letter
How to Write a Killer Query Letter
Ten Key Elements to Writing an Effective Business Letter
9 Awesome Online Writing Resources
One thought on " Letter Headings, or How to Head a Letter  "
Thank you so much for this information. On behalf of a group that I recently became a member of, I've taken on the challenge of writing to several prominent CEO's of several different companies. It's been a long time since I've written a letter of this caliber and found your website to be exactly what I needed as a "refresher" course. Again, thank you for the information and look forward with confidence that I can get the job done.
Leave a Reply Cancel reply
Your email address will not be published. Required fields are marked *
Save my name, email, and website in this browser for the next time I comment.
How to Write a Résumé in Four Simple Steps
With the zillions of résumé resources out there--websites, books, professional services—you'd think that no mere mortal could write his or her own résumé. This is simply…
The Keys to Successfully Writing a Dissertation Proposal
You've taken your core classes; you've gone through comps; now, you're in the proposal stage of the Ph.D. program. As with every other kind of…
The Importance of Time Management When Writing a Thesis
A school year may seem like plenty of time to write your thesis, but without good time-management strategies, you may find yourself scrambling at the…
Subscribe to Our Blog
Purdue Online Writing Lab Purdue OWL® College of Liberal Arts
Writing the Basic Business Letter

Welcome to the Purdue OWL
This page is brought to you by the OWL at Purdue University. When printing this page, you must include the entire legal notice.
Copyright ©1995-2018 by The Writing Lab & The OWL at Purdue and Purdue University. All rights reserved. This material may not be published, reproduced, broadcast, rewritten, or redistributed without permission. Use of this site constitutes acceptance of our terms and conditions of fair use.
Media File: Writing the Basic Business Letter
This resource is enhanced by an Acrobat PDF file. Download the free Acrobat Reader
Parts of a Business Letter
This resource is organized in the order in which you should write a business letter, starting with the sender's address if the letter is not written on letterhead.
Sender's Address
The sender's address usually is included in letterhead. If you are not using letterhead, include the sender's address at the top of the letter one line above the date. Do not write the sender's name or title, as it is included in the letter's closing. Include only the street address, city, and zip code.
The date line is used to indicate the date the letter was written. However, if your letter is completed over a number of days, use the date it was finished in the date line. When writing to companies within the United States, use the American date format. (The United States-based convention for formatting a date places the month before the day. For example: June 11, 2001. ) Write out the month, day and year two inches from the top of the page. Depending which format you are using for your letter, either left justify the date or tab to the center point and type the date. In the latter case, include the sender's address in letterhead, rather than left-justified.
Inside Address
The inside address is the recipient's address. It is always best to write to a specific individual at the firm to which you are writing. If you do not have the person's name, do some research by calling the company or speaking with employees from the company. Include a personal title such as Ms., Mrs., Mr., or Dr. Follow a woman's preference in being addressed as Miss, Mrs., or Ms. If you are unsure of a woman's preference in being addressed, use Ms. If there is a possibility that the person to whom you are writing is a Dr. or has some other title, use that title. Usually, people will not mind being addressed by a higher title than they actually possess. To write the address, use the U.S. Post Office Format. For international addresses, type the name of the country in all-capital letters on the last line. The inside address begins one line below the date. It should be left justified, no matter which format you are using.
Use the same name as the inside address, including the personal title. If you know the person and typically address them by their first name, it is acceptable to use only the first name in the salutation (for example: Dear Lucy:). In all other cases, however, use the personal title and last/family name followed by a colon. Leave one line blank after the salutation.
If you don't know a reader's gender, use a nonsexist salutation, such as their job title followed by the receiver's name. It is also acceptable to use the full name in a salutation if you cannot determine gender. For example, you might write Dear Chris Harmon: if you were unsure of Chris's gender.
For block and modified block formats, single space and left justify each paragraph within the body of the letter. Leave a blank line between each paragraph. When writing a business letter, be careful to remember that conciseness is very important. In the first paragraph, consider a friendly opening and then a statement of the main point. The next paragraph should begin justifying the importance of the main point. In the next few paragraphs, continue justification with background information and supporting details. The closing paragraph should restate the purpose of the letter and, in some cases, request some type of action.
The closing begins at the same vertical point as your date and one line after the last body paragraph. Capitalize the first word only (for example: Thank you) and leave four lines between the closing and the sender's name for a signature. If a colon follows the salutation, a comma should follow the closing; otherwise, there is no punctuation after the closing.
If you have enclosed any documents along with the letter, such as a resume, you indicate this simply by typing Enclosures below the closing. As an option, you may list the name of each document you are including in the envelope. For instance, if you have included many documents and need to ensure that the recipient is aware of each document, it may be a good idea to list the names.
Typist initials
Typist initials are used to indicate the person who typed the letter. If you typed the letter yourself, omit the typist initials.
A Note About Format and Font
Block Format
When writing business letters, you must pay special attention to the format and font used. The most common layout of a business letter is known as block format. Using this format, the entire letter is left justified and single spaced except for a double space between paragraphs.
Modified Block
Another widely utilized format is known as modified block format. In this type, the body of the letter and the sender's and recipient's addresses are left justified and single-spaced. However, for the date and closing, tab to the center point and begin to type.
The final, and least used, style is semi-block. It is much like the modified block style except that each paragraph is indented instead of left justified.
Keep in mind that different organizations have different format requirements for their professional communication. While the examples provided by the OWL contain common elements for the basic business letter (genre expectations), the format of your business letter may need to be flexible to reflect variables like letterheads and templates. Our examples are merely guides.
If your computer is equipped with Microsoft Office 2000, the Letter Wizard can be used to take much of the guesswork out of formatting business letters. To access the Letter Wizard, click on the Tools menu and then choose Letter Wizard. The Wizard will present the three styles mentioned here and input the date, sender address and recipient address into the selected format. Letter Wizard should only be used if you have a basic understanding of how to write a business letter. Its templates are not applicable in every setting. Therefore, you should consult a business writing handbook if you have any questions or doubt the accuracy of the Letter Wizard.
Another important factor in the readability of a letter is the font. The generally accepted font is Times New Roman, size 12, although other fonts such as Arial may be used. When choosing a font, always consider your audience. If you are writing to a conservative company, you may want to use Times New Roman. However, if you are writing to a more liberal company, you have a little more freedom when choosing fonts.
Punctuation
Punctuation after the salutation and closing - use a colon (:) after the salutation (never a comma) and a comma (,) after the closing. In some circumstances, you may also use a less common format, known as open punctuation. For this style, punctuation is excluded after the salutation and the closing.
PRO Courses Guides New Tech Help Pro Expert Videos About wikiHow Pro Upgrade Sign In
EDIT Edit this Article
EXPLORE Tech Help Pro About Us Random Article Quizzes Request a New Article Community Dashboard This Or That Game Popular Categories Arts and Entertainment Artwork Books Movies Computers and Electronics Computers Phone Skills Technology Hacks Health Men's Health Mental Health Women's Health Relationships Dating Love Relationship Issues Hobbies and Crafts Crafts Drawing Games Education & Communication Communication Skills Personal Development Studying Personal Care and Style Fashion Hair Care Personal Hygiene Youth Personal Care School Stuff Dating All Categories Arts and Entertainment Finance and Business Home and Garden Relationship Quizzes Cars & Other Vehicles Food and Entertaining Personal Care and Style Sports and Fitness Computers and Electronics Health Pets and Animals Travel Education & Communication Hobbies and Crafts Philosophy and Religion Work World Family Life Holidays and Traditions Relationships Youth
Browse Articles
Learn Something New
Quizzes Hot
This Or That Game New
Train Your Brain
Explore More
Support wikiHow
About wikiHow
Log in / Sign up
Education and Communications
How to Format a Letter
Last Updated: January 26, 2023 Fact Checked
This article was co-authored by Melessa Sargent . Melessa Sargent is the President of Scriptwriters Network, a non-profit organization that brings in entertainment professionals to teach the art and business of script writing for TV, features and new media. The Network serves its members by providing educational programming, developing access and opportunity through alliances with industry professionals, and furthering the cause and quality of writing in the entertainment industry. Under Melessa's leadership, SWN has won numbers awards including the Los Angeles Award from 2014 through 2021, and the Innovation & Excellence award in 2020. There are 14 references cited in this article, which can be found at the bottom of the page. This article has been fact-checked, ensuring the accuracy of any cited facts and confirming the authority of its sources. This article has been viewed 962,027 times.
The correct formatting to use when writing a letter depends largely on the type of letter you plan to write and whom you are writing to. The formatting you might use when writing to a friend will vary significantly from the formatting used in formal letters. In addition, the formatting of traditional letters sent through the mail vary from those sent via e-mail. Keep reading to learn more about the proper way to format your next letter.
Formal or Business Letter
The city, state, and zip code are included on the same line, while the street address has its own line.
If you send a letter using a professional letterhead that includes this information, skip this step. Do not repeat the sender's address twice.
The date should be left aligned, just like the address directly above it.
Write the date in month-day-year format. Write out the month in text, but use numbers to write the day and year. For example: February 9, 2013.
Left-align the reference line and keep it to a single line.
Use a reference line when replying to another letter, job ad, or request for information.
Follow the optional reference line with a blank line to separate it from the next portion of the letter.
All of this information should be left-aligned and single-spaced. The recipient's name should be written on its own line, as should the recipient's title, name of the company, and street address. The city, state, and zip code are included on the same line.
If sending the letter to another country, include the name of the country in all capital letters on its own separate line below the address.
Address the letter to a specific person, whenever possible, and address that person with an appropriate title such as "Mr." or "Ms." If you are uncertain about the recipient's gender, skip the title.
Follow the entire address with a blank line.
The salutation should be left-aligned.
If you do not know the recipient's gender, you can address that individual by his or her full name, or proceed the last name with his or her job title.
Leave a blank line after the salutation.
Keep the subject line brief yet descriptive. Try to keep it to one line.
Note that this is not conventional and should be used sparingly.
Do not include the subject line if you included a reference line.
Include a blank line after the subject line if you included it.
Type a concise body section. Single-space each paragraph, but leave a blank line between each paragraph and after the final paragraph.
Only capitalize the first letter of the first word in the closing.
Note that this is not necessary if you do not have any enclosures.
Single-space and left-align the enclosures section.
Friendly Letter
Write the date in month-day-year format. Writing the month out in text is usually considered standard format, but you could also get away with writing the entire date in numeric form.
The date should be aligned to the right side of the page.
The salutation should be left aligned and followed with a comma.
When writing a friend or peer, you can usually write their first name only. For example: "Dear Jane".
For even more casual friendly letters, you might be able to replace the "Dear" with a casual greeting like "Hello," "Hi," or "Hey."
If writing an elder or someone you should show a little respect to, include a personal title and the last name. Example: "Dear Ms. Roberts"
Leave a blank line between the salutation and the main text of the letter.
Left-align the main text of the letter but indent the first line of each paragraph.
The entire main text should be single-spaced. Usually you do not skip lines in between paragraphs with a friendly letter, but you can do so acceptably if it improves the readability of your letter.
Leave a blank line after the final sentence of your main text to separate it from the closing.
Follow the closing with a comma, but do not include a typed version of your name after it.
The closing should line up with the heading.
If you are on a first-name basis with the recipient, you can sign your first name and leave things at that. If the recipient may not know who you are from your first name, though, make sure to include your last name, too.
Formal or Business Email
If your email is expected by the recipient this description can simply reference the subject matter. If the email is not expected this description can be a little trickier. The goal should be to have the reader know what to expect when they open your email. This means it needs to motivate your reader to actually open it.
Address the letter to a specific recipient whenever possible. Avoid sending the letter to unnamed recipients. Only use "To Whom it May Concern" as a last resort.
Strictly speaking, the most proper punctuation to use after the salutation is still a colon. That said, nowadays, most people use a comma after the salutation of a formal e-mail letter.
If you are uncertain about whether to address the recipient as "Ms." or "Mr.," write out the individual's full name, instead.
Follow the formal salutation with a blank line.
Left-align the main text.
Do not use any indentations.
Single-space the main text, but leave a blank line in between each paragraph and after the final paragraph.
Remember to left-align the closing and only capitalize the first letter of the first word.
Other potential formal closings include "Thank you," "Yours truly," and "Best wishes."
Left-align and single-space all of this information. Give each new piece of information its own separate line.
Friendly Email
Left-align the salutation.
If you are writing to a close friend you can dispense with the salutation completely and just begin with their first name followed by a comma.
Include a blank line between the greeting and the body of your email.
If you are writing to a very close friend sometimes it is perfectly fine to simply end you email with your name, leaving out the salutation all together.
Sample Letters
Expert Q&A
Note that there are a few differences between formal letters in the United States and those in the United Kingdom. In the UK, the return address and date are right-aligned and the subject line, when included, is centered. Moreover, the date is written in day-month-year format, and a comma follows the salutation rather than a colon. [24] X Research source Thanks Helpful 0 Not Helpful 0
If you do not like the format included here, sometimes called block format, you can also familiarize yourself with modified block format and semi-block format. [25] X Research source These formats included basically the same information but just organize it differently. Thanks Helpful 0 Not Helpful 1
You Might Also Like
↑ Melessa Sargent. Professional Writer. Expert Interview. 14 August 2019.
↑ https://writing.wisc.edu/handbook/assignments/businessletter/
↑ https://walton.uark.edu/business-communication-lab/Resources/downloads/business-forms/Formatting_the_Business_Letter.pdf
↑ https://nmu.edu/writingcenter/parts-business-letter
↑ https://owl.purdue.edu/owl/job_search_writing/job_search_letters/cover_letters_workshop/formatting_and_organization.html
↑ https://owl.purdue.edu/owl/subject_specific_writing/professional_technical_writing/basic_business_letters/index.html
↑ https://owl.purdue.edu/owl/subject_specific_writing/professional_technical_writing/basic_business_letters/sample_letters.html
↑ https://www.readwritethink.org/sites/default/files/resources/lesson_images/lesson1083/lettersamples.pdf
↑ https://writingcenter.unc.edu/tips-and-tools/effective-e-mail-communication/
↑ https://owl.purdue.edu/owl/general_writing/academic_writing/email_etiquette.html
↑ http://blog.nathanbransford.com/2010/03/how-to-format-query-letter.html
↑ http://www.dailywritingtips.com/how-to-format-a-uk-business-letter/
↑ http://owl.english.purdue.edu/owl/resource/653/2/
About This Article
To format a formal business letter, start by typing your name, address, and today's date at the top of the letter. Then, skip 1 line and write the recipient's name, and address. Skip 1 more line and include a polite salutation like "Dear Prof. Jones," to introduce the letter. After that, write the body of your letter to deliver your message. Sum it up with a closing like "Sincerely," followed by 3 blank lines and your typed name. Finally, sign your name by hand between the closing and typed name. Scroll down to learn how to format informal letters and emails! Did this summary help you? Yes No
Reader Success Stories
Jayanna Fields
May 5, 2020
Did this article help you?
Thomas Glezen
Sep 1, 2016
Jun 19, 2017
May 8, 2017
Jan 14, 2021
Featured Articles
Trending Articles
Watch Articles
Terms of Use
Privacy Policy
Do Not Sell or Share My Info
Not Selling Info
wikiHow Tech Help Pro:
Develop the tech skills you need for work and life
Search Search Please fill out this field.
Career Planning
Finding a Job
Letter Format Example and Writing Tips
What To Include in a Formal Letter
Writtten letter format, email letter format, letter template to download, professional written letter example, professional email example, tips for formatting your letter, proofread, spellcheck, and print, how to address the envelope.
 Theresa Chiechi / The Balance
A printed letter is usually reserved for important professional communications, such as recommendation letters, cover letters, resignation letters, business and legal correspondence, and company communications. Since a letter is a formal mode of communication, you'll want to know how to write one that is professional.
Correct formatting is especially important if you're sending a hard copy to the recipient rather than an email, because the letter needs to fit the page, be clear and concise, be easy to read, and look professional.
Review information on what you need to include when writing a professional letter, examples, and advice on the appropriate font, salutation, spacing, closing, and signature for business correspondence.
Key Takeaways
A formal letter should include details about why you're writing, an expression of your appreciation to the recipient for considering your request, and your contact information.
Correspondence can be sent as a written letter or in an email. When sending an email message, list the reason you are writing in the subject line of the message.
When writing a professional letter, carefully proofread and spellcheck before you print or send it.
Formal correspondence should include the details of why you're writing, your contact information so the recipient can follow up, a greeting and closing, and your signature.
Contact Information (Written Letter):  A written letter should include your and the recipient's contact information (name, title, company name, address, phone number, email), followed by the date.
Contact Information (Email):  When sending an email, you don't need to include the recipient's contact information. List your contact information at the end of the letter, after your signature.
Greeting:  Address the letter using a professional greeting and formal title ("Dear Mr./Ms./Dr.").
Body of Letter
The first paragraph of your letter  should provide an introduction as to why you are writing, so that your reason for contacting the person is obvious.
Then, in the  following paragraphs , provide specific details about your request or the information you are providing.
The  last paragraph  of your letter should reiterate the reason you are writing and thank the reader for reviewing your request. If appropriate, it should also politely ask for a written response or for the opportunity to arrange a meeting to further discuss your request.
Closing: Use a formal sign-off , such as "Sincerely" or "Best regards."
Signature (Written Letter):  End the letter with your handwritten signature followed by your typed name.
Signature (Email):  Include your typed name followed by your contact information.
It's important to include enough detail so that the recipient understands why you're writing and the response you expect to the letter.
Here's a template for each section of a formal letter:
Your Contact Information   Name Address City, State Zip Code Phone Number Email Address
Recipient Contact Information  Name Title Company Address City, State Zip Code
Greeting   Dear Mr./Ms. Last Name,
Use a formal salutation , not a first name, unless you know the person well. If you do not know the person's gender, you can write out their full name. For instance, write, "Dear Pat Crody" instead of "Dear Mr. Crody" or "Dear Ms. Crody." If you do not know the recipient's name, it's still common and acceptable to use the old-fashioned " To Whom It May Concern ."
Body of Letter
Paragraph 1: State the reason you are writing, for example, you are asking for something or sharing a piece of information.
Paragraph 2:  Provide details about your request or the information you're sharing.
Paragraph 3:  If necessary, include additional information on the purpose of your letter.
Paragraph 4:  Thank the reader for considering your request, and ask for a response to your letter.
Closing Best regards,
Signature Handwritten signature (use black or blue ink to sign a written letter)
Typed Signature  Your typed name
Here's a template for each section of a professional email:
Subject Line Subject: Your Name — Reason for Writing
Greeting Dear Mr./Ms. Last Name,
Body of Message Your message should be two or three paragraphs at most and should explain why you're writing and what you're requesting.
Closing Sincerely,
Typed Signature and Contact Information Mikala Schwartz mikala.schwartz@email.com 617-123-1234
When sending email correspondence, include the reason you are writing in the subject line of the message. List your contact information under your typed signature at the end of the message.
Here is a letter template that you can download (compatible with Google Docs and Word Online), or review the text version below.
Nicole Thomas 35 Chestnut Street Dell Village, Wisconsin 54101 555-555-5555 nicole@thomas.com
September 5, 2022
Jason Andrews Manager LMK Company 53 Oak Avenue, Ste 5 Dell Village, Wisconsin 54101
Dear Mr. Andrews,
I'm writing to resign from my position as customer service representative, effective September 16, 2022.
I've recently decided to go back to school, and my program starts in late September. I'm tendering my resignation now so that I can be as helpful as possible to you during the transition.
I've truly enjoyed my time working with you and everyone else on our team at LMK. It's rare to find a customer service role that offers as much opportunity to grow and learn, and perhaps more rare to find such a positive, inspiring team of people to grow and learn with.
I'm particularly grateful for your guidance while I was considering furthering my education. Your support has meant so much to me. 
Please let me know if there's anything I can do to help you find and train my replacement.
Thanks and best wishes,
Signature (hard copy letter)
Nicole Thomas
Subject: Annual Meeting
Dear Kathleen,
Thank you so much for your assistance in planning our annual meeting. Your expertise in handling the meeting arrangements, booking the conference facilities and hotel, coordinating travel, scheduling events, and organizing the meeting is greatly appreciated.
I appreciate your help and advice, and I am hoping we can plan on having your assistance with next year's event. It's tentatively scheduled for January 16–20, 2023, in Tampa, Florida. If you can confirm your availability, I'll be in touch when we're ready to start planning.
I look forward to working with you in the future, and thank you again.
Best regards,
Peter Hancock
Professional letters should be simple, short, and written in business format using a traditional font.
Length of the Letter: Most formal letters are no more than one typed page.
Font Style and Size: Use a plain font such as Times New Roman, Arial, or Calibri. Your font size should be between 10 and 12 points.
Margins:  Use one-inch margins and left justify your text.
Spacing: Single space your letter and leave a space between each paragraph. Use one-inch margins and align your text to the left. Leave an extra space after the salutation, before the closing, and before and after your handwritten signature in a printed letter.
Printing the Letter:  Business letters should be printed on plain white paper.
Once you have written your letter, proofread it and carefully spellcheck it on the screen. Then print it out and read it through aloud at least one more time, checking for any errors or typos. This is important as it's often easier to spot errors on a hard copy. 
Reading your letter out loud is a good way to catch a mistake.
Check for formatting errors, such as two paragraphs that don't have a space between them or lines that are indented incorrectly. Then, before putting your letter in an envelope, sign above your typed name using black or blue ink. 
If you're emailing your letter, send a copy to yourself to be sure it's perfect. Then send the final version to the recipient.
Print a copy of your written letter so you have it for your records. Your email will be saved in your "sent" email folder.
When your letter is ready to mail, fold it in thirds so it fits into a business-size envelope. You can use your word processing program to print the addresses on the envelope or handwrite them. 
Print your name on the top left corner of the front of envelope. Print the recipient's address in the center of the envelope, parallel with the long side. Add a stamp to the top right of the envelope.
NMU Writing Center. " Parts of a Business Letter. "
University of Arizona. " Writing a Professional Letter ."
USPS. " How to Send a Letter or Postcard: Domestic ."
By clicking "Accept All Cookies", you agree to the storing of cookies on your device to enhance site navigation, analyze site usage, and assist in our marketing efforts.
How to Write Letter Headings
Quick Navigation:
What is a letter heading?
What to include in a letter heading, how to write letter headings, letter heading template, letter heading example, tips for creating a professional letter heading.
Learning how to properly create letter headings can allow you to seem more reputable, especially as it pertains to applying for jobs and other professional endeavors. As one of the most important elements of any letter, letter headings not only provide your reader with information but they also make them appear more professional. This article discusses the various aspects of letter headings and provides a template, an example and some extra tips to create a professional letter heading of your own.
A letter heading is the top section of any letter that provides the reader with your contact information as well as the information of the recipient. Most commonly used on cover letters, professional letters and academic letters, letter headings can be in any format from casual to formal. Although you can create a letter without a heading, doing so is a method of letting your addressee know that the contents of the letter are important.
Here are the standard elements to include in a letter heading:
Your first and last name
Start the letter heading with your legal first and last name. If you sometimes go by an abbreviated version of your name, be sure to write whichever one you use in professional settings.
The address where you can be reached
This is either your local address, your permanent address, a P.O. box or the address of your company or organization.
Phone number
This should be the number that makes the most sense. For instance, if you are writing from your employer's address, you will want to include your work number. If you are writing from home, you will want to include your home or cell number. If you have your own business line, this may be the number you choose to use.
Email address
You will want to include your professional email address or in the case of a friendly letter, you can include your most-used email address.
Here are some steps you can follow to create your letter heading:
1. First, pick your paper
The type of paper you choose to print your letter on can make all the difference. For instance, if you are writing something from your company or job, you may want to use paper that has a company letterhead. In this case, you will not need to include the information that is already included in the letterhead.
Alternately, if you are using blank paper and already have a header image saved on your computer, you can simply copy and paste that to the top of the document. You can also use fancy stationery to give your letter a more personal touch. If you will be emailing the letter rather than mailing it, you can skip this step. However, you can include a simple graphic design or your company logo.
2. Second, create your document
You can create your document using your favorite word processing program such as Microsoft Word. You will want to start with a blank document or use an existing letter template.
3. Third, type your business name
If you are starting with a blank document and writing on behalf of your job or business, you should begin by typing the name of the business in the top left corner. If you are writing a personal letter, you will start by putting your return address in the upper right corner.
4. Fourth, type your return address
From there, you need to type in the return address of your home, job or business. Alternatively, you can also include a P.O. Box.
5. Fifth, add optional contact information
You can also include information such as a phone number, email address and your social media handles.
6. Next, include the date
From there, you will skip a line and write the date. This can be either the date you are writing it or the day you plan on sending it. You can choose the most common U.S. format, in which the month comes before the day and the year. For example, October 30, 2020.
7. Finally, add the recipient's address
Skipping another line, and then add in the name and address of the intended recipient.
Here is a template you can use as a guide when you are creating your own letter heading:
[Business name, if sending on behalf of your job or business] [Street address] [City, state and zip code] [Phone number] [Email address] [Additional information, such as social media handles]
[First and last name] [Business name] [Street address] [City, state and zip code]
Here is an example of a professional letter heading:
Reality Bytes Inc. 330 Main Street Albany, NY 12084 Phone: (555) 555-5555 [email protected] Instagram handle: @realitybytesinc
January 12, 2020
Joe White Corporate Computer Solutions 111 Winner's Circle Phoenix, AZ 85001
Here are some tips for extra guidance to create a professional letter heading:
Use Times New Roman or Arial font for business letters
Use 12 point font for business letters
If you are writing a personal letter, you can customize it as you wish
Don't forget to add a line space between your contact information and the date
Add a line space between the date and the recipient's contact information
Add a line space between the recipient's contact information and your greeting
There is no need to include your name in the heading as you will be signing the document after the closing
If you are writing a personal letter, you do not need to include the recipient's address in the heading
If you do not know the recipient's name, you can simply write the name of the department they work in instead
Get 50% OFF Yearly and Lifetime Subscriptions this Black Friday
Features for Creative Writers
Features for Work
Features for Higher Education
Features for Teachers
Features for Non-Native Speakers
Learn Blog Grammar Guide Community Academy FAQ
Grammar Guide
How to Write a Formal Letter: Format and Examples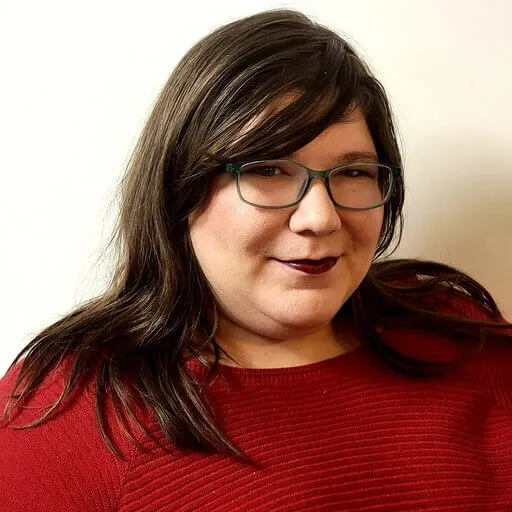 Krystal N. Craiker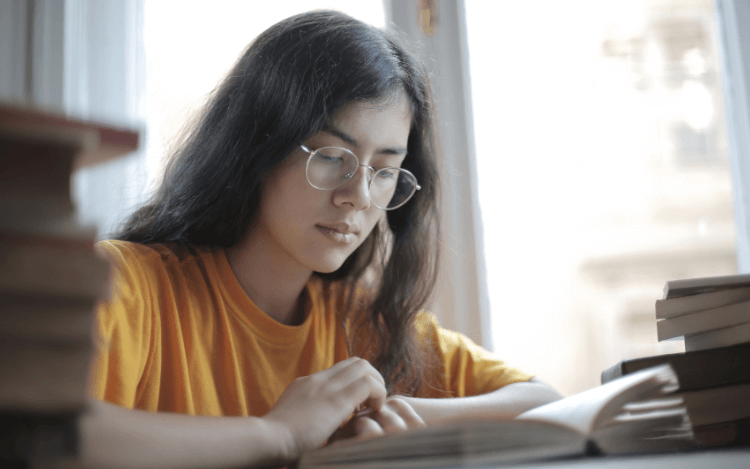 Table of Contents
Formal letter formats, how to write a formal letter in 9 steps, formal letter example templates.
Formal letters can be daunting to write. But once you learn the basic format, you can write a formal letter any time.
People use formal letters (or formal emails) in business and academia. In business, you may need to send sales letters, official announcements, invitations, or legal correspondence. In academia, you may need to write cover letters, letters of intent for school, or recommendation letters. 
A formal letter follows a specific format and uses formal English language. Keep reading to find out how to write formal letters.
There are a few formal letter formats, but they're all very similar. Your company or academic institution may have a preferred style; otherwise, you can use whatever style you want.
The exception is the Administrative Management Style, or AMS, letter format. This style omits polite greetings and sign-offs. It's usually reserved for memos or announcements. In general, if you are writing directly to one person, it's polite to use a more standard formal letter format.
Official Letter Format
Formal letters typically have the same basic elements:
Header with sender's address, date, and recipient's address
In the header, you can omit the sender's address if you're writing on letterhead stationery. It's also become common to omit your address completely if the person doesn't need to write back.
Generally, you write the date in standard format (e.g. March 20, 2023) under the sender's address. If you leave off your address, the date will be the first line. After the date, include the recipient's address.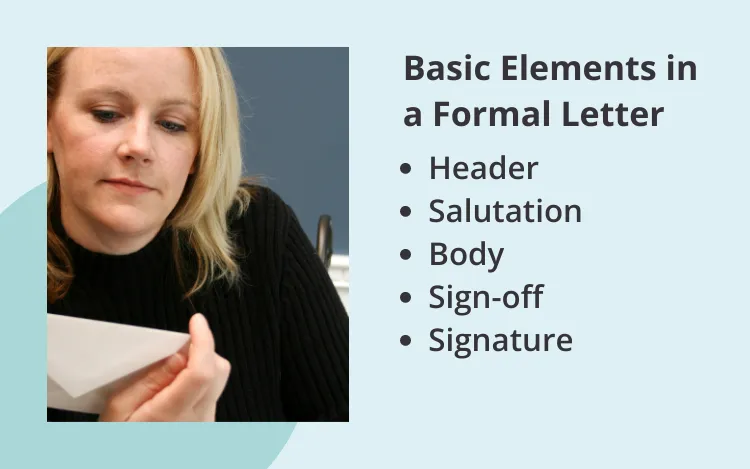 Use a polite greeting and the recipient's title and surname for the salutation. Skip a line, then start the first body paragraph. Your first paragraph should immediately state why you're writing this letter.
Sign off your formal letter with a polite closing. Thank them for their time, and use a standard line such as "Cordially" or "Sincerely."
Then sign your name. If you're sending a physical copy, skip four lines so you can include your actual signature. Then type your name and title underneath. If you'll be sending the letter electronically, skip only one line before adding your name.
Formal Email Format
Email has become an acceptable replacement for formal letters in many cases. So, how does formal letter format translate to email?
It's easy. Omit the heading with the addresses and date. Instead, make sure your subject line briefly states the purpose of your formal email.
You'll open your email with the greeting and get straight to the body of the letter. Use a sign-off just as you would in a formal letter, and sign your name. Include any relevant contact information under your signature.
Let's take a step-by-step look at how to write a formal letter.
1. Select a Letter Format
There are four standard formal letter format options, and they're all very similar.
Full block: all lines are left-aligned, no paragraph indentions
Block: right-align the date, sign-off, and signature, no paragraph indentions
Semi-block: same as block style, except indent the first line of each body paragraph
AMS: left-align all content, do not skip a line before the date, use an all-caps subject line, omit complimentary sign-off
Most people use the full block style letter format, so you don't usually have to worry about indenting.
It's standard practice to leave a large gap from the top margin before typing, although this is quickly becoming passé. In the days of typewriters, you would press Enter 12 times before typing the heading. Some people still do this on their word processor.
Of course, this large gap is no longer a requirement. It's fine to start writing your contact information in the top left corner.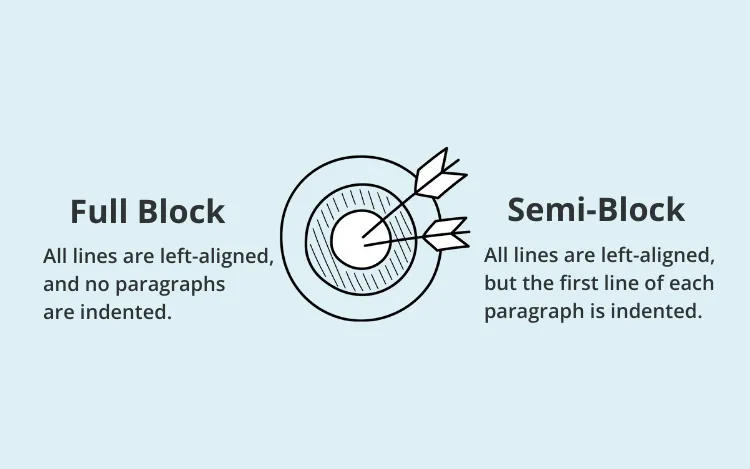 2. Write the Header
When you're writing the sender's address, you can include your phone number and email address. Remember to leave your contact information off if you're using letterhead stationary.
Next, write the date in standard format. This means you spell out the month. If you're writing to someone in the U.S., follow the format: Month, Day, Year. For other parts of the world, use Day, Month, Year.
Finally, write the recipient's contact information. You do not need to include their email address or phone number. Include the recipient's polite title, such as Mr., Dr., Mrs., Ms,. etc. We'll discuss what to do if you don't know this information in the next section.
3. Select a Salutation
The standard salutation is "Dear," followed by the person's title and surname. You can also use "Greetings."
In emails, your level of formality may be different. If you're on a first-name basis with the recipient, or if you've met more than once, it's acceptable to use greetings like "Hello" or "Hi" and their first name.
It's polite to do your research to find out exactly who the recipient is. Often, you may only have a general business name or email address. Dig around on their website or LinkedIn, or call, to find out the name and title of the person who will read your letter.
If you aren't sure if a woman prefers "Mrs." or "Miss," use "Ms." If you know the name but not the person's gender, you can say, "Dear [Full Name]."
Avoid using "To Whom It May Concern" if possible. This letter writing standard is out-of-date and shows you didn't do your homework to determine who the letter should go to.
But what if you can't find a person's name or title? Use the generic salutation "Greetings," followed by a comma and no name. Always follow the salutation and recipient's name with a comma, not a colon.
4. State Your Purpose
Begin the first paragraph by saying why you're writing. Then go immediately into the rest of the body paragraph.
5. Write the Body of the Letter
Keep your body paragraphs short and sweet. Some formal letters, like a resignation letter or complaint letter, may only need one body paragraph.
Try to avoid adding unnecessary information, and be sure to use formal language. If you're struggling to use formal English, use ProWritingAid's Rephrase tool. Just highlight a sentence, click Rephrase, and select "Formal" for rephrasing suggestions.
Always single space your paragraphs, but skip a line between paragraphs.
6. Pick a Closing Sign-Off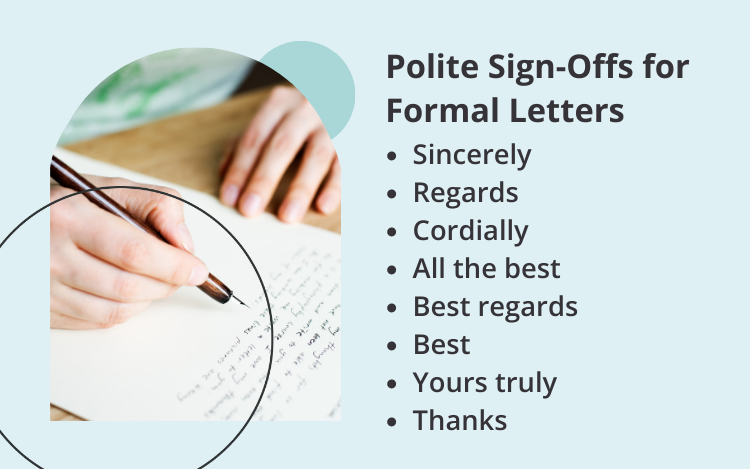 Wrap up your letter with a complimentary closing paragraph. This should only be one line. Thank them for their time.
You can also add a call-to-action if you want them to contact you back. This is standard for formal emails. You might ask them to reply, click a link to schedule an appointment, or fill out a form.
Then choose a polite sign-off. Remember to omit this if you're using AMS format. Here are some closings you can use:
All the best
Best regards
Yours truly
7. Sign Your Name
Finally, you need to sign your name. Remember to leave four spaces after the closing for your signature if you're printing a physical copy of the formal letter. Otherwise, type your name directly below the closing.
Underneath your name, put your job title if it's relevant to the formal letter.
In AMS style or in an email, put your contact information underneath your name and title. If you already have an email signature saved through your email provider, you can just use that instead of typing it every time.
8. Optional Content
There are some optional things you may include in a formal letter. In the past, it was standard to include the initials of whoever typed the email if that person was different from the sender. You may still see this at the bottom of a formal letter if an assistant typed it. This isn't required, though.
It is still standard to make a note of any additional documents you've sent along with the formal letter. For example, if you've sent a cover letter, you might include a resume and a list of references.
To do this, type, "Attached: [Document Name]" at the very bottom of the letter, underneath your signature.
Don't do this with email, though, because people rarely read what comes after the signature. Instead, mention you've included attachments in the closing paragraph of the letter.
9. Edit Your Letter with ProWritingAid
Don't send a formal letter full of errors. Run your letter or email through ProWritingAid to catch all your grammar, spelling, and style errors. Rephrase your sentences to sound more formal and concise.
You can even use ProWritingAid in your email provider for formal emails with the browser extension or Office add-in.
Below, you can find examples of formal and business letters. We've included a full block style, AMS format, and a formal email.
Full Block Style Letter
Gemma Townsend
Big Business Inc.
1234 Main St.
Big Town, NY 55555
800-555-1234
April 24, 2023
Mr. Jaime Gonzalez
678 Avenue D Ste 303
Anywhere, CT 90009
Dear Mr. Gonzalez,
I am writing in regards to your request for more information about how Big Business Inc. can help you as an entrepreneur. Here at BBI, we are dedicated to making business ownership as simple as possible.
We offer a full suite of services, from payroll to inventory services. You can choose from our tiered packages. I can also assist you with building a custom package.
Please review the materials I've sent, and let me know if you have any questions. Thank you for your time.
Warmest regards,
Assistant Director of Sales
Attached: marketing packet
AMS Formal Letter
Jane Doe-Boyd
5555 Victoria Ct.
Jamestown, VA 55555
March 25, 2023
Elmo Monster
123 Sesame Street
Los Angeles, CA 90210
INVITATION TO FICTIONAL CHARACTERS BANQUET
You are cordially invited to the annual banquet for the Fictional Characters of America Foundation. This year's banquet will be held on June 19, 2023 at the Chicago Omni Hotel. Please send your RSVP card by May 6, 2023 letting us know if you will attend.
President, Fictional Characters of America Foundation
Enclosed: RSVP card and envelope
Formal Email
From: [email protected]
Subject: Complaint about upstairs neighbor
Dear Mr. Smith,
I'm writing to lodge a formal complaint against the resident in unit 2022. I've attempted to resolve this directly with him three times.
The resident vacuums at 1 a.m. every morning. They then usually turn on loud music. This wakes my entire family up, including my three-year-old daughter.
The lease states that no loud music or other noises should be played between 10 p.m. and 8 a.m.
Please keep me apprised of your next steps to address this matter. Thanks for your time.
Maria Salinas
25 Blvd A Apt 1022
Don't be intimidated by formal letters! Just use the above formats whenever you need to send official correspondence.
Krystal N. Craiker is the Writing Pirate, an indie romance author and blog manager at ProWritingAid. She sails the seven internet seas, breaking tropes and bending genres. She has a background in anthropology and education, which brings fresh perspectives to her romance novels. When she's not daydreaming about her next book or article, you can find her cooking gourmet gluten-free cuisine, laughing at memes, and playing board games. Krystal lives in Dallas, Texas with her husband, child, and basset hound.
Get started with ProWritingAid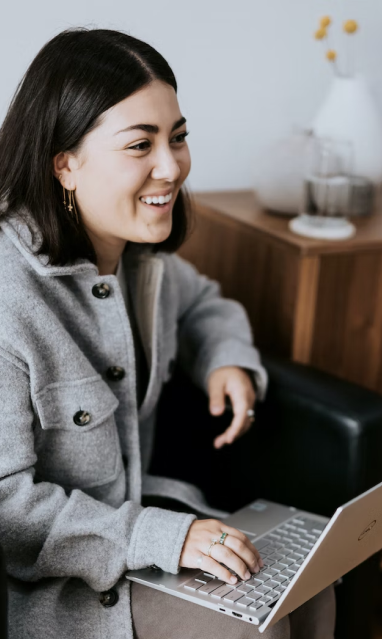 Drop us a line or let's stay in touch via :
Generate accurate APA citations for free
Knowledge Base
APA Style 7th edition
APA headings and subheadings
APA Headings and Subheadings | With Sample Paper
Published on November 7, 2020 by Raimo Streefkerk . Revised on October 24, 2022.
Headings and subheadings provide structure to a document. They signal what each section is about and allow for easy navigation of the document.
APA headings have five possible levels. Each heading level is formatted differently.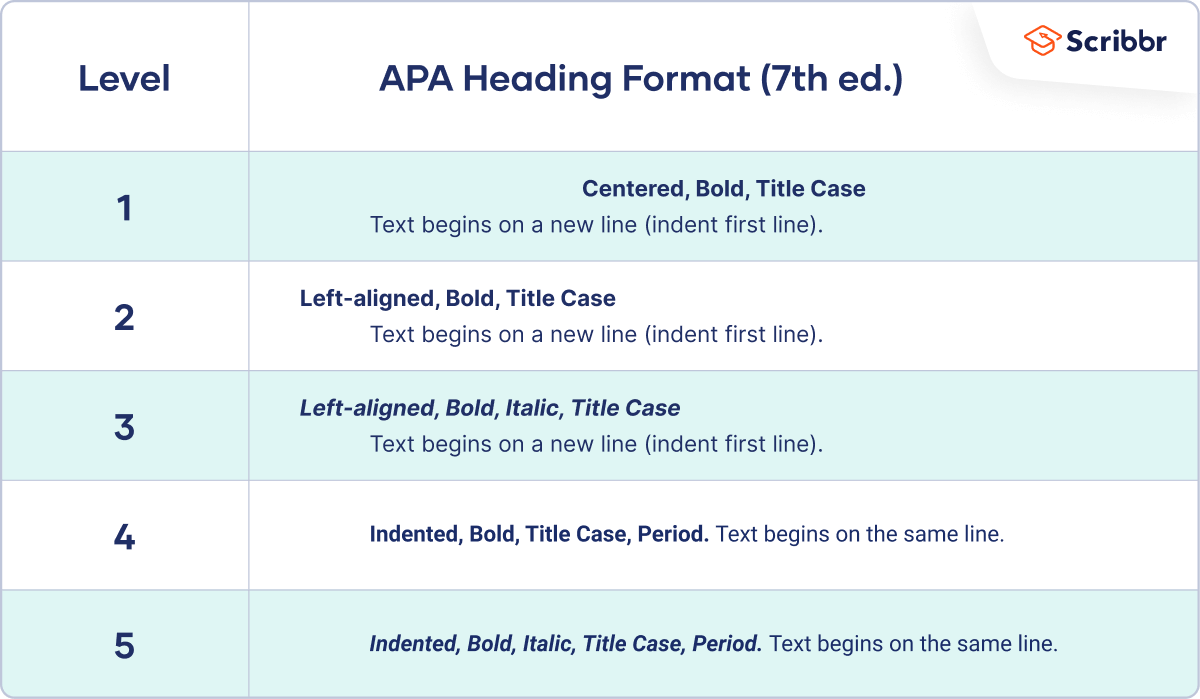 Table of contents
Additional guidelines for apa headings, how many heading levels should you use, when to use which apa heading level, section labels vs headings, sample paper with apa headings, using heading styles in word or google docs.
As well as the heading styles, there are some other guidelines to keep in mind:
Double-space all text, including the headings.
Use the same font for headings and body text (e.g., Times New Roman 12pt.).
Don't label headings with numbers or letters.
Don't add extra "enters" above or below headings.
Are your APA in-text citations flawless?
The AI-powered APA Citation Checker points out every error, tells you exactly what's wrong, and explains how to fix it. Say goodbye to losing marks on your assignment!
Get started!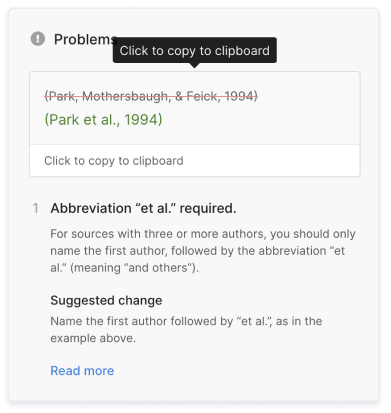 Depending on the length and complexity of your paper, you may not use all five heading levels. In fact, shorter student papers may have no headings at all.
It's also perfectly fine for some sections in your paper to go as deep as five levels, where others use only heading level 1.
Heading level 1 is used for main sections like " Methods ", " Results ", and " Discussion ". There is no " Introduction " heading at the beginning of your paper because the first paragraphs are understood to be introductory.
Heading level 2 is used for subsections under level 1. For example, under "Methods" (level 1) you may have subsections for "Sampling Method" and "Data Analysis" (level 2). This continues all the way down to heading level 5.
Always use at least two subheadings or none at all. If there is just one subheading, the top-level heading is sufficient.
In addition to regular headings, APA works with "section labels" for specific parts of the paper. They're similar to headings but are formatted differently. Section labels are placed on a separate line at the top of a new page in bold and centered.
Use section labels for the following sections in an APA formatted paper :
Author note
Paper title
Reference page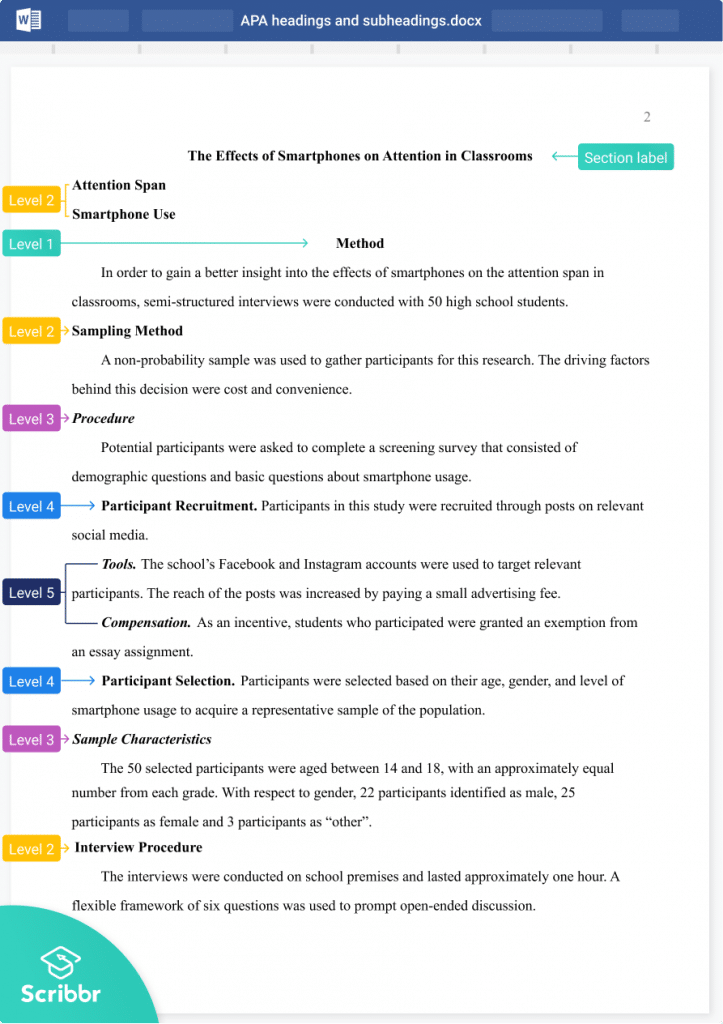 Instead of formatting every heading individually, you can use the "Styles" feature in Word or Google Docs. This allows you to save the styling and apply it with just a click.
The first time you use APA Style, you need to update the default heading styles to reflect the APA heading guidelines. Click here for the instructions for Microsoft Word and Google Docs .
An added benefit of using the "Styles" feature is that you can automatically generate a table of contents .
Cite this Scribbr article
If you want to cite this source, you can copy and paste the citation or click the "Cite this Scribbr article" button to automatically add the citation to our free Citation Generator.
Streefkerk, R. (2022, October 24). APA Headings and Subheadings | With Sample Paper. Scribbr. Retrieved November 25, 2023, from https://www.scribbr.com/apa-style/apa-headings/
Is this article helpful?
Raimo Streefkerk
Other students also liked, apa title page (7th edition) | template for students & professionals, creating an apa style table of contents, apa format for academic papers and essays, scribbr apa citation checker.
An innovative new tool that checks your APA citations with AI software. Say goodbye to inaccurate citations!
Share this page
The art of letter writing is alive and well. Find a free letter writing template for Word and customize your correspondence. Letters are about more than letterhead; make sure you're structuring your notes for maximum readability.
Customize a heartfelt letter with these templates
In this digital age, getting a handwritten letter in the mail is a rare but wonderful surprise. Although writing out a message takes more effort than just sending a text message, a letter will mean so much more to the recipient. And by writing your letter on custom-made paper, you can personalize your letter even more. Make your letter more graphically appealing in a flash using templates. To start, choose your favorite template on Microsoft Create. You can give your letter a simple look with a modern design, go back in time with a vintage template, or keep it playful with some fun illustrations. Once you've picked your template, you can customize your paper to make your letter special. Whether you're writing a nice note to grandma or want to keep in touch with a pen pal, adding some graphics to your letter will make it so much more memorable. After completing your design, you can print it out, write your letter, and add it to an envelope. Don't forget the stamp before heading to the post box! Letters are also great to send for special occasions such as weddings and holidays . Enhance any letter or invitation with a personalized celebration template.
Letterhead Design
Professional
IT and Software
Letterhead Templates, Designs & Documents
Make Your Letterhead in Minutes. Choose from Thousands of Ready-made Letterhead Designs That Are Easy to Customize Online, Edit, and Print. With Template.net's Letterhead Templates, You Can Easily Edit Backgrounds, Borders, Vectors, Shapes, Colors, Fonts, and Incorporate Person or Business Names, Logos, Addresses, Email IDs, Phone Numbers, and Company Brands.
Get Access to All Letterhead Templates, Designs & Documents
Construction
Real Estate
Travel Agency
Graphic Design
Advertising Agency
Professional Services
Small Business
Financial Services
Home Maintenance
Agriculture
Cleaning Services
Community Service
Beauty Salon
Manufacturing
Free Printable Letterhead Templates
With our Free and Printable Letterhead Templates, there's no need to hire or ask for help from professional graphic designers or artists to design your company, school, organization, or consultancy firm's letterheads. Our fully editable template samples help build trust with clients, ease communication, and help maintain brand consistency. Create your own letterhead with unique styles, colors, fonts, and layouts in simple or classic designs you can personalize for your branding requirements using our editor tool. What's more, once you choose your free template and download it, it's yours to use and reuse whenever you like because it's yours to own forever!
Customize Online and Download
Our Free Printable Letterhead Templates give you a free hand to edit, modify, customize, or replace our built-in design samples, so you'll have a letterhead that is distinctive to your brand. Our creator tool makes all that possible when you choose blank, simple, basic, formal, modern, or creative designs that you can print on any paper. Upload your logo, include your company name, location, contact details, email address,or add a border or background design in blue, red, or other colors and change the format and suggestive content. Anything you do is possible with us! Our Free Printable Letterhead Template Samples are useful for your cover letter when applying for a job in any field, or if you're running a small business, construction, IT and software company, medical, professional photography services, HR, school, or church organization. Use as stationery in your office, hospital, department, organization, or team. Share with the whole company and standardize all your letterhead designs. Have your template printed at a print shop, office, or home printer. Our templates are downloadable from all sorts of printers for immediate use.
Frequently Asked Question
What is the purpose of a letterhead.
It communicates to your recipients the most essential details of your business. It is a pre-designed structure, including your brand logo, address, website details, background design, contact and fax details, etc.
What is the Format of a Letterhead?
It adds a heading at the top of a sheet and a bottom line. The title must have the brand logo and name, and you can also add a corporate design or background pattern. The bottom line must include the company or organization's address, contact details, social media profile names, etc.
What are the Components of a Letterhead?
Name of a brand or any person.
A logo, graphic, or a specific symbol.
A blank white space.
Address of the business or the company.
Contact details of the business in a formal structure.
What is a Company Letterhead Mean?
It refers to a personalized document of any company or organization, used for different business communication purposes. To whomever it is sent, it not only communicates the respective message of the letter but also about your business and how to reach out top it.
What is the difference between a Company Letterhead and a Personal Letterhead?
The difference between the two is that a company letterhead contains information on an established business, whereas a personal letterhead includes details of a particular businessman.
Business letterheads are formal and are best if they maintain a neutral stationary color whereas personal letterheads experiments with its color combination.