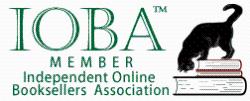 Hard to Find Books NZ (Internet) Ltd.
Dunedin, New Zealand
+64 3-4718518
Joined April 7, 1998
Seller Rating:
Association Member:
Contact this seller
View this seller's items
About this seller
We are a real bookshop, with actual premises and paid staff who appreciate, price and catalogue the books individually- we do not use logarithmic calculators or bar scanners, we use humans. We respect our books and do not put labels or stickers on them. We have our books in stock - we do not "order in". We are the largest secondhand and antiquarian bookdealers in New Zealand, the largest online secondhand bookstore in Australasia, and have been under the same family management since 1983 (online since 1997). We currently have over 150,000 books online from the rare to the recent (based in Dunedin) and more than 750,000 uncatalogued books at our shops(shop stock is not catalogued) or in storage awaiting processing - around 400 more books are added to our online catalogue every week. We try to be very thorough in our descriptions - we like our customers to be pleasantly surprised, NOT disappointed. If you have the good fortune to be in Auckland New Zealand you should visit our bookshop at 2-8 St Benedicts Street, Eden Terrace (right next to the CBD and walking distance from Queen Street) a unique experience not to be missed - our heritage building once belonged to Saint Mary MacKillop!! We also have a second shop at 20 Dowling Street in Dunedin (an even more fortunate place to be) which is also where all our internet-listed stock is kept. If online we welcome you to visit our website www.hardtofind.co.nz. PLEASE NOTE - the postal rates quoted by ABE can be quite inaccurate as books are not a standard size or weight. Postage is a factor from New Zealand and it pays to check with us on the true cost (it may be up... or down). ABE charge a commission on top of actual postage costs. ***01.07.21 EU UPDATE: we send DDU, so you likely will have to pay VAT on receipt of books***
Search Hard to Find Books NZ (Internet) Ltd.
Association member.
Collections curated by Hard to Find Books NZ (Internet) Ltd.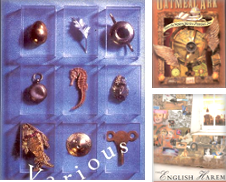 Modern First Edition
Over 10,000 modern firsts in stock (only a few sho.
a wide variety in both price and scarcity View the Full Catalog
aprox 17,500+ books on New Zealand topics (only a
fiction and non-fiction, the largest range available anywhere, competitively priced and more added daily (search by keyword New Zealand to get full list as the catalogue below is just a random sample not the full catalogue it claims to be) View the Full Catalog
Terms of Sale
We accept Visa, Mastercard, . Returns within 7 days if found to be incorrectly described. Registered Company: Hard to Find Books NZ (Internet) Limited (NZ limited Company; NZ Business number 9429037776237). Share capital of $1000. located at 20 Dowling Street,CBD, Dunedin 9016, Otago, New Zealand. Governing Director: Warwick Sven Jordan PH +64 3 471 8518. [email protected]
Shipping Terms
professional (well wrapped in tissue, bubblewrap and book-specific corrugated carboard boxing). Items are not tracked unless specifically requested (and there is a substantial increase in shipping costs involved)
HELLOAUCKLAND.CO.NZ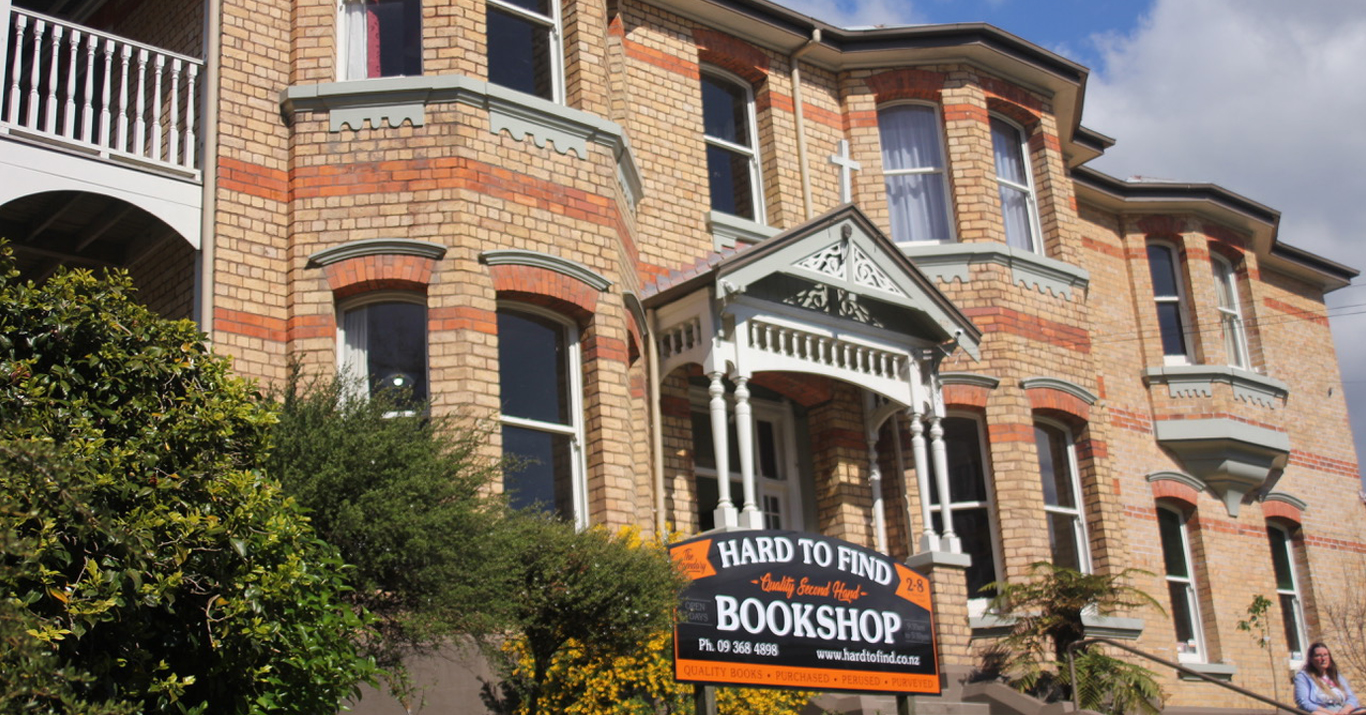 Auckland's Hard to Find Books
NZ's legendary largest quality secondhand and antiquarian bookstore. Find our 90,000 books (over 140,000 more online) in our Heritage building in the CBD. Unique friendly and helpful atmosphere. Relaxed browsing.
Old books, used books, antiquarian books, rare books, signed books and more. You can be a Renaissance person or just a casual reader. Please take your time to browse our amazon of online bookshelves.
Whether you are a serious collector, or you're simply looking for a particular unique book, Hard to Find Books offers the most comprehensive range in New Zealand!

Privacy Policy
Art & Culture
Attractions
Fishing Charters
Getting Around
Parks & Gardens
Arts & Crafts
Health & Well-being
Specialities
Apartments & Self Catering
B&B & Cottages
Backpackers
Holiday Parks
Inns & Motels
Cafes & Bistros
Craft Beer & Breweries
Restaurants
Sweet Treats
Wineries & Vineyards
SITE SECTIONS
Explore Auckland
Visitor Info
Order Guides

Gift Vouchers
Shipping, Refunds and Returns
What do our book descriptions mean?
Search For Hard To Find Books
Advanced search, 1. crime and punishment; a russian realistic novel (vizetelly's one-volume novels xiii).
DOSTOIEFFSKY, FEDOR (DOSTOEVSKY / DOSTOYEVSKY, FYODOR)
FIRST ENGLISH EDITION, price comensurate with condition and rarity. Vizetelly's one-volume novels XIII, London: Vizetelly & Co 1886. Publisher's advertisement to verso of half title with list of other one volume novels. 24 pgs of publisher's illustrated catalogue to rear dated 1885. Floral end papers with some light browning, text clean. 195mm, bound in the original blue cloth which has age appropriate scuffing/bruising to edges, lettered in red and black with four rules at the head and foot of the boards & spine, blind rule & blind stamp publisher's motif to rear board. The front and spine have old damp damage which has stained the boards, back board has only a few small spots and light wear, spine is cocked, contents clean. There are some heavy cracks to the gutters making the boards a little shaky but the boards are still firmly attached. 10cm closed tear to pgs 197/198 and there is a previous owner's name in ink (historical, not new) to the top of the full title page. There are also some light, unobtrusive folds to the lower corners of pgs 389-394 and a 12cm sharp crease/fold to pg 267/268. There is a small (8mm) closed tear to to top edge of pg5/6 of the illustrated publisher's catalogue to rear. The translation is presented anonymously but is generally believed to have been by the Russian born British novelist Frederick Wishaw. Both the English and American first editions are extremely rare and there are very few recorded sales (last recorded sale in March 2017 for NZ$25,900). This UK edition was published six months before the US edition, making this the TRUE FIRST EDITION in English, of which only seven copies are known to have advertising verso of the half title page (the earliest issue point) - this is presumably the 8th. There appears to be less than 10 copies held in libraries worldwide. Please feel free to contact us directly to discuss shipping or photographs- strongly recommended.
PUBLISHER: Vizetelly & Co 1886
KEYWORDS: Russian Russia literature modern first edition English UK translation Fedor Fyodor Dostoieffsky Dostoyevsky Dostoevsky Vizetelly's one-volume novels xiii thirteen rare Frederick Wishaw
2. Capital: A Critical Analysis of Capitalist Production
MARX, KARL & MOORE, SAMUEL (Trans) & AVELING, EDWARD (Trans) & ENGELS, FREDERICK (Ed)
RARE! FIRST US EDITION, ORIGINAL BINDING. Super octavo, ochre textured buckram boards, gilt lettering & rule to spine, blind rule to boards, xxxi + 816pp, VG (moderate chipping & scuffing to extrems with some light surface loss, light to moderate discolouration & chafing to spine & boards, heavy tanning to page edges, small patch of discolouration to lower page edges, sl cracking to gutters/hinges) Please feel free to contact us directly for photos of this important work or to discuss shipping options.
PUBLISHER: Appleton & Co 1889
KEYWORDS: Karl Marx first US edition rare editions Russian Russia economics politics capitalism philosophy commodities money production labour labor capital accumulation literature industry
3. The Story of the Love and Death of Cornet Christopher Rilke
RILKE, RAINER MARIA; MORSE, B. J. [TRANSL.]
first edition numbered/limited and signed by translator [#2 of 3] 24pp VERY GOOD (patterned paper boards w.blue cloth spine and corners,mod.rubbed and stained,splits to upper hinge,mod.wear and chipping to extrems.,bookplate of Castello di Duino to front pastedown,small number label to ffep,prelims.and untrimmed content edges sl.foxed,translator's sign.and date to numbered colophon at rear) three typed copies of this edition were made - this copy belonged to His Highness, The Prince of Thurn and Taxis - bookplate of Castello di Duino, near Trieste, a residence of the Princes von Thurn and Taxis, the inspiration for Rilke's Duino elegies, conceived while he was visiting Princess Maria von Thurn and Taxis, one of his major patrons - scans available on request
PUBLISHER: privately printed osnabruck 1927
KEYWORDS: literature rainer maria rilke morse
4. A History of the Families of Adams and Peers / A Genealogical History of the Family of Peers of Alveston in Warwickshire [2 vols.bound as 1]
ADAMS,BENJAMIN WILLIAM; PEERS,MAXWELL RICHARD WILLIAM PEERS
first edition author's copy [Maxwell Richard William Peers Adams] [possibly a proof copy] 195pp [hand-numbered with many pp hand-written] ills.[b/w original photos mounted on prelims.] VG (full black leather w.gilt ruled borders,raised/gilt bands to spine,mod.rubbed and soiled,sl.wear to extrems.,marbled eps w.author/owner's armorial bookplate to front pastedown,content edges sl.soiled,many pages handwritten with [author's ?] annotations,many related pieces of ephemera loosely inserted incl.contemporary newspaper clippings,many blank pp bound in) a unique copy of what may well be the author's [Maxwell Richard William Peers Adams] bound proof copy - scans available on request
PUBLISHER: traill calcutta 1891 / simla [np] 1892
KEYWORDS: history biography peers adams alveston warwickshire proof copy genealogy
5. Wrestling With the Angel; A Time For Sowing; The Cradle & the Egg (ASSOCIATION COPY)
SARGESON, FRANK ( FRAME, JANET)
first edition octavo black cloth boards with red lettering to spine, 120pp, VG+ (light tanning primarily to eps) in VG d/w ( suntanning to spine, light wear to extremities, small closed tear to tail of spine) ASSOCIATION COPY, warmly INSCRIBED, SIGNED (initials) and DATED march 1965 by Frank Sargeson to Janet Frame. Sargeson was a huge influence on Frame, and the title of this book by him was used as the title for the biography of Frame written by Michael King. A UNIQUE and important piece of New Zealand Literary history
PUBLISHER: caxton press 1964
KEYWORDS: new zealand literature drama modern first edition frank sargeson signed janet frame
6. Practical Geometry: Applied to the Useful Arts of Building, Surveying, Gardening and Mensuration; Calculated for the Service of Gentlemen as well as Artisans, and set to View In Four Parts
LANGLEY, BATTY
RARE FIRST EDITION, large quarto, brown wave-patterned buckram boards, half bound in brown leather, gilt lettering + gilt tooling to spine, blind stamped decoration to binding, unpaginated illus prelims + 136pp + 38 plates (some foldouts, interspersed and to rear), VG- (moderate-heavy bruising to spine + extrems w/ some surface loss to leather and fraying to buckram, 2cm tear at head of spine, light-moderate rubbing + mild staining to boards, heavy foxing + moderate tanning to page edges, crack running length of front gutter, moderate foxing + prev owner's name in blue pencil to fep, moderate discolouration + light creasing to pages throughout, light to moderately heavy foxing throughout, sporadic mild-moderate staining to margins, occasional unobtrusive notes & figures in pencil to margins throughout, 3cm crack to foot of rear gutter)
PUBLISHER: W. and J. Innys, J. Osborn and T. Longman, B. Lintot, J. Woodman and D. Lyons, C. King, E. Symon, and W, Bell 1726
KEYWORDS: geometry landscape architecutre surveying batty langley mathematics architectural history britain british gardening
7. Essai Sur Les Cryptogames des Ecorces Exotiques Officinales, Precede D'Une Methode Lichenographique, et D'Un Genera, Avec des Considerations Sur la Reproduction des Agames
FEE, Par A.- L. A.
COMPLETE ORIGINAL 1824 FIRST EDITION TOGETHER WITH MATCHING 1837 SUPPLEMENTAL VOLUME, quarto, leather quarter bound marbled boards (rebound), gilt lettering & raised bands to spines, marbled eps, coloured plates with tissue guards to prelims, civ + 167pp + colourd plates with tissue guards to rear (178pp + plates to rear of supplemental volume), VG (moderate sun fading to spines, light scuffing to board edges, moderate age appropriate tanning & foxing to page edges, owner's name in ink to eps of both vols, light cracking to gutters of prelims, sporadic closed tearing to verso of half title page of supplmental vol with subtle tape repairs, moderate water staining to bottom corners of first 24 pgs of supp vol, pg xxxv of intro completely loose with pgs xxxvi & xxxvii of intro completely missing, age appropriate foxing & tanning to pages throughout both vols)
PUBLISHER: Firmin Didot Pere et Fils 1824
KEYWORDS: TEXT IN FRENCH first edition lichens cryptogams botany hidden reproduction spore plants thallus thallophytes illustrated supplement essays literature lichenography
8. Culpeper's English Physician; and Complete Herbal / A Key to Physic, and the Occult Sciences.
SIBLY, E. [EBENEZER] [CULPEPER, NICHOLAS]
Culpeper's Herbal (replete with hand-coloured full page plates), BOUND WITH "A Key to Physic, and the Occult Sciences...". A testimony to the art of restorative binding, this book arrived with us without boards or spine. We consigned it to the care of Michael O' Brien (now of Oamaru) who gave the book an appropriately aged re-binding using contemporary endpapers and materials. WELL WORTH REQUESTING PHOTOS IF INTERESTED. Weighing just under 3.5 kgs, this will require extra shipping. Imperial octavo, frontispieces, xvi + 256pp/395pp, gilt lettering to title plates on spine, ex-libris plate to verso of frontis., occasional handwritten notes in ink (possibly from original owner)
PUBLISHER: Champante and Whitrow c.1790
KEYWORDS: herbal herbs medicine health history Culpeper Culpepper physician occult medical illustrated plants properties dispensing dispensory occult occultism esoteric esotericism angel angels spirits spirituality
9. The Franco-German War, 1870-1871 [5 volume set with 5 volumes of maps]
CLARKE, CAPTAIN F. C. H. (transl.)
5x VOLUME SET, WITH A FURTHER 5x VOLUMES OF MAPS (10x VOUMES TOTAL, VERY HEAVY); DESCRIPTION: super octavo red cloth boards with gilt lettering to spine (with part 1 vol's 1 & 2, and part 2 vol. 1 only, rebound in library bindings, red cloth also); DETAILS: First Part (2 vol's): History of the War to the Downfall of the Empire, comprising vol. 1: From the Outbreak of Hostilities to the Battle of Gravelotte, viii+439pp+143pp appendices, illus.; vol. 2: From the Battle of Gravelotte to the Downfall of the Empire, vi+543pp+120pp appendices, illus. / Second Part (3 vol's): History of the War against the Republic, comprising: vol. 1: From the Investment of Paris to the Re-Occupation of Orleans by the Germans, viii+390pp+182pp appendices, illus.; vol. 2: Events in Northern France From the End of November, in the North-West from the Beginning of December..., viii+390pp+232pp appendices, illus.; vol. 3: Twentieth Section: General Retrospect of the War From The Beginning of... / Events in South-East France From the Middle of Janurary to.... ix+248pp+111pp+4pp appendices; 5x map volumes comprise copious large fold-out maps in draw-cases accompanying each main vol. of the text, with the map volumes to part 1 (vol's 1 & 2) and part 2 vol 1. only being library rebinds (brown leather, raised bands), the rest in red cloth with gilt lettering and gilt arms to front; CONDITION: VG to VG+: tidy ex-library, usual stamps and markings; light scuffing to boards, light tanning soiling and occasional light foxing within, with the occasional vol. with heavier scuffing rubbing and sl. chipping, also occasional minor tears within, part 1 vol. 2 has two pages of appendices loose; part 2 vol. 2 has heavier chipping and scuffing to spine and v. minor crack to front hinge; part 2 vol's 1 & 2 have rear flyleaf cut - a tidy set overall; HEAVY, EXPECT COMMENSURATE SHIPPING
PUBLISHER: Her Majesty's Stationary Office 1874, 1876, 1880, 1883, 1884
KEYWORDS: franco-prussian franco prussian war napoleon 2nd second empire paris commune france prussia german germany unification moltke military history war european europe map maps her majesty's stationary office official translation french
10. Journals of the Polynesian Society Vols 1-81 (1892-1972) + Index Vols 1-50
A VERY HEAVY SET THAT FILLS 3X BANANA BOXES! Please email us directly to ask about extra shipping (required). All original printings except some occasional Johnson reprints & facsimiles- some pre-1923 vols & issues only, vol 27 has a complete run except issue #3 (1918) is blank, all vols are either octavo or super octavo in size, maroon buckram boards, gilt lettering to spines, various pagination, folding maps to some vols, VG (most vols have some minor bruising to extrems, some light soiling to boards of some vols, all vols have prev. owner's name in ink to ffeps, all vols have some degree of minor tanning & foxing to the page edges, some sl adhesion to some pages of some vols- sporadic, light soiling to boards of some vols, occasional minor insect damage to some page edges, occasional yellowing tape repairs, occasional minor water staining to some pages) a very heavy but very tidy set, please feel free to ask for photos.
PUBLISHER: Thomas Avery (originally printed by) 1892-1972
KEYWORDS: journals Polynesia Polynesian society issues culture transactions proceedings pacific islands anthropology native people
11. The Metamorphosis
KAFKA, FRANZ & LLOYD, A. L. (transl.)
FIRST ENGLISH EDITION, octavo quarter bound grey heavy card boards, blue cloth to spine with black lettering, 74pp, VG+ (light scuffing to boards, prev. owner's details in ink to front pastedown and in pencil to fep., light tanning and occasional sl. soiling within)
PUBLISHER: Parton Press 1937
KEYWORDS: modern first edition translation german literature kafka franz
12. The Birthday Party
PINTER, HAROLD
SIGNED, FIRST EDITION, with Pinter's With Compliments card loosley enclosed; octavo black illus. stapled light card wrappers, 57pp, VG+ (light scuffing to wrappers, light soiling to wrappers and within, light tanning within, some light pen annotations to advert. at rear only)
PUBLISHER: Encore Publishing Co. 1959
KEYWORDS: signed modern first edition british drama stage theatre play birthday party harold pinter
13. Voyages of Discovery in the Arctic and Antarctic Seas, and Round the World; being Personal Narratives of Attempts to reach the North and South Poles; and of an Open-Boat Expedition up the Wellington Channel in search of Sir John Franklin and Her Maje
MCORMICK, DEPUTY INSPECTOR-GENERAL R.
Two-volume set, superb original bindings, quarto, royal blue buckram boards with gilt lettering to spine & front board, black penguin & polar bear motif to spine, black nautical scenes & anchor chains to front boards, yellow eps, frontispiece with tissue guard + xx + map + 432pp (vol.1), frontispiece + xii + 412pp (vol.2), illus, VG (some browning to spines, some bruising & fraying to spine extrems, white stain to vol.2 front board, some browning & foxing to page edges, front pastedowns damaged by removal of labels, owner's name & address in ink to front pastedowns & to title pages, heavy browning to prelims & terminals, some foxing)
PUBLISHER: Sampson, Low, Marston, Searle et al 1884
KEYWORDS: Antarctic Arctic travel exploration North Pole South Pole
14. Isadora of Milan
HOLSTEIN, ANTHONY FREDERICK
First edition 5 volume set contemporary quarterbound brown leather with marbled boards and gilt spine 202pp+2pp adverts, 204pp, 211pp, 202pp +2pp adverts, 212pp (final volume includes 2pp addenda by editor, claiming authorship for one Walter, Lord St Aubin) Very Good (rubbing and mild fading to spines, with labels clear and intact, small tears to heads and tails, moderate rubbing and wear to extremities, mild to moderate foxing and occassional very light page creasing throughout, two previous owners names on all title pages) A nice, relatively tidy and complete set of a VERY RARE classic of English Gothic Fiction by an unknown author (despite the various names given, it is not even known if the author was a man or a woman)
PUBLISHER: Henry Colburn New Bond Street 1811
KEYWORDS: first edition literature classic gothic english
15. Pamphlets; (1) Letter to the Right Hon. The Earl of Chichester President of the Church Missionary Society, In Vindication of the Character of Archdeacon Henry Williams and Other Missionaries of the Church Missionary Society in New Zealand (1850); (2)
BUSBY, JAMES
Three quarter leather over buckram boards, Eleven pamphlets bound into one book sans original covers. Pagination: 80pp; 27pp; 28pp; vi + 54pp; 31pp; 12pp; 42pp + vi; vii + 44pp16pp; xii + 194pp; 52pp. VG some wear and scuffing to external edges and spine, moderate tanning and foxing, damage to page 79 of first title but without loss of text. Overall a sound, clean, tidy and desirable volume with All titles SCARCE TO RARE
PUBLISHER: williamson and wilson; southern cross; richardson and sansom; et al 1850 - 1865
KEYWORDS: new zealand history governement james busby maori land
16. New Zealand: Graphic and Descriptive
BARRAUD, C. D. (Illus) & TRAVERS, W. T. L. (Ed)
FIRST EDITION, elephant folio, half leather bound terracotta buckram boards, decorative gilt lettering & tooling to front board, beautiful hand decorated gift/presentation plate, frontispiece, 40pp, 31 chromo- & plain lithographs with 31 woodcuts- all seemingly present, VG- (heavy scuffing to spine & extrems with some surface loss & soiling/staining, moderate scuffing & soiling to boards, minor wrinkling to buckram on boards, light to moderate tanning & foxing to page edges, light soiling & wrinkling to eps with minor foxing, light to moderate tanning & foxing to prelims, heavy crack to gutter of dedication page, moderate closed tearing to some page & plate edges, light sporadic soiling & tanning/foxing to pages throughout) in protective heavy boarded folder, leather spine & clasps, VG- (heavy tanning & foxing with moderate scuffing & chafing)
PUBLISHER: Samson Low, Marston, Searle and Rivington 1877
KEYWORDS: New Zealand first editions illustrated townships lakes history historical drawings illustrations
17. Madman's Island
IDRIESS, ION L.
Very rare, first edition of author's first book, was a bit of a disaster, rewritten in the 1930s as a non-fiction title, octavo, red cloth boards with black lettering to spine & front board, frontispiece, 228pp, illus, VG- (lacks rear ep, heavy fading & chaffing to spine, moderately heavy fading & staining to boards, some damp staining to rear board fore-edge, red ink staining from boards to edges of first three pages, 5cm closed tear repaired with archival tape to fep upper corner, light tanning to page edges, occasional foxing spots) Both plates present.
PUBLISHER: Cornstalk Publishing Co1927
KEYWORDS: Ion L Idriess Australian literature adventure ficiton
18. Ledetraad Til Nordisk Old Kyndighed
THOMSEN, CHRISTIAN JURGENSEN
TEXT IN DANISH, true first edition, a benchmark book - established modern archaeological practice, & presented the concept of the three ages of man - Stone, Bronze and Iron. Octavo, half bound, mottled yellowisih boards with gilt lettering & gilt decorative tooling to brown leather spine with raised bands, ii + 100pp, illus, VG (lower 5cm portion of spine missing, some chaffing to spine & board edges & corners, some tanning, light dampstain to aprox one-third of page fore-edges)
PUBLISHER: Published in Copenhagen 1836
KEYWORDS: Christian Juren Thomsen TEXT IN DANISH Denmark archaeology Stone Iron Bronze Ages of man true first edition
19. An Arctic Voyage to Baffin's Bay and Lancaster Sound, in Search of Friends with Sir John Franklin
GOODSIR,ROBERT ANSTRUTHER
first edition rebind viii+152pp [b/w frontis.w.folding map at rear] VERY GOOD (marbled paper boards w.half leather,gilt-on-burgundy title label to spine along w.gilt bands,rubbed and soiled,chipping and wear to extrems.w.surface scuffing to boards,5mm loss to head of spine,white paper label to front pastedown,sl.paper separation at fep gutter,prelims.sl.foxed,b/w frontis.very tidy but sl.separating from gutter,some v.sl.foxing to marbled content edges,folding map at rear is complete but creased and w.some chipping and wear to margins) generally a v.tidy tight copy of this scarce title - scans available on request
PUBLISHER: john van voorst london 1850
KEYWORDS: arctic polar exploration voyage travel goodsir franklin baffins bay
20. The Art of Flying (SIGNED - ASSOCIATION COPY)
MACMILLAN, CAPTAIN NORMAN & BATTEN, JEAN
Dated, signed & inscribed by the author in 1931 to Victor Doree, a fellow pioneer WW1 Royal Air Corps pilot, who in 1932 bought Jean Batten her 'Gipsy Moth' aeroplane. We purchased this copy from the library of Ian Mackersey, Batten's biographer� a wonderful lineage for the book to have taken and a piece of aviation history. This copy of the book that probably decided that Jean Batten would fly a gipsy moth? An historically significant artifact in the Jean batten ASSOCIATION COPY. Scarce in d/w. Small octavo, light blue cloth boards with dark blue lettering to front board & spine, 175pp, illus, VG (slight rubbing to spine extrems & board corners, light tanning to eps & page edges, 1cm tear with loss to lower corner half-title page,) in d/w, VG- (top 3cm portion of spine missing, bruising & nicks to lower spine extrem, creasing & nicks to rear upper edge & front lower edge, 1cm untidy tear to rear lower edge & to upper front/flap fold, some soiling)
PUBLISHER: Duckworth 1929
KEYWORDS: Captain Norman Macmillan Air Vice-Marshall Sir Sefton Brancker Victor Doree signed Association Copy aviation history aircraft flying pilot Jean Batten
20 Dowling Street
Dunedin 9016
2 - 8 St Benedicts Street,
Eden Terrace, Auckland 1010